We recently had the most lovely stay at The Palms Hotel & Spa in Miami. This gem of a resort is EVERYTHING you want in a hotel. Sophisticated yet laid back luxury paired with amazing style, service, and farm-to-table food. Not to mention its incredible beachfront location and refreshing pool. Whether you are on a couples weekend escape or a Family looking for somewhere kid-friendly in Miami but still seeking luxury need to look no further than this wondrous resort.
Family-Friendly Luxury FOUND in Miami at The Palms Hotel & Spa- a review
Just because you are bringing the kids along doesn't mean you have to sacrifice your style or service. At least not when you visit Miami because The Palms Hotel & Spa offers families everything you could ever want & more.
The Hotel
From the moment the bellman opened the door and I stepped foot inside the expansive yet soothing ambiance of the hotel lobby I knew I was in the right place. Luxury meets eco-chic wellness in this kid-friendly hotel located oceanfront on the famous Collins Avenue, right in the heart of Miami Beach.
As you walk through the hotel you feel as if you have been transported to a tropical paradise. The smells, colors, sounds, and large wrap-around porch all brought back memories of our past island adventures.
Rightly, so as The Palms Hotel & Spa is located on a beautiful strip of beach themselves offering guests a secluded paradise retreat. Although, unlike so many tropical paradises out in the middle of nowhere, this chic boutique style hotel is located right in the heart of Miami Beach where you will find more brand name shops and first-class restaurants than your heart could ever desire.

The Food
Anyone that knows me well knows that I LOVE good organic locally sourced (when possible) food. So, imagine my delight when I found out that The Palms Hotel & Spa's head chef is also the head of the Miami slow food movement AND she has an organic garden right on the hotel's property. (((swoon))) It was a major heart pound moment. And, the chef's creations did not disappoint! Everything that we tried from the green smoothies to the entrees to the craft garden-to-glass cocktails was divine. And, as you can tell by the look on Ella's face below the menus appealed to kids as well. That is her with her, very specific, custom ordered omelet made by the chef at the morning buffet breakfast 😉 My French loving girl likes "caramelized" onions, ham, and cheese. And, she requests the eggs to be whipped extra so that the omelet is fluffy like they make them in France- this girl is something else! Thankfully, the chef adored Ella and obliged her fulfilling her every request.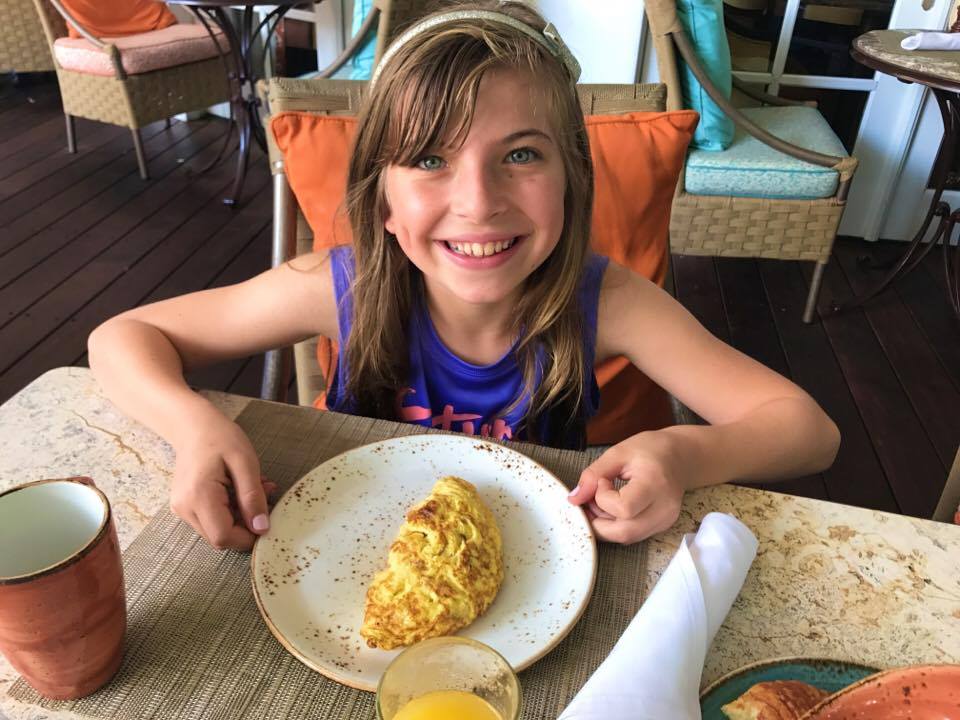 Our Room
After arriving early off a red-eye flight from LAX we were delighted to find our room ready to go. The kids hopped in the beds and made themselves cozy (as per their usual) while I walked around the room admiring all the space afforded by our Family Suite.
I made myself a fresh cup of coffee (I love when rooms have a Keurig machine) and gazed out at the gorgeous aqua blue ocean and I was taken aback by its beauty. My eyes quickly glanced down and I noticed what appeared to be a tropical oasis, only to realize it was the hotel's pool area dotted with bright colored umbrellas. It was hard to resist the urge to pull the kids out of bed and make a mad dash for that refreshing water. But, alas I knew the day would go smoother after a nap so we tucked ourselves in and went to sleep.
Of course, the second we were up the whole crew was ready to hit the pool! I was pleasantly surprised by how wonderful and kind all of the staff members were with our kids. We have visited other luxury hotels where it goes without saying that kids should be seen but not heard. Here though, the staff made it a point to strike up conversations and chat with our munchkins. I think being a family owned hotel there is a greater sense of togetherness and respect for the family unit which I appreciated.
There were talking parrots in the garden (as you can see the girls got a kick out of that), ice cold fruit infused water, and a sign-up board with the weekly activities written on it. I was impressed to see so many activities at a smaller boutique hotel. They had beach and garden yoga, a scheduled beach clean-up (bonus points for caring about the environment), plus a running workshop. I seriously wanted to skip our cruise at one point just so I could stay a few more nights and have a chance to experience EVERYTHING this hotel had to offer.
The Palms Hotel & Spa also impressed me with their commitment to protecting the environment. Not only do they have their own garden on the property, source food locally, and use products that are less damaging to the environment (like the AVEDA ones you see on the sink), but they also had something that we all were blown away by. In our master bedroom, they had a fascinating toilet/ sink combo that utilized the sink water (which you use to wash your hands) to fill the toilet bowl in order to flush, thus conserving water.
Watch it in action below-
Kid-Friendliness Factor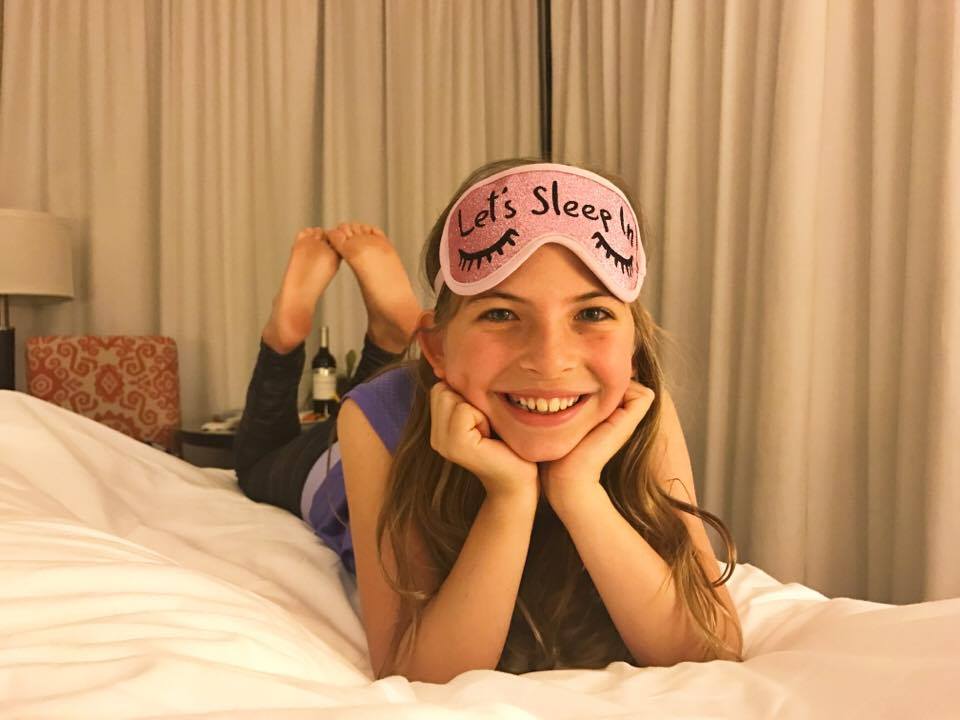 The Palms Hotel & Spa combines the perfect amount of kid-friendly amenities while still preserving the elegance and service expected at a top notch luxury hotel. We absolutely LOVED the Oceanfront Family Connecting Combo. It offered the right balance of space and privacy needed for both the adults and the kids while keeping the whole family together.
Kid-Friendly Amenities:
Gorgeous Pool
Beach
Boardwalk along the beach
Talking parrots
Grass Belts
Organic Garden
Essensia's Buffet Breakfast (nicely priced for kids too)
Cute plastic kids cups at Essensia
Kid-Friendly Menu Items
Things to Do in Miami
If you are looking to stay a bit longer than we were able to (lucky you) you should definitely check out Beyond Circa 39. It is a website created by the owners of this hotel (they happen to have another hotel called Hotel Circa 39 in Miami as well) and it is an amazing resource for tourists coming into Miami. It breaks down each of the main neighborhoods and gives recommendations for things to do and places to eat. We tried one of the sushi places it recommended and it was amazing!
Learn more about The Palms Hotel & Spa here on their website or follow them on Twitter, Facebook, or Instagram.
Pin it for Later-
*A special thanks to The Palms Hotel & Spa for hosting the munchkins on our recent visit. All thoughts and opinions expressed above are, as always, 100% my own.