One of my favorite Disney World Parks is the Animal Kingdom, and with the recent addition of Pandora, it is definitely a park that I visit more than once on my vacation. Sometimes, though we have to pack it all in on one day and that is where we have to be smart about our fast passes. Thus, Here is my Ultimate Guide to navigation Animal Kingdom FastPass so that you get the most out of your day
Animal Kingdom FastPass – Complete Guide + Tips & Tricks!
Rides that Take FastPass
First, let's break down all the rides/shows that take a fast pass
How to Fastpass at the Animal Kingdom
If you know already how to book a fast pass and want to skip to the strategy click here to jump ahead.
All Walt Disney World Theme Parks, including the Animal Kingdom, use the Fastpass+ system which is super convenient and allows you to plan pretty far in advance. There is no additional cost, as this program has taken place of the original Fastpass system it is included in your admission.
Beginning at 7 am Eastern Time 30 days before your visit or 60 days before your visit if you're staying in a Disney Resort Hotel, you can make Fastpass reservations on select attractions. Keep in mind if you're staying at a Disney Resort Hotel, you will be able to make a reservation at this time for the entire length of your visit.
Animal Kingdom may not have the most rides out of the WDW parks, but they do have some pretty great attractions that you aren't going to want to miss out on just because you are waiting in one or two super long lines. This is especially true since this park has just recently added on Pandora- The World of Avatar. The new rides in Pandora are game-changers with cutting-edge technology. You will literally feel like you've entered a new world.
Step 1:
You will want to register online to make a reservation in advance. To do this create an account on My Disney Experience and follow the steps to link all of your party's tickets together. If you would like to make your reservations the same day as your visit, use the My Disney Experience Mobile App or visit the Fastpass+ kiosk in the park.
The four kiosk locations in the Animal Kingdom are at the Entrance to Asia, Festival of the Lion King, Island Mercantile, and Disney Outfitters. It is best to make the reservations as early as you possibly can, though.
Step 2:
Select which rides you want to reserve for your group. You can choose up to 3, and it's super important you choose wisely! The Animal Kingdom has a tiered Fastpass system due to the new Pandora rides extreme popularity. This means when booking you can choose either Avatar- Flight of Passage or Na'vi River Journey.
Then you can book two fast passes from this list; Dinosaur, Expedition Everest, Festival of the Lion King, Finding Nemo, It's Tough to be a Bug, Kali River Rapids, Kilimanjaro Safaris, Meet Favorite Disney Pals, Primeval Whirl, or Rivers of Light.
If you do end up changing your mind about things you can cancel or change your reservations at any time. Obviously, not everyone in your party has to attend the same attractions but do book the attractions you want to do as an entire group first. While it is best to try to stick to your choices; if you do end up changing your mind about things you can cancel or change your reservations at any time.

Step 3:
There is no physical FastPass ticket anymore. Once you choose are rides and book them, the information will be stored on the My Disney Experience profile on your entry tickets or on your Magicbands. If you're wondering about Magicbands, they are pretty awesome and my kids get excited to wear them every visit!
They'll function as your resort key as well if you're staying on property and keep you from ever having to fumble around for any sort of tickets. They're free if you're staying in the resorts, but can be purchased for at a low cost in the parks. We recommend them for anyone with kiddos to keep up after.
Step 4:
Finally, you're actually in the park and ready to get on some rides! When it is your allotted time, head to the attraction and look for the line labeled FastPass+. There will be a Mickey RFID reader. You either touch your ticket or your MagicBand to this reader for entry. Once you have used up the 3 original reservations for your day or the return time has passed, you can book one additional Fastpass for that day in any park.
Best Rides to Book a FastPass for in the Animal Kingdom
Your priority in booking fast passes is too save as much time in your day as possible. This means you will want to cut out waiting in line at the rides that tend to be the busiest.
#1 Choice for Tier 1
You've only got two choices for this tier, and they're both the Avatar rides. The flight of passage is by far the more exhilarating ride, so if you can get this fast pass, get it! It is absolutely one of the most incredible rides I have ever been on. (Please note there is a 44″ height requirement)
The other ride is the Navi river ride which is a slow boat ride with some incredible special effects and animatronics, great for kids under 5 and a break from a long day. If you can't get a fast pass for Flight of Passage, either head to the park early or go late for the best possible wait times. If you go late take some glow paint and light yourself or your kiddos up.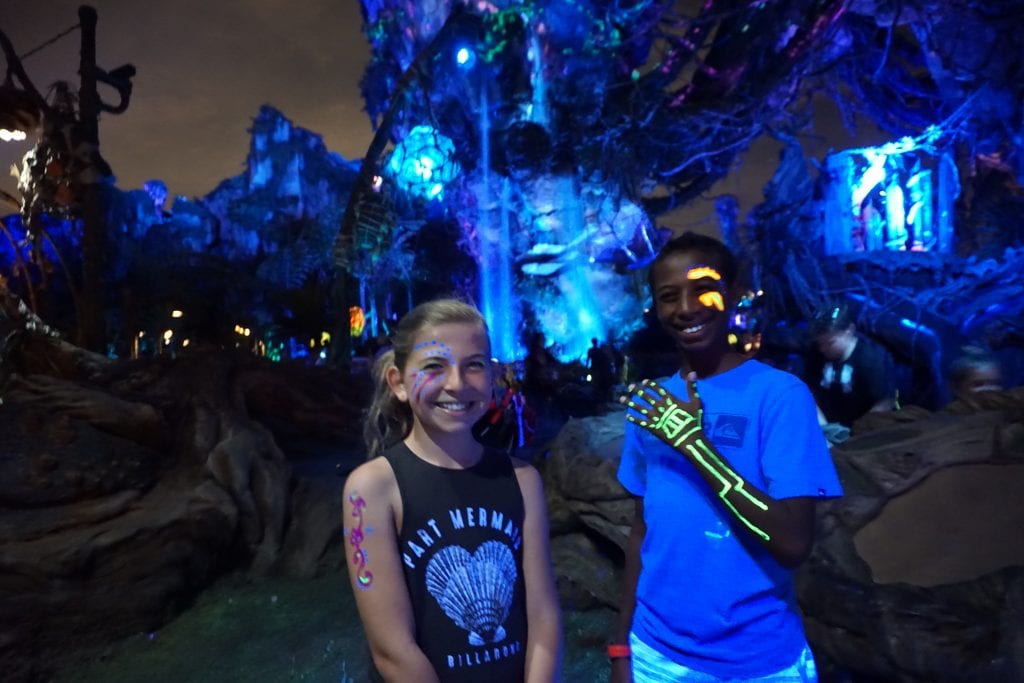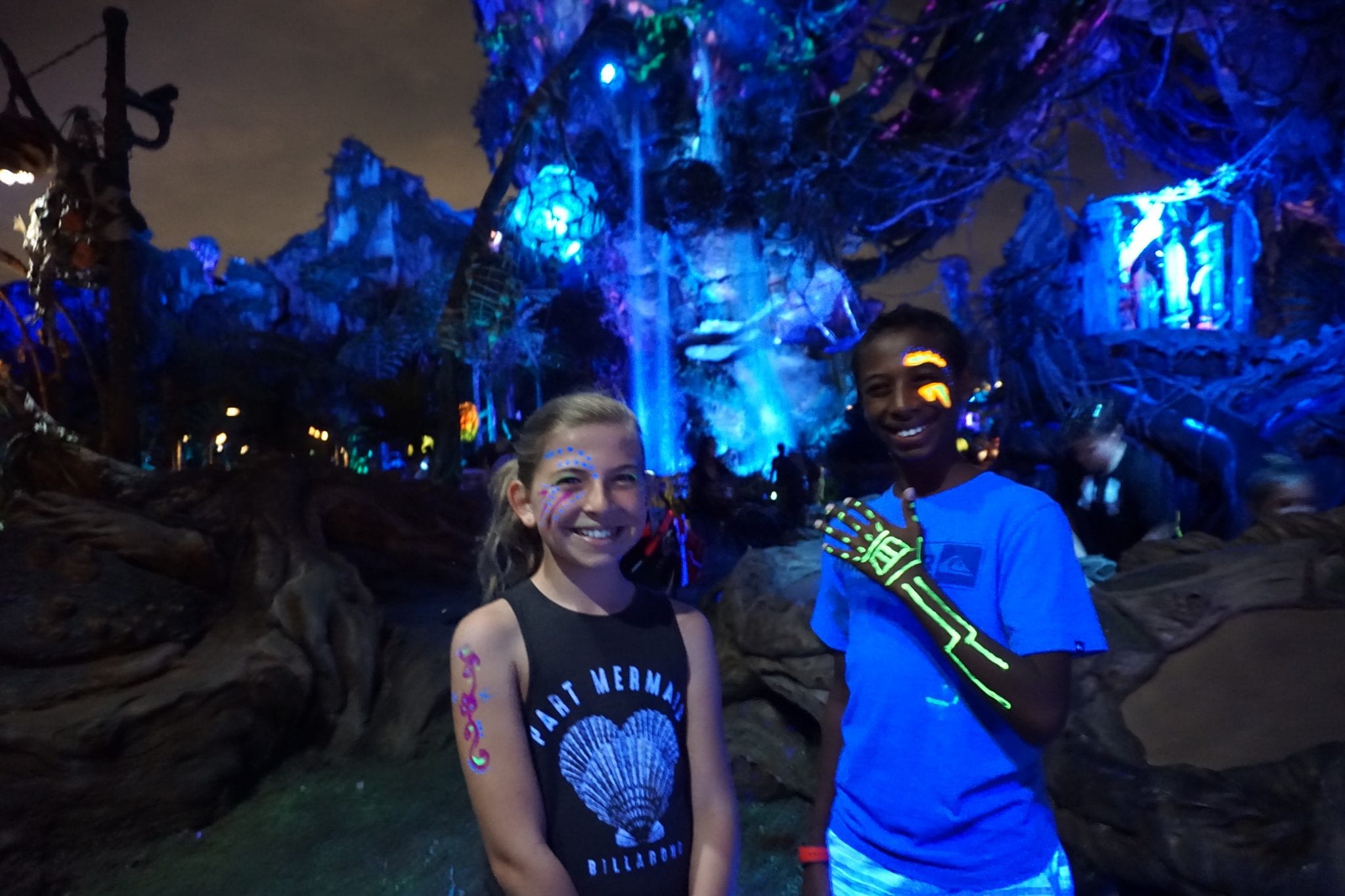 #2 Top Choices for Tier 2
So, here is how I break down tier 2 strategy for Animal Kingdom Fast Pass. Without a doubt, Kilimanjaro Safaris is my favorite best tier 2 reservation to make in the Animal Kingdom. It is one of the most well-known attractions of the park and it appeals to all ages meaning nearly everyone is going to ride it at some point in the day.
I recommend trying to go early in the morning before the heat of the day because it is more likely to see a ton of animals while it's cool. Now, with that here is a breakdown of how to choose Animal Kingdom Fast Pass for tier two.
Adrenaline Junkies – Expedition Everest & Dinosaur are the top two rides.

Beat the Heat- Kali River Rapids & Dinosaur
Little Ones – Kilimanjaro Safaris and Adventurer's Outpost (Meet Mickey & Minnie) – Possibly Kali River (only 38″ height)
Overall Top 2 – Kilimanjaro Safaris & Expedition Everest
Big Time Savers
Expedition Everest is one of our family's favorite rides and tends to have a substantial wait time making it a good choice for a FastPass reservation. If you've only got a few people in your party tall enough to ride it though, just go with the single rider line instead (usually it's 1/3 to 1/4 of the regular line time), or make sure to get a rider swap pass.
Also, if your party is made up mostly of little ones, it's a good idea to book the character meet up, Meet Disney Pals at the Adventurer's Outpost. If your little one is above 38″ Kali river rapids is a lot of fun. They also love Kilimanjaro Safaris.
Avoid getting fast passes for shows unless you are dead set on sitting in the front row. There is always plenty of seating for these shows. These include (Finding Nemo, the Musical, Lion King, Rivers of Light)
Other tips you might enjoy!
Epcot FastPass – Complete Guide + Amazing Tips & Tricks!
Magic Kingdom Fastpass! Tips and tricks to help you choose the Best Rides
5 Incredible Things to check out when visiting Disney's Pandora 2018
Disney World Tips & Tricks [Over 75 Amazing MUST KNOW Tips]
Disney World Crowd Calendar! A Super Simple Guide!
15 Incredible [Instagram Pics] of Disney's Best Epcot Restaurants