I recently returned from a wondrous trip to the trendy and hip Tulum Beaches and it was magnificent! The ocean is warm, clean, clear, and the water is a gorgeous aqua blue. The food and drinks in Tulum are absolutely amazing. Everything is handmade, local, sustainable, and delicious too. I was also lucky enough to stay in the coolest eco-chic cabanas at a hip hotel in Tulum called Coco Tulum.
Coco Tulum – Why we Fell in Love with this Hip Hotel in Tulum + Photo Tour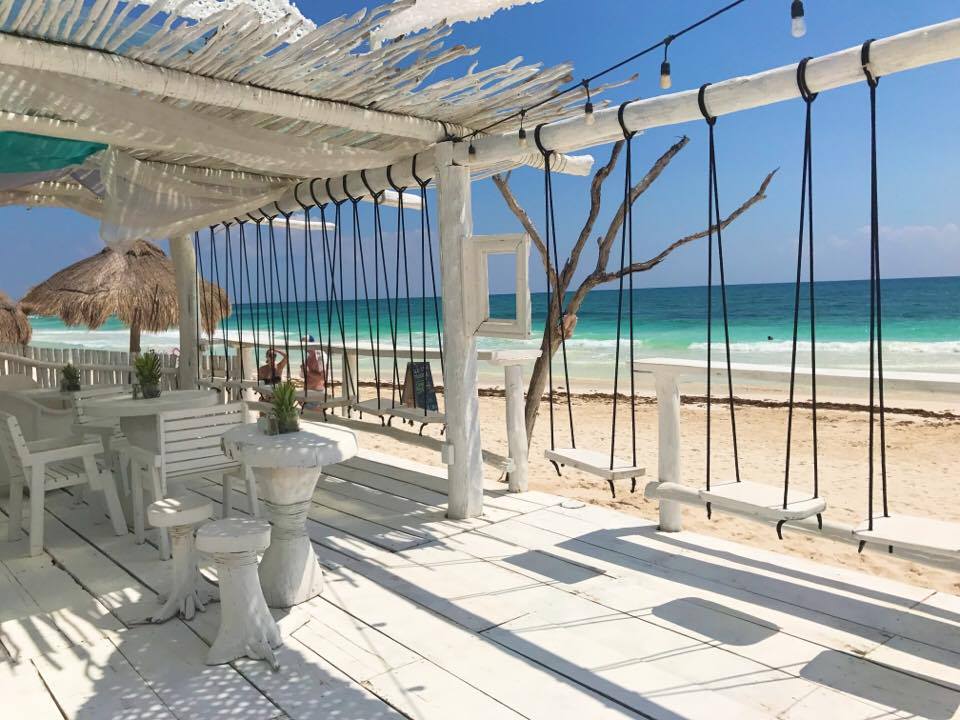 An Incredible beachside bar with swings
I mean seriously, can you believe you can stay here and it's reasonably priced too? Tulum completely swept me off my feet with its laid-back luxury, passion for locally sourced amazing food, and Insta-worthy photo ops like the bar scene above.
Every sign in Tulum seems to read "eco-chic, haute, trendy, or hipster" it is so funny but also pretty on target with how I would describe Tulum. My hubby dubbed it a hipster's paradise. And, while I am definitely on the oldest age of being a hip millennial, I would have to agree with him as the Tulum beaches were studded with some of my favorite restaurants and resorts in the world!

How adorable is this frame at the bar at Coco Tulum? You may have even recognized it as it's pretty Insta-famous itself- ha!

The staff at Coco Tulum are super friendly, the hip hotel is located on the beach, and the rooms are incredibly clean. Just be sure to book early as only a handful of the adorable eco-chic cabanas have their own bathrooms. The rest have to share a community version. Although, it was honestly super clean this hip hotel in Tulum might be a bit too much for some.
With a drink in hand and that view, I think I could have spent hours on those swings at the bar.
Rooms

We shared cabana 1 & 2 with our good friends at Coco Tulum. It is two separate units- one on top and the other on the bottom. They are not connected, each has their own bathroom, and so they are super private. There are also stand-alone cabanas at Coco Tulum which another couple, also friends, stayed in. We toured through each of our rooms and they were all about the same size and decorated the same way.
Here is my room. CHECK OUT THAT VIEW!! Waking up every morning felt like a dream. They also had a safe so that you weren't worried about your valuables.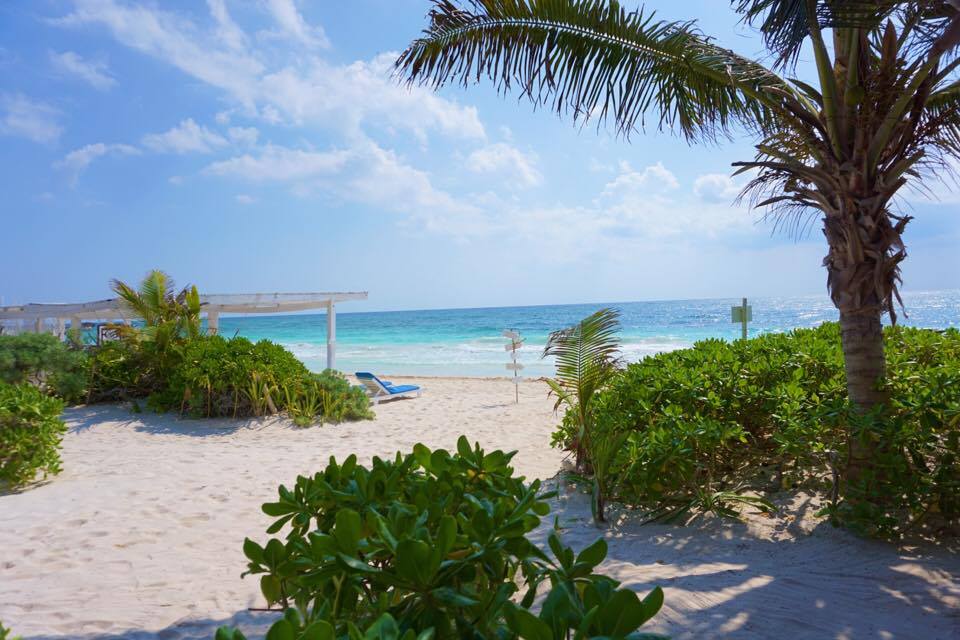 This was the view from the porch area of my room at my hip hotel- Coco Tulum. I'm sure you are beginning to hate me. No worries, I kinda hate myself. I mean this view is ridiculous. I wish I could fly back and live in Tulum. I can't get over its beauty.
As I mentioned earlier, the ocean is warm, crystal clear, mellow, and it is the most beautiful aqua blue color my eyes have ever seen. But, what I haven't told you yet is how insanely soft the sand is. It felt like powder on my feet.
I love all the little accent pieces like the frame at the bar, the conch shell faucets in the bathrooms, and little nods like this "tequila" sign.
Here is one of my husband and I getting ready to have drinks at the bar and take in the view on our swings before heading to an amazing dinner!!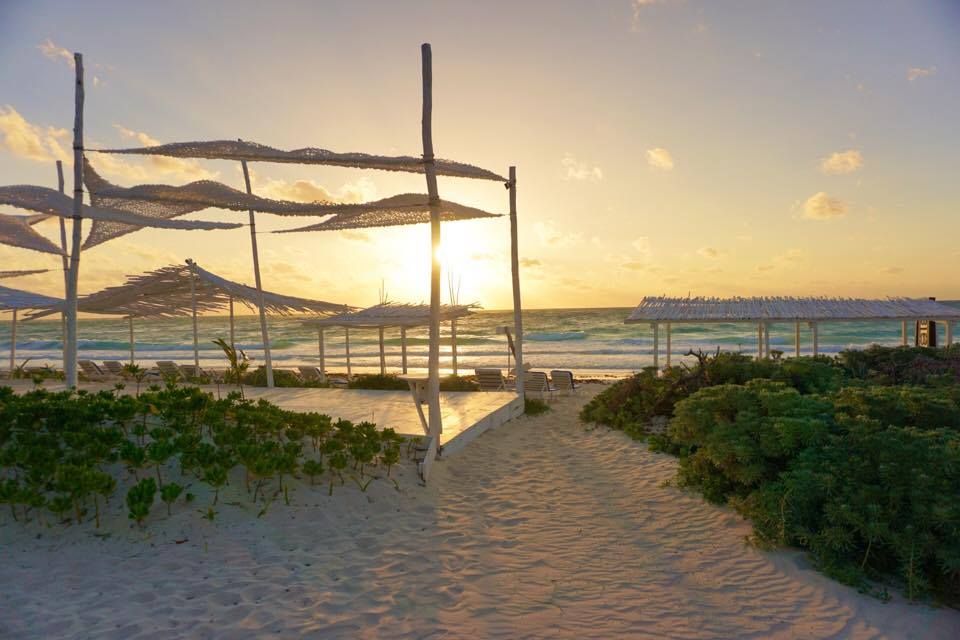 Sunsets here were also fabulous. Again, this is a view right outside my room at Coco Tulum. And, the one below is on our porch. I loved that hammock. #TakeMeBack Check out Coco Tulum Prices Here! 
+ Things to Do in Tulum
There are a ton of amazing things to do in Tulum but two I highly recommend are heading to the Mayan Ruins (above) and taking a tour with Adventure Tour Center in Tulum (below). Just make sure to arrive at the ruins as soon as they open because they get super crowded and have pesos for the small entry fee.
You can read more about our INCREDIBLE Tulum Tour with Adventure Tour Center here in my review. We ziplined, kayaked, cliff jumped into mystical cenotes and had a meal freshly prepared by a Mayan family. The hand pounded corn tortillas were to die for.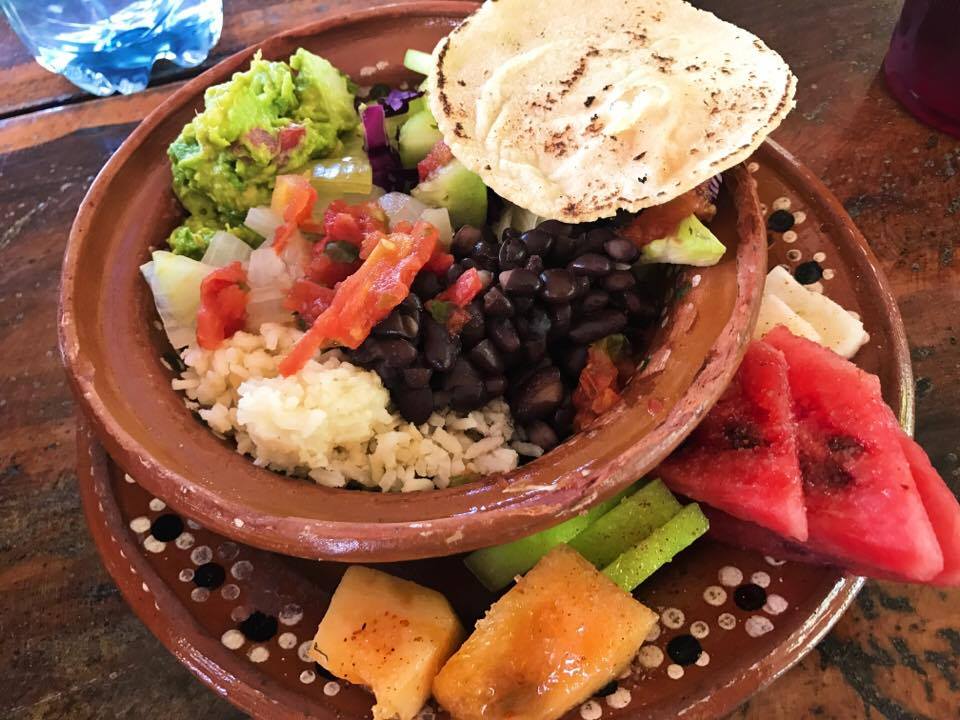 + The BEST Places to Eat in Tulum
Speaking of eating real quick here are some of my absolute favorite places to eat in Tulum. For breakfast we would walk down the beach to Amansala for the morning breakfast buffet. We adored their stadium seating with a view of the ocean and their healthy buffet was delicious. I believe it was $12 and included a hot egg dish, yogurt or a smoothie, fresh fruit and coffee.
One day we walked even further to Maya Tulum were we found the gorgeous view below and had one of the BEST breakfasts EVER!!!
We also found tons of new hipster joints popping up in the actual town of Tulum (outside the beach strip/ trendy area) like Tulum Art Club which had amazing coffee and avocado toast.
And, if you are looking for the BEST authentic Al Pastor Tacos you HAVE to visit Antojitos La Chiapaneca- WOW!
We also loved our dinner at Mezzanine which was located near the Tulum ruins. It was Mexican-Thai fusion which is a really great combo and they are perched on a cliff and dotted with cute lights and candles. It would be a very romantic date night spot 😉
Check out my other Tulum Articles:
Tulum Bucketlist- Things To Do, The Best Tulum Beach, Popular Restaurants & Spas
Why we had an Incredible Adventure with Tulum Tours!
Have you visited Tulum?
Latest posts by Mama Munchkin
(see all)