When my destination editor traveled to Iceland, she took not one but two tours with Icelandic Mountain Guides. Why? Because they are the BEST! She did some incredible hiking in Iceland, took in some incredible glacier walks and as she stated it was the greatest adventure of her life.
Hiking in Iceland – Why You'll love Iceland Glacier Walks & Climbing

Hiking in Iceland – Multiple Tour Options
Icelandic Mountain Guides has a variety of different tours for you to maximize your experience while in Iceland. They offer:
Northern Lights tours
Mountain climbing tours
Horseback riding tours
Super jeep tours, and much more!
One tour that Icelandic Mountain Guides excels at is glacier walks and ice climbing tours and that is the one Emilee headed out on.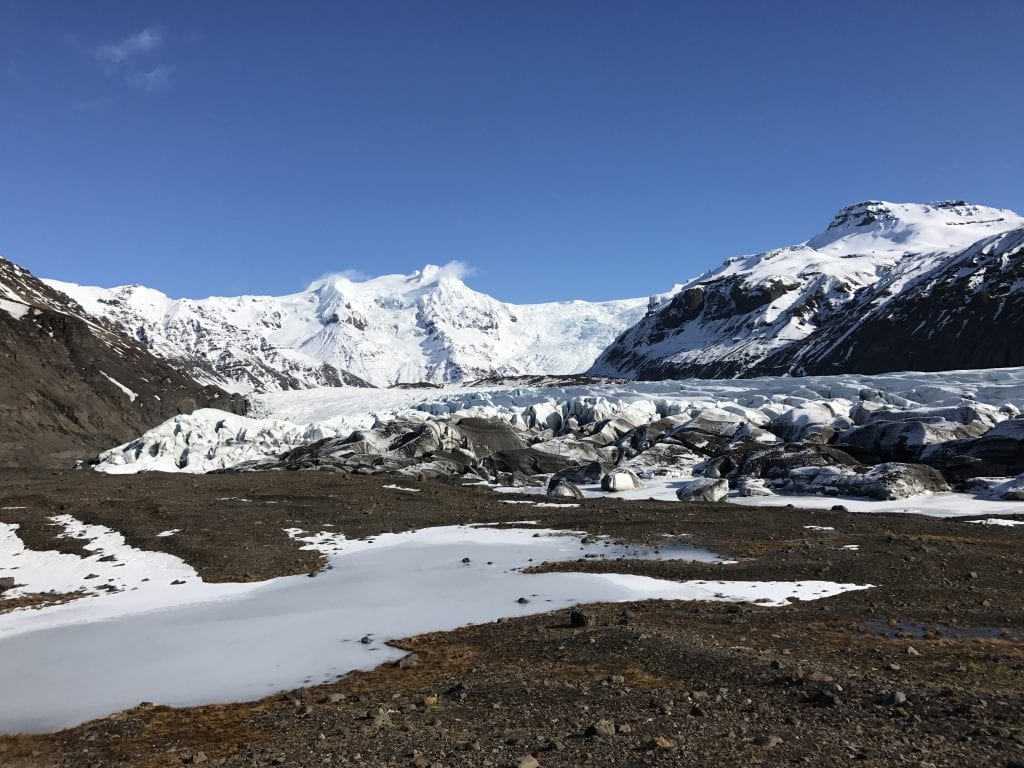 Emilee's favorite tour was of Sólheimajökul Glacier. You can read about her experience here. However, when in Iceland, you can't turn down an ice climbing trip! It's super fun, beautiful, and incredibly unique.
The challenge that is Ice Climbing
Hiking in Iceland is a whole new ballgame. Have you been rock climbing? Do you think ice climbing will be no problem? Think again! They are very different types of climbing, and it is tough work. However, the memories that your family will have will be so worth it! Emilee went ice climbing in Svínafellsjökull Glacier. Do you know what Svínafellsjökull translates to in English? Svínafellsjökull means Pig Mountain Glacier. It is a name that your kids will love, as even us adults were chuckling on the tour. I won't spoil why it is called that though. Make sure to ask your Icelandic Mountain Guide to tell you the story!

Ice Climbing for all Levels of Skill & Experience –
Whether you are a very experienced climber or have zero experience, you can go ice climbing in Skaftafell. When touring with Icelandic Mountain Guides, they will provide you with all the necessary equipment, including crampons and ice axes. They will also give you tips and tricks for how to successfully ice climb, and their tour guides are nice, helpful, and have a great sense of humor! Mike was Emilee's tour guide and she loved how experienced he was and all of the funny stories he shared.
Personalized Service during you hike.
One of the best aspects of taking a tour with Icelandic Mountain Guides is that they keep the tour sizes small. This allows you to ask tons of questions, and to get the help/attention you need while scaling up the side of the ice. Emilee's tour was only made up of six people. This allowed everyone to get to know each other, get to know the guide, and enjoy an intimate, not overcrowded experience.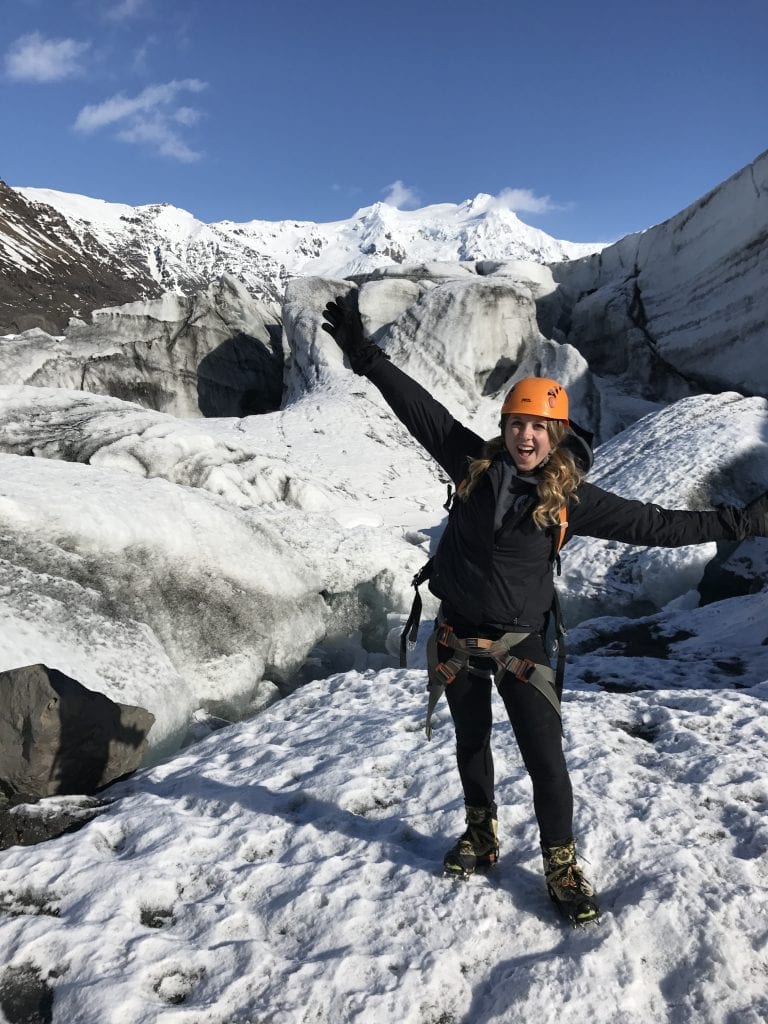 Glacier Walk – Iceland
After completing your ice climbing adventure, your guide will take you on a glacier walk. They will teach you about water cauldrons, crevasses, ridges, and waterways. One of Emilee's favorite facts that she learned was that the black part of the glacier is volcanic ash. It protects the glacier, and it is unique to Iceland. How cool is that?!
If you take an ice climbing tour, it will last approximately 5 hours. Lunch is not included so make sure to bring snacks and water for you and your munchkins. You will get hungry because ice climbing is hard work! If you want to make the most of your trip to Iceland, include an ice climbing tour with Icelandic Mountain Guides. It is a tour your whole family will love! Check Prices Here!
Would You Take Your Family Ice Climbing??
Pin for later-
*Special thanks to Icelandic Mountain Guides for hosting our destination editor on her recent visit. All thoughts and opinions expressed above are, as always, 100% our own. We thank you for understanding and supporting Global Munchkins so that we can continue to bring you awesome content.
Latest posts by Mama Munchkin
(see all)