The La Jolla Caves have been on my to-do list for… well FOREVER! It's funny how we sometimes travel the world before ever looking into the types of experiences that lay right in our backyard. So, when Tripadvisor approached me to get the word out about their NEW tour booking capability I knew exactly what I wanted to do, head to those La Jolla Caves. We knew after our morning kayak workout we would be ravenously hungry so we also booked a Walking Food Tour (genius move by the way) in nearby Coronado. Check out our Tripadvisor Tour Booking Experience went.
La Jolla Caves + Food Tour in Coronado- Why You Should Book Your Next Tour With Tripadvisor
*This is a sponsored post in partnership with Tripadvisor. Thank you for supporting Global Munchkins.

La Jolla Caves Tour
After reading the amazing reviews on Tripadvisor we were stoked about our La Jolla Caves Kayak Tour. We arrived early and were greeted by the friendly staff at Hike Bike Kayak Adventure in La Jolla. They suited us up and gave us a few safety precautions before taking us down to the water. Don't we look spiffy- ha!!
As the reviews had foreshadowed we had an epic time paddling through the gorgeous Pacific Ocean. We explored multiple marine environments, spotted several resident sea lions, and learned some fantastic fun facts about the area. Did you know that Dr. Seuss (Theodor Geisel), a La Jolla resident, actually found inspiration for the Who's noses from the La Jolla sea lions? Or that Dr. Seuss loved Christmas and used to throw HUGE parties at his beach house in La Jolla. His second wife wasn't a fan of his excessive holiday spirit so when he would throw his huge Christmas party she would head up the hill to their second home in La Jolla on top of Mt. Soledad until about 10-11pm when she would head back down the hill and end the party. Dr. Seuss ended up writing a book based on his wife. Can you guess what it was?? THE GRINCH!!! And, I guess she found it endearing that he wrote a book about her as she drove around La Jolla for many years in a black Cadillac with a license plate that said GRINCH. It is stories like this from amazing guides like the one we had that make all the difference on a tour.
Watch the video below to see the tours in action:

Walking Food Tour in Coronado
After several hours of kayaking the La Jolla Caves, we were ready to eat! As I stated above we had planned a walking tour in nearby Coronado (about 20 minutes from La Jolla) and our timing could not have been more perfect!
Coronado is one of our favorite cities in San Diego and we have visited the island many times over the years. So, even though I was super excited about our tour I wasn't anticipating learning a ton about the city nor did I think they would be able to show us as many local gems as they did. We started off at Tartine. How amazing do these fresh baked goodies look?
We started off at Tartine where we learned they bake goodies, like the ones pictured below, fresh every morning. The chef made an amazing mushroom risotto for us and that is when I realized we were in for a real treat.
I highly recommend a walking tour if you plan to visit Coronado. The views are just absolutely gorgeous and it helps burn some of the calories you are devouring too.
Next up we visited Coronado Taste of Oils where we tasted one of the strangest ice cream toppings I have ever heard of… espresso balsamic! And, you know what it was CRAZY good. So, good pretty much every person on the tour walked out with bags of olive oils and balsamic vinegars they purchased… including us. They are totally addictive!
We walked for a bit learning about the military influence in Coronado with a naval base stationed there. Which segwayed perfectly into our next stop, a liquor store pizza shop. How do you ask? Well, this tasty pizza shop happens to cater to the Navy Seals. I'm not going to lie, I felt a little bit cooler after eating it. They also had amazing natural cane sugar based sodas. The ginger beer was the best I have ever tasted!!!
Seriously, how gorgeous is the Coronado Bay?? Something about that skyline that just gets me every time.
Next up was a delicious lobster roll from Lobster West. They actually ship their lobster overnight to California all the way from the icy waters in  Maine. Their lobster is also certified & sustainable which I thought was pretty awesome. I'm not sure where their bread roll came from but it was also out of this world delicious.
Our Coronado Walking Food Tour ended at Nado Gelato who similarly to Lobster West sources their ingredients right from the source, in this case, Italy. I honestly haven't tasted gelato that good since we were in Rome. So, I can attest to the fact that this is the real deal. This is another tour I would highly recommend.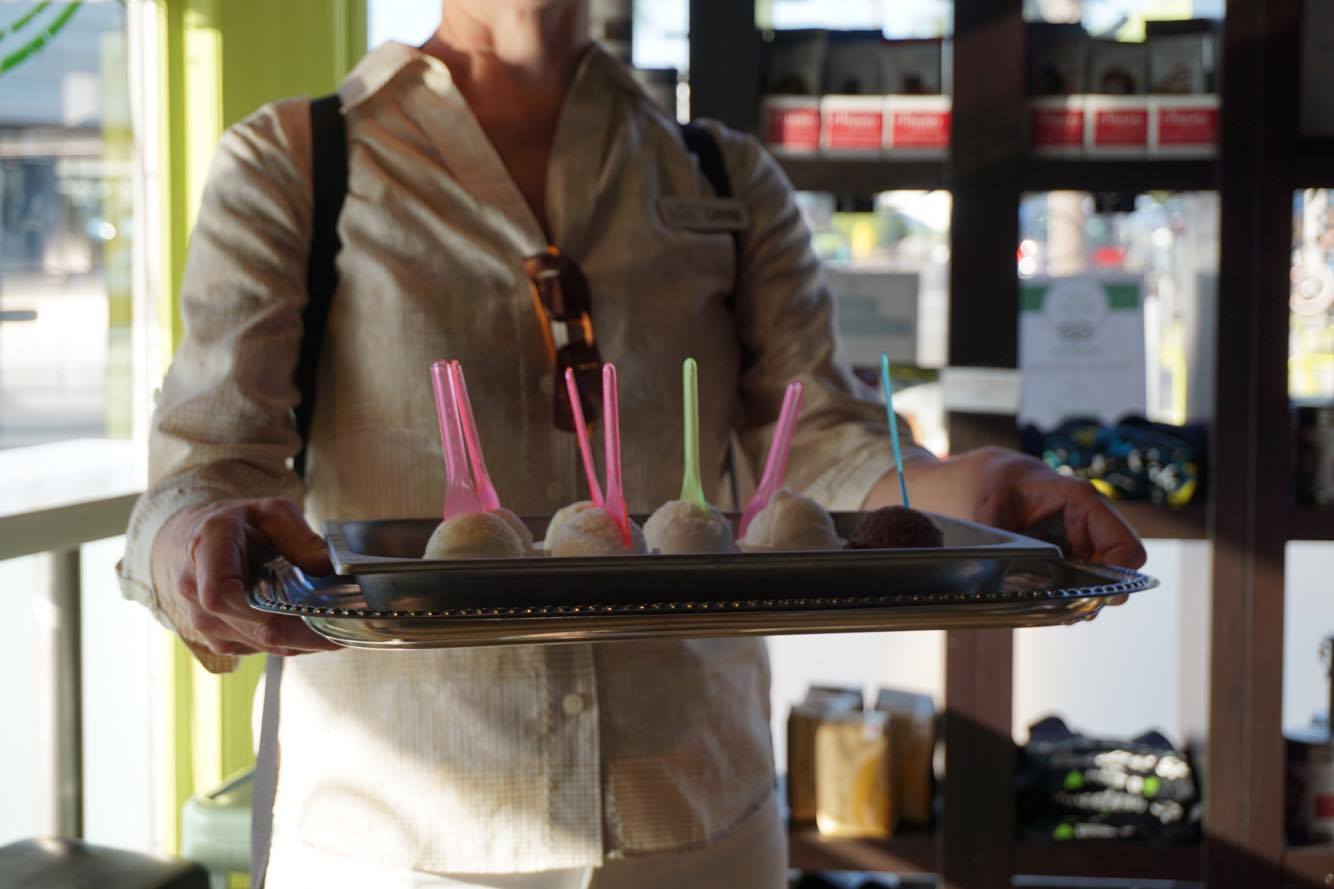 Why Tripadvisor?
Just like us, millions of travelers, rely on Tripadvisor for their honest reviews from fellow travelers. It is exactly the site we always go to first to find which hotels, activities, and tours we are going to book when we visit a new destination. It is also the site we always recommend to our family, friends, and readers. And, we are not alone. In fact, Tripadvisor is the world's largest provider of tours, activities, and attractions. Did you know that Tripadvisor has more than 56,000 bookable experiences in 2,500 destinations worldwide? They offer everything from skip-the-line access to hot air balloon safaris, Everest base camp treks, and theme park tickets.
A few things we LOVE about Tripadvisor's Attractions & Tours:
Easy to find rating system with the number of reviews right next to it.
Useful filters (you can sort results by the type and/ or length of the activity)
Ability to sort through reviews (we like to search reviews from other families (if it is a tour we are taking the kids on) as well as the time of year. This helps us find the reviews that are most relevant to us.
Booking tours and attractions through Tripadvisor is a no-brainer. Unlike booking attractions in-person which can be risky, with Tripadvisor, you can make an informed choice based on thousands of reviews. You receive their low price guarantee, 24/7 customer service, and you can book whenever, wherever. You can literally book your tour a month in advance, a week in advance, a day in advance, or a skip-the-line ticket for the very line you are standing in! That is pretty amazing if you ask me.
You also cannot beat the convenience of booking with Tripadvisor. You can book your activity online or right on their mobile app. So quick & easy!
The Booking Process:
As I mentioned above booking a tour or attraction on Tripadvisor couldn't be more simple. You simply log online to www.Tripadvisor.com or download their mobile app. Either way, the process to book a tour is the same.
Search your destination
Sort through the different activities and tours available
Choose your tour and book!
Take a look below to see just how easy it was for me to book our La Jolla Caves tour using my iPhone.
Have you booked a tour on Tripadvisor yet? Tell us about your experience in the comments below.
Pin for later-
You might also be interested in the related article below:
*Disclosure- this is a sponsored post in partnership with Tripadvisor. All thoughts and opinons expressed above, as always, are 100% our own. Thank you for supporting Global Munchkins.
Latest posts by Mama Munchkin
(see all)