Just steps from the ocean, sea lions, dining and shopping in La Jolla Village you will find Pantai Inn a luxury boutique resort ranked the top hotel in La Jolla, CA by Tripadvisor readers. Their oceanfront location offers breathtaking views paired with multiple room configurations (some rooms offer full kitchens and living spaces), a chef prepared complimentary breakfast and top-notch service make this the perfect spot for families to explore La Jolla and beyond.
Pantai Inn- One of the BEST Hotels in La Jolla CA
Driving in on Pacific Coast Highway soaking up the glorious sunset over the Pacific I immediately fell in love with Pantai Inn. Sure, at first the romance was based solely on its address (1003 Coast Hwy La Jolla, CA) but I quickly learned this lovely gem of a resort offered much more than just an amazing location.
Service
Service is definitely one of the things that set this hotel apart from the other hotels in La Jolla CA. From the moment I walked into the Balinese-inspired lobby and caught a glimpse of the lavish display of fresh-made coconut macarons, fruit, infused water, tea, and espresso I knew I was in for a treat. It wasn't more than a few seconds before I was and was greeted by the friendliest front desk clerk with a smile. You can tell the staff at the Pantai Inn love pampering their guests. Instead of the typical handing over of keys the man behind the desk walked me to our room and gave us a full tour, diving into the history of the hotel, all the amenities that were included in our stay, and ensuring that every single question we had was answered. AMAZING!!
Then there was the twice-daily housekeeping, including a turndown service with the most delicious salted caramel chocolates and good night messages (hand-colored (I might add), amenities like robes, slippers, & luxury toiletries. Plus, our 3-bedroom suite included a fridge stocked with sodas and bottled waters (beer too for a fee), plus complimentary snacks and coffee too. Not to mention a delicious executive chef prepared buffet breakfast with menu items like coconut banana pancakes, sweet potato hash, and applewood smoked bacon. They also offer complimentary parking (which is like gold in La Jolla because it is usually very hard to find parking and the hotels charge you an arm and a leg for it) and they offer a complimentary local shuttle service too.
Rooms
Besides a perfect location and extraordinary service, Pantai Inn also offers multiple room configuration making it perfect for family stays and multi-generational trips. Choose between one, two, and three bedroom cottages and suites featuring authentic Balinese-inspired decor. Some of the rooms feature fully equipped kitchens, living spaces, and fireplaces, not to mention incredible oceanview balconies.
Check out Ella's Room Tour Below. Click the thumbs up button to let us know you liked it 🙂
Kid-Friendly Rating
Tons of space to play, just a short walk to nearby beaches, parks, and of course the famous sea lions, plus a breakfast buffet… clearly this place is perfect for kids. My daughter had a blast at the Pantai Inn, in fact, I am pretty sure she would have been content hanging around the hotel all day. She loved checking in the lobby to see what treats the chef had prepared and left for guests to snack on, the turndown service made her excited to go to bed, and she loved hanging out on our wrap around private balcony. She also loved lounging around the fire-pit each night. It was the perfect way to unwind with the warm glow from the fire keeping us warm and the waves crashing in the distance. The only thing that could make Pantai Inn even more appealing is if it had a pool or spa but most hotels in La Jolla don't offer one or if they have one they do not have the awesome oceanfront location.
Things to Do & See Nearby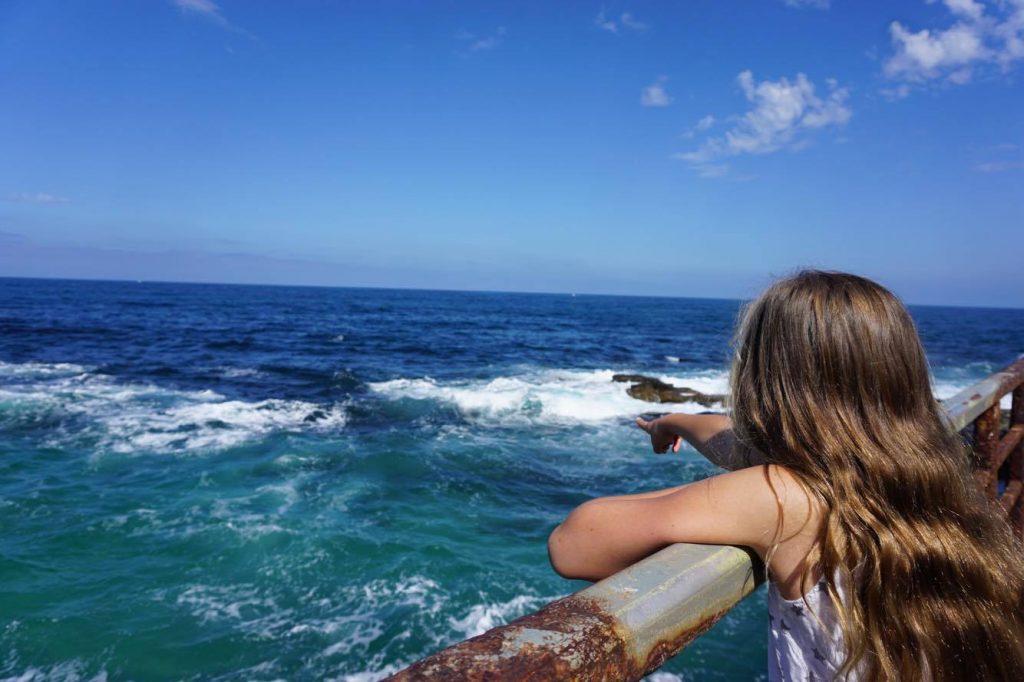 There is SO much for families to do in La Jolla from watersports to art museums, relaxing at a beach or hitting the shops. Plus, Pantai Inn offers convenient access to all the San Diego attractions as well. A few of our favorite things to do & see nearby in La Jolla CA include:
Visiting the resident sea lions at La Jolla Cove

Take a hike at Torrey Pines State Reserve

Play at the beach at the Children's Pool

Kayak through the La Jolla Caves

Snorkel in the La Jolla Underwater Park

Catch the sunset at Scripps Pier

Head to Scripps Park to see the tree that inspired former resident, Theodor Geissel aka Dr. Seuss, to create the Lorax

Visit the Museum of Contemporary Art
Overall
This is one of those hotels that is almost too good to share because you don't want to secret to get out. But, because we are friends I feel like I have to let you in on this little gem of a hotel in La Jolla CA. With an unbeatable location, knocks your socks off service, incredible complimentary breakfast, and flexible room offerings there really is no better stay in all of La Jolla. Heck, I think the next time we want to visit San Diego I will book a stay here. It doesn't hurt of course that I absolutely LOVE Bali and all their decor is Balinese-inspired but I am pretty sure you will love that aspect too. Never hurts to feel like you went on a tropical getaway!
For more information on Pantai Inn + great deals when you book a stay check their website here.
Pin for Later
Have you stayed at Pantai Inn yet?
*Disclosure- Global Munchkins were guests on our recent stay at Pantai Inn for the purposes of this review. However, all thoughts and opinions expressed above are, as always, 100% our own. We never promise a positive review and we only feature businesses that we would recommend to our dearest family & friends. Thank you for supporting Global Munchkins.
Latest posts by Mama Munchkin
(see all)