La Jolla happens to be one of our absolute FAVORITE destinations with the kids. With resident sea lions, gorgeous sunsets, beautiful beaches, plenty of parks, and incredible dining options you really can't go wrong. Find out which hotels in La Jolla CA we recommend + a list of our favorite kid-friendly things to do and places to eat to start planning your next trip to La Jolla today.
The BEST Family-Friendly Hotels in La Jolla CA + Kid-Friendly Things To Do
Getting There
La Jolla is nestled right in the city of San Diego with Del Mar to the North and Pacific Beach Beach to the South. If you're flying in for a visit, the San Diego Airport is just about 10 miles away. The I-5 is the way to go if you're driving in from either the North or the South. Public transportation is always an option, too, with bus routes 30, 31, 34/34A all coming into La Jolla. Check out sdcommute.com to see all your public transit options. The best thing about La Jolla is all the tourist destinations are pretty close together and many are within walking distance from each other. You can also use Uber while you are there.
Best Hotels in La Jolla CA
Pantai Inn- The Pantai Inn is about as dreamy of a beachfront getaway as it gets and it is the hotel in La Jolla CA we recommend to our family & friends. We love Pantai Inn for family stays thanks to their multiple room configurations, but this luxury hotel is equally suitable for a romantic weekend too. Our suite had three bedrooms, 2 bathrooms, and a full kitchen which was like having our own little home in La Jolla. The whole place gives me Bali vibes, which I love. With a complimentary chef prepared breakfast, ocean views from the courtyard and gardens, plus an outdoor fire pit to sit out by you are bound to have a relaxing stay. But the real winning feature of this place? Location. Everything you need to get to in La Jolla is within walking distance; from the shops and dining on Prospect St. to the sea lions down by the ocean. Read our FULL REVIEW of the Pantai Inn by clicking here.
Check out Ella's Room Tour below & don't forget to click the thumbs up button 🙂

The Lodge Torrey Pines- The Lodge has all that beautiful craftsman detail you would find at a mountain resort, but instead, it's located right in La Jolla with beautiful views of the beach. You can lay out and get poolside service or relax in the whirlpool overlooking the legendary golf course. They also offer guided hiking tours through the state reserve and yoga classes on weekends. Plus, I've heard the sunsets are pretty incredible and the service is unbeatable.
La Valencia Hotel- La Valencia basically checks off all the boxes for a great beach vacation; live music, pool with an ocean view, classy Mediterranean style, and a glamorous history nicknaming it La Jolla's Pink Lady. Although this hotel has been popular since the 1920's, they keep it modern with new rooms like the ICON suites. They claim their concierge know the city best and they are super helpful in helping you make plans for the day and recommending the best tours. It doesn't get much better than feeling like an old Hollywood movie star and being right on the beach.
Hilton La Jolla Torrey Pines- This Hilton hotel is actually right in between Del Mar and La Jolla making it convenient to spend time in both these beautiful beach cities, but with all they have to offer you do not even really need to leave. There's pools, a tennis court, amazing views, 4 on-site restaurants, and it is steps away from the Torrey Pines golf course. There are nice balconies and private decks on many of the rooms, just keep in mind the beach is not quite in walking distance from this one.
Air BnB- Air BnB actually has some really great options for staying in La Jolla, especially if you are going in a big group and can break the house prices down by rooms. La Jolla is known for having stunning homes with unique architecture, so it's worth taking a look into experiencing that. There are tons of options for beautiful beachfront homes and it's always fun to have your own space. We especially love when we have the option to cook some meals ourselves and to come back to take naps in peace and quiet. Click here for $40 OFF your First Airbnb stay.
Check current rates on Tripadvisor now-


Things To Do
Walking Trails and Parks
The views from the cliffs and sandy beaches around La Jolla are reason enough to visit, which means you should really try out some of their walking trails to take it all in. The Torrey Pines State Reserve trails, Razor and Yucca Point, are a great place to start as they are easy and have views of the ocean.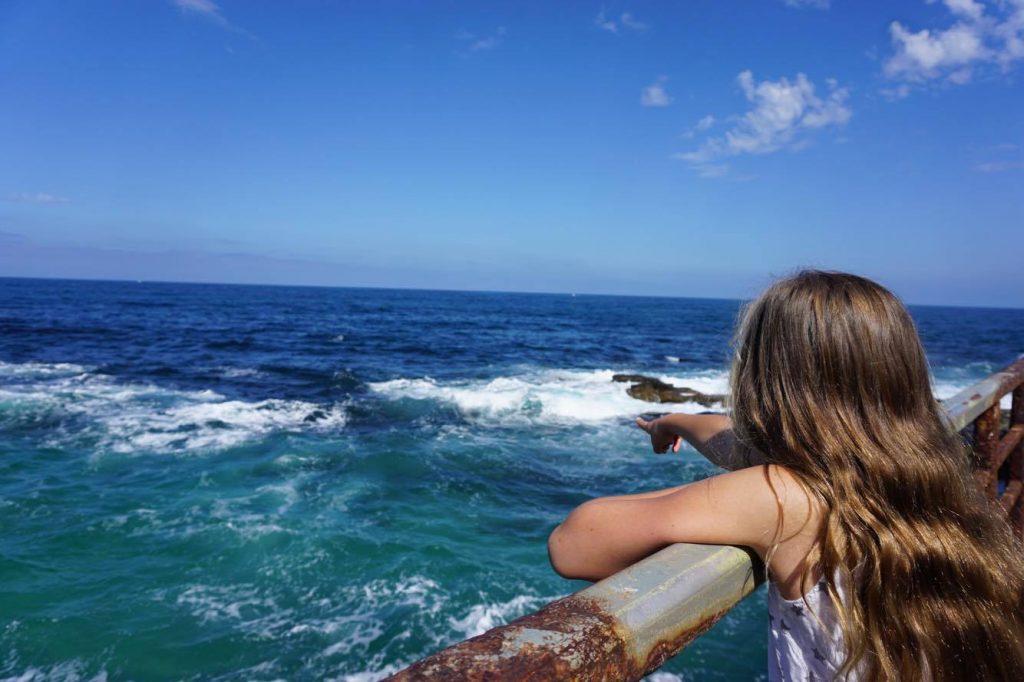 If you are looking for more of a casual walk, park down by Ellen Scripps Park and just stroll around. In the middle is a big grassy park perfect for a picnic or throwing around a football, but the perimeter is all sidewalk so you can even take a stroller. There are multiple staircases down to the ocean from the park, one of the taking you down by Seal Rock and The Children's Pool where we've frequently spotted harbor seals and lounging sea lions.
On the other end of the park, you can get down to La Jolla Cove which is a great place to swim. Just past the park, you will find a little hole in the wall shop called The Cave Store and it's here that you can purchase tickets to walk down into La Jolla's very old Sunny Jim Sea Cave. Once you purchase tickets, they'll show you to the entrance right in the store and you can walk down into the cave. It's no spectacular view, but it's a fun activity and pretty impressive to think for thousands of years people smuggled everything from jewelry to alcohol up those rickety stairs.
Kayaking and Snorkeling
This city literally has a park… underwater! La Jolla Underwater Park is an ecological reserve and marine life refuge making it one of the best beaches to view coral, fish, and tons of marine life. Snorkeling and diving are pretty common around here and you can find different tour options here. You can also venture out by yourself if you've got your own gear. Same goes for kayaking! More than the underwater reserve, there are tons of caves for kayakers to venture into and many of the tours will take you there.
Enjoy the Sunset + Capture Memories at Scripps Pier
Take advantage of the gorgeous beach at Scripps Pier. Not only are the views extraordinary but the beach and pier at this location are also the perfect backdrop for your family photos. I recommend hiring a photographer to capture your memories for you. Check out Flytographer who took the photo of our family below.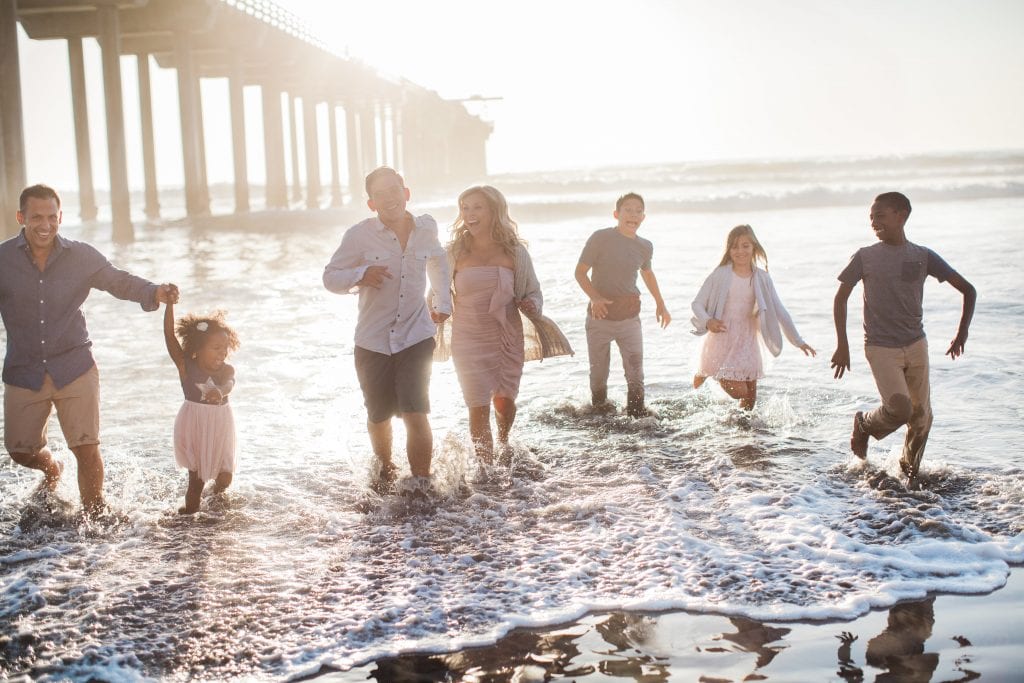 Arts
Like many SoCal beach cities, La Jolla is a great place to experience the arts with tons of museums and the La Jolla Playhouse. Not to mention Dr. Seuss himself resided in the city and you can see his inspiration around every corner, even the original Lorax tree which is said to be located at Scripps Park. We recommend hitting up the Museum of Contemporary Art, La Jolla Edwards Sculpture Garden. While the museum has an entry fee the garden is completely free and the kids will be much more enthusiastic about exploring outside and parents will love taking in the scenic ocean views.
Murals
Another fun family-friendly activity in La Jolla is to check out the different murals hidden around town. They make adorable backdrops for photos of the kids. We like to visit them first thing with the promise of tasty donuts as a treat afterward. Bribery works wonders at getting kids to smile.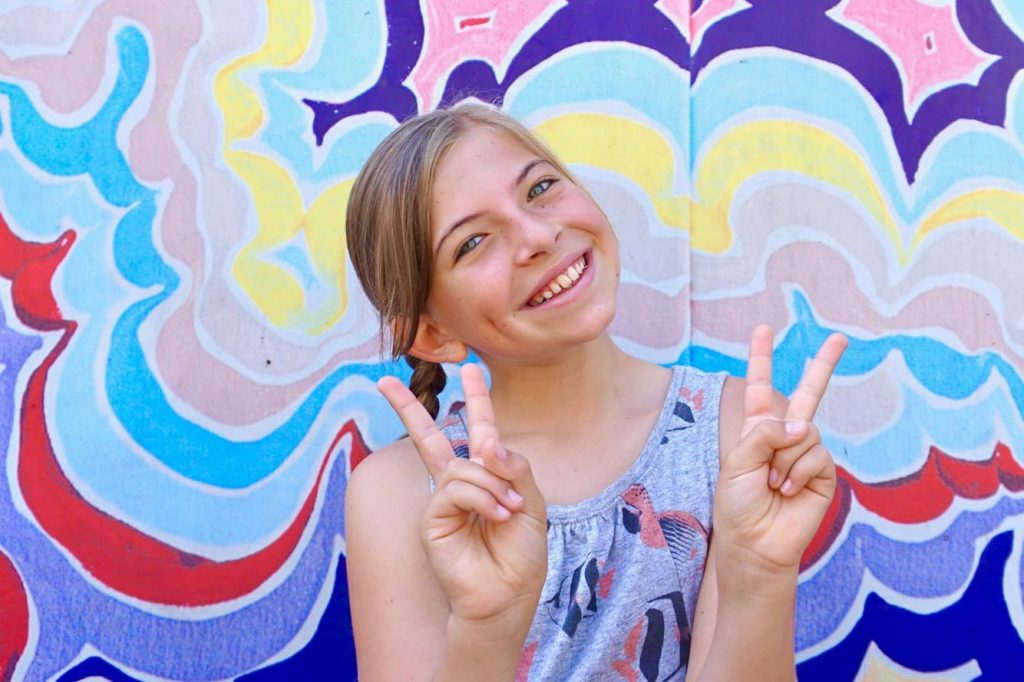 *Find the addresses to all of the La Jolla murals here.
Secret Swings
Take the kids on a scavenger hunt in search of the Instagram-Famous La Jolla Secret Swings. The kids will have a blast trying to locate them and the views once you find them are absolutely incredible!!! Learn more about them here.
Find more activities near La Jolla in our Kid-Friendly guide to San Diego-
Best Restaurants in La Jolla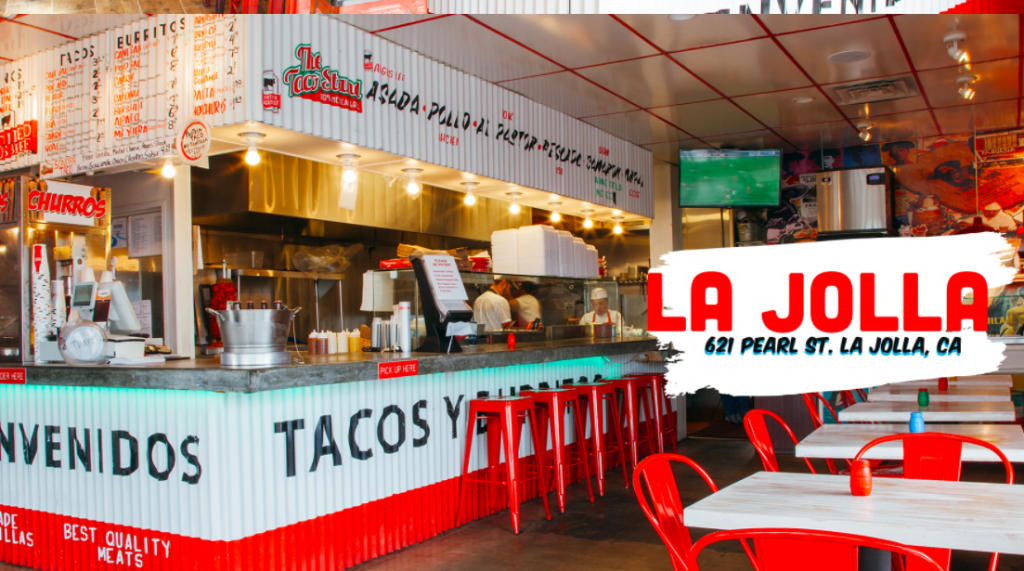 The Taco Stand- Yes! There are a bunch of world-class eateries serving up elegant cuisine in La Jolla, CA. But, let's be honest… all the locals know The Taco Stand is where it's at. Just be sure to plan plenty of time to wait in line because turns out this local secret isn't so secret anymore thanks to its raving reviews on Yelp.
Puesto- Mexican food is my go-to comfort option after a long day at the beach and Puesto does it best in La Jolla. The walls flip open and there are bright murals everywhere giving this place a great happy vibe. They've got a pretty great happy hour Monday-Friday with tacos at only $3.50 and great margaritas.
George's at the Cove- A super popular restaurant choice in La Jolla is George's at the Cove. I think the massive tri-level restaurant with lines at each hostess podium can attest to that. But, with ocean views and a drool-worthy menu its easy to see why everyone wants to eat there.
Wheat and Water- This little pizza joint is untouched in all the right ways and has been left with that beach charm in its wood beam ceilings and blue tile accents. It doesn't hurt that the pizzas are absolutely delicious, too, and you've got plenty of options for white pizzas which are our favorite.
Torrey Pints- My heart is with any restaurant that puts in the effort to create good tasting and filling vegan entrees and that's why Torrey Pints is on this list. They have quite a few vegan options and they're clearly marked on the menu.
Sushi on the Rock- Beautifully plated sushi is best eaten with a beautiful ocean view. Sushi on the Rock is located right up the street from the beach. Our kids love sushi but for picky kiddos, they offer kid noodles which look pretty good!
Cody's La Jolla- Cody's is one of the best brunch spots in all of San Diego with fun bubbly drinks in mason jars and high stacks of strawberry french toast. Make sure to grab a seat outside on the patio.
Juice Kaboose-  Could this really be where the juice craze began? They say so! Regardless, it sure does have great smoothies and wraps. I love places like this that make it easy to stay healthy on vacation. Try out their Pitaya bowl for some bright pink yummy goodness.
The Cheese Shop- Don't want to waste your time in a restaurant when you could be taking in ocean views? Stop by the cheese shop and pack up a picnic of simple sandwiches, deviled eggs, chips, and pickles. Make sure to include an oatmeal cookie because the rumor is they are to die for!
What are your favorite things to do in La Jolla with kids in tow? Leave your suggestions in the comments below so we can check them out.
Pin for later-
*disclaimer- posts from Global Munchkins may contain links to amazing travel and lifestyle partners as well as affiliate links. All opinions though, as always, are 100% our own. We only partner with brands we personally use, love, and would recommend to our dearest family + friends.
Latest posts by Mama Munchkin
(see all)