You've probably heard of "drinking around the world" at Epcot, especially during the annual Food & Wine Festival, and Festival of the Arts, but have you ever considered "breakfasting around the world" instead?
Ok, that may be a lot of food. Here, you'll discover the best Epcot breakfast options and find out why it's one of Walt Disney World's most versatile parks for the first meal of the day.
There really is something for everyone! Best of all, this will get you in the park bright and early making it easy to hit all the popular rides. Just make sure you don't get too full! Trust me, the more bites you get to try in Epcot the better. 
---
Character Dining and Sit Down Breakfasts in Epcot
---
Garden Grill Restaurant 
The Garden Grill Restaurant is located in Epcot's Future World. Here you will find family-style character breakfast that features Chip, Dale, and friends. The hallmark of this restaurant is that it slowly rotates as you dine. This allows you to see a variety of visuals, such as a rainforest, a sandstorm, a thunderstorm, and a rolling prairie.
Each image is meant to evoke emotions and conversations about the natural world that provides us with fresh food and water every day. I love having discussions like this with my little ones! 
The Garden Grill Restaurant buffet menu includes signature items like Chip's Sticky Bun Bake and Mickey waffles with hazelnut-chocolate drizzle. Fresh seasonal fruits, bacon and sausage links, scrambled eggs, and hash browns are also available. The full menu can be found here. Some Disney dining plans are accepted and reservations are strongly encouraged. 
---
Rose & Crown Tea Experience- The Most Unique Epcot Breakfast Experience
The Rose & Crown restaurant is located in the World Showcase's Britain pavilion and features two distinct areas: a pub and a dining room. Both are themed in the traditional English fashion. Beginning at 9:45 AM on Thursdays, Friday, Saturdays, and Sundays, the dining room offers the exciting Rose & Crown tea experience.
During this exciting activity, you and your party will receive multiple samples of Twinings tea and a lesson on how to make the perfect "cuppa" for yourself at home. You will also enjoy tea sandwiches and scones as part of your breakfast-time meal.
Reservations are strongly encouraged for this experience and the cost is $35 per participant. You cannot use a Dining Plan credit for this experience. Find additional information here.
---
Bon Voyage Breakfast at Trattoria al Forno
While this restaurant is actually located on Disney's Boardwalk, it's just a quick walk to the Epcot World Showcase Entrance. Some of the most popular characters like Rapunzel, Flynn Rider, Ariel, and Prince Eric will be milling about. Not to mention, the breakfast here is some of the best in all of Disney World.
They will serve your courses to you at the table, making it more relaxing than a buffet. If your not a big breakfast person, there is a delicious calzone on the menu which is basically like eating pizza for breakfast! Hooray for that!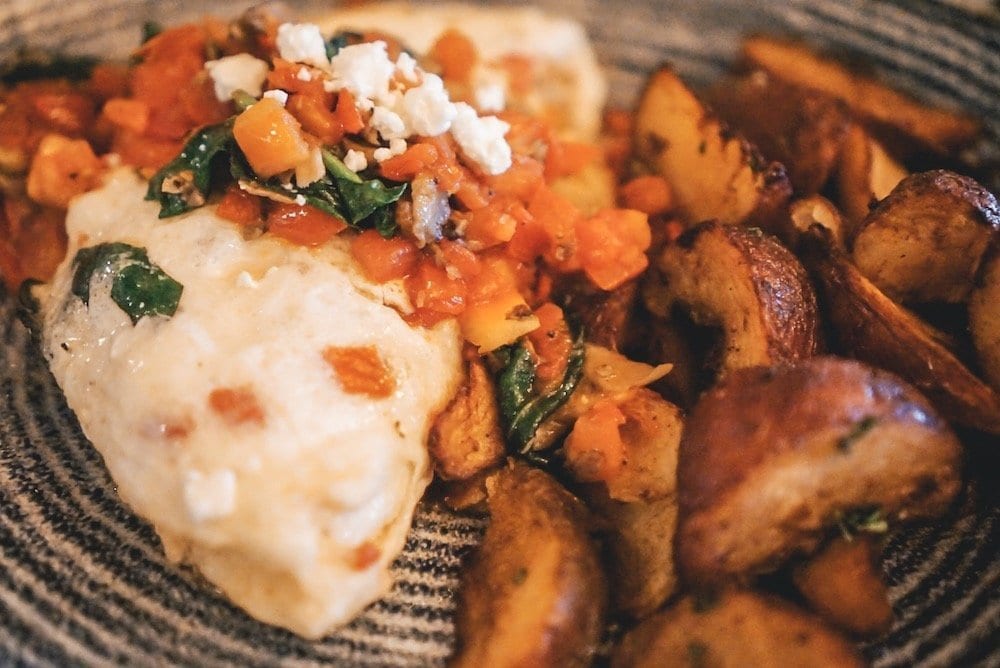 In my opinion, this place has the best character breakfast food of any of the Disney World parks. The servings are very large so you can use this meal as breakfast and lunch. Even the fruit and yogurt platter is massive.
I strongly recommend making reservations for this character dining experience. Find more information here. 
---
Akershus Royal Banquet Hall
Get an early morning start eating delicious breakfast with royalty. Located in the Norway pavilion of the World Showcase, Akershus' location is pretty convenient.
It is right next to the popular Frozen Ever After ride! This means you and your favorite little princes and princesses are just a hop, skip, and jump away from Arendelle when you leave your character breakfast. Akershus features multiple princesses, typically including Belle, Snow White, Cinderella, Ariel, and Aurora.
Akershus is themed as a medieval hall hosting a feast to celebrate the most famous Storybook Princesses. The delicious buffet breakfast menu includes a Norwegian smorgasbord of salami, smoked pork, Jarlsberg cheese, Muenster cheese, scrambled eggs, bacon, potato casserole and more.
Don't forget to try the special character drink featuring a glowing cup light or Voss water imported from Norway.  The full Akershus menu and pricing is available here. Some Disney dining plans are accepted and reservations are strongly encouraged. 
---
Quick Breakfast Bites in Epcot
Sunshine Seasons
For a delicious grab-n-go breakfast, swing by Sunshine Seasons. It is located in the Land Pavilion just a couple steps away from the entrance of Soarin'.
I love the healthy options served here like the Breakfast Power Wrap (Wild Rice, Sweet Potatoes, Blueberries, Avocado, and Tofu) and the Overnight Oats. These options will definitely keep you fueled throughout your day at Epcot. 
You can use a Disney Dining Plan counter service meal credit here or a snack credit on a bakery item! Check out the full menu here.
---
Les Halles Boulangerie-Patisserie 
Located in the France pavilion of the World Showcase, Les Halles is a traditionally themed Parisian boulangerie and patisserie that will make you feel as though you've just stepped into the City of Light.
There is an extensive menu, including croissants, chocolate chip brioche bread, lemon (citron) and strawberry (fraises) tarts, quiche Lorraine, and numerous coffee options.
The full menu can be found here. They accept some dining plans at Les Halles.
---
Gelati- The Best Sweet Epcot Breakfast!
Although Gelati, located in the World Showcase's Italy pavilion, doesn't open until 11 AM, it is the perfect place to stop for a brunch treat if you're craving something sweet in the morning. Plenty of seating is available in the "Italy" plaza, so you and your party can soak in the exceptional theming in this pavilion.
This quick-service kiosk serves traditional Italian gelato and dessert options, including cannoli, espresso affogato (fresh espresso poured over vanilla gelato, served with amaretto cookies), tiramisu, and a host of gelato flavors served solo in a cup or a cone.
The full menu can be found here. You cannot use a Dining Plan credit here.
---
Kringla Bakeri Og Kafe 
Situated across from Akershus Royal Banquet Hall in the Norway pavilion, Kringla Bakeri Og Kafe is the perfect choice for mornings when you want a grab-and-go option for breakfast. The small but cozy restaurant has a traditional Scandinavian theme and a covered patio for those who wish to sit down and enjoy their meals.
The establishment offers numerous traditional Norwegian entrees and pastries, including a salmon and egg bagel with cream cheese spread, lefse (flatbread rolled in a cinnamon, sugar, and butter mixture), and a troll horn (pastry with orange marmalade filling). Freshly brewed Joffrey's coffee is also available.
The full menu can be found here. Some dining plans are accepted and reservations are not required at this quick-service restaurant.
---
Fountain View- AKA Starbucks!
If you are just dying for a little taste of home… or a caffeine pick-me-up, then you will be happy to know that you can find all your favorite Starbuck's drinks at Fountain View.
Start your day at Epcot bright and early with a delicious breakfast. That way you will have a full day to hop on all of your favorite rides like Test Track and walk around the World Showcase exploring all this park has to offer. If your restaurant of choice requires reservations, you can do so online or by calling 1-407-W-DISNEY. Bon voyage!
---
Other Epcot Breakfast Options
La Cantina de San Angel
Another great option for breakfast at Epcot is La Cantina de San Angel, which is located in the Mexico Pavilion of the World Showcase. Here, you can enjoy a quick-service breakfast that includes items such as breakfast tacos, chilaquiles, and Mexican pastries. The outdoor seating area of the restaurant overlooks the water, making for a peaceful and scenic breakfast spot.
---
Breakfast on the Farm experience at Living with the Land
If you're interested in something a bit more unique, consider the Breakfast on the Farm experience at Living with the Land. This tour allows you to explore the behind-the-scenes workings of Epcot's agricultural technology, including a glimpse into the greenhouses where many of the park's fruits and vegetables are grown.
After the tour, you'll enjoy a family-style breakfast that features many of the ingredients you just saw being grown in the greenhouses.
---
Have questions for me about Disney World vacation planning? Leave a comment below or message me on Instagram!
Check out – A GUIDE TO EPCOT RIDES AND ATTRACTIONS
---
If you enjoyed reading about our picks for best Epcot Breakfast, you might also like:
Try the Grey Stuff, It's Delicious- The 7 Best Magic Kingdom Restaurants
Hollywood Studios FastPass Guide: A Quick & Easy Way to Maximize Fun!
Animal Kingdom Breakfast- The 5 Best Morning Spots for a Bite!
---
Pin-it for later: Best Epcot Breakfast!
---
Frequently Asked Questions about Epcot Breakfast Options
What other options are available at Walt Disney World outside of Epcot for breakfast?
When it comes to delicious breakfasts at Disney World, there are plenty of options to choose from outside of Epcot. Below are some:
At Disney's Beach Club Resort is the Beach Club Marketplace
Grand Floridian Cafe, which is located at Disney's Grand Floridian Resort & Spa
What is the earliest breakfast at Epcot?
The earliest breakfast options at Epcot typically begin around 8:00 or 8:30am, depending on the specific restaurant or location.
However, it's important to note that breakfast hours may vary depending on the season and park hours, so it's always a good idea to check with Disney World's official website or mobile app for the most up-to-date information on breakfast availability and hours.
How long is breakfast served at Walt Disney World?
Breakfast service hours at Disney World can vary depending on the specific restaurant or location. Generally speaking, most restaurants that serve breakfast at Disney World begin serving breakfast around 7:00 or 8:00am and continue serving until around 10:30am or 11:00am.