It is that time of year again, the Peppermint Mocha is here, Christmas blend is brewing, the elf on the shelf has returned (#sadface) and the holiday music is cranking in the stores. Beginning November 29, 2022 and running through January 1, 2023 Starbucks is bringing back their Starbucks for Life Game throughout the holiday season.
If you haven't played Starbucks for Life it is a fun little game where you can earn anything from bonus stars to holiday drinks, to FREE STARBUCKS FOR LIFE. This year over 2.7 MILLION Prizes will be given away and 10 lucky winners will win Starbucks for Life!
Now, if you are like me and only have Starbucks once or twice a week, winning at this game might seem impossible. Here, I will give you the overview on how to play and tips on how to play for free and increase your chances of winning by 500%….It's Easy & FREE!
Starbucks for Life is Back for 2022! Super Secret Ways to Win!
The Starbucks for Life Game runs this year from November 29, 2022 – January 1, 2023. In 2022 Starbucks had tons of games from the Starbucks Summer Game to Starbucks Starland, but the granddaddy of them all is Starbucks for Life.
1) How to Play
The game is pretty simple and fun.
You have to be a Starbucks rewards member
Sign up by going to starbucksforlife.com or via the Starbucks App
During the promotion period sign into your Starbucks Rewards account to receive one (1) daily game play.
Follow the links and instructions to play the game and you will receive either an Instant Win Game Prize, one (1) Collect and Win Game Piece, one (1) holiday light, OR a "lose" message.
LIMIT: Each Entrant may receive one (1) game play per day during the promotional period for either registering or logging in.
Additionally, by completing the Game Play Challenges or participating in the Alternate Method of Entry to earn game plays, you can receive up to four (4) additional game plays per day for logging into the site.
2) Earn Extra gameplays with the Starbucks for Life Challenges
So, you can also get some extra gameplays by doing some challenges….some of them are FREE….. this is not the super secret trick, I will get to that soon
Here are some of the challenges – This year is a different than the past years as each week Starbucks has new challenges to do during the whole period versus we
Starbucks for Life Challenge – # 1: Fill'er Up!
Add the amount of money indicated on the site to a current card or auto-reload – Receive 1 Bonus Play
Starbucks for Life Challenge # 2: Order Ahead OR Snag a Treat!
Make 1 mobile order and pay purchase transaction – Receive 1 Bonus Play
Starbucks for Life Challenge # 3: Weekend Brewer OR Run It Out!
Make 1 purchase on with a Saturday or Sunday – Earn 1 bonus play.
OR
Achieve the listed score in the Basil Run game – Earn 1 bonus play.
Starbucks for Life Challenge # 4: Let It Snow
Play the game the indicated number of days in a row on the site – Earn 1 bonus play.
Starbucks For Life: Holiday Lights
Once you have collected 6 lights, you will unlock the following prizes:
10th Prize: $1.00 off handcrafted beverage coupon
11th Prize: Reserve Tote
12th Prize: Ornament and have the opportunity to play for the chance to win the Collect and Win Game Prize by collecting game pieces!
Claim the Play
Once each challenge is completed, make sure to sign into your account and follow the links and instructions to claim the additional play! If you are a potential winner of a prize, you will then be provided directions for validation.
3) Super Secret Way to Increase your Chances by at least 500%
Look, I love my Starbucks and would love winning Starbucks for Life, but I don't go enough to win barely anything. However, there is a SUPER SECRET way I can still earn entries from all the challenges and daily entries for FREE. There is no need to break from your normal routine to get gameplays. Here is how to do it.
Click on the globe at the bottom center to play and scroll to the bottom.
At the bottom, you will see no purchase necessary and then click here to enter.
Fill out your name and address
Choose the challenge you want to earn entries and click submit!
In a minute you will receive an email saying activate your entry and play
You can do this for every challenge
Plus you can do the daily entry twice a day, every day!
Basically, you can earn over 100 gameplays for FREE
What are The Prizes?
Like I said, there are 2.5 million prizes. In addition to 2 people winning Starbucks for Life, here are some of the other large prizes.
Starbucks for Life (2 Winners)
Starbucks for 6 Months (25 Winners)
Starbucks for 1 Month (100 Winners)
Delta Air Lines Flight Certificates (40 Winners)
1,000 Bonus Stars (8,000 Winners)
500 Bonus Stars (1,000 Winners)
150 Bonus Stars (35,000 Winners)
Mocca Master Coffee Brewer (20 Winners)
$50 Starbucks Gift Card (1,000 Winners)
Cold Brew Kit (100 Winners)
$1.00 off a Handcrafted Beverage Coupon (50,000 Winners)
Reserve Tote (2,000 Winners)
Ornament (2,000 Winners)
What are your chances to win Starbucks for Life?
There are 2 Starbucks for life rare game pieces that will be given out during the promotion. The estimated value of winning Starbucks for Life is $64,605.00.
I have won hundreds of bonus stars and some free drinks this way (no free Starbucks for life #sadface) and it literally takes just a minute or two each day, less time then a Starbucks run.
---
Think of all the delicious Caramel Brulee Lattes that you will be able to sip up this holiday season, and hopefully you will win one of the big prizes, like Starbucks for a month, Starbucks for a year, or best yet Starbucks for Life! Good Luck!
Are you a Starbucks Addict? Our friends at Board Area have some news on a STARBUCKS CREDIT CARD!
What is your Favorite Starbucks Holiday Beverage?
Pin for Later – Super Secret Ways to win Starbucks for Life!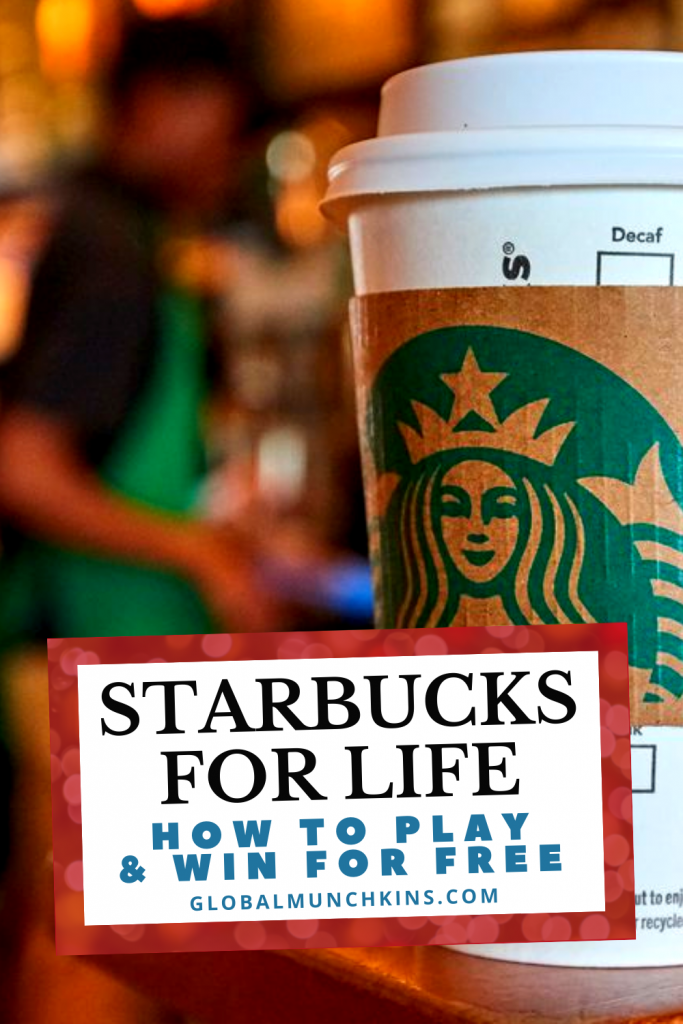 You Might Also Enjoy:
Top 7 Things to do at Knott's Merry Farm This Holiday Season
Girls will Flip over these Realistic Mermaid Tails this Holiday Season