I found the secret to happiness. It's at Blue River Costa Rica. The Blue River Resort in Costa Rica is a mountain rainforest hotel experience like no other. I couldn't agree more.
Blue River Costa Rica – 5 Reasons I love this Resort!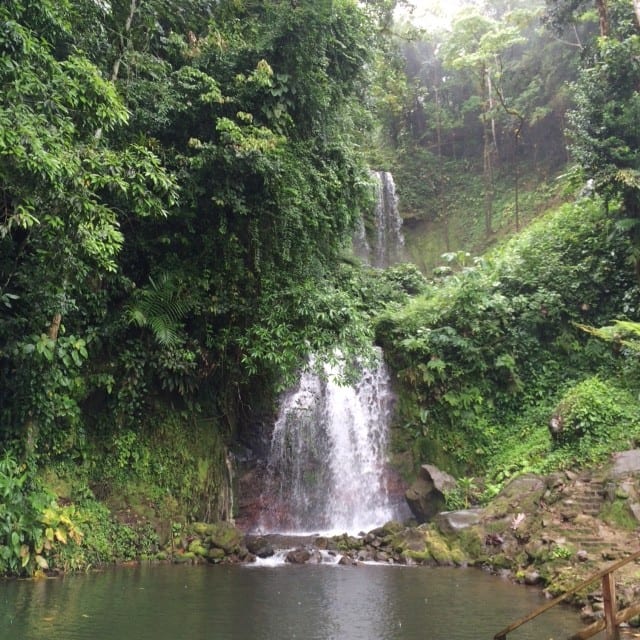 Located on the north side of beautiful Rincon de la Vieja Volcano, a convenient drive from both Liberia or San Jose International airport,  the resort is nestled into a beautiful, lush rainforest complete with awe-inspiring waterfalls, natural mineral hot springs, (paired with mud baths), and the bluest of blue volcanic rivers. The colors matched the Caribbean. Between the tropical gardens, technicolor flowers, blue rivers, and lush mountainside, the entire resort seemed to be an assault on the senses. I found myself asking if this place was real or not.
Cozy Accommodations
The resort at Blue River Costa Rica offers cozy, well-equipped cabins that can fit up to a family of 5 comfortably. Each cabin has all the amenities you need including AC, mini-fridge coffee maker, hair dryer, rollaway beds, and what I consider the best part, a front porch with 2 rocking chairs and a hammock.
2. Pools & Slides
The resort does an amazing job catering to families and couples alike. The 4 natural hot springs, freshwater pool, mud bath, and spa can entertain a couple for the entire day. The kids will love the freshwater pool with a super fast bullet slide. I had to try it to confirm, and indeed it was fast!
Tucked behind the hot springs is a beautiful cluster of natural wonderment. There's a botanical garden, a butterfly garden, a hummingbird sanctuary, a fish and turtle pond, a volcanic mud bath (which I mentioned before but feel is worth another- it was amazing), a sauna and a mini waterfall. You wind through the lush garden paths to get from one to another. It was like a beautiful rainforest maze that you'd love to get lost in.
3. Horseback Rides, Ziplines, Rafting & More
If horseback riding is up your alley, the resort has stables on site and will gladly take you on a ride up to the waterfalls. They even have a few miniature donkeys and horses that are tame enough to pet and feed.
Other eco-adventure tours offered are zip lining, rafting or tubing down the river. All adventures are offered either on-site or very close. That means you won't be spending extra time in transit. I've been told these are amazing adventures, but not for the faint of heart.
4. Family Friendly Dining Options
The Tiki Bar & Restaurant at Blue River Costa Rica offers a full family-friendly menu, and a breakfast buffet is included in the room price, which was really nice. Our boys (age 12 and 9) could roll out of bed and go get their own breakfast without our supervision.
Pin for later-
5) Dino Park
And if those amenities aren't enough, Blue River Costa Rica now has a Dino Park!  That's right, life-sized dinosaurs roaming the jungle. You'll have to see it to believe it. I had the experience of meeting the magic behind the resort, Daniel Apelboim, he is to Blue River Resort what  Walt Disney is to Mickey or Willy Wonka is to the chocolate factory. He makes the magic! He said his one goal with the resort is to truly make people happy. To allow them to be in the moment, to reconnect, to feel the family love. I believe in his magic!
We were given a private tour by Daniel which was really nice. It's clear that he, along with his staff, really love the resort and pay particular attention to the natural preservation of the property. He has plans to add to the resort by offering yoga to the guests. On a wooden platform over a waterfall. To me, that sounds like heaven.
Blue River is in the rainforest, so it did rain a little each day (ok, a lot one day) but it really didn't matter to us. The rain always broke after about an hour and we really, really enjoyed sitting in hot springs while the rain gently fell. And, sitting in a hammock watching the rain is about the best thing you can do to relax, in my opinion.
Environmental conservation is an important factor to my family when choosing a resort. Blue River does an amazing job considering the environment in many aspects. They are very mindful to provide all experiences in a way that minimizes environmental impact and supports keeping the area in its natural state.
My entire family thoroughly enjoyed our stay at Blue River Resort and I'm positive that once those yoga platforms are up, I'll be back. And I'll bring lots of friends!
Check out my other articles on Costa Rica Here!
*A special thanks to Blue River Resort for hosting our contributing family. Rebecca's opinion, as with all opinions on my site, is 100% her own.