The island of Capri in Italy is one of the most gorgeous places I have ever visited. I am sure you have seen its beauty in a million books and postcards. But, what you can't feel when you look at its photos is the incredible warmth of the people that inhabit this amazing little island.
We were lucky enough to take a shore excursion off our Norwegian Mediterranean Cruise and visit this charming little island. It was love at first glance and I would travel back happily at any opportunity that came my way. This island is truly remarkable for its beauty, its history and its people. I hope to give you a glimpse of our extraordinary day in Capri and along our fantastic private boat tour with Capri Whales.
The Island of Capri, Italy- Photo (Ph)riday
Our very first glimpse of Capri as we departed the ferry. Looks just like a postcard right?
How gorgeous are these bougainvilleas? Its super romantic here. I think it would be a perfect spot for a honeymoon or a romantic getaway. Hopefully, my hubby and I can return sans munchkins someday 😉
I snapped this pic because I thought this little inn was adorable and I wanted to remember it.
This is us with Wendy. She runs Capri Whales with her husband and it is a business that has been passed down through Wendy's family. I cannot recommend their services enough. Their boat driver was incredible!!!
Here is us on Wendy's boat (Capri Whales). It was a beautiful boat. We felt like royalty floating around the gorgeous ocean waters in this vessel. Especially, as we glided by the crammed tourist boats. The poor people were smashed into those tiny boats like sardines. It looked miserable. This is why I prefer booking my excursions on my own. I always have better luck AND it saves us a ton of money!
The gorgeous bluffs we passed along our way around the island.
The kids loved pointing out different things they saw along the way. The driver had a wealth of knowledge and helped the kids spot all the interesting buildings and natural wonders Capri has to offer.
Don't you love lighthouses. There is just something special about them.
Shea felt pretty special getting to try out his driving skills under the guidance of our driver of course 😉
Here is a popular resort the Italian elite like to escape to. I can see why they like this place, can you?
Can you find the heart outline in the cave wall?
Another stunning seaside resort in Capri
Here is the entrance to the famous blue lagoon. Our driver was super smart and took us counter clockwise around the island so we avoided the huge queues of boats waiting their turn to enter this natural wonder.
There is NO additional lighting cast onto this water. And, although you can't tell by the photo inside the cave is pitch black. So, the water appears to be glowing with this magical blue color. It's definitely a sight to be seen!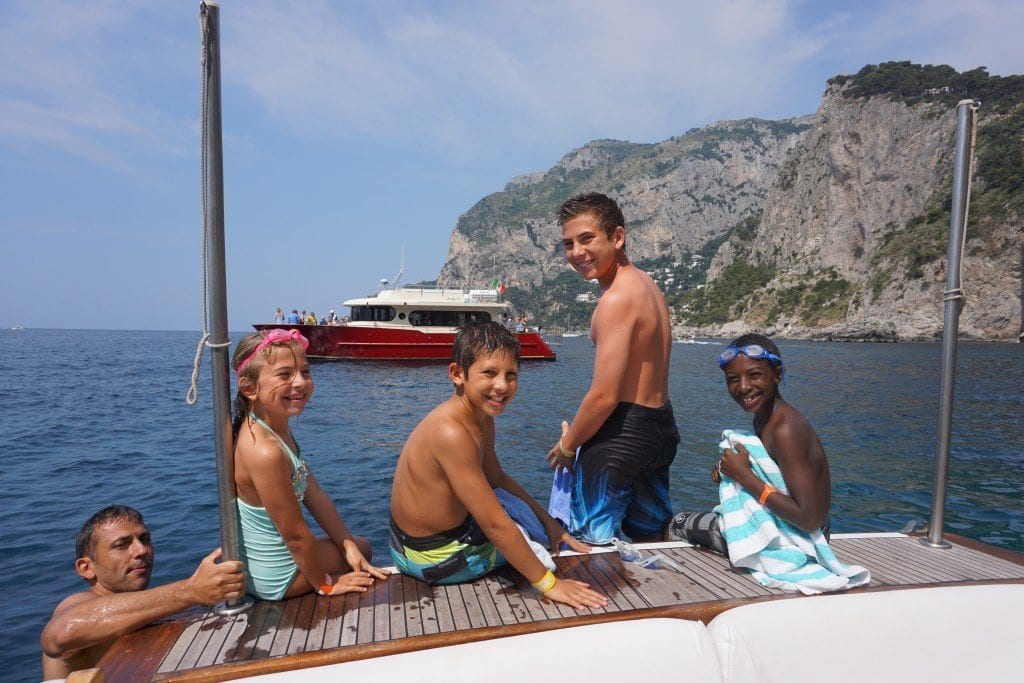 We all enjoyed parking the boat and having the opportunity to dive into the cool waters on our trip as well. Our driver found a nice calm area that was perfect for the kids.
If you ever find yourself in Italy make sure to schedule enough time for a day trip to Capri. I promise you won't regret it!
Have you visited Capri? Tell me about your experience…
*A special thanks to Capri Whales for hosting our family on our private boat tour around the island. My thoughts and opinions, as always, are 100% my own.
Latest posts by Mama Munchkin
(see all)