I remember taking our first cruise when the kids were young. I was totally freaked out that they were going to go overboard or get sea sick. Thinking about it now actually makes me laugh. As cruising is one of our favorite ways to travel with the kids. And, probably one of the easiest and most relaxing ways as well. Not to mention the Norwegian Getaway deck plan is super family-friendly.
We were fortunate enough to take two Norwegian cruises this past year. We took a Mediterranean cruise on the Epic (you can read more about that here) and just recently we visited Belize, Honduras, Costa Maya and Cozumel on the Norwegian Getaway. Both ships were amazing but I feel like the Norwegian Getaway deck plan is really built with families in mind.
5 Things Families will Love about the Norwegian Getaway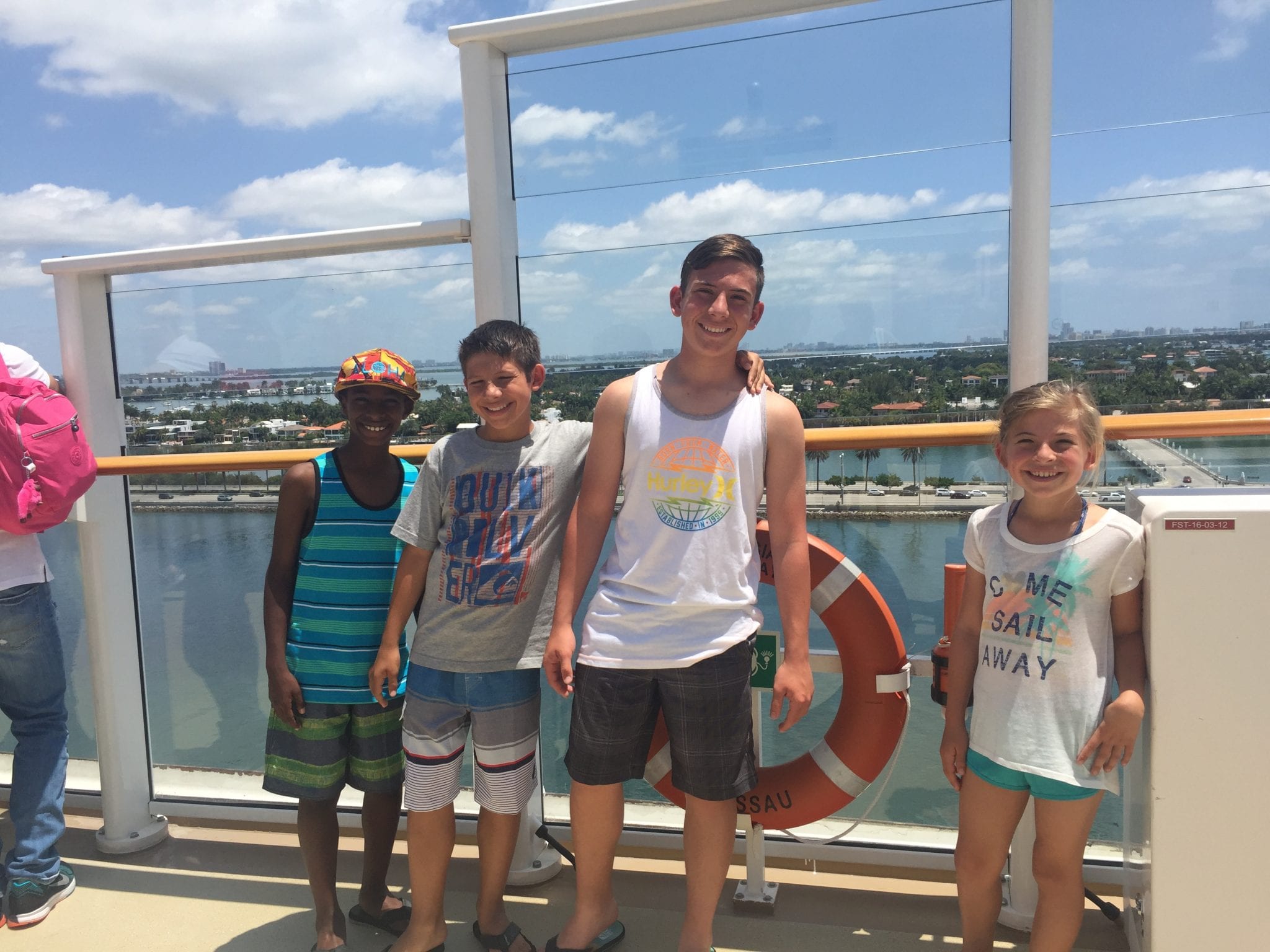 There is nothing better than embarking on a cruise and sailing away on a beautiful ship to new and exciting places. Especially, when said ship has incredible service, delicious eateries, waterslides and pools, a slew of activities & more! And, that is exactly what the NCL's Getaway has in store.
1- The Service + Convenience of the Norwegian Getaway Deck Plan
I have been on cruises (many of them) where you step on board and are constantly bombarded by staff trying to sell you upgrades, cases of water, cocktails etc… However, Norwegian is not like that. On the NCL Getaway, you are treated like a guest at a luxury resort. You are waited on and served like you should be.
This includes always coming back to a spotless, clean room. Oh, how that makes my mama heart happy. To walk into a clean room every day for a full week. Now that's heavenly!!!

The entire ship is meticulously clean at all times. I have no idea how they pull that off given how massive the ship is. It is also laid out beautifuly making it easy to get to where you need. Not always the case when it comes to deck plans on cruise ships. We've have been onboatd several that made no sense at all and it felt like we were walking from on end of the ship to the other constantly. Not the case with the Getaway.
Take a look at the Norwegian Getaway Deck Plan here.
But, the service isn't revolved only around housekeeping. Of course, their wait staff, bartenders, kids club crew and all other staff on board are there to ensure you have the best vacation ever as well.

In fact, their slogan is "Feel Free" and that means to do what you want and have a good time. That's what I am looking for in a vacation (apparently my kids too)… how about you?
2- Incredible Restaurants + Freestyle Dining
Food is always something people look forward to when cruising and I feel like Norwegian scores high in this category. Their freestyle dining gives you the freedom to dine when you want and where you want each night. There are 3 included restaurants as well as a bunch of specialty dining spots.
The specialty restaurants do come with cover fees or ala carte pricing options. However, I have always booked when they are offering free upgraded specialty dining and drinks packages which I would highly recommend looking into. I hardly ever eat at their main dining areas with the exception of the occasional table service breakfast which is super tasty.
Instead, we prefer to book reservations at the specialty dining spots like the Teppan restaurant. Here you'll find some of the best and most hilarious Teppan chefs you'll ever see and the entertainment alone makes it worth checking out, even for the added fee. But, the food is equally fantastic as well!
The other thing we loved was the freestyle dining. I wasn't sure at first, but it was so nice to be able to book a dinner table at a different time each day, rather than being stuck with the same time every day.
The reason being is sometimes you get back from port late and need a little break before dinner and other days, like sea days you might want dinner earlier so you can catch a show. All in all, with so many dining options, freestyle dining is FANTASTIC!
*Tip- book your dining early. They accept reservations starting 90 days before you depart.
I would also recommend stopping by Wasabi for a light meal. At Wasabi you can grab a sushi roll and miso soup for about $5. Not a bad ala carte price for how delicious and creative their sushi rolls are.
You'll want to grab a mojito (specifically the raspberry guava) from the Sugarcane Mojito Bar across the way before sitting down and ordering your sushi. It's a delicious combo!!!
Learn My Secret- How to Eat What You Want
& Not Gain Weight on a Cruise here.
Another favorite of ours is La Cucina where you can choose to sit either indoors in their gorgeous restaurant or enjoy an ocean view and dine al fresco on their patio along the Waterfront which I think is fantastic! Don't miss their affogato or chocolate torte for dessert- YUM!!!
And, I can't post about their dining without mentioning all the amazing and delicious cocktails on board. Again, why you need to book when Norwegian is offering unlimited dining & drinks packages. It's SOOOO worth it!!! I posted a picture similar to the one below on a daily basis. Don't judge- I was on vacation after all <wink wink>.
Check out the 12 Things You Did Not Know about Norwegian's Newest Ship – Norwegian Bliss! Click Here!
3- The Pool Area – Aqua Park
It's inevitable you will have sea days on a 7-night cruise so you need a ship that has an awesome pool area when you are cruising with kids. Norwegian scored high with my kids and I can bet your kids would love their pool area too. I mean what's not to love with 5 multi-story waterslides, two swimming pools, 4 hot tubs and a splash park? Check out how Norwegian's Pool Ranked on our list of Best Cruise Lines
I have to admit the waterslides on board were pretty awesome. We loved racing each other down the red and orange tube slides. And, the thrill of plunging down the Free Fall- a drop slide that sends you down at 4G's is an exhilarating experience.
One thing families with toddlers will really appreciate is the splash park play area complete with a shallow pool. This interactive water area kept our two-year-old Liv occupied for hours. We have been on other boats including Disney where 1) Babies aren't allowed in the pools if they are not potty trained (not even if they have a swim diaper on and 2) the splash areas are covered and freezing so the babies can't play in there either. So, the NCL Getaway won me over big time with this included space for toddlers.
4- Onboard Activities Paired with a Norwegian Getaway Itinerary the Whole Family will LOVE
Speaking of entertainment on board there is SO much to do on the Norwegian Getaway. Whether you are in the mood for a movie, working out on the ropes course, watching a show or hitting the arcade there is something in store for everyone on board.
The big kids and I loved hanging out on the ropes course. Some of us were even brave enough to walk the plank which extends 8 feet off of the ship overlooking the ocean water below. While I wasn't up for that challenge I did love beating my kids to the top of the rock climbing wall- ha!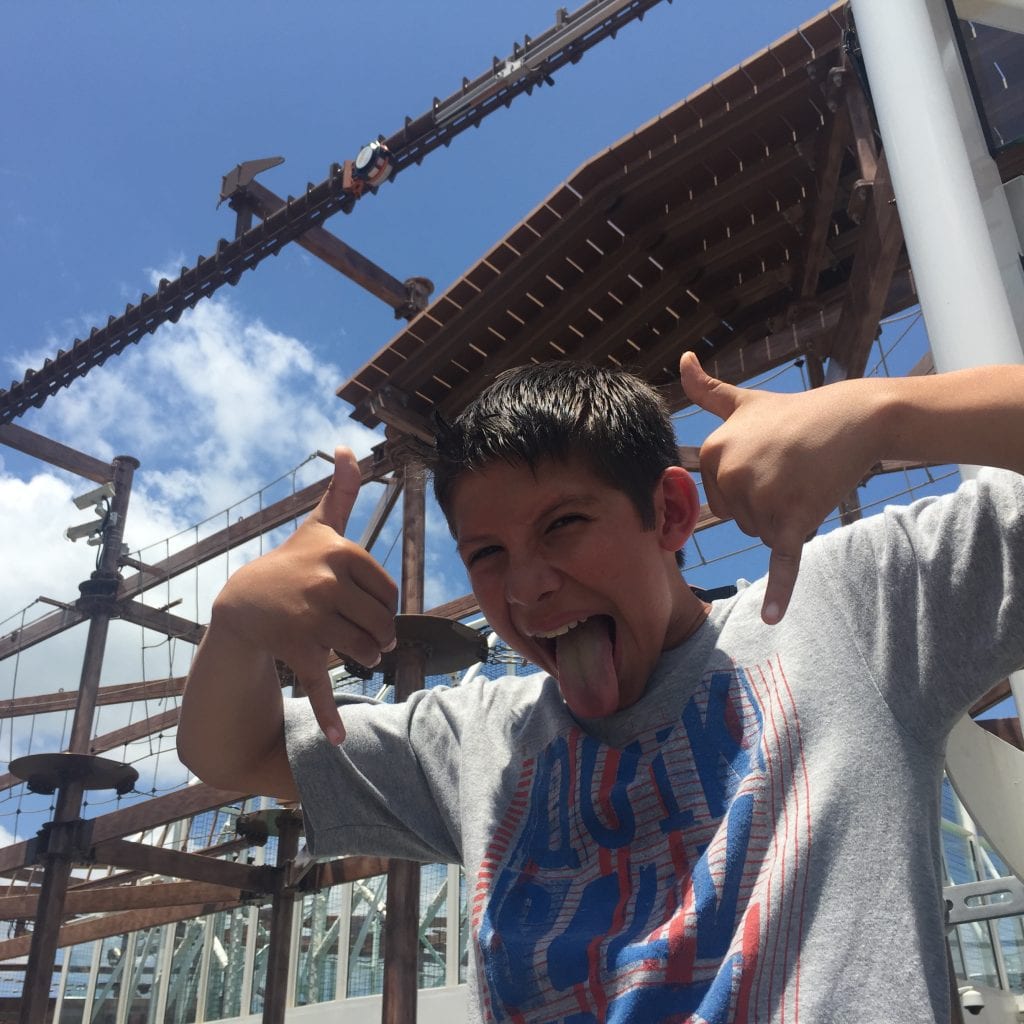 Near the ropes course, there is also a sports complex where my boys enjoyed many games of basketball and dodgeball. As well as a mini golf course which I recommend you hit up in the morning as it gets really hot later in the afternoon. Check out a sneak peek at the new Norwegian Bliss, with a Race Track on top of the ship!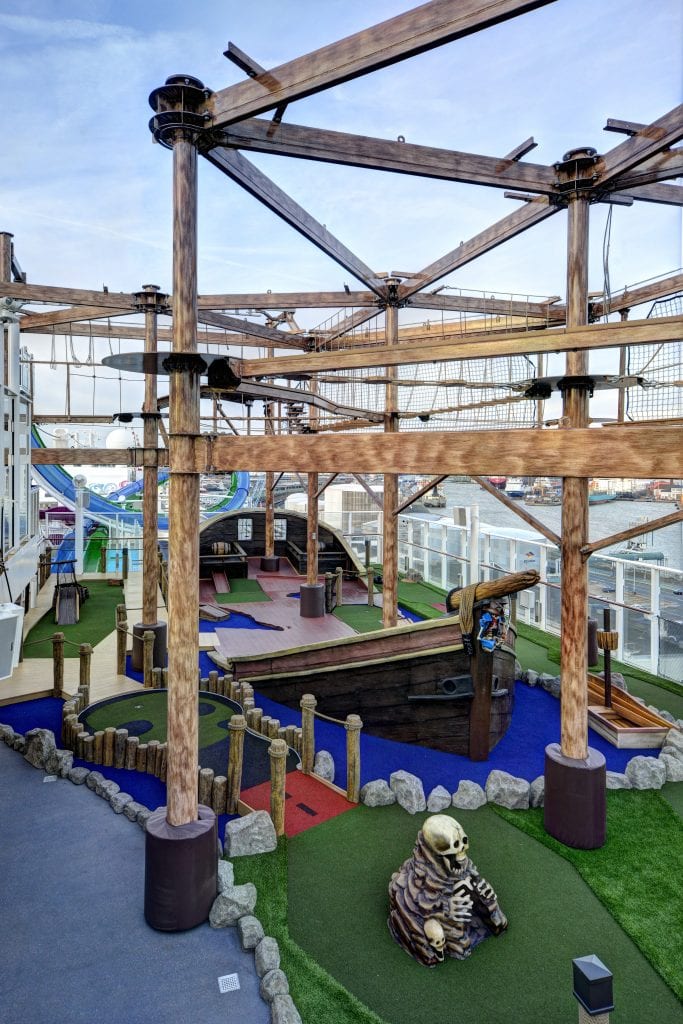 When you get overheated with all the outdoor activities you can always head inside to the Ice Bar. This chilly chamber is kept at a cool 17 degrees Fahrenheit and the bar, seating and glasses are all made of ice! Kids get in free with a paid adult. The cover charge includes cocktails for the grown up and they serve mocktails for the kids as well.
In the evening we also enjoyed watching outdoor movies that played in the Spice H20 area. This area which is adults only during the day is family friendly in the evening hours.
Catch a show… we enjoyed several including the magic dinner show inside the Illusionarium. This magic show not only blew the kids minds but mine as well and we were sitting in the front row!
And, of course, the kids will love hitting up the arcade as well. Besides the main arcade, there is also bowling, skeeball and a few other arcade style games available at O'Sheehan's as well. Don't forget to check out the different game show style entertainment like Deal or No Deal too. That was a HUGE hit for my husband and daughter. Actually, their absolute favorite memory together onboard.
Now let's talk about an itinerary. I loved our Norwegian Getaway Itinerary. We sailed on NCL's 7-day Western Caribbean and it was amazing. Here is the itinerary (and they are still sailing it now in 2017).
Our Norwegian Getaway Caribbean Cruise Itinerary
Sunday Embark from Miami Florida
Monday was a Day at Sea (which was great bc the kids were excited to hit the water slides and ropes course. *Be sure to grab seats early)
Roatan, Bay Islands, Honduras (this was a walk off port and we just did some shopping and lunch there)
Harvest Caye, Belize (I highly recommend booking an excursion. Read why we love to book third party here)
Costa Maya, Mexico (this is one of my favorite ports, it's gorgeous and you have to head to Maya Park it's an incredible)
Cozumel, Mexico (this island has such a cool vibe. We loved touring the city with Cozumel Chef's Food Tour, it's kid-friendly too!)
Day At Sea
Miami, Florida for Disembarkation.
To view, all of the available Norwegian Getaway Itineraries click here.
Check out the other Caribbean shore excursions we've taken and loved here. Note that Mr. Sancho's is an all inclusive private beach perfect for families. We visited with a group of 22 including adults and kids of all ages. It is hands down the BEST private beach we have ever visited. The service is unbelievable, there are a ton of activities, and the food and drinks are incredible.
5 The Kids Clubs
You can't beat family vacations that have built-in babysitting included in the price. I mean of course you want to bond as a family but a free couple hours here and there alone with your spouse is pretty fantastic.
The trick here is the kid's clubs have to be good enough and provide enough entertainment that you kids beg you to drop them off. Thankfully on the Getaway, this was the case.
The Splash Academy is a two story kids club for kids ages 3-12 that happens to be complimentary for cruisers. It is open most of the day closing for lunch and dinner usually unless you pay a small fee for the kids to dine with the Splash Academy.
It is even open on days at port which is fantastic if there is an adventure you want to take without the kids. The counselors are so awesome and the scheduled activities are so fun your kids won't even miss you.
Teens 13-17 also have their own space to hang out called the Entourage (pictured below). This hip clubhouse has themed events, pool parties and is also a super fun place for your teen to just chill. Our son was hesitant to try it out but after one visit he was hooked and loved hanging out and meeting new friends. He actually still talks to several of the friends he met onboard!
I know as parents you are always looking for fun activities to entertain your kids. That is why I included a BONUS thing to love about the Norwegian Getaway just for you!
BONUS- The Mandara Spa
Norwegian's Getaway ship has a gorgeous spa area that includes a Day Spa, Medi Spa, Salon, and Fitness Center allowing guests to take care of their mind, bodies and soul while onboard. For the ultimate treat purchase, the thermal spa passes as soon as you embark (they only sell a limited amount and once they are gone they are gone).
The Thermal Spa Pass allows you access to include heated ceramic lounge chairs, a Thalasso Therapy Pool, hot tubs, steam room, sauna, salt room and tropical rain showers during your entire cruise! Talk about relaxation!!!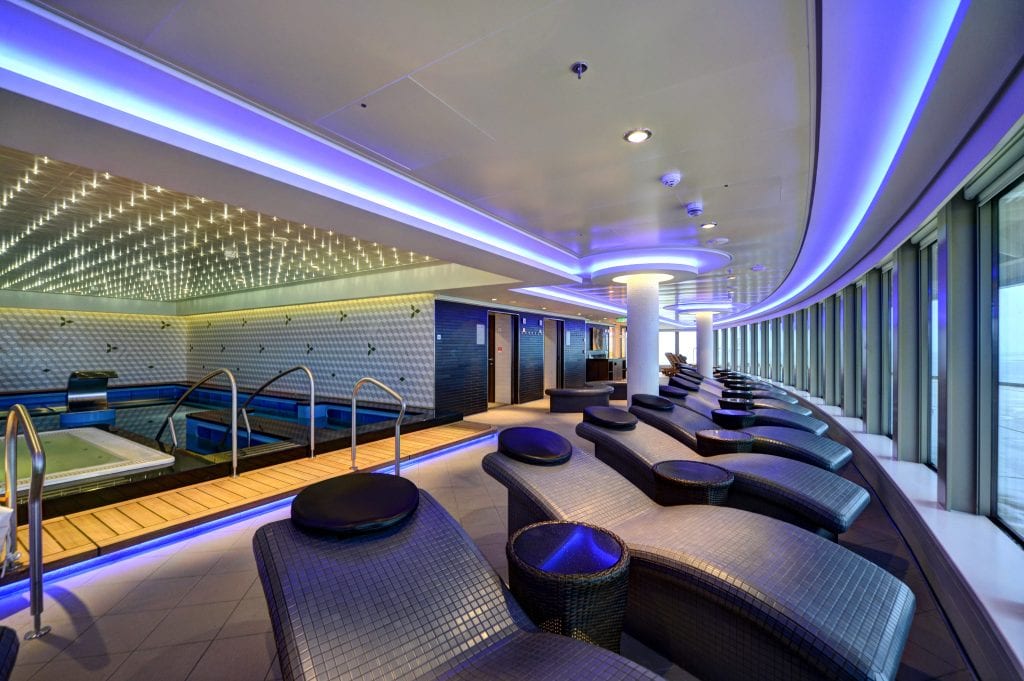 For more information on Norwegian Cruise Line check out their website.
Pin for Later-
What do you look for on a cruise? Let me know in the comments below.
*Disclosure- This is a personal blog all thoughts and opinions expressed are for informational purposes only. At times Global Munchkins receives discounted or complimentary services and/ or products, however, all thoughts and opinions expressed are, as always, 100% my own. **This post contains affiliate links.