We were nervous about our morning. We had booked cheap flights through Ryan Air out of Beauvais airport but everyone we talked to in Paris acted like that was a terrible mistake. We heard it took anywhere from 2-4 hours to get there. Luckily for us it only took about an hour and a half. That's our typical drive to an airport at home so I am not sure what all the hubub was about… maybe its because we left so early in the morning (5am)??
Anyhoo… we arrived at Beauvais and the airport was much nicer than I had imagined. There were several pastry shops and the airport looked small so we decided we might as well order some food, sit down and relax.
However, after waiting in the slowest moving security line E.V.E.R. we started to question our choice. I kept my eye on the clock and after about an hour we still had not gotten through. Panic started setting in. No one around us was speaking English and when I tried to tell the security guard that our tickets said boarding was in 3 minutes he just shook his head like it was fine. This was one of those break down moments. I was snapping at the kids– it wasn't their fault— snapping at my husband for having us sit down at breakfast– it wasn't his fault either— all for nothing too! Because once we finally got through and ran to our gate we were only met with another long line. We didn't actually board for another 30 minutes. So… I could have totally just chilled- blech! The French… and their "It happens when it happens" attitude is not always easy to deal with when you are used to the American get it done NOW attitude. The funny thing is we could really learn from each other as neither way is right all the time 😉
Anyhoo… we made our flight and it was pretty enjoyable. The kids had their ipads… I had downloaded a book and without the baby I could actually read during the flight. We arrived at the Ciampino airport quickly after… I think the flight was about 2 hours. Once there we had to pay 4 euro a piece to hop on a bus to Termini station (the main train station in Rome). I think that bus was my least favorite mode of travel the entire trip. It was hot and we all felt sick hopping off of it.
Our first glimpses of Rome were not what I expected. It reminded me of central LA. It was dirty, there was graffiti everywhere and the only difference I could sum up was that amongst the filth here we would see ancient ruins. Kind of a crazy clash of culture and architecture.
Termini was chaotic… but it felt much safer than Gare du Nord in Paris. We found a pizza place and enjoyed some food. Later we realized that the pizza they have out that they slice and weigh is only room temperature… but you can ask for them to heat it. We ordered meals that came with drinks and fries which the kids thought was a funny combo (pizza and fries). After eating we used the restrooms and quickly learned that you better go to the bathroom at the restaurant where you eat because all the public restrooms charge for their use (usually about 1 euro).
Next up we had to figure out how to find our train… it honestly wasn't that easy. But, we finally found someone at a booth that spoke English and we got over to our train right as it was about to leave We had booked first class tickets online (4 seats cost about 20 euro). We LOVED the train ride. It was smooth, air conditioned, had great seats that reclined and bathrooms. I especially loved looking out the window at the gorgeous views of the countryside and then the ocean. It only took about 40 minutes to get to Civitavecchia Italy which is where we were headed. Civitavecchia is a small port town where our cruise would be taking off the next day. After arriving at the station it was easy to grab a cab to our hotel. I had booked two rooms at the SunBay Park Hotel after finding a great deal on Tripadvisor.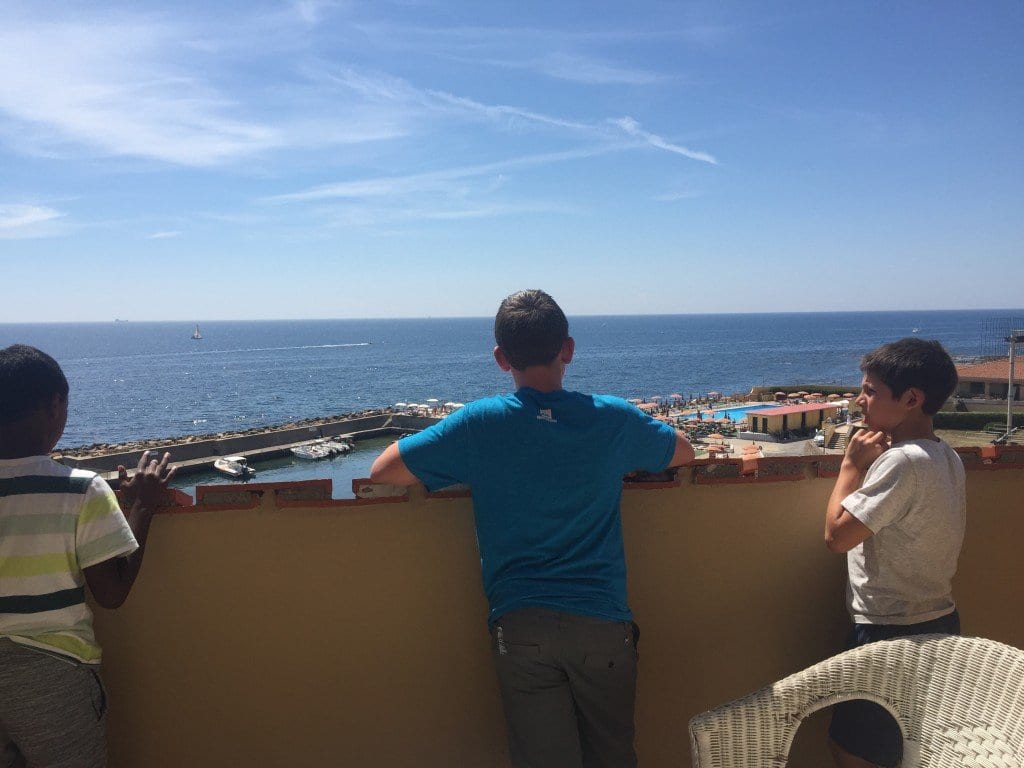 We absolutely LOVED the SunBay Park Hotel. The staff was wonderful, the rooms were large and very clean. Ella and I shared a room with a balcony that overlooked the ocean and Mike had a huge room with tons of beds for him and the boys. After checking in and getting settled in our rooms we headed out to the pool.
It was fantastic!!! The pool had plenty of chairs and shade. They had pool staff that set you all up and a little snack shake where we grabbed ice cream for the kids. The only two things that caught us off guard were the water in the pool was salt water and you were required to wear a swim cap. Other than those two odd details it was delightful!!!
We soaked up the sun and then headed out to dinner. The only place we could find near the hotel was a small pizza joint and they only offered 4 types of pizzas: mozzarella, margherita, mushroom & sausage and neopolitini. But, after the food in France we were eager to eat any type of pizza. And, we were happy with our choice because this place did not disappoint. The pizza was cooked in a wood burning oven, had incredibly thin crust, was sliced with a pair of scissors and brought out to us on what looked like brown craft paper. Take a look… YUM!!!!!
If you ever find yourself in Civitavecchia you MUST eat here!!!