We woke up early to head out to catch the train into Paris. We were taking the Eurostar and we weren't sure what to expect.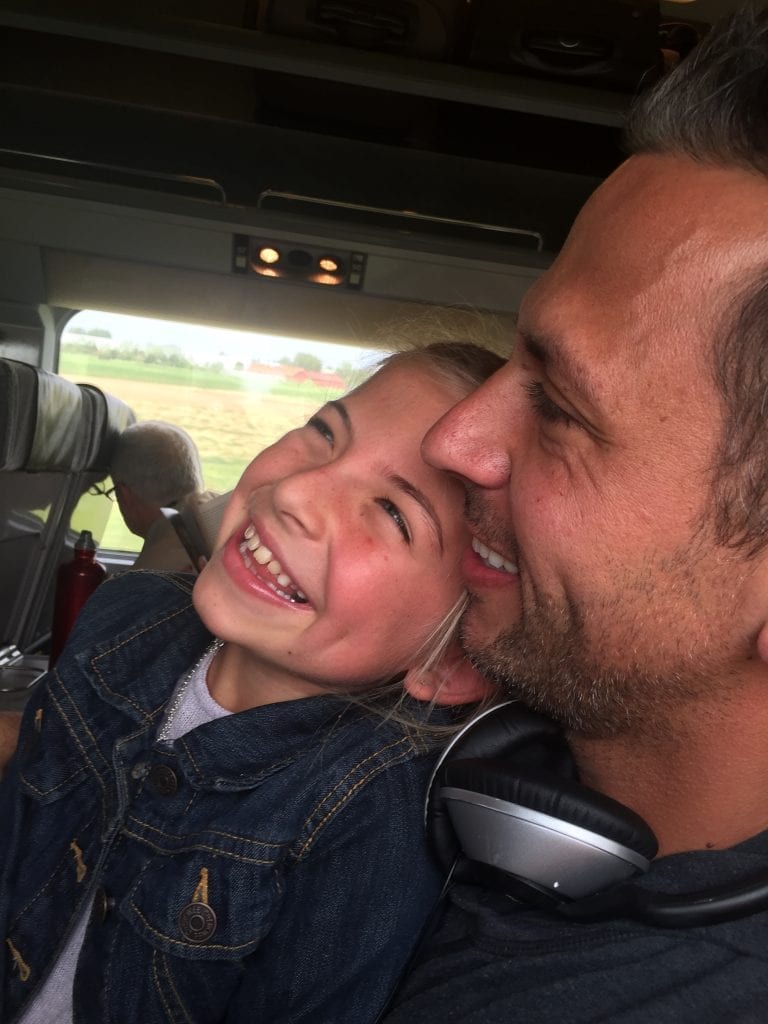 It was actually an incredibly easy process. We hopped on the metro near the apartment and then ended up at the St. Pancras Train Station. It is a gorgeous spacious station with tons of shops and cafes inside. We were excited because we were able to meet up with Uncle Jamie one last time before heading out to London. We also had to buy some souvenirs as we had not been able to previously for a couple of the kids. *Tip- get the souvenir shopping done prior to St. Pancras or you will pay the price… literally. Okay… end of public service announcement.
Boarding at St. Pancras was easy peasy. They even stamp your passport there as well when you are headed on the Eurostar to Paris. After you get through security and customs you wait in an area until your train number/ gate is called. Then you head up the escalators and onto the platform. We had seat numbers so there was no rushing on board like a subway and there was plenty of space for our luggage too.
One thing I thought was strange was that you sit facing backwards… not all seats but ours did. At first that made me panic. I thought it would make me feel sick, but it was just fine. I was also worried about the whole taking a train under the ocean part because… let's face it… that is pretty freaky. Yet, once again there was no reason to worry. The train goes through several tunnels… none of which I realized were under water and then the rest of the time I enjoyed the views of the French countryside.
Arrival into Gare du Nord though was another issue. The train station is pretty run down and there are plenty of shady characters in and around that whole area. Graffiti is also an issue in Italy so all the trains and metros were marked up. For the first time on our trip I felt pretty uncomfortable. This was also the only time our wifi had been spotty. Thankfully when we got out of the station the wifi kicked back in and we were able to find our ride (we booked it through Uber X) and escape the gypsies.
Our apartment was about 15 minutes away and the area cleared up and we got our first real views of Paris. I have to be honest. I was a bit disappointed. For being known as the city of love I was picturing posh, clean streets and buildings with gorgeous greenery. In reality Paris is pretty gray… there are not many areas that I would deem clean and the buildings while interesting to look at are pretty dingy. Plus, EVERYONE is smoking so the air quality is poor and outdoor seating was something we chose not to do. But, that didn't stop Ella from still thinking Paris was PERFECT!! This girl is seriously in love with the place.
Our apartment was cute thankfully and it was near Champs de Elysses which we heard was a much prettier scene. Before we could head there to see for ourselves though we needed to get a bite to eat. We were all excited to be in Paris as we all love bread so we headed to a nearby boulangerie. We had the most delicious jambon baguettes and quiche. After we filled our bellies we were ready to head to Champs de Elysses.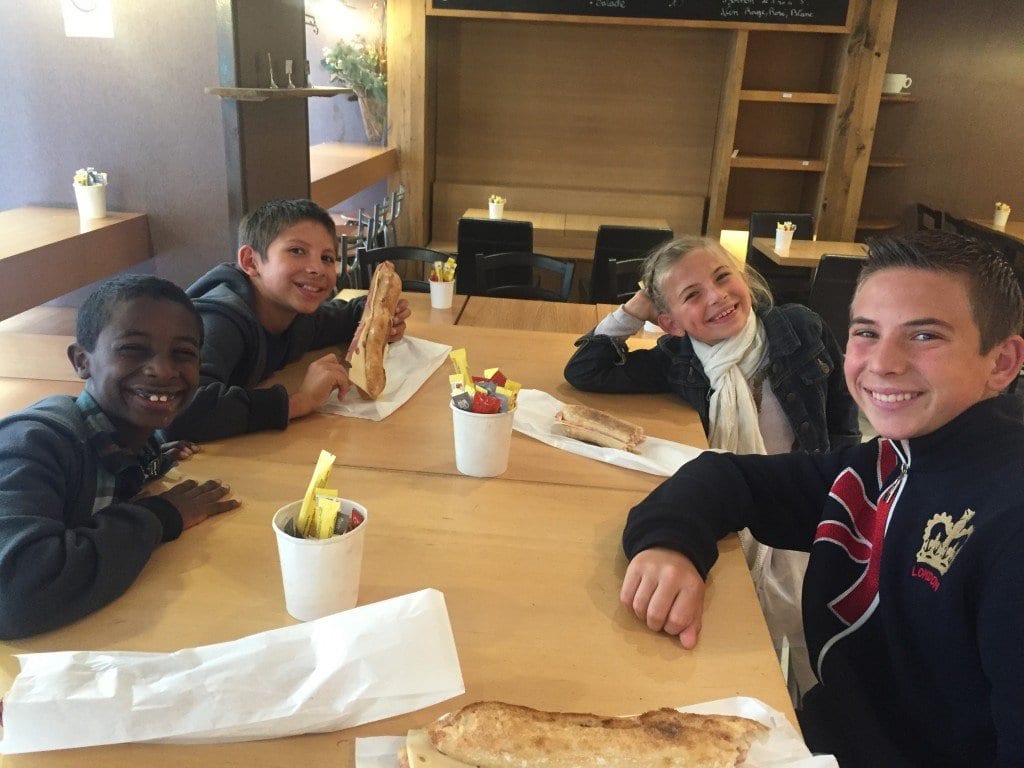 It reminded me of a nicer version of the 3rd Street Promenade in Santa Monica, CA. The sidewalks were massive and there were a ton of name brand stores, cafes, creperies, boulangeries etc… We found a Mc Donald's which we made poor Cam take a pic in front of –which we do whenever we find a foreign McD's bc his first big international trip was to Dubai and he was THRILLED when he found a Mc Donald's there… so excited he made us take his picture. We obviously cannot let him love that down. Although, this Mc Donald's turned out to be a fun stop anyway as they carried their own macaroons. We were all curious as to what they might taste like so we bought a box and let the kids try them out. They weren't the best macaroons they enjoyed on our trip but they weren't half bad either.
Then we got a real taste of spectacular. We arrived at the end of the street and there it was… Arc di Triomph. It was massive and stunning… and beautiful!!
We saw a sign that said you could pay to climb to the top so off we went. You actually go underground because the Arc sits in the middle of a crazy busy round about and cars and motorbikes are zooming around in every direction.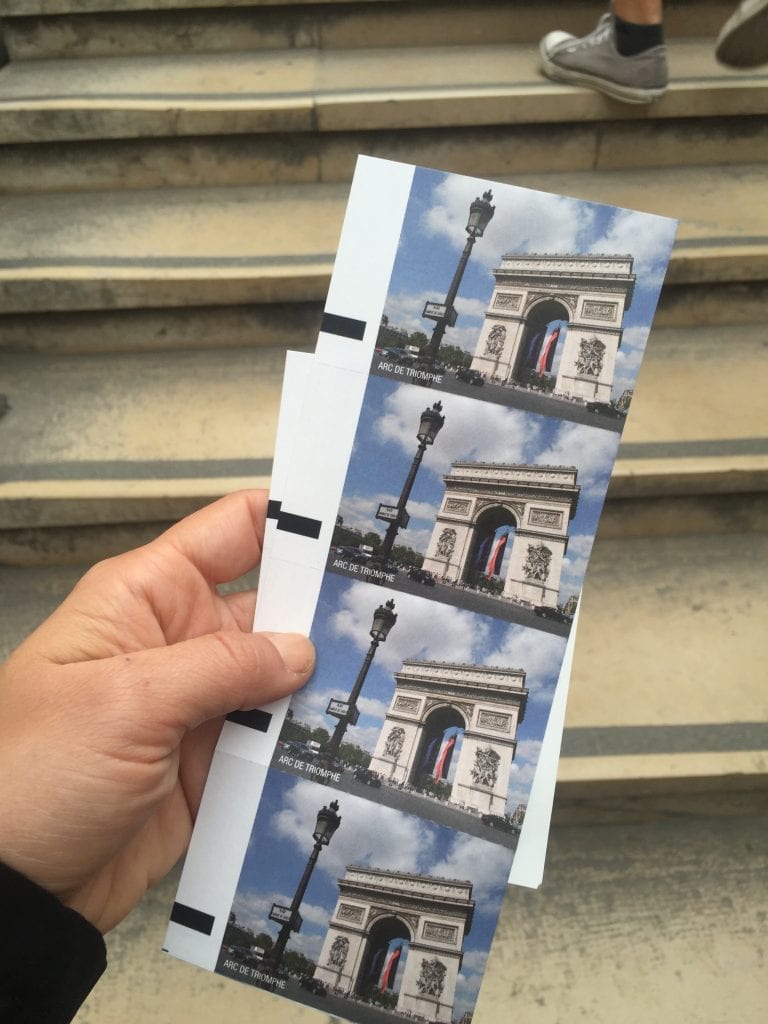 The tunnel has the ticket booth underground. We only had to pay for the 2 adults because kids under 18 were free with a paid adult (1 paid adult gets 2 kids in free). From the ground looking up at the details of this massive monument and seeing the tomb of the unknown soldier were equally amazing. But, they were nothing compared to climbing the spiral staircase up to the top to get the sweeping views of Paris under the late night sky (it stays light until like 9pm) where we also got our first glimpse of the Eiffel Tower.
Inside the Arc are also some exhibits about the war. The kids enjoyed looking at all the different uniforms worn by soldiers from different countries that all fought in the war.
After hiking back down we also enjoyed the views from the bottom. It was the perfect way to end our first night in Paris.