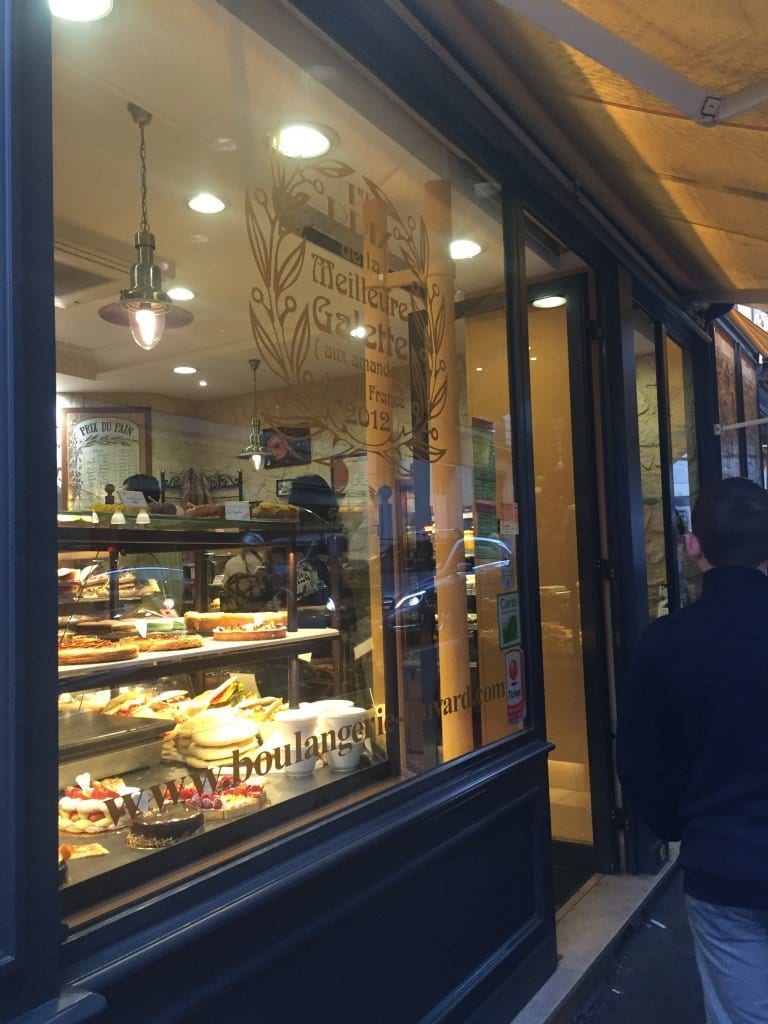 We awoke in Paris for the first time and decided we had to hit up a boulangerie. A well known shop was right around the corner and it was a neat experience listening to the language and watching the line of people pick up their morning pastries. The kids had fun picking which pastries they wanted as we embarrassingly tried our poor French as we ordered. We made it through with all the correct items and coffees. However, coffee here has been limited to small espresso shots making me miss the delicious lattes in London.
After grabbing a bite we hopped on the metro which was incredibly easy to use and lucky for us there was a station about a block and a half away from our apartment. We got off on the Dupliex station where we met our bike tour company Fat Tire Bike Tour Paris. I was amazed right from the start. There were several employees (all with smiles on their faces) who were there to greet us at our meeting point. We were not the only people meeting them either… there was a large group of excited bike riders all crossing the street and heading our direction. But, the team sped through checking us in and sending us off with an employee to go to their tour office about a block and a half away.
When we arrived we were greeted by even more cheerful workers and rows of bikes ready to go. The team helped us with lockers and helmets and then fitting us to the appropriate bikes. I especially loved the attachment they had for Ella since she is not our strongest biker. She loved it too bc "it didn't make her feel like a baby".
So, off we went. We met our tour guide Fraser who had us laughing and learning throughout the entire tour. He took us through all the main spots of Paris and taught us about the history of each in such a fun and engaging manner. I truly cannot express how wonderful Frazier was… he absolutely was the best!!!
A little more than halfway in we stopped for lunch at an adorable cafe inside the Tuileries Garden called Cafe Diane. It was absolutely gorgeous and everything I expected of Paris. Gardens, statues and delicious quiche and baguette!! Ella loved that they had a kids menu too with butter noodles, ham and a scoop of gelato for dessert 😉
A more realistic version of the pic above:
After lunch we had time to walk through the gorgeous gardens… it felt surreal. The whole scene was something straight out of a movie… I could have walked around taking pics and video all day. Here I am doing just that.
Our tour continued after lunch and eventually made it over to the Eiffel Tower. Frazier took his time to take all the families pics and I was so thankful because my favorite pic maybe of the entire trip was this one that he took-
After our tour we asked Frazier for some advice on what we should do with the rest of the day. He kindly obliged by pulling out a map and giving us detailed instructions to "The BEST Ice Cream" in Paris and a lovely walk along the Seine River and off we went.
He wasn't joking about the ice cream… there was a huge line out the door. They had very interesting flavors but we settled on ones that seemed more familiar like Salted Caramel and Vanilla. They were tasty.
With ice cream in hand we walked along the Seine River, window shopped and relaxed. It was such a lovely afternoon. The kids were playing by a bridge when we noticed Notre Dame was located right behind them. Its pretty fun to run into so many historical sites.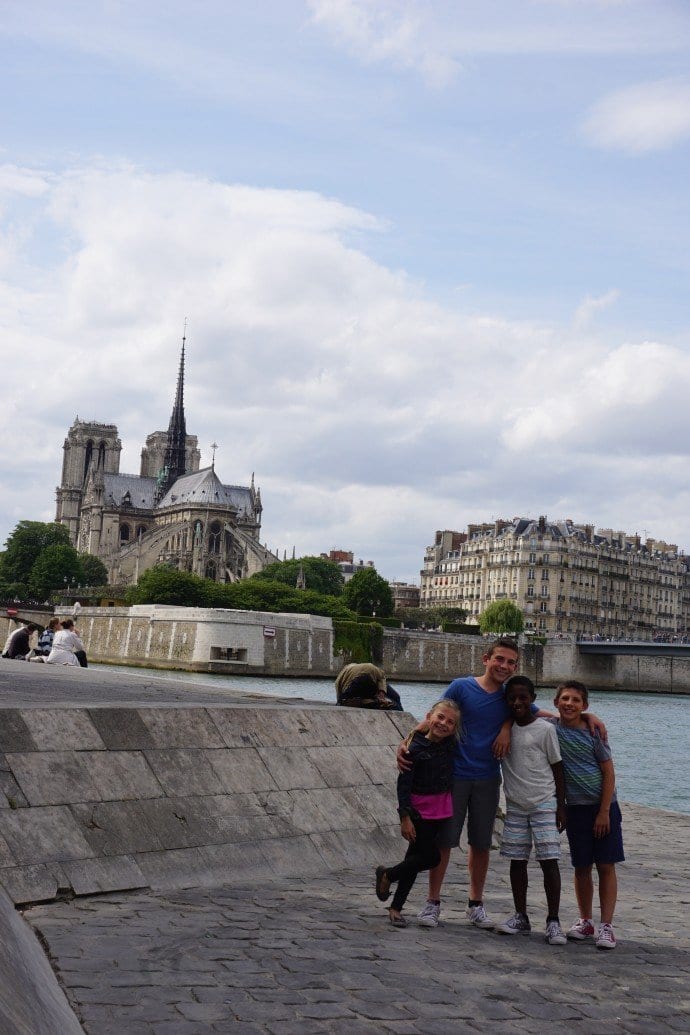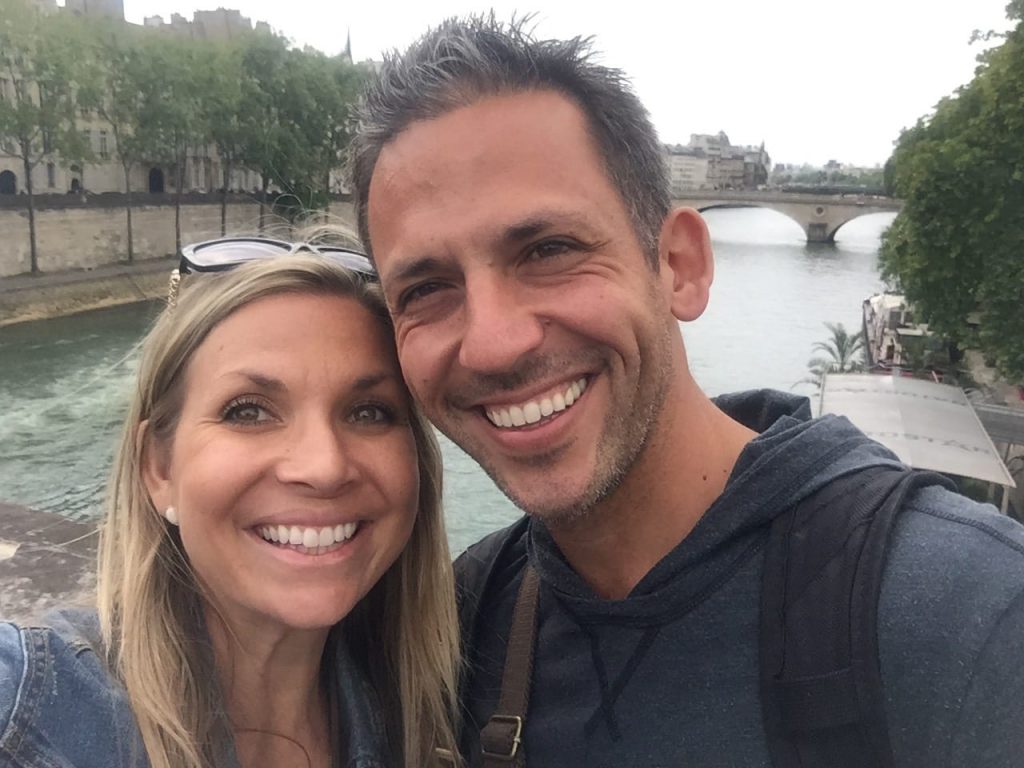 After playing for awhile by the river we were pooped and the kids were hungry. The great thing about Paris is there are boulangeries everywhere with freshly baked baguettes for like 1.50 euros. We grabbed one on our way to the metro and then headed to the Eiffel Tower.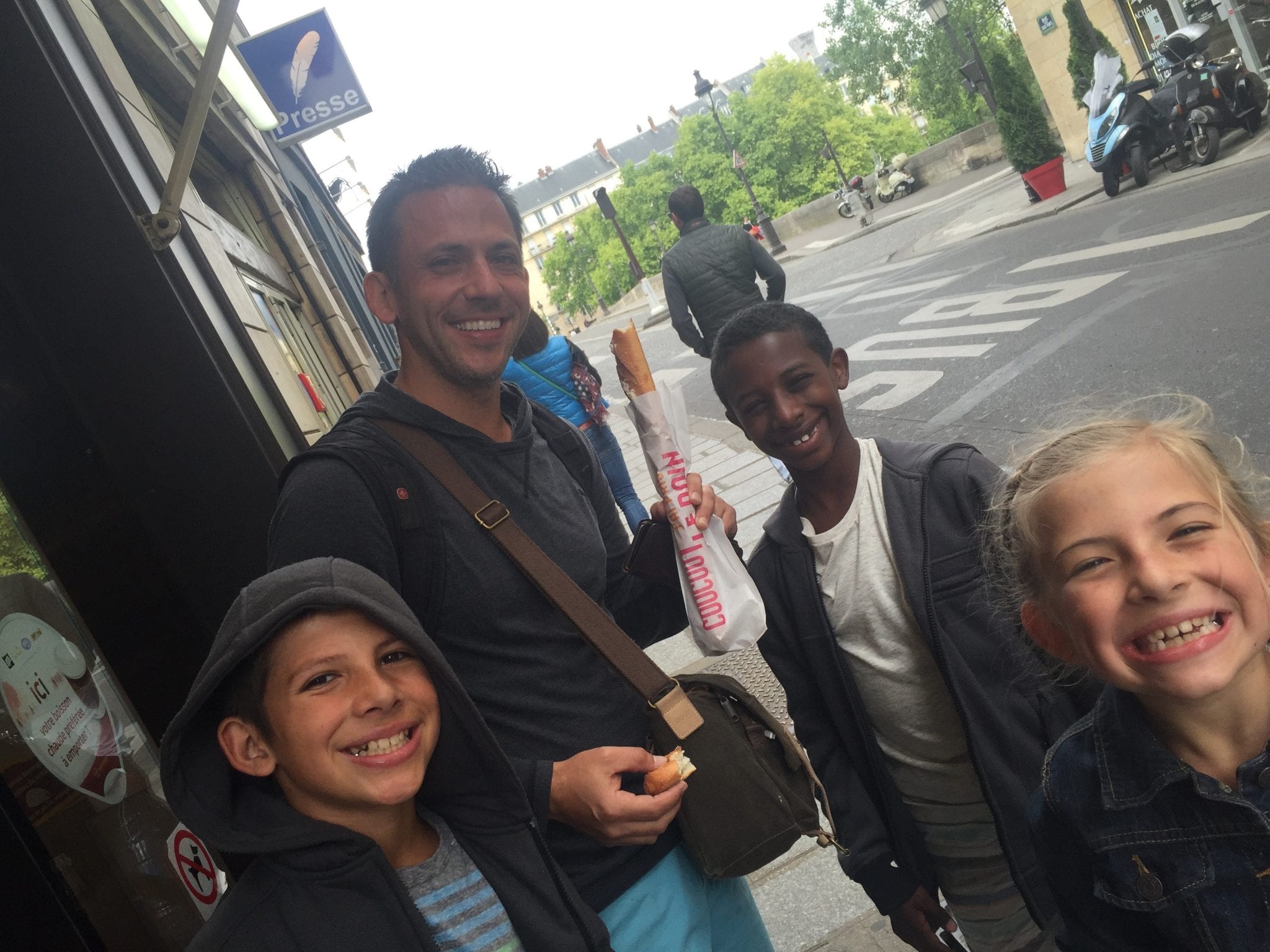 Day to be continued…
NOTE: WE WERE GUESTS OF FAT TIRE TOURS- PARIS. WE RECEIVED COMPLIMENTARY PARIS DAY BIKE TOUR FOR THE FAMILY IN EXCHANGE FOR MY EXPERIENCE AND HONEST THOUGHTS. ALL OPINIONS ARE MY OWN.