Winter, spring, fall or summer, there is always something to do in Jackson Hole, Wyoming. It is truly one of the natural gems of the United States and has a beauty like no other. While, when I usually think of a Wyoming vacation, I think of Yellowstone, I do have to say Jackson Hole is just as beautiful. You will absolutely love Jackson Hole if you are looking to experience the great outdoors. It got the "hole" part of its name due to it being deep in the valley completely surrounded by mountains.
These mountains make this the perfect base for tourists who want to do all sorts of outdoor activities from wildlife watching, to skiing, river rafting and fly fishing. Snake River flows through the valley as long as many surrounding streams, making from some great views and great fishing. All this comes along with beautiful lodging options and scrumptious restaurant menus.
If this has you convinced to head to Jackson Hole, you have got to check out these top things to do!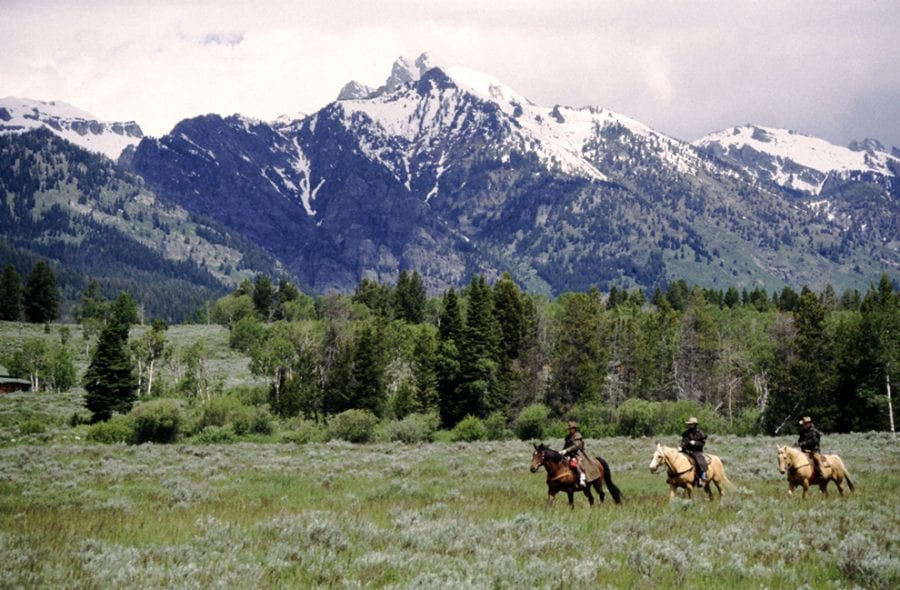 Top Things To Do In Jackson Hole, Wyoming
1. National Museum of Wildlife Art
Wyoming is home to some incredible artists and you cannot miss this museum when visiting Jackson Hole. There is art representing to just about every kind of wild animal you can think of from all over the world. While there are some very incredible pieces of art here, this museum still prides itself on being kid & family friendly. The Children's Discovery Gallery offers all sorts of interactive activities to keep little ones entertained. They also have a plethora of events throughout the year, so be sure to check their calendar out.
You can book a Half-Day Tour of Jackson Hole that includes the museum here. Single tickets are also available here, starting at $15 for adults and $6 for children.
2. National Elk Refuge
If you are looking to do something uniquely Wyoming to do in Jackson Hole, the National Elk Refuge will provide that. Here the elk herd has a protected habitat and sanctuary. This is a wonderful place to view the elk along with other wildlife. In the winter, you can take a horse-drawn sleigh ride to see the animals up close in a really unique way. Check in at the Visitor Center upon arrival to learn more!
A really cool fact about the refuge is that the antlers that have been shed are collected and sold by Boy Scouts of America each year and the profits are turned back over to make this place even better.
3. Jackson Hole Aerial Tram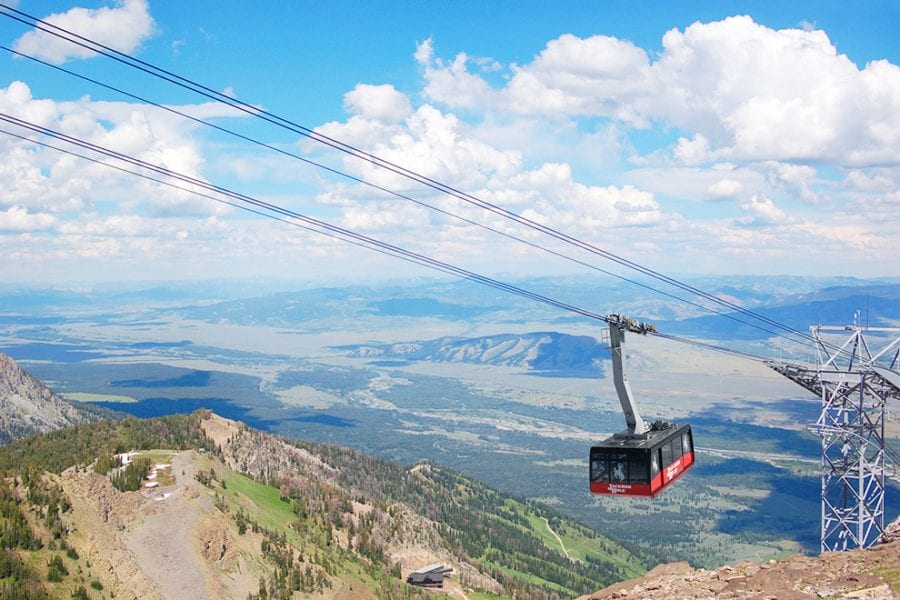 There is no better way to see Jackson Hole than by swinging from a suspended cable above it! This is definitely one of the coolest things to do in Jackson Hole, Wyoming. The Jackson Hole Aerial Tram is a 12-minute ride that takes you over 4,000 feet skyward. You will have 360-degree views on this smooth, beautiful ride. Once you are at the top you can get out for some amazing hiking, a great way to enjoy the snow or to eat a bite of waffles at the famous Corbet's Cabin.
You will get on the tram in Teton Village, which is not far from Jackson. Here is a break down of prices and seasonal info.
4. Hang Out in the Jackson Hole Town Square
Outdoor activities are the talking point of Jackson Hole and most of Wyoming, however, downtown Jackson is cute with plenty of shopping and eating options. This is a great place to get a souvenir to remember your time in the wild, wild West. It is picturesque and you will find impressive elk-antler arches at every turn. Be sure to stop in at the Million Dollar Cowboy Bar, which you will recognize if you've seen Western films.
Town Square is located here, right in the middle of Jackson.
5. Go Skiing at Jackson Hole Mountain Resort
Of course, this list would not be complete without mention of skiing. Skiing is what brings tourists to Jackson in overwhelming numbers from winter to spring. Jackson Hole Mountain Resort is in Teton Village, along with the Aerial Tram. It has both beginner and intermediate terrain and is one of the most iconic ski destinations in North America. It is an absolutely gorgeous place to ski and loads of fun. Don't be mistaken either, this place is not just for the pros. It is actually a wonderful place to learn to ski and they are known for their amazing instructors. And for mamas with little ones, they do offer daycare for your 6 to 36-month-old baby.
You can plan and book your ski trip here! You will see their site offers both a winter and a summer guide for what to do in the mountains.
6. Granite Hot Springs
The best way to warm up in Jackson Hole, Wyoming is to head to these beautiful hot springs. Whether you are sore from your adventures and skiing or if this trip is all about relaxation, you will love Granite Hot Springs. You will be in the middle of a forest surrounded by spectacular trees. Keep in mind, this may be different than other hot springs you have been to. You will need to bring your own towels and some snacks along with you if you have kiddos who will get hungry. They will also only accept cash.
These hot springs are usually open Mid-May-October and December-April. You may have to snowmobile, cross country ski, snowshoe, or dog sled in making the experience even more exciting!
Things To Do Near Jackson Hole, Wyoming- Prime Day Trips
The Most Popular Thing To Do Near Jackson Hole, Wyoming- Visit Yellowstone
It is very common to stay in Jackson Hole but head into Yellowstone for day trips. This is one of the most amazing national parks in our country, and with over 2 million acres there are so many different things to see and do. You can witness the hot spring geysers like Old Faithful bubble over, go on a hike to see a waterfall, or cross country ski while viewing wildlife. Best of all, you will definitely see some bison roaming!
Here is a full day tour option that picks up from Jackson Hole! It includes all your meals, transportation, and you will see every top attraction.
Soak In The Views at Grand Teton National Park
Wyomingites will lovingly tell you of the states most beautiful mountains, The Grand Tetons. The jagged-edged Teton Mountain is stunning, but this national park gets far less attention than Yellowstone by most visitors. The valley floor is lush and you will find many alpine lakes and meadows. This is definitely the place to head if you are looking to capture some beautiful photos. This is also a great thing to do near Jackson Hole if you are looking to escape major crowds!
If fishing is something you would like to do near Jackson Hole, Wyoming, check out the Grand Teton Fly Fishing tour.
If Jackson Hole, Wyoming Seems Like Your Kind Of Place, You Will Also Love:
Map of Things to Do in Jackson Hole
Why You Should Go
Between plenty of incredible views throughout the state, you have all the fun activities in the town of Jackson Hole that you need; hot springs, skiing and snowboarding, aerial tram and wildlife viewing. The perfect mountain town activities. With the added bonus of being within driving distance to not just one, but two of the most beautiful national parks; where you can enjoy the 360 degree views of nature and wildlife as you explore the surrounding areas.
What is there to do in Jackson Hole in the summer?
Covered Wagon Cookouts & Live Music
Rafting Trips
Grand Teton National Park
Yellowstone National Park
Jackson Hole Aerial Tram
Horseback Riding
Wildlife Tours
What is there to do with kids in Jackson Hole?
Jackson Hole Children's Museum
Jackson Hole Aerial Tram
Hang out in Jackson Hole Square
Ride the Alpine Slide
Cowboy up at the Rodeo 
National Museum of Wildlife Art
Be a local at the Teton County Fair 
Farmer's market
Watch a movie under the stars at the Spud Drive-In
Play in Teton Village