Most of the time, when people think of Big Bear, they think about the winter. Actually, for me, a Big Bear Summer visit is much more ideal. Yes, there is a ton to do in Big Bear during the winter with Bear Mountain and Snow Summit Ski Resorts .
However, you may not have known that Big Bear offers so much more than activities during the winter. Imagine enjoying a gorgeous mountain view from the scenic chairlifts or spending a day boating on the lake! Plus, airbnb's in big bear are more affordable in the summer, you might even be able to afford a luxury cabin.
Let's go through some of the best Big Bear Summer activities so that you can plan the ultimate summer vacation, mountain-style!
Big Bear Summer Activities
While there are plenty of ways to enjoy the lake up in Big Bear, one of the most popular ways to do so is by renting a boat! Luckily, the area is filled with boat rental spots so that you can find exactly what you're looking for, whether it's a pontoon or sailboat.
While there are tons of Marinas to choose from, we recommend heading out to one of the top 3, including Big Bear Marina, Pine Knot Marina, or North Shore Landing. If you head on over to North Shore Landing, you and your family can even enjoy a tour of the lake by pirate ship!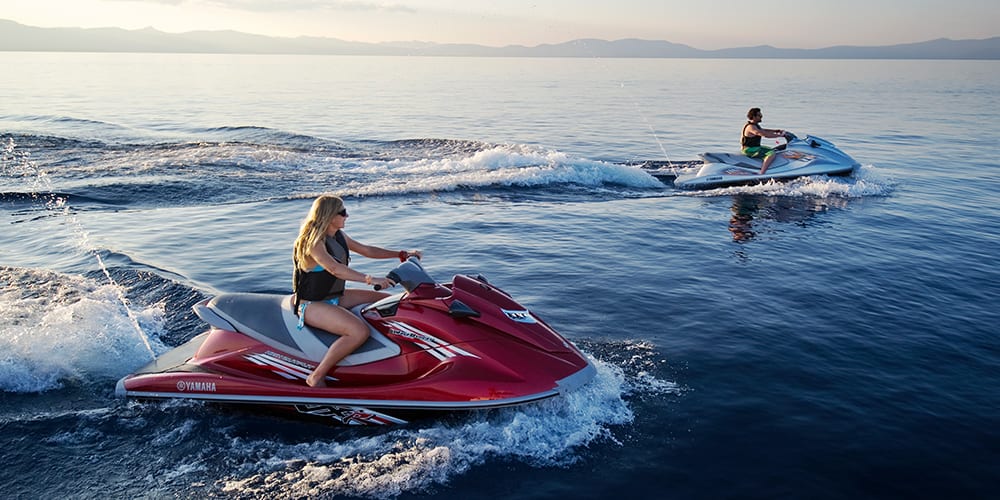 Who doesn't want to jet ski?!
Whether you are looking for something big more fast-paced or you simply don't want to get in the water and go swimming, jet skiing is a fun option. You can double up with your friends and family or catch a solo ride for some added speed. Jet ski rentals are 100% safe and can easily be controlled on the water! We highly recommend them to both kids and adults!
Similar to boat rentals, there are plenty of places to rent jet skis in Big Bear. If you're looking to enjoy a more "extreme" water activity, head down to Holloway's Marina and RV Park to check out the rentals they have in stock!
Maybe you've had the chance to go down the thrilling Alpine Slides during the winter. Now, you get to experience the excitement of sliding around while the sun is out!
During the summer, Big Bear transforms this fun-filled winter wonderland into a warm-weather playground. You can choose from one of the two quarter-mile cement tracks that are flowing with water. There's nothing more exhilarating than flying around the turns and zooming down those straight stretches.
Plus, you can choose your comfortable speed by controlling the hand brakes on the individual sleds to set your own pace for the day. The attraction does have minimum height requirements and they do require tickets. You can find out more about the Alpine Slide here!
If the Alpine Slide didn't fulfill your thrills as much as you expected, then you should probably take some time to hit the Mineshaft Coaster. This thrilling new mountain coaster is fun for the whole family. Strap into one of the "mine carts" and enjoy deep descents, hairpin turns, twists, dips, and 360-degree corkscrews! It's a wonderful experience for both kids and adults.
The Mineshaft Coaster is the first and only mountain coaster in California. If you don't try it here, you may never get to try it again!
Hiking
One of the ultimate things to do in big bear during the summer is hiking. There are hundreds of miles of hiking trails up in Big Bear, perfect for the avid outdoorsman. While you might want to have some experience under your belt hitting something like the Pacific Crest Trail, there are plenty of other Big Bear Hiking trails to choose from, which are much gentler.
One of our absolute favorite hikes in Big Bear is the Castle Rock Trail. It is a step, three-mile round-trip hike with gorgeous views of the lake and plenty of rocks to climb. Definitely stay on the trail unless you want to run into any wildlife and bring a camera along so you can capture the scenic views from the top.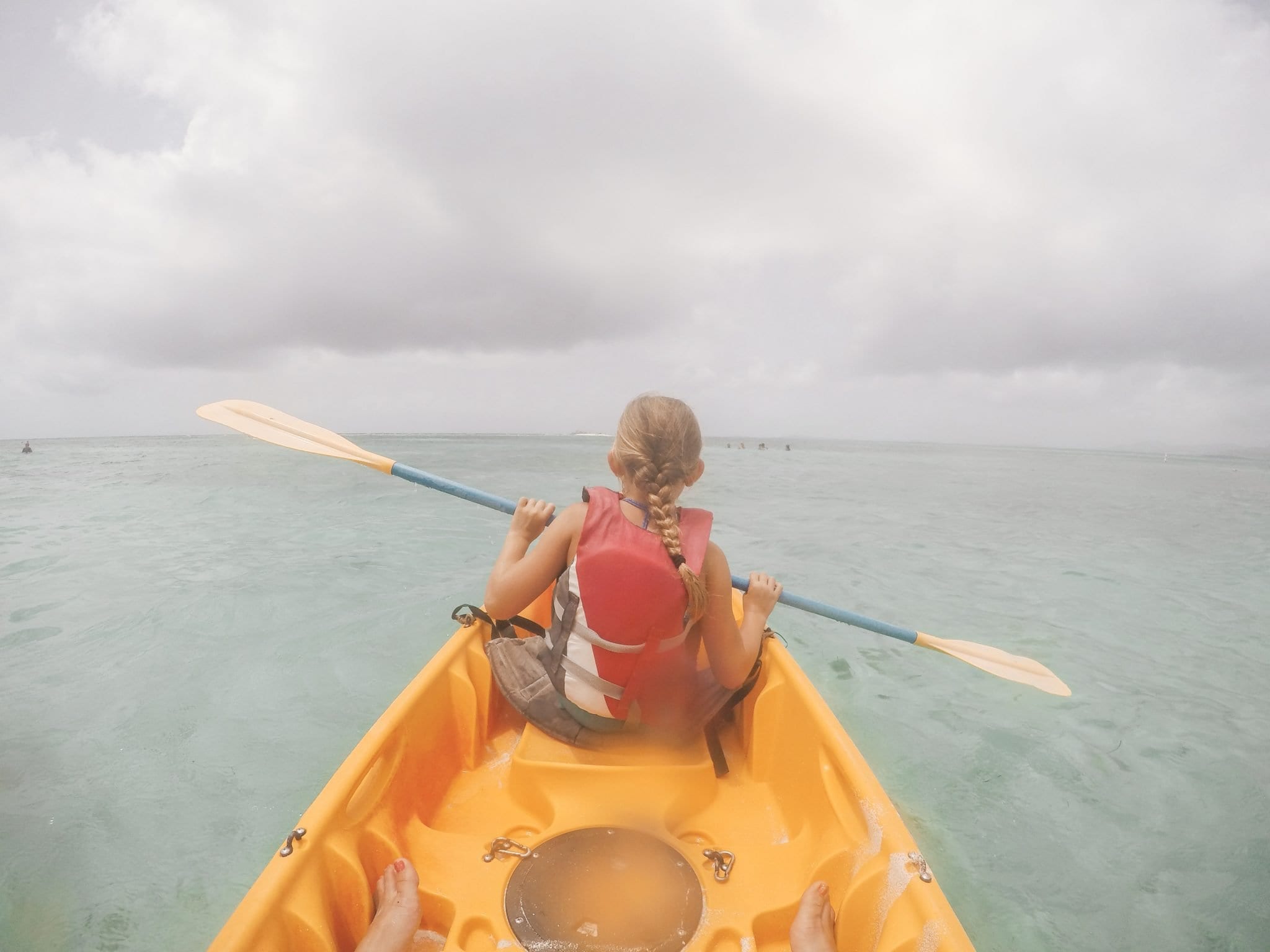 One of the best ways to enjoy the lake is from a kayak. Not only is it a great way to stay cool during the summer, but you also get to enjoy a bit of added exercise to strip away those excess vacation pounds. Similar to boating and jet skiing, you'll find kayaking just about everywhere on the lake.
While there are plenty of places to rent kayaks, the two places we recommend include Designated Wakesports and Big Bear Marina. While you're there, you might consider renting a paddleboard or wakeboard for a bit of extra fun!
We urge you not to leave Big Bear until you have spent some time at the zoo. The zoo in Big Bear is an incredible rehabilitation facility that takes care of injured or orphaned animals who have trouble getting back into the wild.
The beauty of the zoo is that 90% of the animals there will eventually be released back into the wild. The zoo opened after a wildfire raged through the forests in San Bernadino back in 1959. It became a safe haven for animals to stay while the wilderness recovered. There are currently over 85 species at the zoo and tons of cool programs and activities for kids and adults to learn from the knowledgeable zookeepers!
If the views from the top of Castle Rock weren't good enough, we recommend taking a ride on the Scenic Chairlift to the top of Snow Summit. Not only does the way up provide views like no other, but the views from the top are just as amazing. Once at the top, you can bask in the views of the lake or walk around and admire the forest. If you're hungry, you can grab lunch at the Skyline Taphouse (just make sure to get reservations in advance).
You can choose to ride the chairlift back down or hike/bike to the bottom. If you didn't bring bikes with you, we recommend renting them in Big Bear Village.
For shopping and dining, there is no better place to go in Big Bear than The Village. There are plenty of free public parking lots and TONS of things to see and do. Start your day by heading on down to Teddy Bear Restaurant and grabbing breakfast. Late start? Maybe you can swing lunch at Fire Rock or enjoy a beer at The Brewery.
The choices here are near endless, as The Village provides something new around each corner. Make sure to hit one of the gift shops to pick up a souvenir for the way home.
Big Bear Water Slide –
Located by the Alpine Slide is a super fun water slide you can only enjoy during a Big Bear summer.
The double water slide operates during the summer months,
taking riders down two twisting and turning flumes filled with refreshing, cool water, before dumping them with a splash into the heated pool at the
bottom. You must be 36′ to ride. Lifejackets are provided
Did we miss something in our Big Bear Summer List? Let us know in the comments
Pin for Later: Big Bear Summer – Everything to Do, See, & Play