It's that time of year again; the Disney Oogie Boogie Bash is back! Fresh from our delightful experience at Mickey's Not-So-Scary Event at Disney World, we're buzzing with anticipation for the festivities at Disneyland. This time, the stage is set at Disney's California Adventure, and from the whispers, it promises to outdo itself. Catch the magic on select nights from September 5th through October 31st.
Don't forget, this event requires a separate ticket from the standard park admission.
Pro Tips for Disney Oogie Boogie Bash 2023!
The Basics
Location: Disney California Adventure Park
Dates: Select Evenings from September 5 to October 31, 2023
Oogie Boogie Bash Hours: 6:00 PM – 11:00 PM
Early entry for Disney California Adventure Park starts at 3:00 PM!
Oogie Boogie Bash 2023 Tickets Price
Unfortunately, Oogie Boogie Bash tickets are already sold out for this year. You may be able to find tickets available for resell but I advise extreme caution when purchasing! It's probably best to go through a trusted site to do so.
What's Included with My Oogie Boogie Bash Ticket:
Entrance into the Oogie Boogie Bash, including access to treat trails, attractions, fun Halloween decor, and more.
Unlimited downloads of Disney PhotoPass digital photos taken during the party.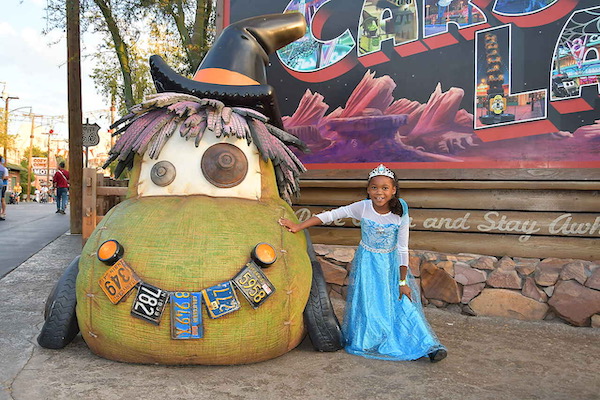 Pro Tip * While the event usually begins at 6 p.m., you can show up at the park 3 hours before and enjoy some fun at California Adventure before the party starts. This is the best way to maximize what you get out of your ticket.
---
It's All About the Costumes!
Seeing people's different costumes is one of my favorite things about the Oogie Boogie Bash. There are some really creative and intricate costumes. Both kids AND adults can dress up for the Oogie Boogie Bash. This is special as adults cannot usually wear costumes inside the park.
That being said, there are some rules you need to keep in mind. Here are the basics:
Guests are welcome to dress as their favorite characters, but shouldn't take photos or give autographs to fellow visitors.
Ensure costumes are suitable for all ages and avoid designs that are provocative, inappropriate, or aggressive.
Avoid including anything in the costume that looks or feels like a real weapon.
Stay clear of sharp or pointed elements in costumes that might unintentionally harm others.
Outfits with multiple layers or props that cover the whole body might face extra security checks and are best avoided.
Costumes shouldn't be so long that they touch or trail on the floor, like full-length princess gowns.
Read more about the costume guidelines here.
---
Click the image to shop my Disney Halloween Favorites!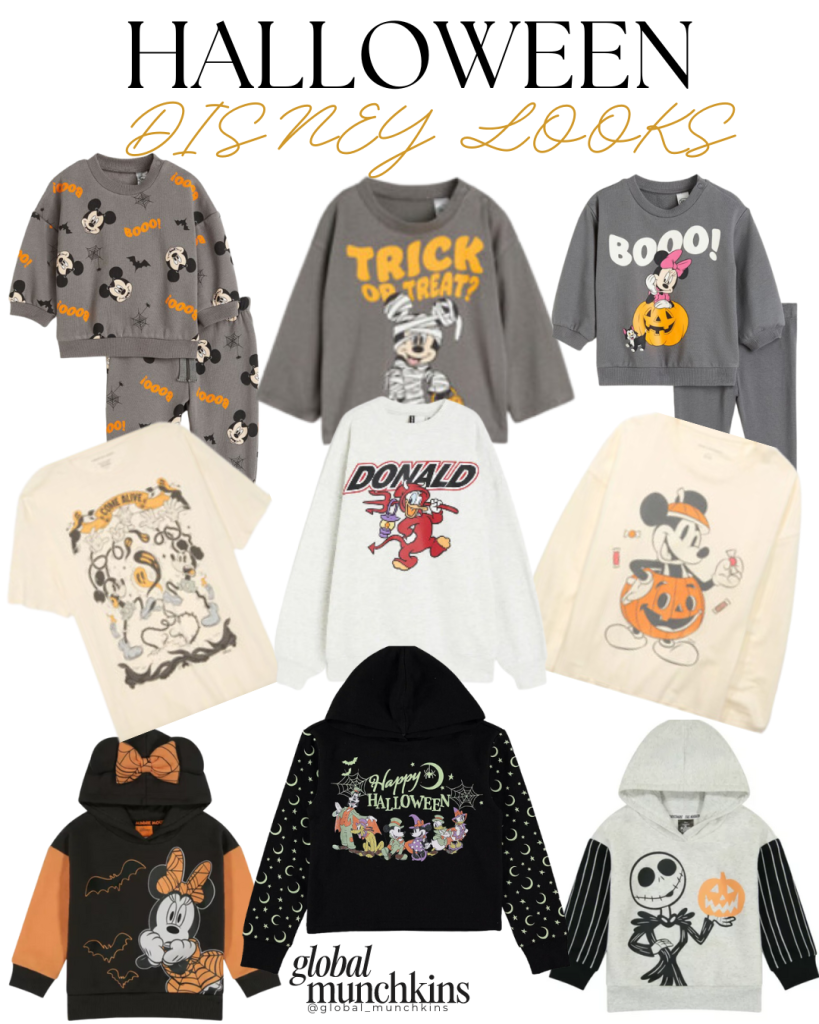 ---
Events at Oogie Boogie Bash
Wak Through Immersive Trick or Treat Trails
This was one of my favorite parts of the Oogie Boogie Bash. Don't worry about lines at the trick-or-treat trails, they move quite quickly! At other Halloween events we've attended, you simply get some candy and go on your way. But at the Oogie Boogie Bash, you walk through some pretty incredible immersive trails with characters like the Evil Queen, Agatha Harkness from Wanda Vision, Sid from Toy Story, and of course Oogie Boogie!
You'll receive candy like M&M's, Skittles, Snickers, and other goodies.
*Pro Tip – Some characters are not at the trails during the parade as they are performing in the parade.
Visit Villians Grove
Redwood Creek Challenge Trail Is transformed into Villians Grove for Oogie Boogie Bash!
I would say this is the most popular attraction at the Oogie Boogie Bash with wait times usually running about 40 minutes to 1 hour. Explore Redwood Creek Challenge Trail like never before as Disney Villains create an enchanting world, twisting the forest into a hauntingly beautiful grove of color, sound, light, and shadow.
This experience does not start until it is completely dark so do not go until 30 minutes after sunset.
*Pro Tip* – Go 30 minutes before closing and you will have barely a wait.
Watch Mickey's Trick & Treat Live Show 
Mickey and friends will be all dressed up and headline a live show filled with not-so-scary Halloween tales—at the Disney Theater in Hollywood Land. This is a super fun event for little kids to enjoy their favorite Disney characters.
Character Meet & Greets Dressed in their Halloween Best!
One of my favorite things to do is to see the characters in their Halloween get-ups.
Take a Look at Carthay Circle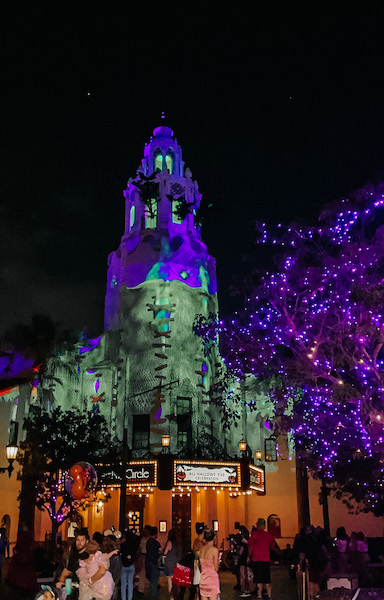 As you walk through the front of the park look up at the amazing Carthay Circle bell tower.
There you will see it doing spellbinding effects to transform the building.
Take a Seat at a Frightfully Fun Parade with the Headless Horsemen
All your favorite characters will be a part of this parade heading down the main walkway of California Adventure. It is a super fun parade. What I love about California Adventure is there is a ton of room to find a spot for the parade, even during the early show.
* Pro Tip – Wait for The 10:00 pm parade and you will pretty much have front-row access.
Ride Guardians of the Galaxy – Monsters After Dark
One of my kids' favorite rides in the park is the transformed Guardians of the Galaxy Ride at California Adventure. During Halloween time, the ride is transformed to Guardians of the Galaxy Monsters After Dark – the mission changes and this time you have to rescue Groot!
Check Out Mater's Graveyard JamBOOree
The usual tunes of Mater's Jamboree are switched out for creepy country tunes like "Welcome to Radiator Screams" and "Monster Truck Smash" to give this ride a Halloween spin.
The Regular Rides Are Open Too!
You'll likely find shorter wait times for rides (including Web Slingers)!
A great of the night is since everyone is trick or treating and Disney limits the number of people who can attend, the lines for all your favorite rides are super short. Now that is a serious win!
*Pro Tip – There is no virtual queue for the new Spiderman Web Slingers – Wait times typically range from 10 minutes to 45 minutes throughout the night.
---
Food
Almost Every California Adventure Restaurant that is open during regular business hours is open during the Oogie Boogie Bash. You can find various Halloween treats like Poison Apple Funnel Cake Fries at Award Weiners, a Candy Cone Churro at Cozy Cone Motel, and Monster Baby Cookies at Jack-Jack Cookie Num Nums.
There is also an Oogie Boogie Bash Dessert Party, with Halloween-themed desserts and beverages. If you partake in this event, you will also have preferred seating for the parade. This is an additional ticketed event and separate reservations are required. You can learn more here!
---
Frequently Asked Questions about Oogie Boogie Bash
Can Adults wear Costumes to the Oogie Boogie Bash
All guests can wear costumes but there are guidelines you must follow.
What is included in the Oogie Boogie Bash
You can enter the parks at 3 p.m. and enjoy all rides and attractions. A Photo Pass is included. All the trick or treating, rides and shows are included.
Can I go into Disneyland during the Oogie Boogie Bash
No, Disneyland is a separate ticket. Oogie Boogie Bash allows entrance into California Adventure at 3 p.m.
Pin for Later – Disney Oogie Boogie Bash 2023!