The Oogie Boogie Bash is back! After a year hiatus it is great to see this Halloweentime event return to the Disneyland resort. After having a blast at the Mickey's Not so Scary Event at Disney World, we can't wait to check out all the happenings at the Disneyland Resort. Once again the event will be held at Disney's California Adventure and this year looks like it will be better than ever. This year the Oogie Boogie Bash will be held on select nights from September 9th – October 31st. The event is a separately charged event, it is not a part of the standard theme park ticket.
Oogie Boogie Bash at California Adventure
The Oogie Boogie Bash is a separate paid event where everyone can put on their best costumes and enjoy an amazing party in California Adventure. While, normally kids can always dress up as their favorite Disney character, at this event kids of all ages can dress up and join in on the fun.
Costume Guidelines
Seeing people's different costumes is one of my favorite things about the Oogie Boogie Bash. There are some really creative and intricate costumes. Like I said, kids and adults can dress up for the Oogie Boogie Bash. That being said, your costume may not be obstructive, offensive, objectionable or violent. Plus, nothing that resembles a real weapon.
In addition there are certain rules like the costume cannot cover your entire face. Check out the costume guidelines here before you head to the parks.
Pro Tip * While the event usually begins at 6 or 7 pm, you can show up to the park 3 to 4 hours before and enjoy some fun at California Adventure before the party starts.
How Much is the Oogie Boogie Bash
What's Included at the Oogie Boogie Bash:
The Oogie Boogie Bash is filled with unique fun events and shows (see below)

Parking is included with the price of admission. Admission is free for those under 3!

Trick or Treating will be available throughout the parks. Enjoy all the delicious candy you want.

Photo Pass. Scan your ticket on the Disneyland App and all your photos will be available for download for 45 days after your event.
Pro Tip * – Make sure to get as many pics in with Photo Pass as possible as the photo pass pictures are such a highlight of the event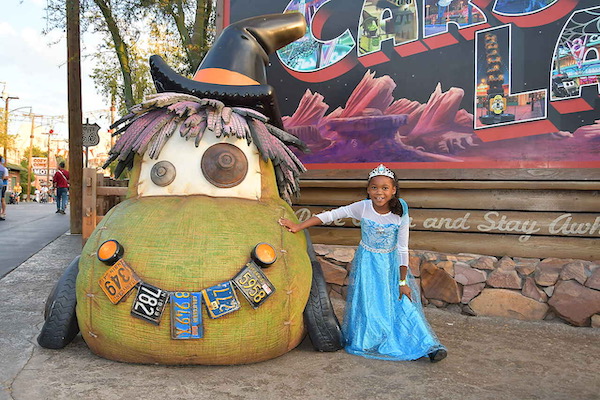 Events at Oogie Boogie Bash
Immersive Trick or Treat Trails – NEW!
This was one of my favorite parts of the Oogie Boogie Bash. Other times I have been to the Halloween events, you simply get some candy and go on your way. At the Oogie Boogie Bash you walk through some pretty incredible immersive trails with characters like the Evil Queen, Agatha Harkness from Wanda Vision, Sid from Toy Story and of course Oogie Boogie.


*Pro Tip – Don't worry about lines at the trick or treat trails, they move quite quickly.
*Pro Tip # 2 – Some characters are not at the trails during the parade as they are performing in the parade.
Redwood Creek Challenge Trail Transformed

This is the most popular attraction at the Oogie Boogie Bash with wait times running from 40 minutes to 1 hour. Explore Redwood Creek Challenge Trail like never before as Disney Villains create an enchanting world, twisting the forest into a hauntingly beautiful grove of color, sound, light and shadow.
This experience does not start until it is completely dark so do not go until 30 minutes after sunset.
*Pro Tip* – Go 30 minutes before closing and you will have barely a wait.
Mickey's Trick & Treat Live Show
Mickey and friends will be all dressed up and headline a live show filled with not-so-scary Halloween tales—at the Disney Theater in Hollywood Land. This is a super fun event for little kids to enjoy their favorite Disney characters.
Character Meet & Greets Dressed in their Halloween Best!
One of my favorite things to do is to see the characters in their Halloween get-ups.

Carthay Circle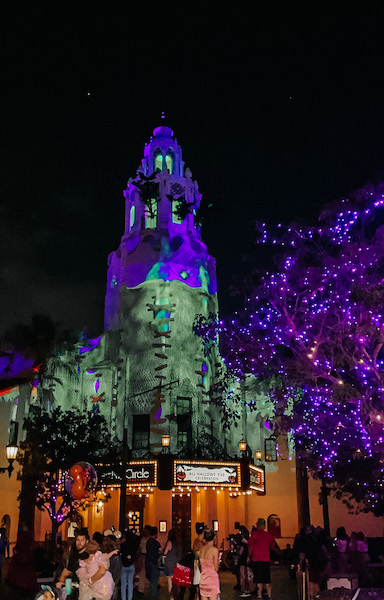 As you walk through the front of the park look up at the amazing Carthay Circle bell tower.
There you will see it doing spellbinding effects transform the building.
Frightfully Fun Parade with the Headless Horsemen
All your favorite characters will be a part of this parade heading down the main walkway of California Adventure. It is a super fun parade. What I love about California Adventure is there is a ton of room to find a spot for the parade, even during the early show.

* Pro Tip – Wait for The 10:00 pm parade and you will pretty much have front row access.

Small Wait Time for Rides (Including Web Slingers)
A great of the night is since everyone is trick or treating and Disney limits the number of people who can attend, the lines for all your favorite rides are super short. Now that is a serious win!
*Pro Tip – There is no virtual queue for the new Spiderman Web Slinger's – Wait times typically ranged from 10 minutes to 45 minutes throughout the night.

Guardians of the Galaxy – Monsters After Dark
One of my kids favorite rides in the park is the transformed Guardians of the Galaxy Ride at California Adventure (formerly Tower of Terror) – During Halloweentime, the ride is transformed once again to Guardians of the Galaxy Monsters after Dark, where the mission changes and this time you have to rescue Groot.
What is new for 2021!
New Villains
This year the immersive treat trails lead you straight into the clutches of Disney villains – some familiar – some new, including Sid from "Toy Story", Cruella from Disney's "Cruella", and Agatha Harkness from "WandaVision"!
Have Questions about Oogie Boogie Bash, leave a message in the comments or shoot us a DM on Instagram.
Pin for Later – Oogie Boogie Bash – 2022! Pro Tips you need to know
Food
Almost Every California Adventure Restaurant that is open during regular business hours is open during the Oogie Boogie Bash. There is even a 3 course special Oogie Boogie Bash dinner available at the Wine Country Trattoria and a dessert party at the Sonoma Terrace.
Frequently Asked Questions about Oogie Boogie Bash
Can Adults wear Costumes to the Oogie Boogie Bash
Yes, all guest can wear costumes. There are restrictions such as masks can not cover complete head and eyes. Click here for guidelines
What is included in the Oogie Boogie Bash
You can enter the parks at 3 p.m. and enjoy all rides and attractions. There is free Parking. Photo Pass is included. All the trick or treating, rides and shows are included
Can I go into Disneyland during the Oogie Boogie Bash
No, Disneyland is a separate ticket. Oogie Boogie Bash allows entrance into California Adventure at 3 p.m.