I am lucky to call California, my home and while I am a Southern California girl, my husband grew up in Lake Tahoe and loves the beauty of Northern California. On a Northern California road trip, you'll find miles of shimmering vineyards, massive redwoods, limestone cliffs, and coastal towns that you thought only existed in fairytales. Northern California is filled with all kinds of treasures, which makes it one of the best destinations for a road trip.
If you haven't had the chance to travel through Northern California, then you have not truly seen the heart of the Golden state. Of course, you can't just hop in your car and get going. You want to create a plan so that you can make sure to take in everything this part of the state has to offer! It's one of my absolute favorite places to road trip and we've included all of our favorites along with a few hidden spots!
[Plus, keep the road trip from getting boring with my favorite 50 Road Trip Questions to keep the conversation rollin']
Northern California Road Trip – 9 Can't Miss Stops
Experience the Beauty of Yosemite
Yosemite is easily one of the greatest national parks in the country. With over 1,200 square miles of protected land, this vast wildlife area provides sanctuary for over four million guests per year.
There are a thousand things to see in Yosemite, including lakes, meadows, granite cliffs, giant sequoia groves, glaciers, forests, and of course, a variety of wildlife. Yosemite is the perfect destination for the outdoor enthusiast who loves hiking, rafting, rock climbing, or horseback riding.
If you travel there during the winter, you can take advantage of the awesome skiing and snowboarding opportunities. If you're feeling adventurous, you can plan to take on Half Dome. Make sure to get a permit!
Be sure to check out our favorite spot to stay, Tenaya Lodge. It's the perfect way to balance nature and luxury. Plus, they have tons of activities for the whole family!
Be In Awe Of Big Sur
Big Sur sits on one of the most unforgettable stretches of California coastline. You'll find many different places to pull over and snap some photos, such as the Bixby Bridge. There are a number of parks along the coastline as well, which offer visitors a chance to see wildlife.
You can either find a place to camp in Big Sur or stay at one of the many splurge-worthy hotels, including Ventana Big Sur and Post Ranch Inn. We highly recommend heading to Nepenthe, which is one of Big Sur's landmarks. This restaurant is home to the famous Ambrosia Burger, which is easily one of the best burgers we've ever had!
A lesser-known spot to grab a snack that I've fallen in love with is the Big Sur Bakery. Their granola is unbeatable.
Giant Redwoods In Humboldt
The heart of the California Redwoods is in Humboldt County. Here you can visit Redwood National Park, as well as the Avenue of Giants and over 40 other incredible reserves. Whether you are looking to hike, bike, camp, or simply take a scenic drive, it would be a wasted trip without getting up close with some of the biggest trees on Earth!
Northern California Winery Stops
Mendocino
Mendocino sits just a few hours north of San Francisco on a dazzling strip of the Pacific Coast Highway. The city is known for its stunning coastal views and world-class wineries. Whether you are looking for some family activities or a romantic getaway on your road trip, Mendocino can provide.
Mendocino is neither your tree-hugging Nor-cal community or your stereotypical beach town. It is a mixture of eclectic and passionate people that have created a gorgeous community for those seeking out something unique.
Hot Air Ballooning and Wine Tasting In Sonoma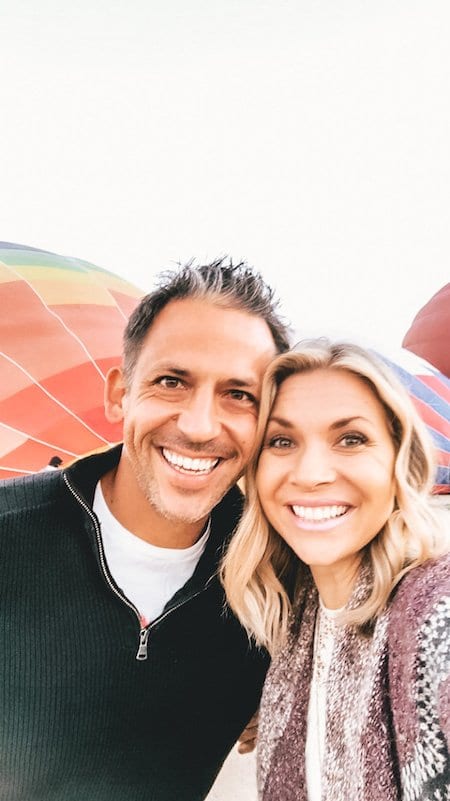 While people often think of Napa when they think of California wine, we like to direct people to the charming county of Sonoma. Sonoma is far more charming than its more popular cousin and is home to a number of great wine tasting spots. We highly recommend heading to Francis Ford Coppola Winery if you're looking for a truly unique experience.
To experience the vineyards from new heights, you have to head up into the clouds. Sonoma Ballooning Adventures provides guests with panoramic views of Sonoma, San Francisco Bay, and the rolling hills of Petaluma.
Russian River – Enjoy a fun little River Town –
We visited the Russian River a few years back for a friend's wedding. This is such an adorable town to relax and enjoy some wonderful outdoor activities. You can canoe down the river, relax at the beach (although it's a bit rocky) and enjoy some incredible dining. Plus, Russian River is only about an hour from Sonoma, so this can be a place to spend the night and then head over to Sonoma during the day for wine tasting.
Our Favorite City Stops on a Northern California Road Trip
Visit the Quaint Town of Carmel/Monterey Bay
The Monterey Penninsula is surrounded by the Pacific ocean and offers visitors a chance to explore quiet coves, windy beaches, and tons of great restaurants, both quaint and classy. The Monterey Bay Aquarium is one of the biggest attractions in Monterey. We recommend renting bikes and cruising down south to Pacific Grove or Asilomar State Beach.
On the south side of Monterey lies Carmel, which is home to the lush Mission Trail Nature Preserve and a variety of gastropubs and galleries. Both of these destinations are great for when you're ready for a bit of downtime after a long time on the road.
San Francisco
San Francisco might just be one of the most diverse cities in the United States and is one of the best Northern California road trip destinations. There are a million reasons to visit San Francisco and it would take an entire book to list them all. For starters, the cuisine is outrageous. You can find just about any dish you can think of, as well as new and innovative dishes from some of the city's top chefs.
The culture of San Francisco is just as diverse as the food. The city's diversity influences art, food, fashion, and activities throughout the city. There are plenty of great attractions to see, including Pier 39, the Golden Gate Bridge, Alcatraz, Muir Woods, and much more!
Check out our Guide to San Francisco with Kids for more fun ideas in the city!
Santa Cruz
Santa Cruz is a great stop along your Northern California road trip. It is one of my favorite stops because I absolutely love the Santa Cruz boardwalk. It takes me back to being a kid and visiting the boardwalk for some fun rides, not so healthy food and then a fun day at the beach. You can spend the night in Santa Cruz or simply head further south to Monterey for the night.
Northern California Road Trip Itinerary
Now that we know our destinations, let's look at the itinerary. I recommend starting up north in Humboldt and spending the day there. The drive is about 3 hours to Mendocino where you can enjoy some amazing wine tasting. From Mendocino to the Russian River is only 90 minutes and an extra hour if you want to head straight through to Sonoma.
After all that relaxation it is time to hit the big city of San Francisco. It is just a one hour drive. Spend a couple of nights in San Francisco, if you have the time. From San Francisco, head down to Santa Cruz, and then on to Monterey. The last coastal stop you will visit is Big Sur, you might find the prices of a hotel room outrageous in Big Sur, so we just spend the night in Monterey as it is only an hour away.
From Big Sur, it is one last long trek to Yosemite. Yosemite, is 4 hours away and a bit off the beaten path, but it is so incredibly beautiful, you can not leave it out of a Northern California Road Trip.
You can check out the map to this exact northern California road trip itinerary here.
Get Out There!
If you enjoy road trips, then there is no doubt that you'll enjoy an unforgettable Northern California road trip. We hope that we've inspired you to take a few stops along the way! Have fun out there!
Latest posts by Michael Mamian
(see all)