Washington DC is such an amazing family destination. The capital city is filled with an abundance of attractions (many of which are at no cost) including: museums, historical monuments, gorgeous parks and more!
You will have plenty to do that is for sure. But, where will you stay? Traveling with children offers unique challenges when it comes to hotels. You need great service, large rooms, a pool… plus you need to be close enough to easily access transportation to the center of town. You need a family friendly DC hotel.
Well lucky for you the recently renovated DoubleTree by Hilton Hotel- Crystal City offers all of that plus it has the only rotating rooftop restaurant in the area complete with stunning views of the National Mall. The hotel is located in Arlington, VA but don't be fooled this hotel is just minutes from central DC. Our kids thought was amazing!! Being from California they are not used to crossing state borders so quickly.
DoubleTree Crystal City by Hilton- a review of a Family Friendly DC Hotel
Service:
Warm chocolate chip cookies upon check in is a nice way to kick off friendly service and a welcoming atmosphere that's for sure! The kids couldn't have had bigger smiles our first night.
Stepping into the massive newly renovated hotel lobby of the DoubleTree- Crystal City I got the feeling we had made a great choice. It is gorgeous!!
The check in process was pretty smooth and the staff were both responsive and kind. They even handled our request to change rooms after deciding our initial room set up wasn't going to work for us. It only took a quick call down to the front desk and we had a new larger room pronto.
We have come to find that the Hilton brand typically offers tons of perks to those who are loyal to them. For example as Hilton Honors members we received bottled water, free wi-fi and breakfast vouchers for each day upon check in. These services are all part of what makes the Hilton brand a great choice!
Rooms:
As I mentioned earlier we upgraded to a larger suite. We did this through Hilton's e-Standby service for Hilton Honors members (to learn more about their membership click here).
The "Modern One Bedroom Suite" offered 475 sq feet of space. It included a bedroom with a king sized bed and a flat screen tv which was separated by a sliding barn style door from the living room.
The living room housed a flat screen tv, queen sized sofa sleeper with a chase lounge and a sitting chair with an ottoman perfect for relaxing your tired feet. There was also a good sized work desk with an office chair as well. Although the room did not have a full kitchen it was equipped with a lovely wet bar. The wet bar had granite counter tops, a deep sink, mini fridge and microwave.
The newly remodeled room was decorated in a contemporary chic style. Which offered a great mix of both beauty and comfort. I especially loved the tiled wood in the bathroom and the modern barn doors that added an element of privacy from the kids.
Dining:

There are several dining options at the Double Tree but the one most worth mentioning is the incredible revolving rooftop restaurant located 15 stories high. The Skydome is open nightly from 5pm- midnight and has some of the most stunning views of the National Mall that I have ever seen. It is absolutely magical.
The restaurant boasts amazing craft cocktails and savory dishes made from fresh and sustainable partners. Local partners include: 1855 Meats, Cherry Glenn, Everona Dairy, Firefly Farms and Olio Oils & Balsalmics. Is your mouth watering yet??
Other dining options include the Café Restaurant where Hilton Honors members can receive a delicious complimentary continental breakfast or upgrade to include the buffets hot dishes. This restaurant is also open for lunch.
There are in room dining options available, a quick grab and go market and the Lobby Bar offers a variety of salads and sandwiches as well.
Wellness:
Regardless of the weather you can stay fit by enjoying the heated indoor pool located on the 14th floor offering expansive views of the capital city. It's also great for burning the munchkins extra energy. We may have used it several times for just that reason 😉
You can also check out their Fitness Room and Health Club too!
Kid Friendly Rating:
We rate this hotel at an 8 out of 10 for kid friendliness. The hotel offers free cribs and highchairs, has family packages, kids menus and an indoor pool. Not to mention what kid doesn't love receiving a cookie upon arrival.
We did not find any kid friendly activities being offered and although I love a chocolate chip walnut cookie I do worry about families checking in with a child who has a nut allergy.
These two reasons are the only two things holding this hotel back from a perfect 10. It is still quite obviously an excellent choice for families.
Things To Do & See Nearby:
Although, the hotel is technically located in Arlington, VA, it offers a complimentary shuttle to both the Pentagon City metro stop and the Reagan Airport making it mere minutes away from central DC.
There is a mall nearby and plenty of great restaurants surrounding the hotel. We especially enjoyed Extreme Pizza and Dunkin' Donuts around the corner and the family owned Cantina Mexicana was just a few blocks away. If you are craving an authentic Mexican meal you have to give them a try- yummy!!! You can read my yelp review for Cantina Mexicana here.
Overall:
I think families will enjoy escaping the chaos of Washington DC and unwinding at the beautiful newly renovated Double Tree by Hilton- Crystal City. The hotel offers many amenities that cater to families making it an easy choice. The indoor pool on the 14th level with incredible views definitely doesn't hurt. Plus, all of the bonuses of the Hilton Honors membership really set this hotel out from the rest. Whether you stay overnight or not you don't want to leave DC without a meal in the Skydome overlooking that stunning view of the National Mall!!!
Pin for later-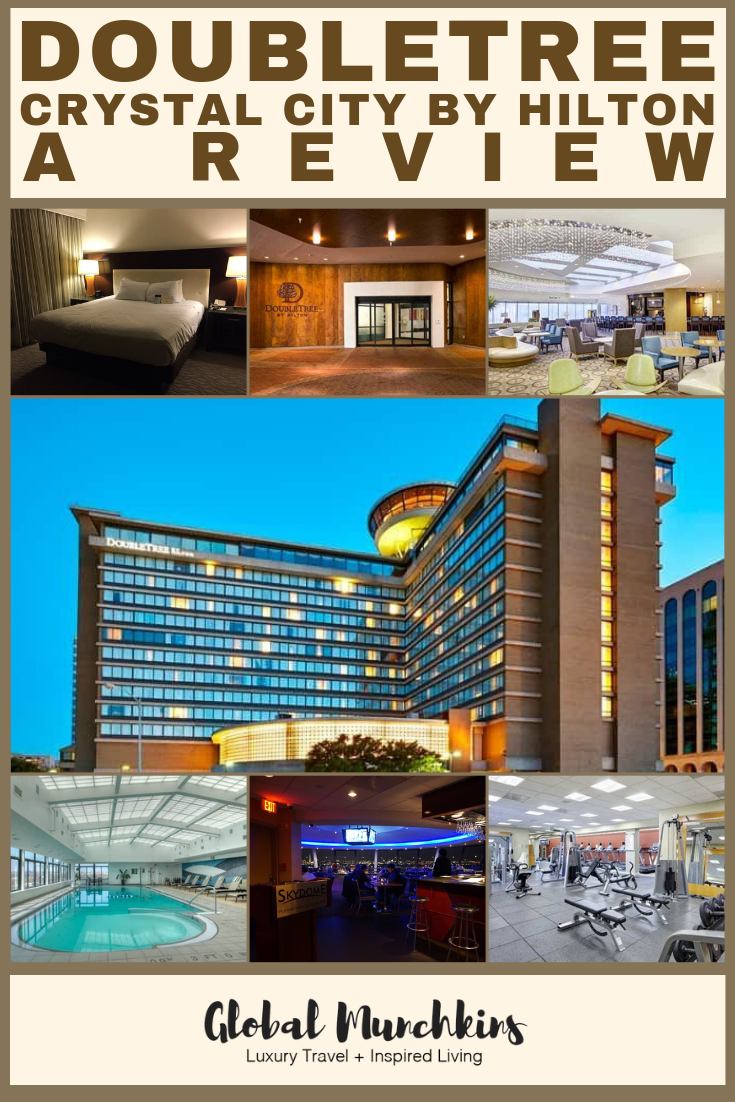 For more information please check out
DoubleTree by Hilton- Crystal City's Website, Facebook,
*A special thanks to DoubleTree by Hilton- Crystal City for hosting the munchkins on our recent visit. As always- regardless of whether we stay comped or we pay- my opinions always remain 100% my own.