New York is an exciting destination with kids in tow because there are a ton of things to do. Families will love visiting the Statue of Liberty, Times Square, Rockefeller Center, the Empire State Building & more!!! Not to mention the amazing food scene they have going on- yum!!!
But, in such a big busy city where will you find accommodations for the entire family? No need to worry. I have just the place… Hotel Beacon- a family friendly New York hotel.
The Beacon Hotel a Family Friendly New York Hotel- a review
Escape the hustle and bustle of the busy New York streets and be greeted by warm smiles and friendly faces as you step inside the Hotel Beacon. Here service is top notch and the views will blow you away. Located in the historic Upper West Side (neighboring the legendary Beacon Theater) you will be minutes away from Central Park, the National History Museum, The Lincoln Center and more. Plus, a metro station is literally right in front of this family friendly New York hotel giving you easy access to the rest of NYC too!
Service:
As you step into the gorgeous lobby at the Beacon Hotel you are greeted by the front desk crew. Each of the staff members we encountered not only made us feel welcome but they truly went out of their way to make us happy.
photo courtesy of Hotel Beacon
Going above and beyond for the guest… that is what you call exceptional service and as a family who has experienced stays at many luxury resorts I can confidently say that Hotel Beacon is one of the best!
Rooms:
We stayed in a gorgeous One Bedroom Suite located on the 24th floor of the hotel. Upon entering our room for the first time I remember being taken a back by the gorgeous light streaming through the windows. The sea foam colored walls were so calming and the decor on point! It was the perfect contradiction to the hustle and bustle going on in the city below.
photo courtesy of Hotel Beacon
I soaked up all the peacefulness that I felt and then I walked over to the windows only to be blown away by the stunning views of Manhattan. Out the window in the living room we could gaze over the Hudson River and through the bedroom window was the most gorgeous view of the midtown skyline.

Our room consisted of a bedroom with 2 double beds and a work space + a living room with a pull out sleeper sofa, lounge chairs, ottomans, a fully equipped kitchenette and a small table.

The bathroom was small but beautiful with its marble counters and Gilchrist & Soames bath amenities.

photo courtesy of Hotel Beacon
The maximum occupancy is stated as 4, however when traveling with children this suite fit 6 perfectly plus the baby in the included porta-crib.
Dining
The Beacon Hotel offers a beautiful bar style eatery with delicious lite bites, craft beers, wine and cocktails. The bar also serves fantastic espresso, cappuccino, coffee and tea as well.
photo courtesy of Hotel Beacon
Don't feel like eating out? The Beacon Bar sources the hotel's in room dining services as well. So, you can enjoy their delicious food right from the comfort of your own room!
Wellness
photo courtesy of Hotel Beacon
Looking to stay in shape… may be a good idea with all the eating NYC has to offer 😉 Hotel Beacon make it easy with their fitness facilities. Or you can opt for a run in nearby Central Park as well.
Kid Friendly Rating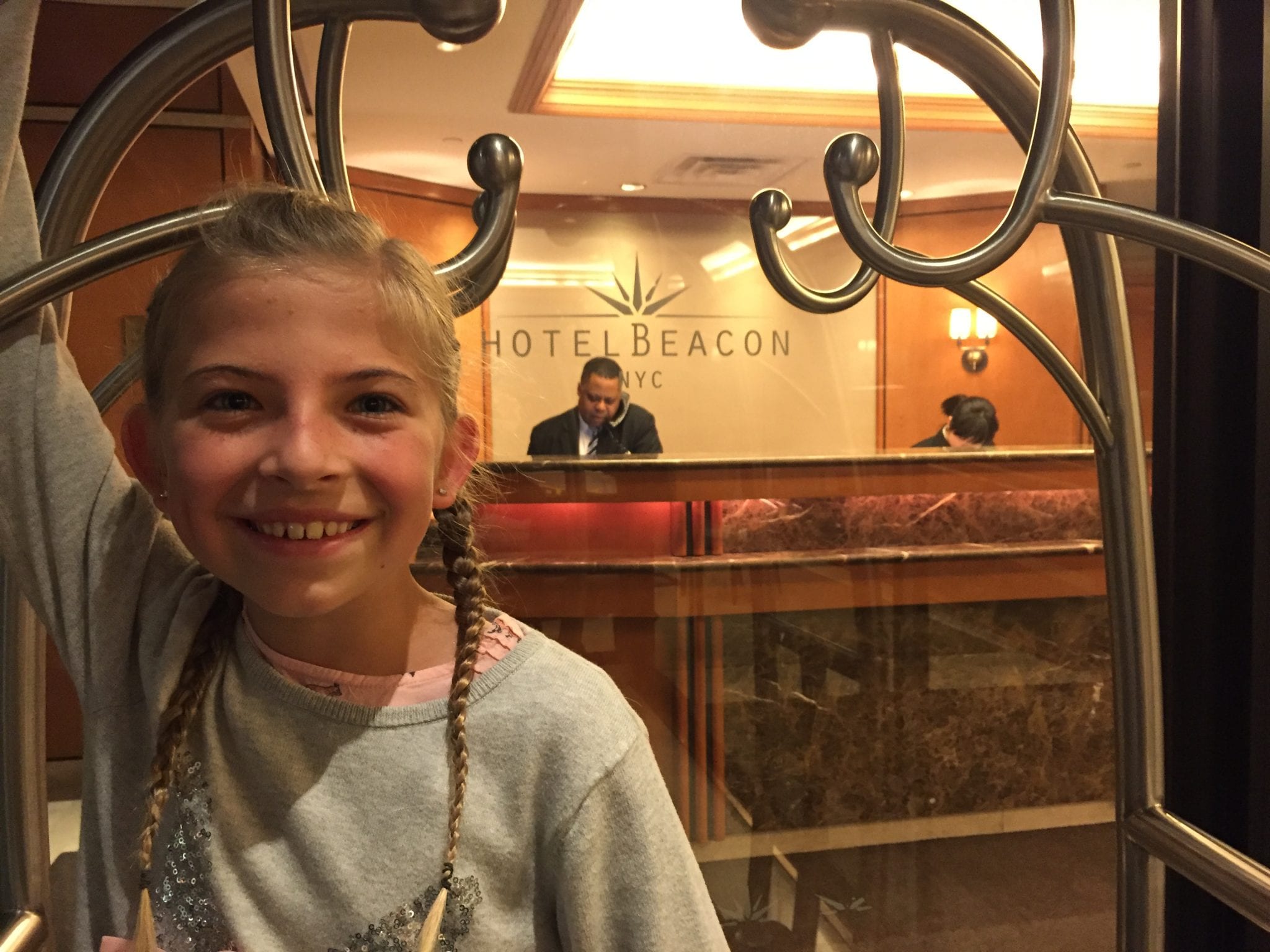 Who would expect a kid loving hotel in the Upper West Side of Manhattan? I certainly didn't! With friendly staff, spacious rooms, fully equipped kitchen in your room and laundry services on property Hotel Beacon is the perfect place for families.

photo courtesy of Hotel Beacon
Extra blankets and pillows and a porta-crib were delivered immediately and our rooms were immaculately cleaned every time we left even though we never saw a maid the entire time we were there.
For all of these reasons Hotel Beacon scores a 9 on our Kid Friendly rating. The only thing this hotel did not offer were Kid Programs/ Camps on property.
Things to Do & See Nearby
Not only is the hotel itself amazing but their location is fantastic as well. You have a massive Fairways Market across the street and a Trader Joe's nearby in case you want to stock up on some food for your fully equipped in room kitchen.
There are plenty of cafes and trendy restaurants within walking distance and a metro station right out the front door. Plus, the National History Museum, Central Park and Lincoln Center are all within walking distance.

Walk out the lobby doors and hop on the metro across the street. You will be in the heart of the city within minutes! Times Square, 9/11 Memorial & Museum, 5th Avenue and the Theater District will keep you busy for days!!
Plus, one of the BEST things about staying at Hotel Beacon in NYC is they are about a block away from Levain Bakery and the ABSOLUTE BEST COOKIE you will EVER taste!!! I was told by a consumer who heard me grumble while waiting in line that I needed to be patient. He said, "this cookie changed his life." I smiled but mocked him in my head… and then I choked on my words as I took my first bite of that heavenly baked treat!!! You MUST visit Levain while in New York.
Overall
I would highly recommend Hotel Beacon for any family looking for a luxury family hotel. You can't beat their exceptional service, fantastic location, massive rooms with the convenience of a fully equipped kitchen plus the benefit of having laundry facilities on site as well. I know when the munchkins return to NYC it will be our first choice!
Pin for later:
*A special thanks to The Hotel Beacon for hosting the munchkins on our recent stay. As always my thoughts and opinions are always completely my own. I only review places I feel are a good match for YOU my wonderful readers.