Recently, we visited Portland Oregon for some spring break activities and to also do a little college tour for my oldest son. With 5 kids in tow, we ventured through the city of roses in search of fun things to keep our tribe entertained. I have to say Portland is filled with unique things to do that you won't find anywhere else. In fact, Portlanders embrace the slogan "Keep Portland Weird" and I loved it.
The culture in Portland is infectious, everyone truly embraces their own uniqueness. Thus, here are the most fun and weird things to do in Portland with kids.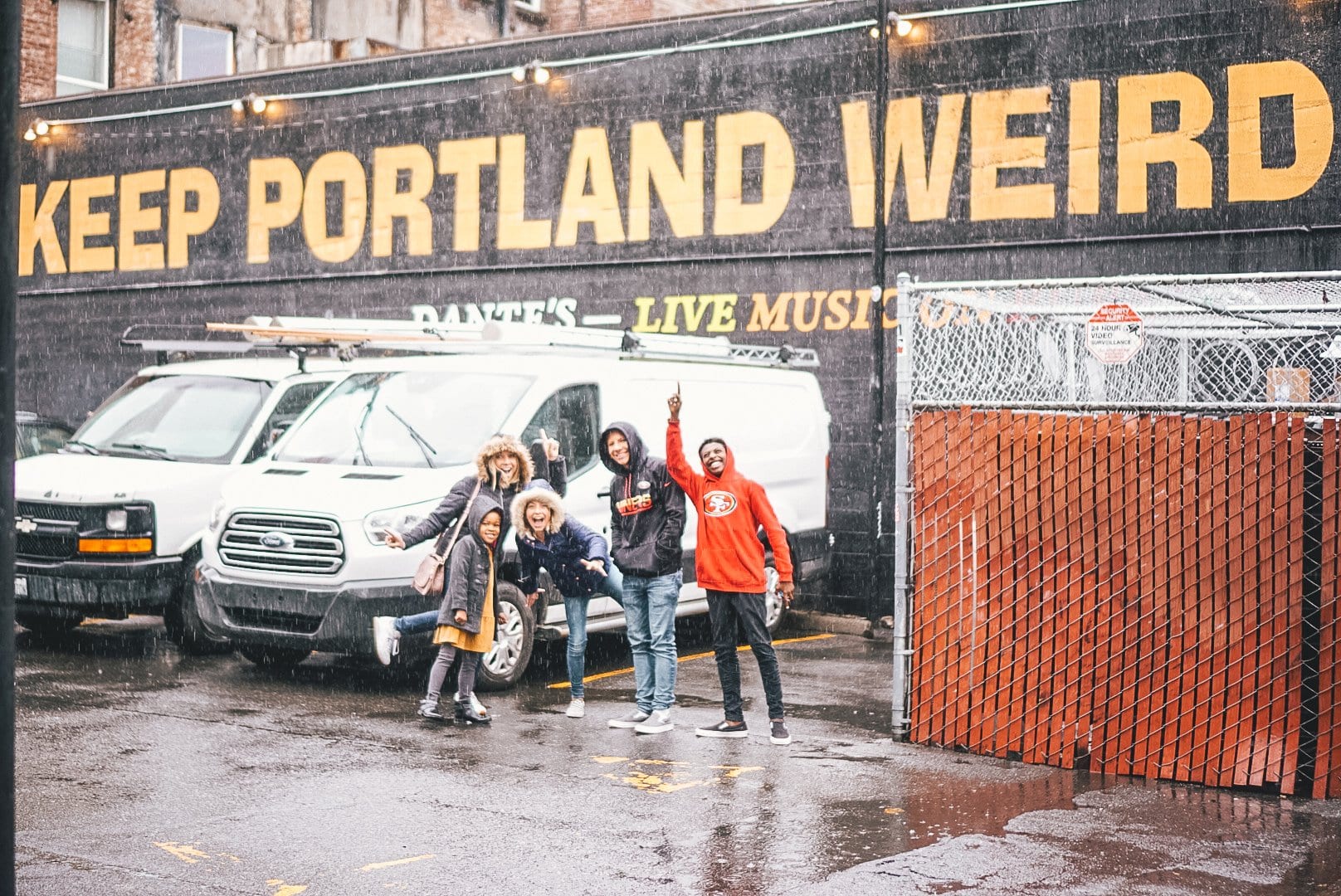 Tasty Things to do in Portland with Kids
Satisfy your sweet tooth with some ridiculously good donuts
No visit to Portland is complete without a trip to the infamous Voodoo Doughnut. Thanks to them, pastel pink boxes have become to doughnuts what Tiffany blue is to jewelry. The city is known for its love of wacky flavors, and Voodoos' iconic creations are sure to tickle tiny tastebuds with toppings like Fruit Loops, bubble gum dust and even bacon!
Lines at the original downtown location can get long, so avoid any potential toddler tantrums and head over to Voodoo Doughnut, Too! on Portland's east side, where you can peruse the menu in a more spacious, less crowded environment.
Don't just stop at Voodoo Doughnuts though, my personal favorite is Blue Star Donuts and we have a complete list of the best Portland donut spots here!
Get a taste of local flavor at Salt & Straw Ice Cream
Founded in 2011, Portland-based Salt & Straw Ice cream quickly made a name for itself with unique flavors like Pear & Blue Cheese and Arbequina Olive Oil. If your little ones' palettes aren't yet that adventurous, more traditional offerings like Chocolate Gooey Brownie are sure to please. My kids loved the brownie, salted caramel and snickerdoodle which they claimed tastes like Cinnamon Toast Crunch. My husband was obsessed with the Almond Brittle ice cream.
If you visit the flagship store, be prepared for lines. But after practicing patience, your family can take your scoops to go and walk the historic Alberta Arts District, home to eclectic vintage boutiques, art galleries and other quirky storefronts. Alternatively, head to one of their three other area locations for ice cream that's just as delicious!
Play with your food at Slappy Cakes DIY pancake parlor
Children are sure to get a kick out of this truly unique twist on breakfast. Each of Slappy Cakes' tables feature a built-in griddle where guests can get creative, using the batter and toppings of their choice to make crazy pancakes in flavors like classic buttermilk, peanut butter and chocolate filled with sweet and savory toppings.
Parents and kids alike will have a blast using the squeeze bottles to try and draw faces, initials and other pieces of pancake art, using chocolate chips, strawberries, and even sausage to decorate their masterpieces. Reservations are recommended during breakfast and weekends to avoid long wait times.
Eat on a School Bus
Want to harken back to the day of eating lunch on the school bus, maybe not, but when you check out the Grilled Cheese Grill you definitely will want to. This place is absolutely adorable. We visited the location on Alberta st., there is also one in Downtown PDX, but the Alberta St. location is where you can eat on the bus.
There are a wide variety of grilled cheese choices, but if you are in the mood for a burger, they have their own unique twist on burgers as well. The Mondor was our family's favorite of the grilled cheese options, but the boys, of course, had to grab a burger where they devoured "The Cheesus"
Admission Please!
See a Broadway show at Keller Auditorium
If you thought that taking your family to see an award-winning Broadway show like Aladdin or The Lion King was just a dream, think again! Each year, Portland's Keller Auditorium is home to a number of family-friendly productions as part of the Broadway Across America program. Ella and I went and saw Aladdin, the genie was from the original Broadway show and he was simply amazing. The whole show was a night to remember.
Tickets start at $35, making this a cultural experience that won't break the bank. Tickets are generally available within 48 hours of a show, meaning you can decide to make a play a part of your vacation at a moment's notice. However, it's advised that you purchase ahead of time for in-demand shows or dates around holidays or weekends.
Take in a professional basketball or soccer game.
If you've got a sports fan in the family, a little advanced planning can guarantee you a memorable experience! Portland is home to three professional sports teams: the National Basketball Association's Portland Trailblazers, and both a men's and women's professional soccer team, the Portland Timbers and Portland Thorns.
Dad and the boys visited the Moda Center and checked out the Portland Trailblazers game. Not only is the game incredible but there is some pretty delicious local Portland food inside the stadium, including Salt n Straw, Killer Burger and Sizzle Pie.
Older kids will love cheering alongside fellow fans, snacking on classic ballpark food like peanuts and hot-dogs and watching world-class athletes compete for victory. I heard the Portland soccer fans are a particularly passionate bunch, and their antics make matches at Providence Park a truly unforgettable time. The boys were disappointed because the stadium was being refurbished, so no games during our visit.
Play the day away at Oaks Amusement Park
Located on the water's edge in Southeast Portland, Oaks' Amusement Park is an attraction that continues to delight locals and visitors alike. With rides for all ages, even kids who find traditional amusement park rides scary will find something fun!
Try your hand at classic carnival games to win fun prizes, race down the Big Pink Slide, ride the carousel or ferris wheel. Families can also play a round of mini golf or get groovy at the roller rink – just be sure to check open hours before you go, as attractions change seasonally.
Outdoor Fun!
Portland is filled with an endless supply of outdoor activities. Here are some of our favorites.
Take in the awe-inspiring Multnomah Falls
Just 30 minutes east of Portland, a beautiful drive through the Columbia Gorge brings you to Multnomah Falls. This state-designated scenic area is located just off of I-84, making it an easy stop for families with young children. You can view the beauty of nature in the form of a 620-foot tall waterfall right from your car.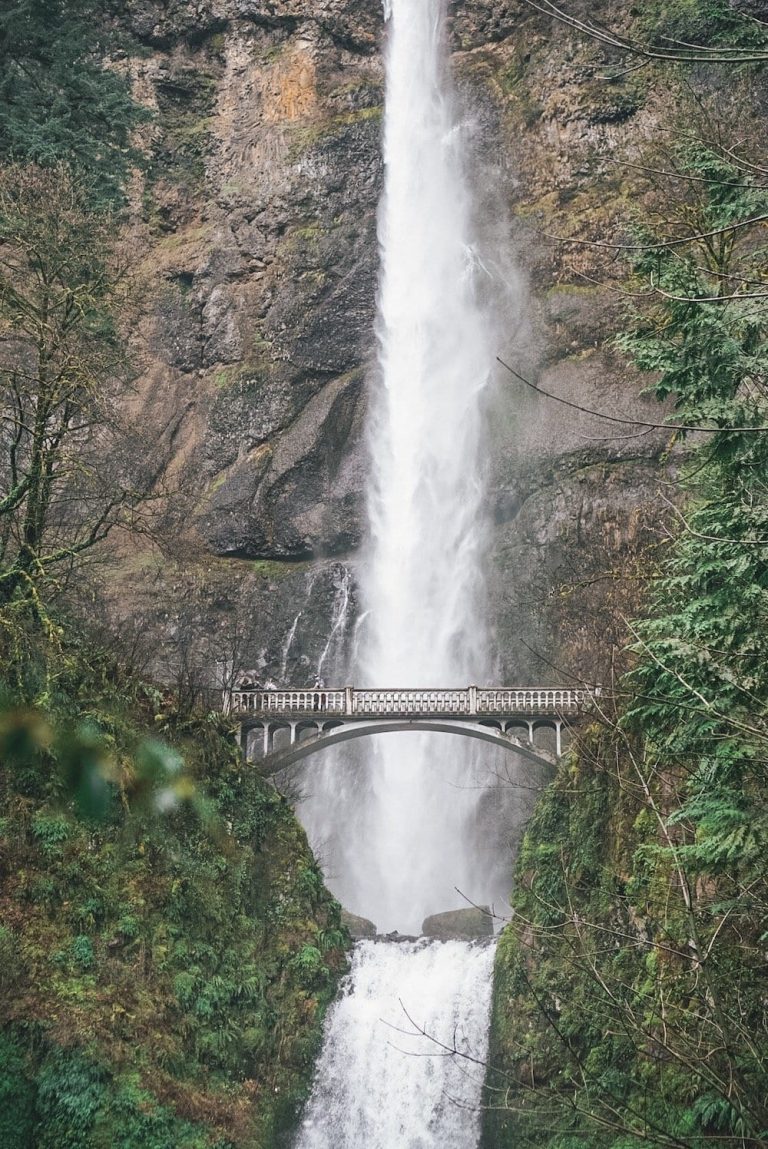 Ready for a closer look? Just a short walk up and you get an up-close look at the power and beauty of the falls. If you are feeling adventurous you can hike to the top of the falls. While you're here, get a snack at the Multnomah Lodge they have some giant cookies, a pretty good latte, and some delicious glazed pecans. There are so many waterfalls that surround the Portland area, you can check out our favorite Portland waterfalls here!
Explore the outdoors on a beautiful hike
You don't have to go far from the city – or spend any money – to take in some of the great outdoors that makes the Pacific Northwest so appealing. Just two miles west of downtown Portland lies Hoyt Arboretum, featuring 12 miles of trails that wind through forest and field. There are many easily-accessible loops that take less than 30 minutes to complete, perfect for young families and beginning hikers.
Keep an eye out for interpretive signs that you can use to educate little ones about wildlife, native plants and more. And best of all? The Arboretum is located minutes from other family-friendly attractions like the Oregon Zoo and World Forestry Center, allowing you to plan an easy, fun and educational trip with a minimum of driving!
Stop and smell the roses at the International Rose Test Garden
If you can't yet tell, Portland is fantastic for nature-lovers: which makes it a perfect place to visit or raise a family. There are acres of beautiful parks and gardens, many free to the public, like the International Rose Test Garden. One visit and you'll understand why Portland is called the City of Roses.
Kids will be astounded at the never-ending rows of flowers, which engage the senses as they smell the fragrant blooms and try to decide which color is their favorite. Fill an entire day by visiting the Rose Garden's Children Park, one of Portland's best outdoor play structures, or the Japanese Garden, located just up the street and ideal for those who crave a quieter, more serene setting.
See some Ducks & Birdwatch at Crystal Springs Rhododendron Garden
Part of Portland's charm is its proximity to nature. Nestled in the suburbs of Southeast Portland, Crystal Springs Rhododendron Garden is a hidden gem that's not only minutes from downtown, but offers a unique experience for large families on a budget. Follow meandering, easily-accessible paths through the park's seven acres, enjoying ponds, waterfalls, forests and a lake.
See your children's eyes light up when they see ducks and geese up close – the most gregarious of the 90 species of birds that can be found here. Then, practice being still and quiet as you try to spot a Great Blue Heron or, if you're very lucky, a Bald Eagle! (which we actually got to see) Just be sure to heed warnings not to feed the wildlife. The park is free to the public on Mondays and during the winter, and children under 12 are always free. Otherwise, admission is just $5 a person from March through September.
Take a walk on the wild side at the Oregon Zoo
The Oregon Zoo may be the oldest zoo west of the Mississippi, but it is constantly expanding, adding new exhibits and improving old ones. Kids will have a wild time getting up close and personal with animals like otters, elephants, lions and bats!
Walk through an aviary where birds fly free around you, get hands-on at the Family Farm petting zoo and catch a Wildlife Live! show in the amphitheater, where zookeepers work with their animal friends to demonstrate adaptations and promote conservation. Little ones will also enjoy a ride on the Washington Park and Zoo Railway, a miniature train that makes a 6-minute loop through the forest and portions of the zoo.
Rent a Bike and Explore the City!
Portland is one of the most bike-friendly cities in the entire country. With massive lanes specifically designated for bikes, traveling around the city on a bike is a breeze. Throughout the city, you will see bright orange bikes which you can rent to use throughout the city.
One day late in the afternoon we decided to hop on some of these bikes and get some delicious soup for dinner, and since we had our bikes we, of course, stopped off for a little treat afterwards.
Cruise the Willamette River on a jet boat excursion
See the city of Portland from a whole new perspective – on the water! Willamette Jet Boat Excursions offers one- and two-hour scenic tours that take guests up and down the river on an open air jet boat. You'll see Portland's famous bridges, historic riverside structures and maybe catch a glimpse of an osprey or bald eagle!
Kids will get a splash out of the educational tour when your pilot shows off the boat's speed and maneuverability with some impressive spins! All ages are welcome, and tours leave from the Oregon Science of Museum and Industry.
Indoor Portland Fun
Go bowling at Grand Central Bowl
With twelve boutique bowling lanes complete with cosmic lighting schemes, a game room featuring new titles and arcade classics and a delicious selection of food and beverages, Grand Central Bowl is so much more than your run-of-the-mill bowling alley or arcade.
Everyone in the family will find something to enjoy, and it's the perfect place for a no-frills dinner where parents can enjoy a pint of local beer and catch the latest sporting event while kids bowl, play foosball or chow down on a pizza. It's also the perfect place for children's birthday parties, with plenty of public and private spaces available to rent for groups of all different sizes.
Test your teamwork inside an Escape Room
"Escape rooms" are a hands-on, interactive activity that bring the fun of family game night to life. Work as a team to answer riddles, solve puzzles and find clues to escape a room, disarm a bomb or rescue a princess – figuratively, of course!
But while the scenarios may be imaginary, the attention to detail that goes into a good escape room make the fun and excitement feel very real. Portland is home to more than seven escape room venues, spread across the west side, east side and in the heart of downtown.
We visited Escape Games PDX, they have 5 Escape Rooms and one very unique to Portland, the Portlandia. In Portlandia, you don't have to be a local of Portland to solve the puzzle, but you do get to experience all of the quirks and whimsy of Portland.
Depending on the topic and difficulty, kids age 8 and up are encouraged to help their party solve the mystery before time runs out!
OSMI – Oregon Science of Museum & Industry
The OSMI is a super fun exhibit where you can get hands-on at several exhibits exploring topics like weather, the human body, robots and dinosaurs! In addition, you can also take a tour of the OSMI Blueblack submarine, enjoy a 4-d show, or explore stars in the planetarium
When we were at the exhibit there was a special Pixar exhibit which was phenomenal. The kids loved being able to actually create animation, such as moving characters arms or creating a stop motion film. This is the perfect way to spend to the day with kids in Portland, especially if it is a really rainy day.
Unique "Weird" Portland Fun!
Take Pictures in front of the Walls of Portland
Driving through Portland you will notice some very artistic images painted across the walls of the city. These walls are bright fun and unique. If you head down to Alberta St. (on the way to get a tasty grilled cheese from the Grilled Cheese Grill) you will find numerous walls that are great for some fun pictures.
Visit the World's Smallest Park
Portland is home to some truly incredible parks, and is recognized for the way in which it has preserved nature even within its urban areas. Which is why it might not surprise you to learn that the city is home to the World's Smallest Park, squeezed into a median strip with a total area of less than four square feet. Share with your children the legend of Mill Ends Park, which claims that local journalist Dick Fagan once saw a leprechaun digging a hole on the site. Fagan caught the leprechaun, who granted him one wish.
He wished for a park of his own, but failed to mention its size: the tricky leprechaun gave him the hole to keep. Decades later, you can visit the diminutive park in the center of the crosswalk where Taylor Street meets Pacific Highway, and follow it up with a stroll along historic Tom McCall Waterfront Park, where kids can splash in the Salmon Street Springs on a hot day.
Visit the Pecularium
The Pecularium is well, We are not quite sure how to explain the Peculiarium…it's truly one-of-a-kind! The museum is filled with Sci-Fi art exhibits, historical oddities, and celebration of urban legends. We're pretty sure that the city motto "Keep Portland Weird" was invented right after a visit to the Peculiarium!
The girls and mom stayed back as this attraction that is definitely not meant for children. However, if your child is daring afterward they can enjoy a visit to their unique candy and ice cream shop where you can enjoy a finger sundae. You can check out more about the Pecularium here.
Visit the Farmer's Market!
You might say to yourself, how can a Farmers Market be unique. Well, in Portland it definitely is. Every Saturday Portland has an amazing Farmers Market and there is always a unique twist. Sometimes you might be enjoying Disco Soup, a fun community cooking event featuring DJs and dancing + some free soup.
Where to Stay in Portland!
We are a family of seven, so finding a hotel that gives us enough room is always a challenge. We were so thrilled when we found out about the Kimpton RiverPlace Hotel. The hotel is located on the Williamette River and was so close to pretty much everything in downtown Portland.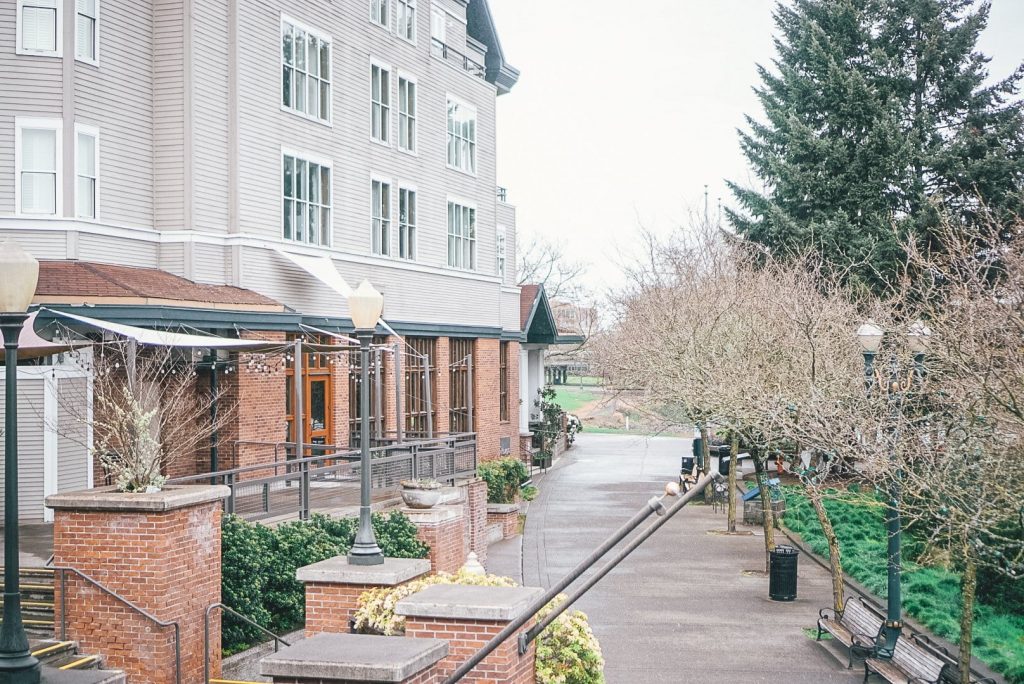 Our room had a full kitchen, two bedrooms, a living room and a teepee (yes a teepee) for our 5-year-old to sleep in. The kids loved just hanging out in the living room and watching movies from their extensive library that is strictly for kids and it's free. Of course, my husband insisted we watch The Goonies since it was filmed in Oregon.
Overall, If you are heading to Portland, there truly is an endless amount of things to do with your family. Whether you are a sports fan, foodie, love the arts, there is a ton to do. Honestly, I didn't even fit in everything we did on this trip. If you happen to be in Portland when it is rainy, I say split up the days between indoor and outdoor activities. That is what we ended up doing it was the perfect plan.
Map of Things to do in Portland
Frequently Asked Questions about Portland
What can you do in Portland when it rains?
See a Second Run Movie
Soak in Hot Pools
Visit Peculiarium
Oregon Science Museum
Drive the Historic Columbia River Highway
Enjoy a Long Brunch
Play Game
Go Roller Skating 
Sing Karaoke
Where are the best places to stay in Portland?
Kimpton RiverPlace Hotel (Our Fave)
Tiny Digs Hotel
Hampton Inn & Suites Portland-Pearl District
McMenamins Crystal Hotel
Woodlark
What are the best places to eat with kids?
Voodoo Doughnuts
Tamale Boy Dekum
Yakuza
Pizza Jerk
Tin Shed
Lovely's Fifty Fifty
Life of Pie Pizza
Boise Fry Company
Mother's Bistro & Bar
Punch Bowl Social Portland
Have Questions about Portland? Leave us a message in the comments or send us a direct message on our Instagram
You Might Also Enjoy:
The Best Donuts in Portland…& Let's not forget about Ice Cream!
The Incredible Portland Waterfalls [15 to Check Out]!
Pin for Later – 20 Amazingly Fun & Weird Things to do in Portland with Kids
Latest posts by Mama Munchkin
(see all)