This past summer we got to visit Banff. The oldest, and arguably the best of Canada's National Parks, Banff is both a gorgeous national treasure and an adventure-filled wonderland. Whether young or old, total outdoorsman or more of a city person, Banff really does have a little bit of something for everyone.If you are considering a family trip, check out these top things to do in Banff, because this place is beyond amazing.
Top Things to do in Banff – Absolutely Incredible Experiences!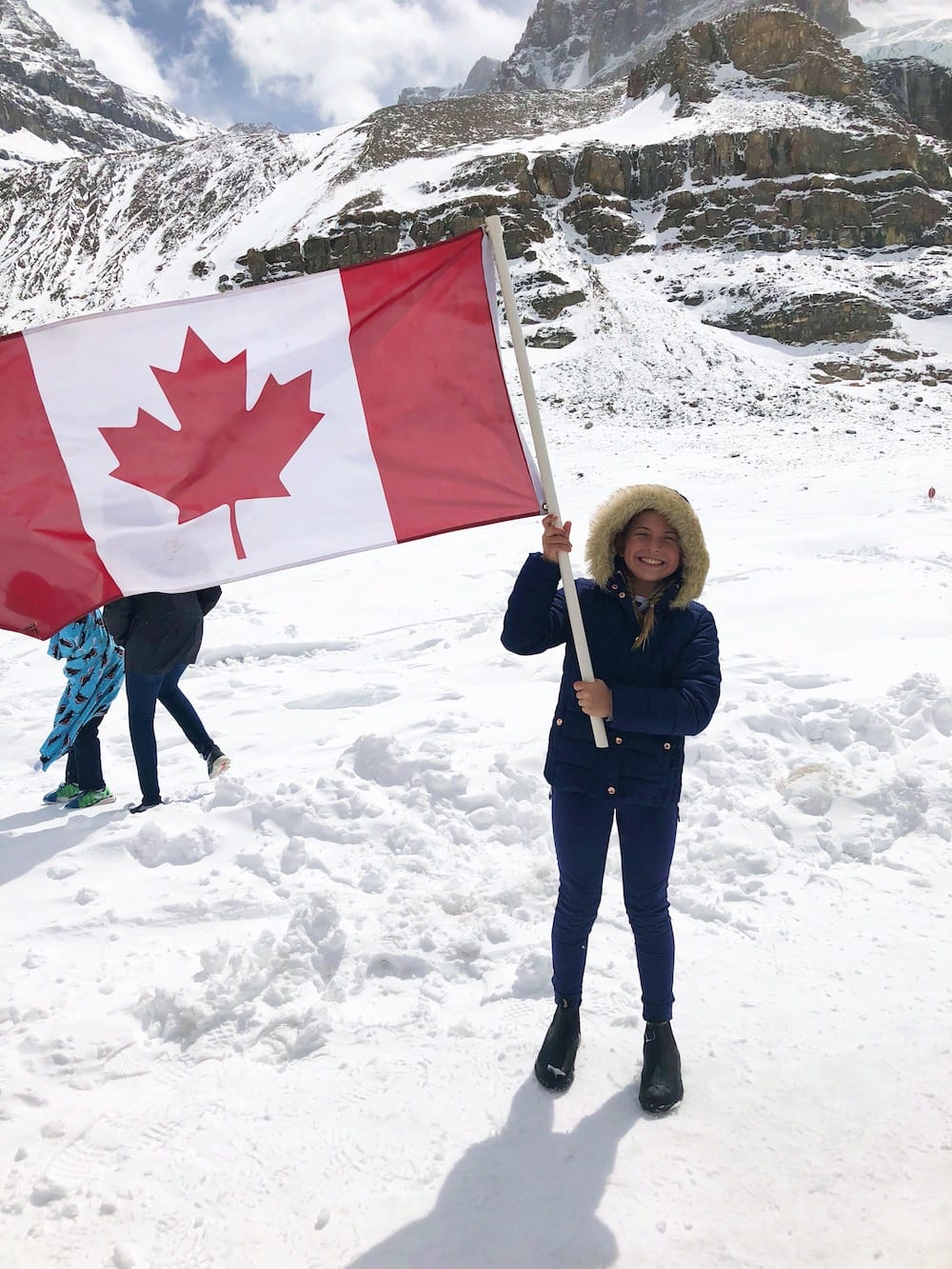 Things to do in Banff – Year-Round Fun
Discover Banff & Wildlife Tour
There is nothing like seeing a wild animal up close in their natural habitat. When visiting Banff, you are almost guaranteed to spot wildlife but if you really want to see something incredible, sign up for a wildlife tour.
It's a great way to start off a trip as the tour takes you around some of the amazingly beautiful spots that Banff has to offer. The tour is three hours long and you will get to check out Bow Falls, Lake Minnewanka and the incredible view at "Surprise Corner"
At first, I was a little nervous to take a three-hour car ride with our feisty 4-year-old, but the frequent stops at some of these absolutely beautiful places kept her plenty busy where she did not get bored once (I think the Maple cookie they offer also helped ;).
Banff Gondola
The true majesty of the Rocky Mountains really must be seen from above. Thankfully, the town of Banff offers a great way to get above it all with a one-mile gondola ride to the top of Sulphur Mountain.
The gondola ride up is a fun trip all by itself but once you reach the peak, you'll be blown away by the incredible views extending in every direction. Check out the self-guided, 1km walking path at the top or grab a coffee at the mountaintop cafe and just enjoy the view.
It's really a great time for some nice photo opportunities. Check Current Prices Here!
*Fun Fact* Stop by the highest Starbucks in Canada which is located at the base of the Gondola
Canmore Cave Tours
While the mountains offer great views from above, they also offer some serious adventure and fun down below. For those of you not afraid of the dark or tight spaces, check out a Canmore Cave tour.
Dad and the boys headed into the caves and claim it was a combination of the greatest thing of their life and also some of the most intense. You find yourself squeezing through some interesting situations. You also get to see amazing cave formations, squeeze through narrow passageways, repel down the cave walls, and slide down one of the cave's natural "laundry chute" slides.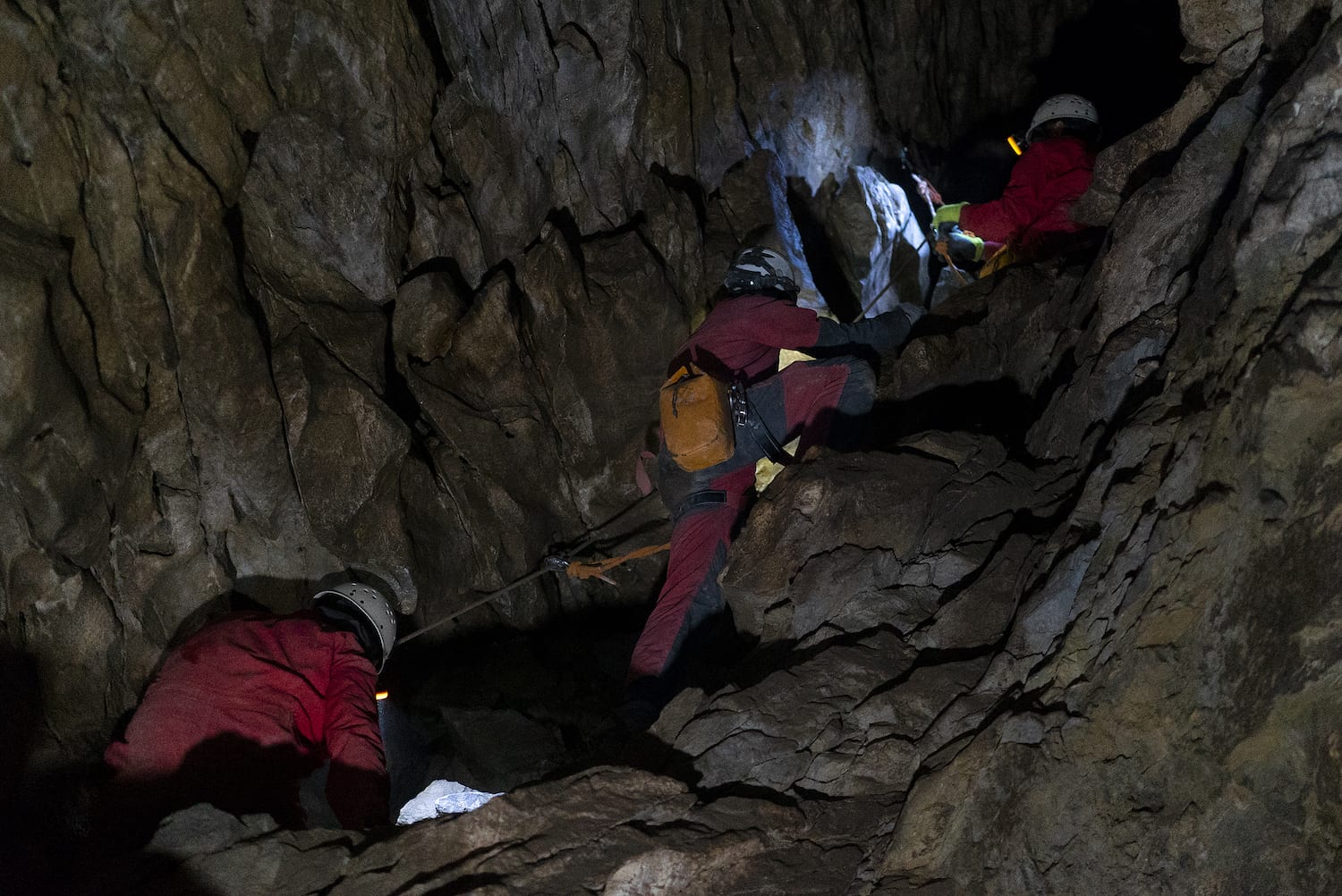 The guides on the tour are great at keeping you safe and entertained all at the same time. The cave tours are not simple walk-throughs but real caving adventures, sure to get your heart racing. You can check out our full review here
Banff Centre Concert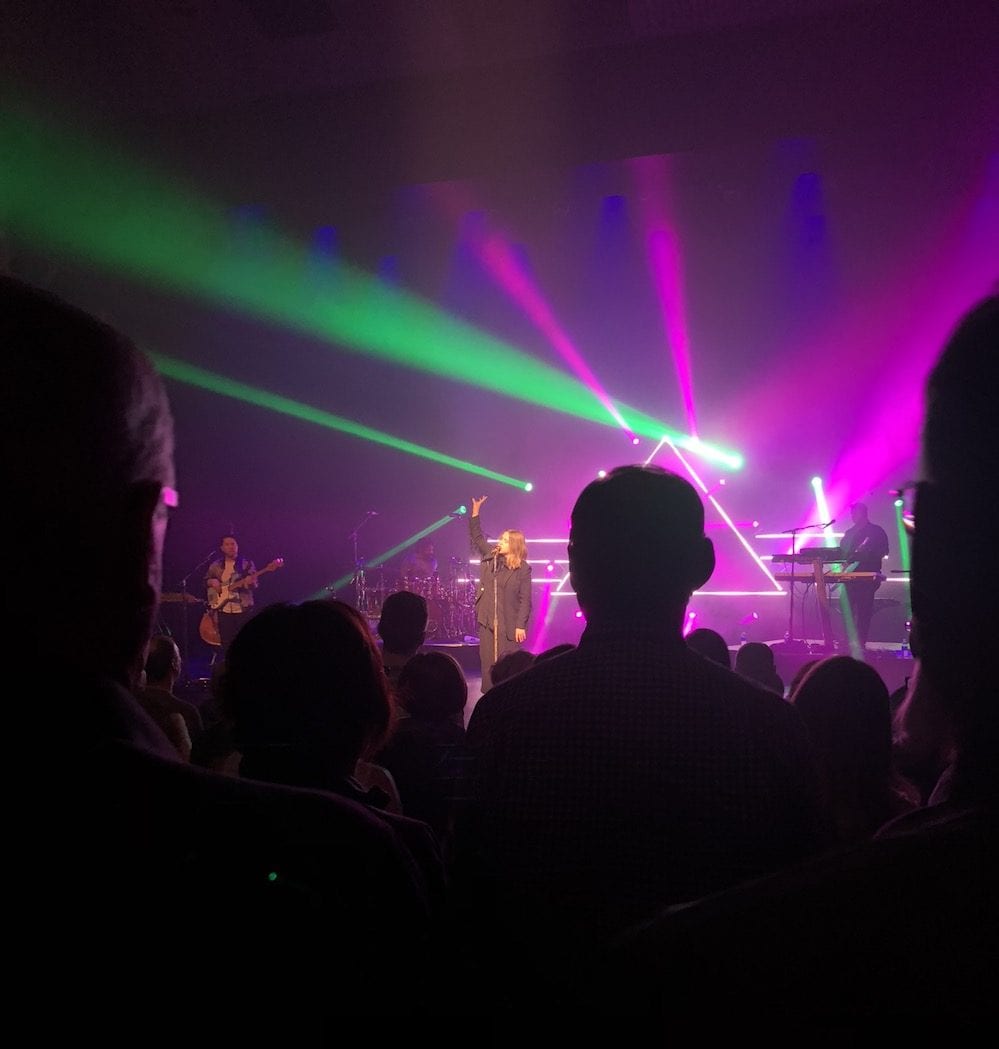 You might have come for the natural beauty of the park but the town of Banff has plenty of charm itself. After a day of hiking or caving, why not treat yourself to a nice dinner and a show?
At the Banff Centre, you can catch great performances by world-renowned artists in a relaxed concert setting. If you happen to be visiting in summer, you're in for even more of a treat thanks to the Banff Summer Arts Festival. The festival runs May through August and features both free and paid concerts with stars like John Adams, Sarah Harmer, and Angela Cheng.
Ella and I had an incredible time at the Serena Ryder concert and absolutely loved the setting.
Visit a Glacier at the Columbia Icefields
One of my families favorite things to do in Banff was visiting the glaciers. The mountains of Banff hold another treat – glaciers! Whether you visit in winter or the peak of summer, experiencing a glacier is a must. In Banff, you can book tours to not only see the glaciers but walk on them. It is actually about a 45 minute drive to the glaciers but the views along the way are absolutely amazong. You might even see a bear or two (we saw three!). At the Athabasca glacier, you'll be able to walk around the top of a glacier over 2,000 feet deep!
You hop on a giant Ice Explorer with massive tires designed to navigate driving on a glacier. It is a fun ride as the guides are hilarious and also a tiny bit harrowing as you travel down the steepest non-paved road in North America. On our adventure, it was quite windy on the glacier (see pic below) which made the adventure seem even more exciting.
*Inside Tip* Bring an empty water bottle and the guides will fill it with fresh water from the Glacier *
After a little glacier hike, head to the Glacier Skywalk where you can learn more about glaciers and see a different perspective by literally walking above a glacier-carved valley on a glass walkway.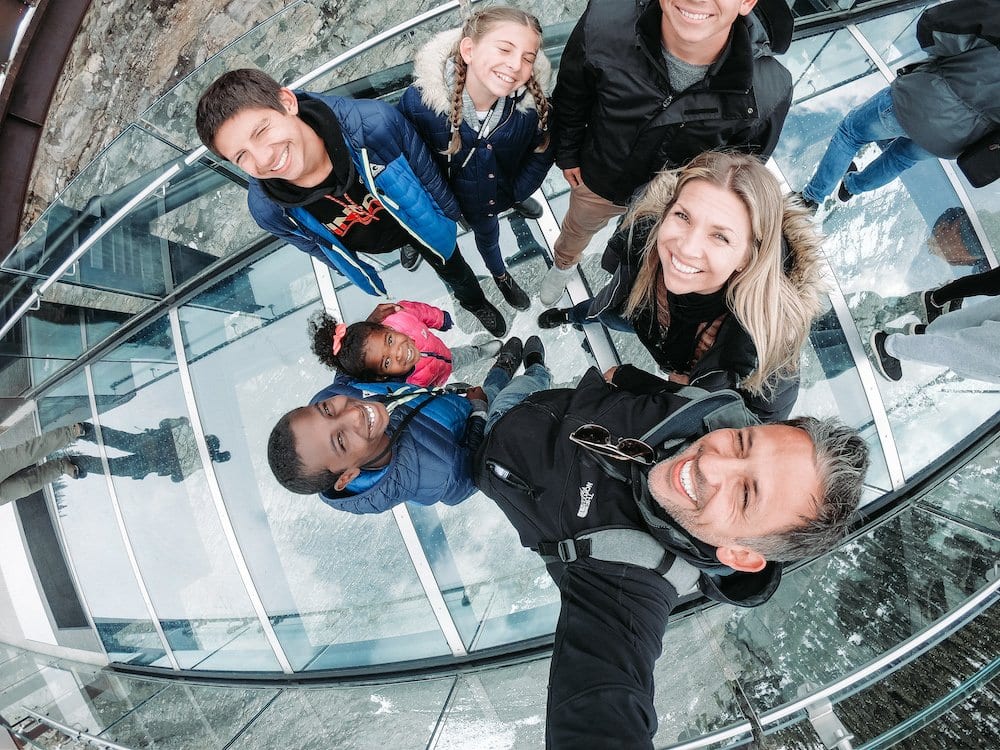 It's an experience like none other but probably not the best option for anyone with a serious fear of heights.
White Water Rafting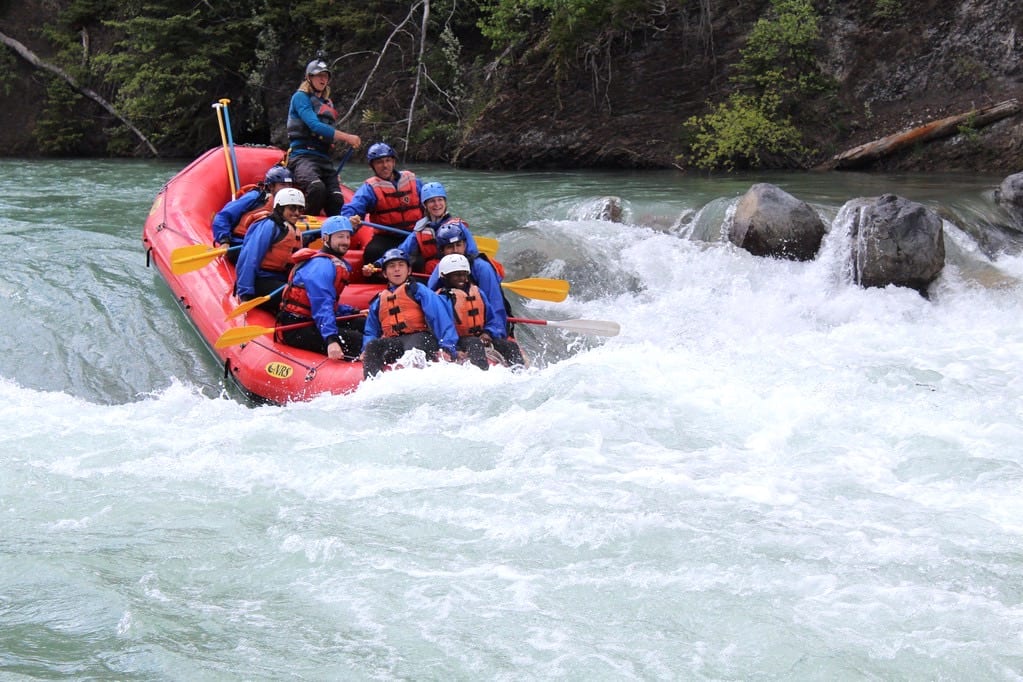 Another great option for the more adventurous travellers would be to check out the whitewater rafting options around Banff. Kananaskis River is one option and has rapids from mild Class II to more adrenaline rushing Class IVs.
Tours range from beginner floats to experienced only groups. The water here is quite chilly but don't worry as the tours all offer wetsuits. We took the class II tour, which is great for kids 10 & up. My teenage boys did want a little more adventure and would have preferred to go on the more adventurous route.
Take a Hike (or a Horseback Ride!)
You really can't come to Banff and not spend the majority of your time out exploring the beautiful park. Whether you are looking for a stroller-friendly walk to Lake Louise or a full day's hike to a remote mountain stream, you'll have plenty of options.
And, if you are less into hiking but still want to get a bit further into nature, check out the horseback tours. We decided to do the horseback tours because well I absolutely love horses. We booked a Horseback Ride and Cookout with Banff Trail Riders. After about a 30-minute trail ride along the bow river we stopped for a delicious cookout. Steaks were made to order and then you could make your baked potato. The kids enjoyed the hot cocoa and loved learning how to lasso a bull. If you have people who don't want to ride a horse or little ones like our Olivia in your party they can still come along for the ride in one of the covered wagons with nice warm blankets.
After the cookout you head on back through a different route. The guides told stories about the bears of Banff including the most famous bear in Banff, "Boss." Boss is 17 years old, 8 feet tall and over 1,00o lbs. The wagons are also supplied with some nice heavy blankets which Olivia definitely loved snuggling under. Check prices for the Cowboy Cookout Here
Visit Beautiful Lake Louise or Lake Moraine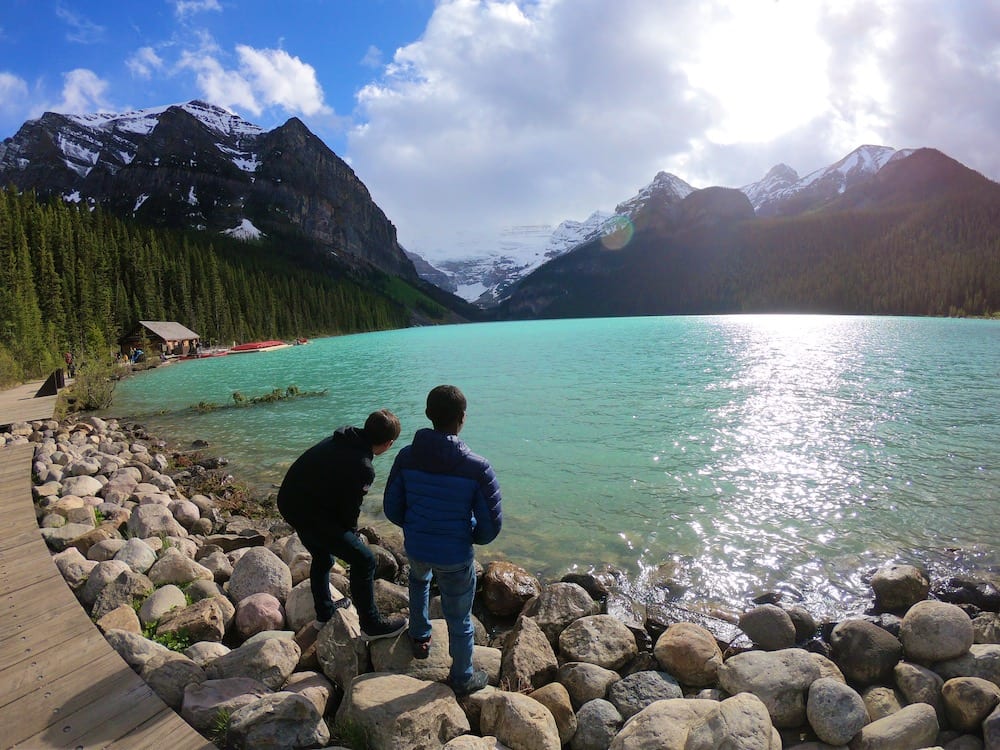 After a super fun day at the glaciers, my husband really wanted to see Lake Louise as it was on the route back to our hotel in Banff. I was a little hesitant at first as I did not think the kids were up for another hike. Luckily, it is super easy to get to Lake Louise. It is probably a 5-minute walk from the parking lot located next to the Fairmont Chateau Lake Louise
To say Lake Louise is stunning would be an understatement. The turquoise blue water is something you simply cannot stop staring at. I loved seeing the canoes out on the water with the beautiful mountains in the background. We were a little too tired to do some canoeing but we really enjoyed the view
Lake Moraine is another incredible spot and the crowds are a little lighter than Lake Louise especially if you head out earlier in the day.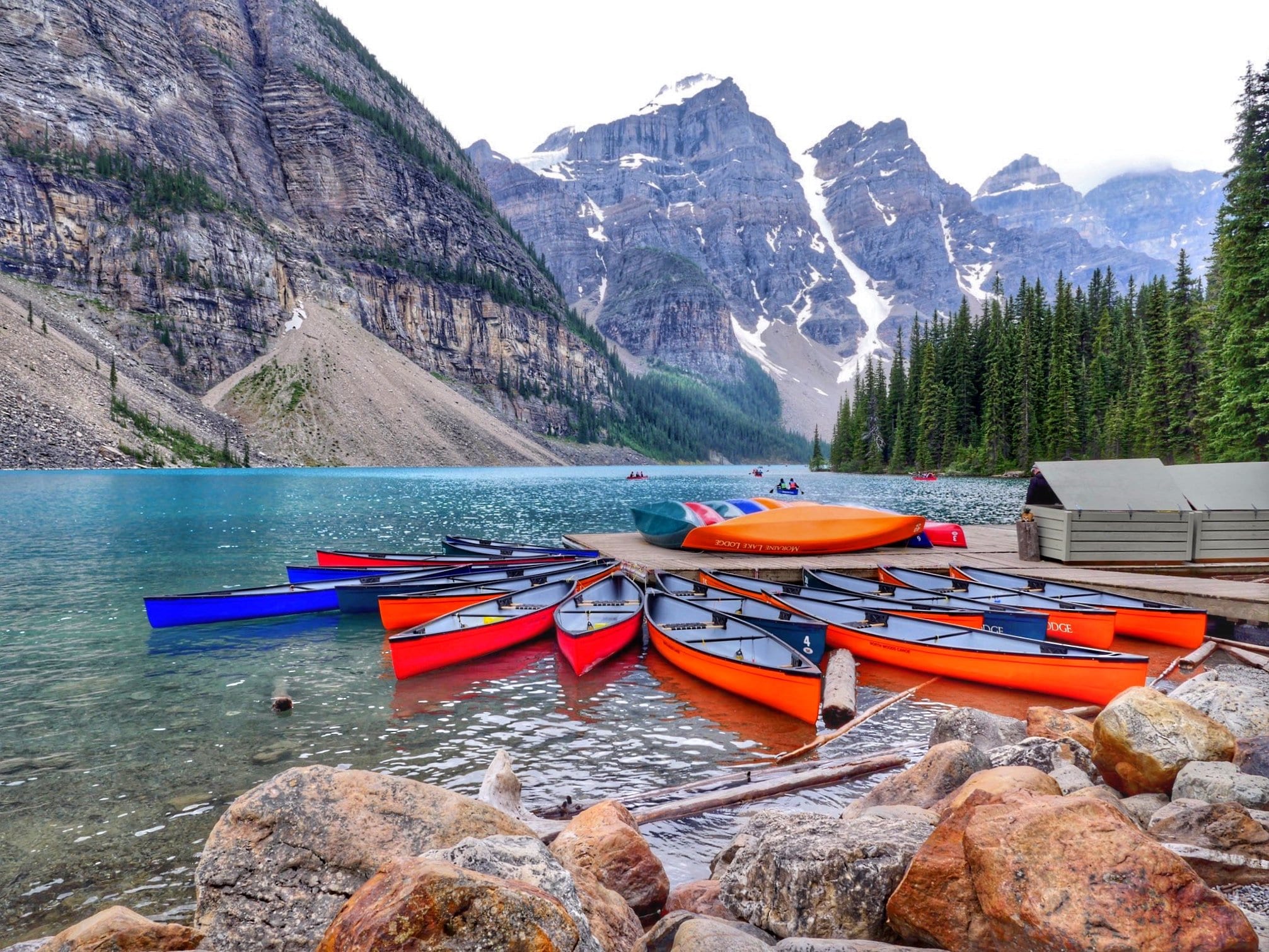 *Pro Tip – Crowds tend to gather right at the center of Lake Louise, head about 30 feet to the left and you will find yourself all alone for some spectacular views and pictures. This is definitely one of the Best things to do in Banff
Top Winter Options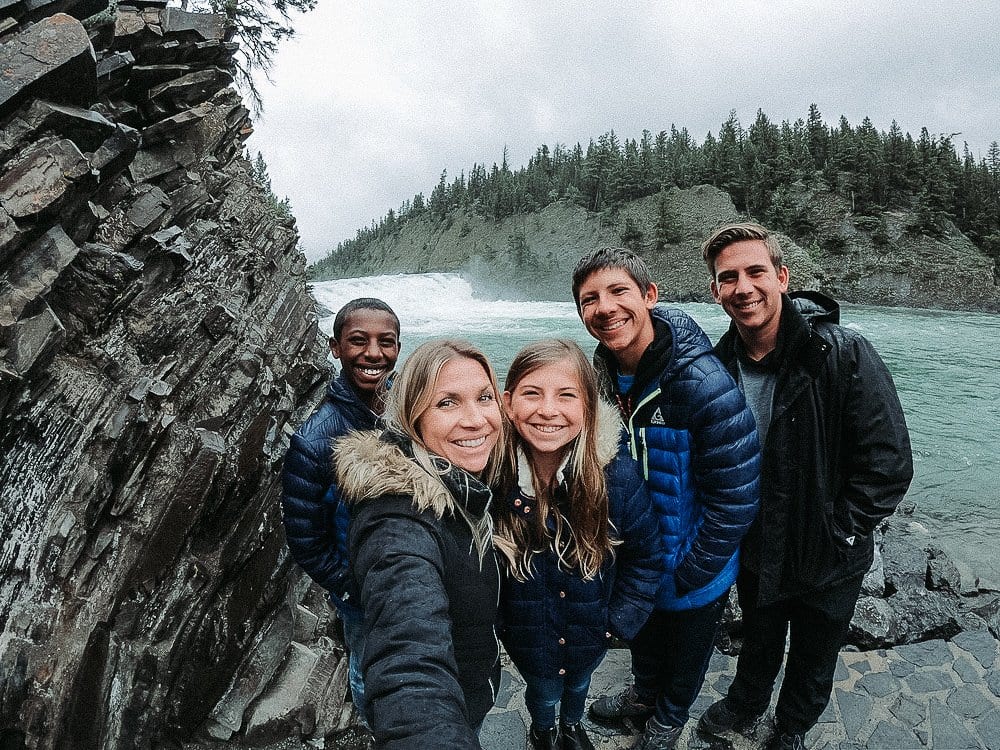 Skiing, Snowboarding, and Snowshoeing
When it comes to winter, Canada goes all out. In the Rocky Mountains that means downhill skiing, cross-country skiing, snowboarding, and snowshoeing. If you are visiting Banff in winter, you'll have great options to do all of the above.
Check out Mt. Norquay, Sunshine Village, Lake Louise Ski resort, or Spray River Loop which is especially good for cross-country skiing. All the Banff area ski resorts offer beginner to experienced ski runs, rentals, lessons, and everything else you'd expect from world-class resorts.
Dog Sledding
One of our favorite experiences in the world was Dog Sledding in Colorado and I can't wait to experience the adventure in Banff. As soon as the first snow falls, it's time for dog sledding season! Experience the fun of gliding through the forests of Banff while being pulled by a team of energetic dogs.
Dog Sledding tours are great for kids of all ages. On most tours, guides direct the sleds while you and your family get to snuggle up in the sled under warm blankets. More advanced tours offer the option to try your hand at driving the sled but be warned – it's a lot harder than it looks.
Tubing
Banff might not have roller coasters but it has something possibly even more fun – tubing hills. While the original concept was just simple inner tubs used as makeshift sleds, today, tubing is serious business.
In and around Banff you will find a number of "tubing parks" which have the feel of mini-theme parks and make the experience that much more fun. With lifts to carry you back to the top of the hills and racing lanes, you can easily spend hours having fun.
There really is an endless amount of things to do and experience in Banff. We have only scratched the surface. From endless hiking options to great dining experiences, Banff is truly one of the most beautiful places I have ever visited and a place you really just have to visit and discover for yourself.
Map of Things to Do in Banff
Frequently Asked Questions about Banff
When is the best time to visit Banff?
If you are looking for Spring/Summer activities then June through August would be best. If you are looking for Winter activities then December through March would be the best timing for you.
How many days do you need in Banff?
It depends on how much you plan on seeing. Banff has so much to offer, if you are looking for a shorter visit, about 3-4 days and if you are planning on skiing or doing hikes then plan for a little longer stay to enjoy all it has to offer. Around 5-6 days or so!
Can you see the Northern Lights in Banff?
Yes! They actually make an appearance several times a year. Your best chance to see them is during the Winter months of October-May! You do need a cloudless sky, but if you are lucky you may be able to witness them!
You Might Also Enjoy:
The Ultimate Guide to a Banff Summer – The Best Time to Visit Banff
15 Super Spring Break Ideas for Families- luxe trips that won't break the bank
Pin for Later – Top Things to do in Banff – Absolutely Incredible Experiences!
Latest posts by Mama Munchkin
(see all)