Hawaii holds a special place in my heart, not just because my Husband and I got married there, but because we have had so many family memories on Oahu, Hawaii, Maui, and my personal favorite Kauai.
Kauai is by far one of the most gorgeous islands and we highly recommend it as a relaxing getaway retreat. That said, when you are looking to book the perfect retreat in the Hawaiian islands sometimes typing "AirBNB Kauai Hawaii" into the search bar leaves you a bit overwhelmed.
Since Hawaii is about kicking back, relaxing, and throwing a friendly "aloha" to everyone you meet, we went ahead and did all the work for you and researched the top 5 best, gorgeous and most relaxing AirBNB Kauai Hawaii rentals for you.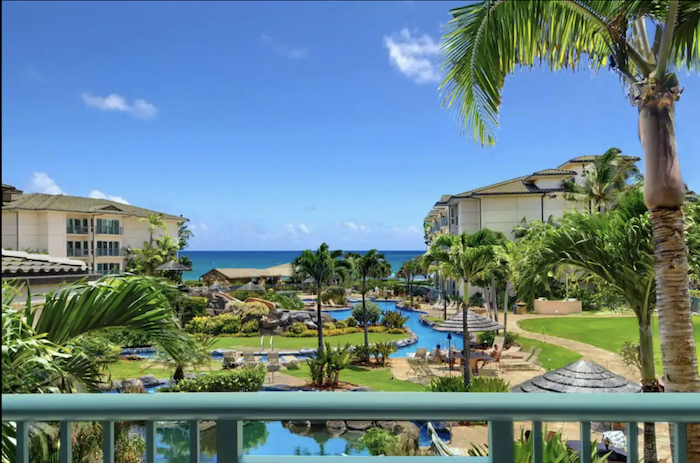 ---
Our List of the Most Relaxing AirBNB Kauai Hawaii Rentals
Finding an incredible vacation rental in Kauai has never been easier! Check out our five Kauai AirBNB favorites, and you'll soon be sipping piña coladas on the shores of the most beautiful beaches in the world.
Features to Note: perfect for big families, resort-style amenities, ocean views, state-of-the-art kitchen, extremely convenient location
Critics of vacation rentals often gripe that you don't get the same level of service or access to amenities if you don't stay in a five-star hotel. Well, this condo at Waipouli Beach Resort shows that you can get the white-glove treatment and access to resort amenities all the same!
One step knot the Waipouli Beach Resort property and you know you're in paradise. The expansive Hawaiian gardens are lush and verdant, making the perfect juxtaposition with the deep blue of the Pacific Ocean. It's a visually stunning scene, made all the more impressive by the ample offerings which include a lazy river-style saline pool, waterfalls, water slides, and a sandy bottom hot tub Jacuzzi spas.
We recently just came back from this rental with the kids and absolutely fell in love with the resort. Waipouli Beach Resort boasts a highly-rated restaurant, Oasis on the Beach, a full-service spa, Spa by the Sea, and a spacious fitness center available to all resort guests.
You'll be so enamored with the resort that you might forget that the condo is also top-tier, featuring numerous modern conveniences and luxuries that will ensure you're pampered throughout your stay.
The 2-bed, 3-bath condo sleeps up to eight and has tons of room for everyone to sprawl out and relax. That's made immediately evident by the three private lanais that offer a perfect place for a morning coffee, afternoon cocktail, or nightcap before bed, offering unparalleled ocean views and the torch-lit resort property that never ceases to amaze.
The kitchen is recently-renovated, offering stone countertops and stainless steel appliances, and the experience is made complete by the adjacent dining area. It's perfect for when you're tuckered out from the beach, which is easily accessible from the comfort of your condo, and don't feel like dressing up to go out to dinner.
Instead, prepare your own meal from your personal getaway, retire to the lanai for a relaxing evening with your favorite friends or family members, and call it a night so you can wake up early and do it all over again.
It's without a doubt our favorite island retreat, and we couldn't recommend it more highly!
Book your stay here!
---
Features to Note: located in the charming little town of Kapa'a, steps from the beach, beach gear available for use
Looking for something a little smaller?
You'll feel right at home with this one-bedroom condo in Kapa'a. The condo is literal steps from the beach, but the property also includes resort extras, courtesy of the Islander on the Beach resort, like a private pool, hot tub, landscaped gardens, and beach bar.
You also get your very own private lanai, because what would a Hawaiian vacation be without one?
The kitchenette is small but mighty, equipped with extras like a mini fridge, Keurig coffee maker, bean grinder, and blender for your strawberry daiquiris.
This space also includes beach day must-haves like folding chairs, umbrellas, boogie boards, beach towels, and a cooler for all the beach day snacks and refreshments you could dream of.
Perhaps what's most attractive about the space is its proximity to the town where you can visit the likes of Coconut Grove Grocery, shopping, and a great collection of local restaurants that serve the freshest seafood you'll ever eat.
If you're a small party, don't count out this studio space. What it lacks in square footage, it makes up for in what it offers its guests.
Book your stay here!
---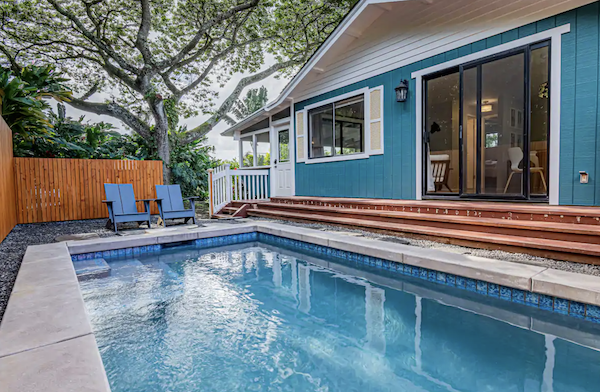 Features to Note: private plunge pool and backyard, charming features, screened-in lanai
One of the best things about a vacation in Hawaii is that it reconnects you with nature. Booking this vacation home in Kapa'a will do just that, as the property is also home to a 100-year-old monkeypod tree that stretches high into the sky in grand majesty.
It'll be one of the focal points from the private plunging pool out back, offering incredible scenery and luxurious digs to you and your guests. Add in a backyard and screened-in lanai and you get a great outdoor area to accentuate your perfect getaway in Kauai.
Once you've satisfied your desire to dip in the perfect plunging pool, dry off and enter the trademark cerulean walls of this home.
You won't be disappointed by the offerings, as the living space is generously-sized and offers an excellent spot for sprawling out and relaxing in between outings and activities.
The kitchen is classy, including stainless steel appliances and stone countertops to add to the air of elegance. There's a dining area just outside where small families could sit for dinner. And the bathroom includes a spacious shower, elegant stone countertops, and deep blue tiles to continue the theme of the home's decor.
This cottage offers everything you need to enjoy your vacation and make everlasting memories beneath the vast branches of an ancient natural marvel.
Book your stay here.
---
Features to Note: mountain views, located within Hanalei Bay Resort, conveniently located
The awe-inspiring mountain views, the cascading waterfalls, and the serene Hanalei Bay will make you want to spend all your time outside this gorgeous condo.
Located within the luxurious Hanalei Bay Resort, this wonderfully spacious studio features modern finishes, limitless luxuries, and unlimited access to all of the resort's on-site amenities, which will make you feel as though you're staying at a five-star hotel but with much more privacy and exclusivity.
Step onto the bedroom's private patio and marvel at the sunrise over majestic mountain ranges, lush landscapes, and the shimmering sea as you sip a refreshing cup of coffee or freshly-squeezed tropical fruit juices.
From there, grab your gear and take a dip in the lagoon pool, finishing the perfect pool day with sunbathing amidst the palms. Then, unwind at the poolside bar with a Mai Tai, or make a pitstop at the condo to wash off the chlorine in a huge walk-in shower.
It's a stone's throw from the beach, making it the perfect place for couples or small parties who prize their privacy but prefer the comfort of luxury.
Book your stay here.
---
Features to Note: luxurious touches, centrally located, beach chairs and gear included
Are you bringing your whole family and then some to your tropical getaway? If that's the case, you'll want to book this gigantic luxury condo where paradise becomes reality.
When you first enter this condo, you'll be rendered speechless by the stunning 180-degree ocean views available from the comfort of the living room. With these views, you are sure to spot some sea turtles, dolphins, sunsets, and maybe even a rainbow! You'll feel the salty breeze coming off turquoise waters once you step onto the balcony and take it all in.
The kitchen features ample counter space and top-of-the-line appliances that make preparing gourmet meals a pinch. It's perfect for those who love entertaining guests and still want to serve their favorite food and drinks, even while on vacation.
Ascend the spiral wood staircase and you'll find one of the two master bedrooms, complete with a king-sized bed and en suite bathroom featuring a private bath and shower.
And don't forget the sizable inground pool, complete with lounge chairs and views of the beach below. It will be hard to decide if you should swim in the pool or dip into the ocean, but, at this condo, you fortunately can do both on the same day.
For larger parties, this vacation rental is one of the best you can choose.
Book your stay now.
---
Finding the Perfect AirBnB Kauai Hawaii Rental
The 5 options above are my absolute favorites, but I know there are so many things that go into choosing where you'll stay. If you aren't quite ready to book yet but wondering what you should look for, here are some things to consider.
Location
You will want to choose an Airbnb that is conveniently located to popular family attractions, restaurants, beaches, and activities. There are a few different neighborhoods on Kauai to choose from depending on exactly what you're looking to get out of your vacation.
Poipu: Located on the sunny southern shore, Poipu is a popular choice for families due to its beautiful beaches, calm waters, and numerous family-oriented resorts and vacation rentals. The area offers a variety of activities, including snorkeling, surfing lessons, and nearby attractions like Spouting Horn and the National Tropical Botanical Garden.
Princeville: Situated on the North Shore, Princeville is a picturesque area known for its stunning ocean views and lush landscapes. There are many family-friendly condos and vacation homes available in this area, and it provides access to attractions like Hanalei Bay and Queen's Bath. The beaches here might have stronger currents, so be cautious when swimming with kids.
Kapa'a: Positioned on the east coast, Kapa'a is a central location with a laid-back atmosphere and a wide range of accommodations. The nearby Lydgate Beach Park is a great spot for families, featuring a protected swimming area and a children's playground. This is where our family prefers to stay!
Hanalei: This charming town on the North Shore is a favorite for its small-town vibe and beautiful Hanalei Bay. Families can enjoy the calm waters at Hanalei Beach and explore the shops and restaurants in town.
Other Things to Consider
Budget: Consider the overall cost of the Airbnb, including additional fees, cleaning charges, and the cost of any extra amenities you might require
Amenities: Some things I look for in an Airbnb are a fully equipped kitchen for preparing meals, a washer and dryer, a barbecue grill, pool/hot tub access, outdoor play spaces for little ones, and beach gear for use
Nearby Services: Take into consideration how close the nearest grocery stores, pharmacies, and medical facilities are in case you might need them
---
Whether you're the type to schedule every second of your itinerary or simply arrive, kick back, and go with the wind, there's plenty to check out while in Kauai. You will undoubtedly have a great time and make memories your family will cherish for years to come!
---
FAQs about the Best AirBNB Kauai Hawaii Rentals
What are the best beaches in Kauai?
some of the most highly-rated ones to check out while you're there:
Hanalei Bay Beach
Poipu Beach Park
Ke'e Beach
Tunnels Beach
Lydgate Beach Park
Polihale State Park
Anini Beach
Shipwreck Beach
Maha'ulepu Beach
While you'll get an excellent swimming and sunbathing experience at all of these beaches, each offers something unique to make it worth the visit.
What are the best places to eat in Kauai?
What is there to do in Kauai other than the beach?
Sure, Hawaii is known for the pristine beaches, but are there other things to do when you've had enough of cleaning sand out of all your stuff?
Absolutely. Here are a few attractions to check out while you're there:
Na Pali Coast: Explore the stunning Na Pali Coast by taking a boat tour, helicopter ride, or embarking on a challenging hiking adventure along the Kalalau Trail.
Waimea Canyon: Known as the "Grand Canyon of the Pacific," Waimea Canyon offers breathtaking vistas and excellent hiking opportunities.
Kauai's North Shore: Visit charming towns like Hanalei and Kilauea to explore boutique shops, art galleries, local restaurants, and more. It makes the perfect day trip for shopaholics and foodies alike.
Kauai Coffee Company: Can't fathom doing anything before your morning cup of joe? Take a tour of Kauai Coffee Company, the largest coffee plantation in Hawaii, and learn about the coffee-making process while tasting some of the freshest brews you'll ever get.
Luau: No Hawaiian vacation is complete without attending a luau. Immerse yourself in Hawaiian culture while enjoying a show of hula dancing, torch twirling, and Polynesian performances, as well as a feast you'll remember for years to come.
---
Pin for later: The Best AirBNB Kauai Hawaii Rentals