If you're looking for the ideal Southern California mountain escape, then you've come to the right place. Just less than two hours from the hustle and bustle of Los Angeles is one of the most relaxing and rejuvenating vacation spots. There are a ton of things to do in Lake Arrowhead, come dive in with us as we take you through our top 10 picks of Lake Arrowhead Airbnbs!  Far-less crowded than its neighbor city Big Bear; Lake Arrowhead is a secret gem that has tons of amazing Airbnbs to pick from.  
10 Amazing Lake Arrowhead Airbnbs
Best Bang For The Buck
This large, A-frame-style cabin provides excellent views of the lake and the mountains. With two bedrooms, a large living room, and tons of natural light, thanks to the floor-to-ceiling windows, you'll be able to soak in the beauty and serenity of the surrounding natural landscape. Those who want to really soak it in can spend time lounging out on the patio or making BBQ on the outdoor grill!
Luxury on the Lake
You won't find anything less than stunning in this luxury lake house, which provides 180-degree views of the lake. Each of the four bedrooms has overlooking views of the lake, though many guests prefer to hang out outdoors on the three large decks. Whether you want to relax in the hot tub, spend hours watching the boats go by, or roast marshmallows while watching the sun go down behind the mountain, this Airbnb is a perfect choice.
Modern Mountain House
Emily Henderson, who you may know as a NY Times best-selling author, curated this beautiful modern abode as a true artist's retreat. All of the furnishings and decor you'll find in this mountain house is worthy of a magazine spread. The kids can spend hours playing in the loft and climbing the rock wall, all while you curl up by the outdoor fireplace or have a glass of wine on the deck.
Old Creek Cabin
This gorgeous cabin was recently remodeled with southwest-style furnishings a uniquely dark color palette, perfect for those who want a true, modern mountain experience. A seasonal creek crosses through the property, providing a relaxing babble as you sit out on the deck and soak up the landscape. Enjoy the cedar barrel hot tub, which is situated beneath beautiful string lights and large trees.
Lake View Home
This pretty, recently-remodeled four-bedroom lake home sits just adjacent to the lake, providing unparalleled views. Though it's nestled on a quiet residential street, it sits only minutes from Lake Arrowhead Village and SkyPark. Enjoy an updated kitchen and 2.5 completely remodeled bathrooms!
Classic Beauty
Skyfall Cabin is a newly-renovated, tri-level mountain cabin with modern amenities. The high, cathedral-style ceilings provide air and natural light throughout the cabin, while the wrap-around deck offers an invigorating way to take in the surrounding views. With more than 1,800 square feet of space to enjoy, including three bedrooms, three bathrooms, a game room, and multiple balconies, everyone will have a space when staying here.
Awesome A-Frame Cabin
This tri-level A-frame cabin was recently updated with modern furnishing and appliances, though it still displays a fair amount of old mountain charm from the 1960s. With more than 2,200 square feet of room, including three bedrooms, multiple decks, and a fully-stocked kitchen, there's plenty of room to enjoy! Plus, there's nothing like soaking in unobstructed forest views.
Modern Lakefront Property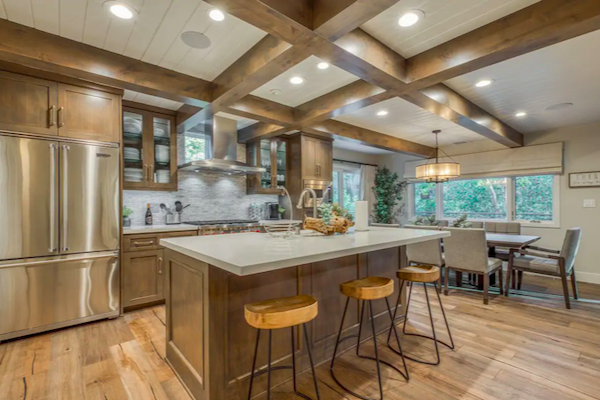 With 2,800 square feet of space, four bedrooms, five bathrooms, and three levels, this lakefront home is nothing short of luxurious. Enjoy direct access to the lake with the included dock and a beautifully maintained yard with lounging areas and a BBQ. Some of the additional noteworthy features include the ping pong table, central stereo system, and full-size steam room.
Luxe Treetop Cabin
This inspiring treetop cabin features three bedrooms, two bathrooms, a gourmet kitchen, and tons of unique furnishings to spark your interest. The fully-appointed deck provides serene views of the surrounding forest, while the spacious interior and large windows deliver natural light throughout the day. The best thing is, the place is dog-friendly!
An Epic View With a Hot Tub
With more than enough room for ten guests to stay, this four-bedroom, 2.5-bathroom home has stunning architecture and epic views of the lake. You'll love the stainless-appointed kitchen, which transitions onto the outdoor deck in a seamless manner. Make sure to enjoy the hot tub while you're there for some true outdoor relaxation!
If you enjoyed our post on Lake Arrowhead Airbnbs, you might also like:
13 OF THE BEST BIG BEAR LUXURY CABINS FOR YOUR NEXT GETAWAY