Newport Beach is a striking coastal city in Southern California that is known for its beautiful beaches, harbor, and relaxing lifestyle. It's the perfect place for anyone who wants to enjoy the sun, sand, and sea in sunny California.
While there are plenty of great hotels to choose from, a vacation rental offers you space and privacy that a hotel room just can't. The Newport Beach house rentals on our list have something for every taste, need, and budget. From beachside cottages to sprawling estates, you'll find the digs that make your trip totally unforgettable.
We've picked out a few favorites that work, whether you want a romantic vacation for two, a trip for the whole family, a retreat amongst friends, or even a solo excursion where you just get away from it all and reconnect with yourself.
Without further adieu here are my favorite Newport Beach house rentals! They have something for everyone, so leave your worries behind and get ready to kick back in style!
Best Newport Beach House Rentals
1. Balboa Peninsula Duplex – Well Equipped For Families!
Located in the picturesque surroundings of Balboa Peninsula, Newport Beach, this stellar beach rental offers an unbeatable combination of comfort and convenience for your next vacation. It is about a 5-minute walk to the beach in one direction and the bay in the other direction.
Boasting three well-appointed bedrooms and two pristine bathrooms, this home is a spacious retreat that comfortably accommodates up to eight guests, making it an ideal choice for families. Whether you're planning a quiet family getaway or a reunion with friends, this rental ensures everyone has a cozy corner to relax in.
The interiors are complemented by a large private deck, perfect for soaking in the Californian sun, enjoying morning breakfasts, or simply watching the sunset with a glass of wine. Modern conveniences haven't been overlooked. Stay connected with high-speed Wi-Fi, and make use of the full-size washer and dryer during longer stays, ensuring your beachwear is always fresh.
As it is just a short stroll away from the beach, the property comes with essential beach amenities, including chairs, towels, and even a boogie board. Add in the provided bicycles, and you have a perfect recipe for beachside adventures or exploring the local area. And, after a long day out, you can park securely in the private garage.
For a slice of beach paradise with all the comforts of home, this rental promises a vacation filled with delightful memories.
---
2. Balboa Island Bayfront Beach House – Best Rental on the Beach
Think "bright and airy" when you imagine this three-bedroom, three-bathroom stunner, 606 South Bayfront. It's a two-rental unit, complete with modern amenities and spectacular views of Newport Harbor that you simply have to book and check out firsthand.
The lower level features a large entry room, chic kitchen, and patio that overlooks the beach. Two of the bedrooms have king beds, one of which includes an en suite bathroom with crisp white tiles and a luxurious waterfall shower. All bedrooms are equipped with ceiling fans and blackout shades for when you need a break from that gorgeous sunshine.
The back patio has ample seating as well, but the biggest draw is the beach which is literally right there. You can go from your bedroom to the sand in mere minutes when staying at this picturesque property, and that's absolutely what you'll want when staying in Newport Beach.
It's the quintessential beach house rental that will make your stay unforgettable.
---
3. Blue Door Cottage – My Personal Favorite Among These Newport Beach House Rentals!
When I think about Newport Beach house rentals, this adorable cottage is exactly what I imagine. The Blue Door Cottage, a recently restored 1928 island cottage, is where the old meets the new in the very best way. This four-bedroom, two-bathroom home can sleep up to eight guests, and you'll fall in love at first sight of that trademark blue front door.
The master bedroom is decadent, featuring an Eastern King bed that provides ample space even for those who toss and turn. The second bedroom instead includes a queen-sized bed, which is still quite generously sized for the room.
You'd expect the remaining bedrooms to be filled with bunk beds or trundles so you can pack the kids in together while the vacation homeowner saves floor space, but it's much more magical than that.
One bedroom, for example, has been designed to resemble a ship, complete with two built-in cots for your buccaneers to get a little shuteye after a day of plundering the seven seas. Arrrrrr-en't you excited to hear that?
The Blue Door Cottage also includes a great room, dining room, kitchen, outdoor patio (one of the largest on the island!), and tons of seating that allows everyone in the family to find the perfect spot to take a load off.
The location on Little Island also makes for a prime spot for anyone who wants a quick walk to Marine Avenue, which has shops and restaurants. It's also a short trip off the island to other attractions like Knott's Berry Farm and Disneyland.
Whatever you're in the mood for, you're sure to meet the need from within this quaint and charming cottage. You're in for a treat from the moment you walk through the blue door!
---
4. On the Boardwalk – BEST Newport Beach Rental Location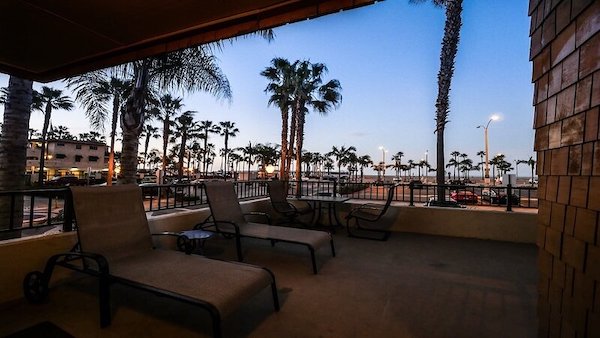 Located in one of Newport's most sought-after spots is On the Boardwalk, a recently renovated three-bedroom, two-bathroom condo. Location is extremely important to consider when choosing between different Newport Beach house rentals.
An open living room and dining room floor plan provide the perfect spot to watch a movie, play board games, or enjoy a conversation while taking in a breathtaking ocean view.
The master bedroom includes a queen-sized bed, a private bathroom, and access to the patio, while the second bedroom features a great view of Balboa Pier.
Its location near the pier makes it the perfect place if you want quick access to a variety of activities. You're only a hop, skip, and jump from the Balboa Fun Zone, Ferris Wheel, and water activities including boating, paddle boarding, and more.
Want to take a break from the boardwalk? The Balboa Ferry is within walking distance, and can take you to places like Disneyland, Knott's Berry Farm, Fashion Island, and San Diego.
On the Boardwalk provides a lot of value, but the fact you can get virtually anywhere in the region from this convenient vacation rental makes it one of our favorites.
---
5. Villa Corona Del Mar – The Most Luxurious Among These Newport Beach House Rentals
Located just minutes from Pelican Hill Golf Course, Balboa Island, Fashion Island, and Laguna Beach is the awe-inspiring rental Villa Corona Del Mar, a three-bedroom, two-bathroom villa that offers privacy and tranquility that makes for a perfect getaway.
The first floor has a beautiful living room, complete with a limestone fireplace, gourmet kitchen, and roomy patio with a fire pit. Moving up to the second floor, you'll find the impeccably decorated bedrooms, each equipped with a queen-sized bed and an en suite bathroom with jet tub, fireplace, or private balcony.
On the third-floor rooftop (yes there is a whole other floor!), you'll get a panoramic view of the skyline, which you can enjoy from soaking in a jacuzzi or sunbathing chaise lounge. It's simply divine!
If you need a break from all this luxury, historic Crystal Cove State Beach, Corona del Mar Beach, Balboa Beach, and Newport Beach are just three miles away, plus the famous Pelican Hill Golf Course is a five-minute drive from this rental too.
Not enough? Irvine's Great Park, Huntington Beach, Disneyland, the San Diego Zoo, and Big Bear are less than an hour's drive.
Needless to say, Villa Corona del Mar is close to everything and anything you'll need, but you might be inclined to just stay in and enjoy the lavish luxuries it offers.
---
Frequently Asked Questions about Newport Beach Vacation Rentals
What is there to do in Newport Beach?
There are plenty of things to get into once you get set at your vacation rental and you're ready to get out and experience Newport Beach.
Here are a few recommendations:
Go to the beach: Popular beaches include Newport Beach, Balboa Beach, and Corona Del Mar State Beach.
Visit Balboa Island: Catch a ferry to Balboa Island and enjoy a charming community filled with shops, restaurants, and galleries.
Go whale watching: There are plenty of whale watching tours, offering you a chance to catch a glimpse of gray whales, humpback whales, and sometimes even blue whales.
Visit Newport Harbor: Renting a boat, taking a harbor cruise, or going on a fishing charter are all great ways to make use of this beautiful harbor.
Go on a shopping spree: Newport Beach has a magical place called Fashion Island, boasting over 100 stores and restaurants. Get ready to splurge!
Where are the best places to eat in Newport Beach?
What are the best things to do with kids in Newport Beach?
Newport Beach is a great place for a family vacation. Not only will the kids love the beaches, there are plenty of adventures to go on, from whale-watching tours to exploring the charming Balboa Island after a quick but fun ferry ride.
One of the most magical things to do with kids in Newport Beach is to check out the tide pools, which are easy to find during low tide at the beach. Each one is a microcosm of marine life, providing lots of cool stuff for you and your kids to check out.
Need a few places for day trips while you're at it? Your little ones are sure to love the Orange County Museum of Art, the Environmental Nature Center, and Disneyland isn't too far either, hint hint!
If you liked our list of Newport Beach House Rentals, you might also like:
13 THINGS TO DO IN NEWPORT BEACH THAT THE FAMILY WILL LOVE
20 AWESOME THINGS TO DO IN HUNTINGTON BEACH YOU'LL LOVE!
15 OF THE BEST BEACHES IN ORANGE COUNTY, CALIFORNIA
Pin for Later – Top 5 Beautiful Coastal Newport Beach House Rentals