We have a special place in our heart for Santa Barbara, not only is the place my Husband went to college, it is now where our Son goes to college! That said, it might be one of the most gorgeous places to also visit!
Tourists tend to gravitate to the star-studded city of Los Angeles, the iconic and colorful city of San Francisco, and the quaint yet sophisticated San Diego.
There are plenty of fantastic places to vacation in sunny California, but Santa Barbara is among some of the most attractive yet overlooked destinations in the state.
There, nestled among the Santa Ynez Mountains, you'll find plenty to do and see, from pristine beaches to wine tours, historical sights to downtown destinations.
A Santa Barbara vacation is always exceptional but, before you break out the sunscreen and flip flops, you first need to find the perfect accommodations and book your trip. Sure, the American Riviera boasts a variety of luxury hotels, boutique options, and other comfy accommodations to set up shop for your stay, but we prefer really taking over our space.
---
Best Santa Barbara Vacation Rentals
We are listing some of our favorite Santa Barbara Vacation rentals, complete with ocean views, easy beach access, and proximity to other popular attractions, so you can figure out where you're staying in Santa Barbara with ease!
---
The Bunny Beach Cottage, located in the bustling West Beach area, ranks among some of the best vacation rentals in Santa Barbara, and it isn't hard to see why.
Just four short minutes from the beach, you have easy access to fun in the sun anytime. You can mosey on over at sunrise, claim your spot, and head back to the house anytime you need during the day.
Need a break from the sunshine? Back to the cottage. Want to prepare a fresh lunch? Back to the cottage. Quick bathroom break for the kids? Back to the cottage. You get all the convenience of being right on the beach while being just far enough to dodge the beach crowd when you want to unwind privately.
The cottage itself boasts various accommodations that will really make your visit special as well. From the old-school digs, circa 1924, this vintage spot has kept as much classic charm as possible while incorporating modern conveniences both in the functional parts of the home as well as the conveniences.
We're talking high-speed Internet, a comprehensive TV package, fully-decked-out kitchen, remote-controlled gas fireplace, and, of course, air conditioning everywhere. The cottage is also equipped with a washer and dryer on site, so you can wash those salty swimsuits before packing up to go home, and a private backyard complete with patio furniture and an electric grill.
The floor plan is not necessarily massive, but it's just enough for a small family to have their own space and relax in between heading to popular attractions like the beach, Santa Barbara Mission, or the Santa Barbara Zoo. You'll get a king-size bed in the master bedroom with three twins in the sleeping loft, plus two bathrooms.
When it comes to vacation homes in Santa Barbara, it's hard to beat the Bunny Cottage. It's the perfect marriage of private accommodations while still being right in the heart of the action.
---
Simple living has its charms, but sometimes you want a vacation home that lets you live the high life. That's exactly what you'll get from this Charming Montecito Estate, located a short 5-minute drive from the beach.
Of course, the beach is one of the big draws of the area, but booking this rental and you might just wind up staying in the whole time instead. The property features beautiful gardens, a patio area with a heated swimming pool and jacuzzi, and it's tucked away within a gated community for absolute exclusivity.
The interior is impeccable. High ceilings give the area a sense of spaciousness and decadence, while each room is outfitted with top-of-the-line conveniences ranging from the massive TV to the stainless steel kitchen appliances.
Book this charming English cottage-style home in Santa Barbara and you'll certainly enjoy a taste of the high life while you're on your vacation.
---
What good is a vacation in a beach home if you don't get one of the best ocean views possible?

That's the idea behind Casa Terraza, a 3-bed, 3-bath in the Alta Mesa neighborhood. Two private balconies provide some of the best views of the Pacific you'll find anywhere in Santa Barbara, or anywhere along the West Coast at that.
The living space features an indoor-outdoor experience complete with a hot tub, heated dining area, and fire pit, to name a few of the ample amenities. If you're into games, you'll have your pick of many. Besides the dedicated and fully-decked-out game room, there's a basketball hoop, mini-golf course and foosball table.
You're also not far from popular Shoreline Park, Leadbetter Beach, Downtown Santa Barbara, and more. There's always something to do or see when staying at Casa Terraza.
---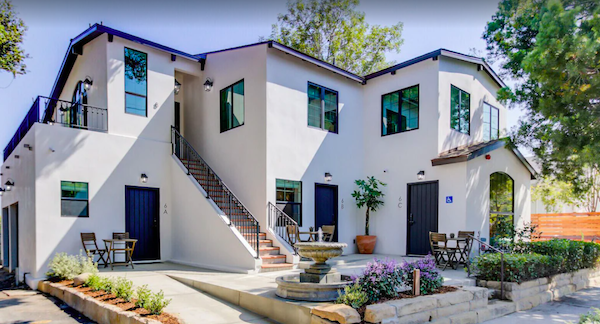 If you're looking for city vibes in the heart of the downtown area, Casa Valerio offers a condo that provides some competitive amenities mere minutes from the bustling State Street and other downtown attractions.
And what's downtown that you can get into while you're in Santa Barbara? Casa Valerio is near ten breweries, twenty tasting rooms, innumerable restaurants, bars, and other local establishments where you can enjoy an authentic Santa Barbara experience.
There's a split heating and cooling system that keeps the conditions comfy whether it's a typical sunny day or unusually brisk for the season. The space also boasts a generously-sized flatscreen TV, private bath with rain shower, kitchenette with Keurig, and minifridge, among other amenities.

The real attraction is the patio, equipped with a full bistro set that provides maximum comfort while you're vegging out in between excursions. You're welcome to sit back, kick your feet up, and take in the sights and sounds of bustling Santa Barbara.
Plus, Casa Valerio is pet-friendly, allowing one dog to come along for the fun. Your furry best friend is bound to love that detail!
---
As the name suggests, the Stone House Cottage has a unique exterior, looking like the kind of dwelling you'd find in the countryside of Northern Italy. Fittingly, the property is near numerous wineries, as well as the popular Santa Barbara Botanic Garden.
Inside, you'll get your fair share of elegant furnishings, combining rustic elements to add an element of sophistication while incorporating modern day conveniences to add function to the space. You'll have a gourmet kitchen, one bedroom, two bathrooms, and a spacious living room to retire after a long day out and about.
Curl up by the fireplace or retreat to the grounds' gardens, equipped with sitting benches where you can sit back and enjoy the perfectly temperate evenings.
The only downside on this rental is its proximity to the beach, which is a bit of a trek but easily managed with a vehicle or bicycle. Some vacationers consider this a plus, however, as the secluded location ensures more privacy and exclusivity than homes set right on the beach.
If you're interested in rustic accommodations with great views, great proximity to attractions, and incredible luxury, the Stone House Cottage will check many boxes for you.
---
Frequently Asked Questions about Santa Barbara Vacation Rentals
What is there to do in Santa Barbara?
Most people know the popular spots to visit in Los Angeles, San Francisco, and a handful of other California cities, but they're not so sure what to pencil into the itinerary for Santa Barbara.
Here are a few recommendations for while you're staying in Santa Barbara:
Visit the Santa Barbara Mission: This historic landmark dates back to 1786, offering a look at some incredibly unique architecture and information regarding the area's history.
Explore the Santa Barbara Zoo: Kids and adults alike will love the zoo, which is home to more than 500 animals, including endangered species.
Walk along Stearns Wharf: Santa Monica is famous for its pier, but Santa Barbara's Stearns Wharf gives it a run for its money. Stop by for shops, restaurants, and great views of the ocean.
Visit the Santa Barbara Botanic Garden: This is the premier attraction for outdoorsy folks, offering 78 acres of California's native plants, hiking trails, and majestic waterfalls.
Go wine tasting: It's no Napa, but the wine scene is thriving nonetheless.
Relax on the beach: Most locations in California will offer great beaches, but Santa Barbara boasts a great selection, including East Beach, West Beach, and Butterfly Beach.
Go shopping: Done with the fun in the sun for a moment? Take a beat while feeding your inner fashionista, as Downtown Santa Barbara offers various retailers, restaurants, shops, boutiques, and other great establishments to eat, drink, shop, and otherwise unwind.
Whether you're a beach bum, shopaholic, or simply like to get out and get into stuff, you'll have your pick of activities in bustling and beautiful Santa Barbara.
What are the best beaches in Santa Barbara?
It's California, so you almost can't find a bad beach in the state. 
For your vacation in Santa Barbara, consider visiting East Beach, Butterfly Beach, Arroyo Burro Beach, and Leadbetter Beach, and you will not be disappointed!
What are some fun things to do with kids in Santa Barbara?
Santa Barbara is a great spot for adults to lounge around on the beach all day, drinks in hand and the sun on your skin, but what about the little ones? What can we do with them other than beach day after beach day?
Fear not! Santa Barbara boasts various attractions that'll keep the kids happy and out of your hair, including:
Santa Barbara Zoo
Ty Warner Sea Center
Kid's World Park
Santa Barbara Museum of Natural History
There's also this super nifty thing called the Land Shark that provides tours of Santa Barbara. What makes it so cool, you ask? It's amphibious, so tours start in the downtown area and turn into a harbor cruise halfway through.
---
If you enjoyed our list of Santa Barbara Vacation Rentals, you might also like:
15 AMAZING THINGS TO DO IN SANTA BARBARA WITH KIDS
TOP 10 ONCE IN A LIFETIME THINGS TO DO IN LOS ANGELES
15 WONDERFUL THINGS TO DO IN OXNARD [THE HIDDEN GEM BEACH CITY!]
---
Pin-it for later: The Best Santa Barbara Vacation Rentals