Ahh, the Big Apple… New York is a city that needs no introduction. From the incredible museums to the broadway shows to the skyscrapers around every corner, you could live in New York for your entire life and still not get to see it all. If you're planning on taking a trip to New York for a few days, we want to make sure that you can make the most out of it! Here are some of our favorite NYC attractions so that you can create the perfect New York itinerary!
The Ultimate New York Itinerary – 4 Amazing Days In New York
Must-Dos on a New York Itinerary
With a 4 day itinerary, you should try to pack as many of these must-dos in as possible! Spend your first two days walking around and just soaking the city while checking these off your list. 
Did you even go to New York if you didn't take a stroll through America's very first public park? Central Park is undoubtedly one of the most famous parks in the country. It provides a bit of an escape from the hustle and bustle of the city, allowing locals tourists to explore numerous attractions, such as the conservatory garden, the zoo, and a number of playgrounds for kids!
Plus, the park is HUGE. Seriously, you could take an entire day just to explore the entirety of this great park.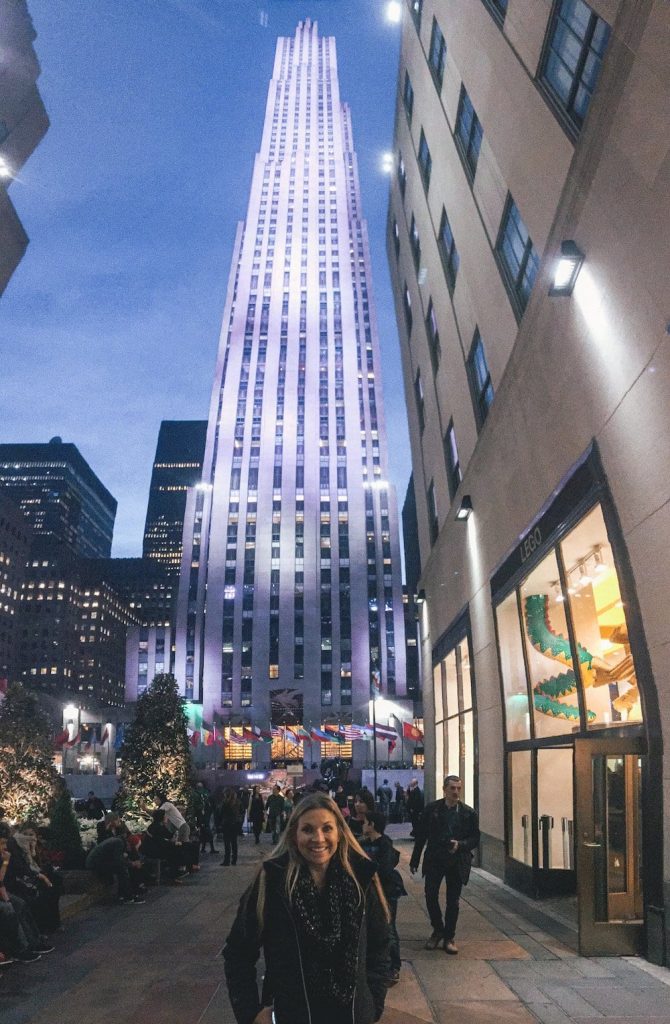 The Rockefeller Center is probably one of the most iconic places in New York, and no itinerary would be complete without it. It is home to Radio City Music Hall, Saturday Night Live, The Channel Gardens, and a number of shopping and dining outlets. If you go during the winter, you can also ice skate with the little ones. It is a truly magical place to visit. 
*Pro Tip – Go Inside the NBC Store and they have a chair from the Voice, my kids absolutely loved it!
Visiting the Statue of Liberty, or at least getting to see it up close, is a MUST when in New York. Yes, there are tons of different tours that can take you there, though you'll have to spend a pretty penny for the majority of them.
Why not hop on the Staten Island Ferry for free instead? The ferry runs 24/7 and gives you a wonderful view of the statue as you round the island. Plus, the ferry is huge, so you won't have to deal with any long lines.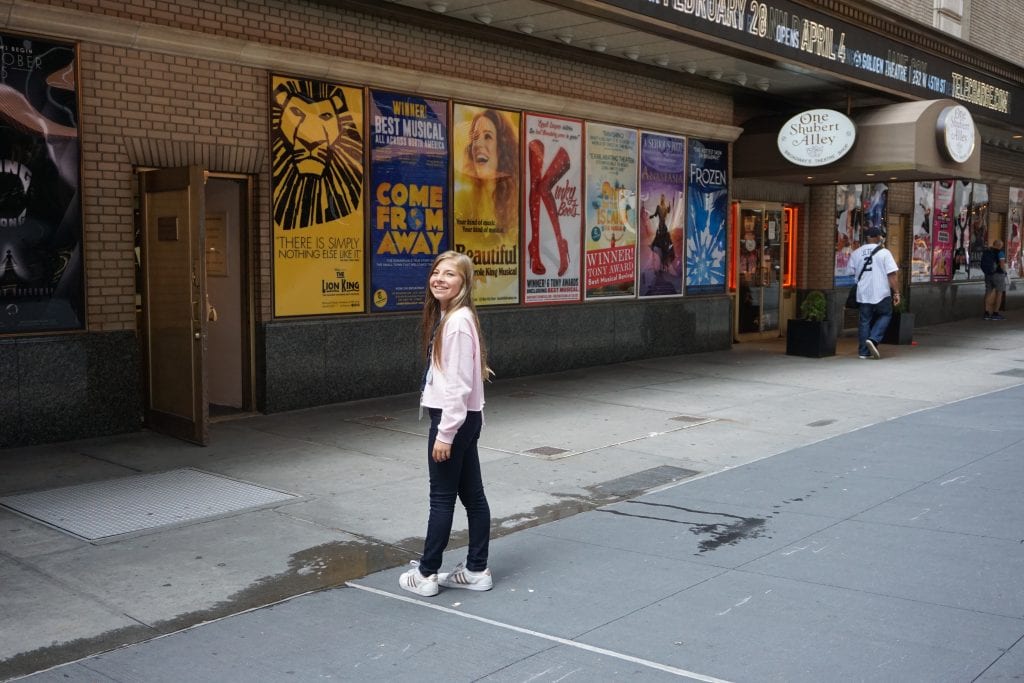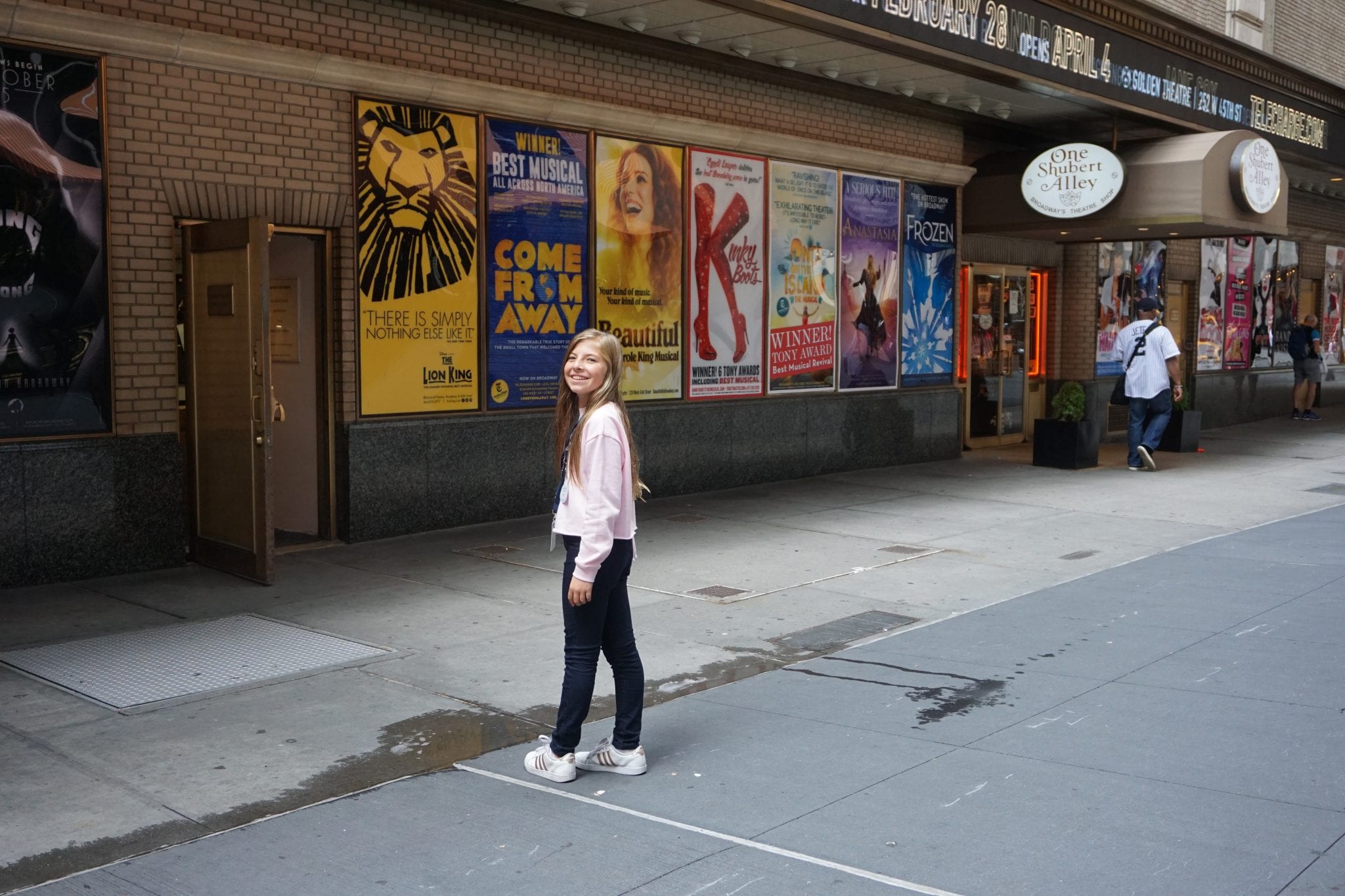 The number of Broadway plays in New York is absolutely insane. The casts are filled to the brim with some of the most talented actors and singers in the world, definitely worth it, even if you aren't into plays or musicals. Yes, tickets can be a bit expensive, though if you are looking to splurge for the experience of a lifetime, seeing a Broadway show is a great way to do so. Ella and I hit up Matilda on our first trip to New York, and on our second trip, which was an Adventures by Disney Experience, we saw Frozen, both were amazing!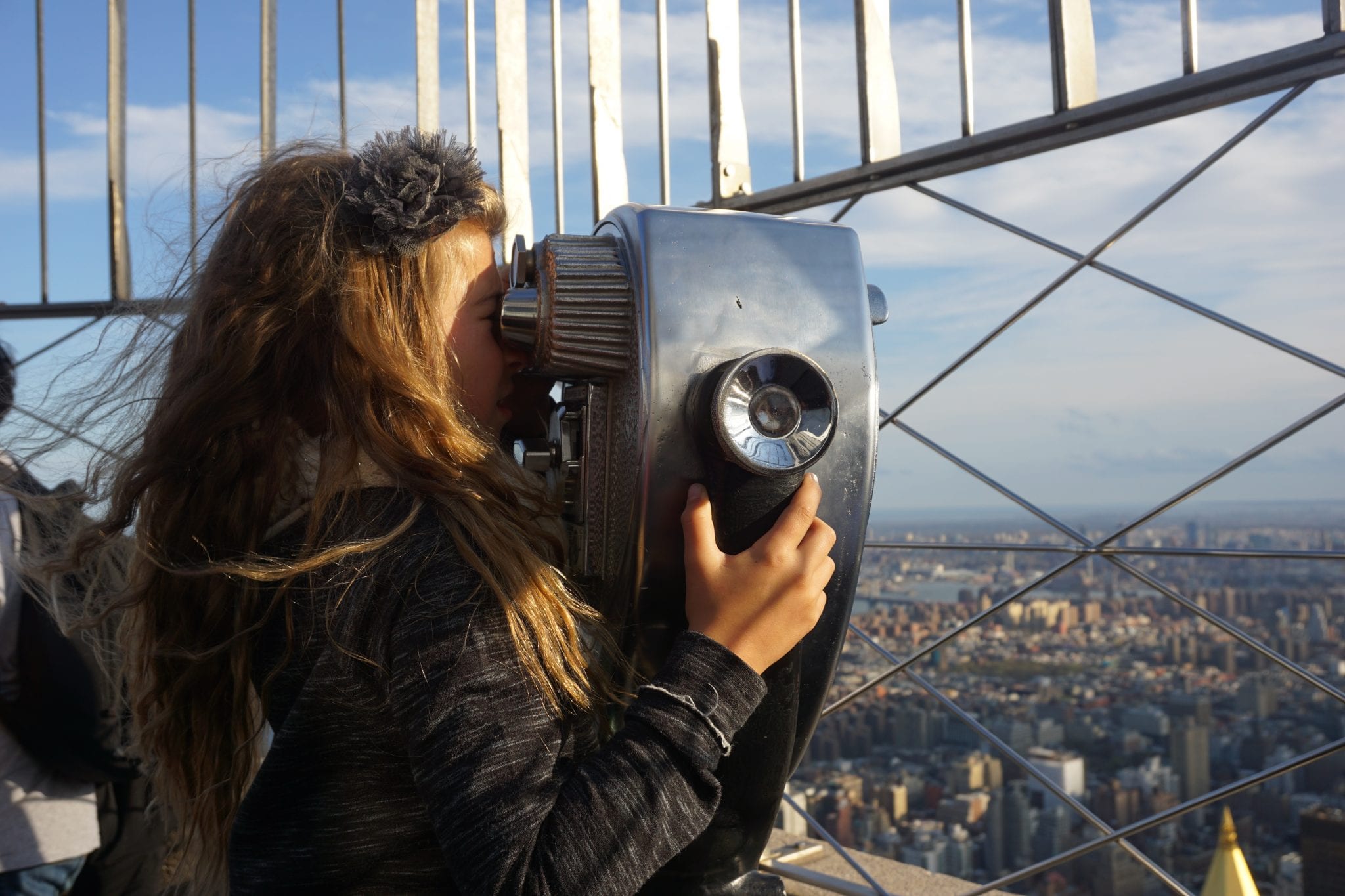 There is a reason that the Empire State Building is one of the most photographed buildings on Earth! The Empire State Building is smack dab in the middle of Manhattan and has multiple observatories on different floors that are open to the public for viewing the city from above. It's the best way to snap a photo of your family with the New York skyline in the background. Make sure to pop a quarter into one of the binoculars!
A Little Something for the Kids 
If you are bringing kids along, you may want to swap out some of the must-dos above for these more structured activities. The Ride NYC Tour includes most of the attractions from above and will keep your little ones entertained. You can check out plenty more kid-friendly attractions to add to your New York itinerary here!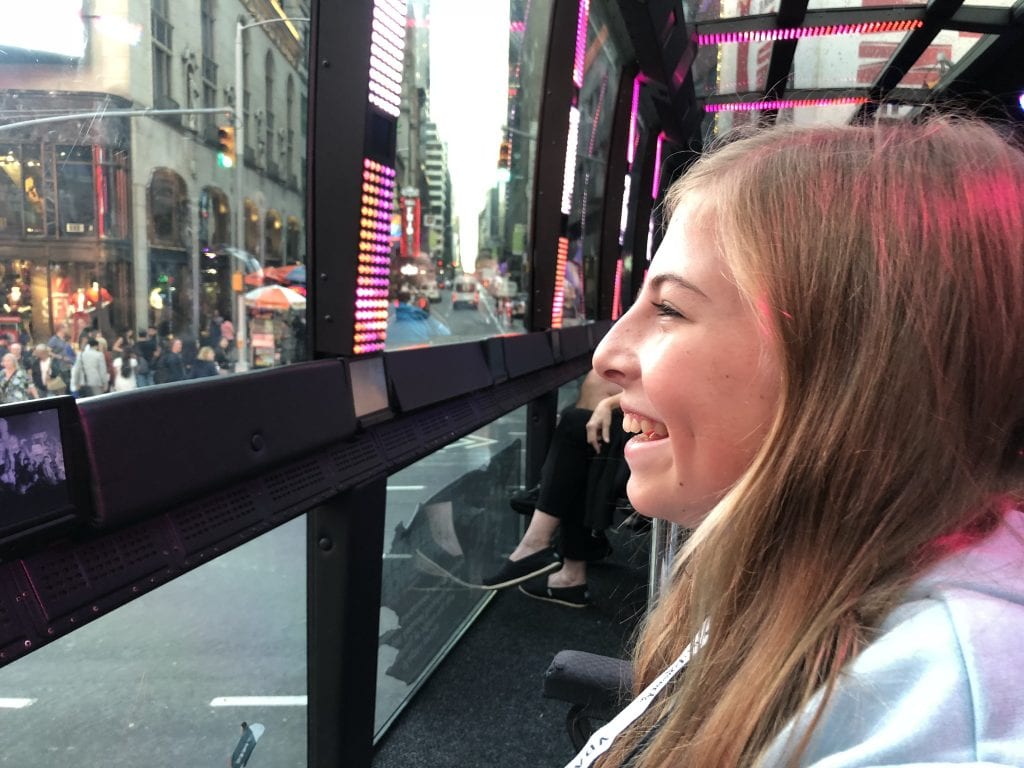 If you're looking for the most exciting way to tour the city, the Ride NYC tour is top-notch. Each bus comes with stadium seating, flat-screen televisions, wacky hydraulics, and a host that will have you crying from laughter. You'll get to see the city in a unique way while having fun with music, lights, and dancing!
Honestly, at first, I thought I would not enjoy Madame Tussaud's. But the kids and I had a blast. While many major cities have Madame Tussaud's Wax Museums, there is nothing quite like the one in New York. Here you and your kids can get up close and personal with life-size wax figures of famous celebrities and characters. The figures are so realistic that it is almost scary! You'll love walking around and snapping pictures with your favorite peeps.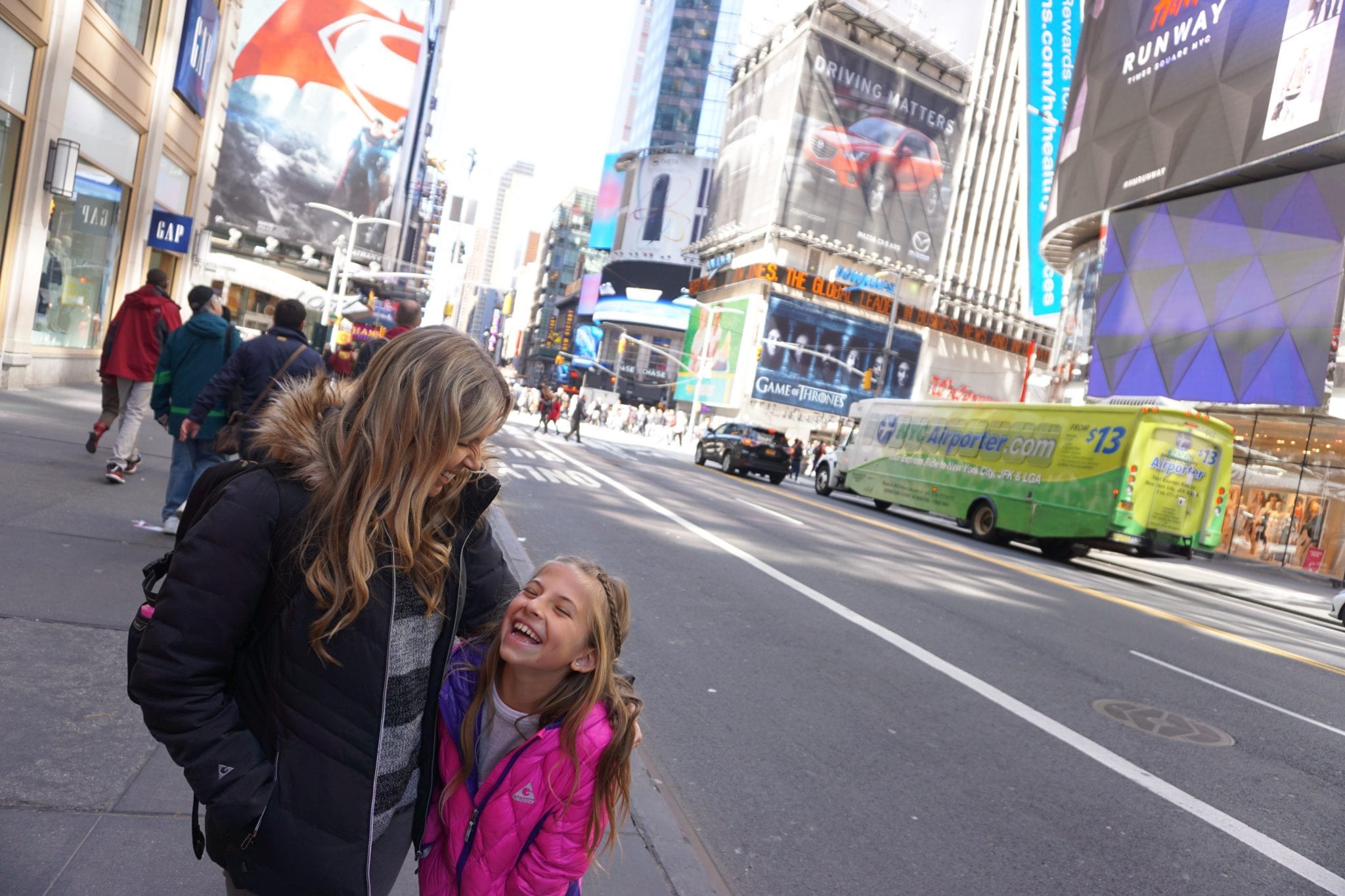 Times Square is one of the most fascinating things to add to your New York itinerary. It's almost hard to close your eyes and picture New York City without thinking of Times Square. From the incredible candy shops to the massive Disney store to the wide number of eateries and souvenir stores, it's just about the perfect place to grab something special to take home with you.
If you or your kiddos love baseball, you have to stop by Yankee Stadium or catch a game over the summer. There are several tours you can book if you would like to walk around inside the stadium and get a glimpse at the history of the 27-time world champs. You will also get a glimpse at Monument Park if you would like to honor the baseball legends of the past. Check out the tours here!
As for actually going to a game, the energy at this ballpark is pretty special. I would also recommend arriving to the game early so that you can walk around and see all that the stadium has to offer. Plus, you will want time to grab a snack! No baseball game is complete without a hot dog in my book. 
Art, Culture, & History for Your New York Itinerary
I recommend picking 1 of the museums from below, whichever interests you most, and the 9/11 Memorial for a four day New York itinerary. 
This is a somber but incredible site to add to your New York itinerary. Being at the base of where the towers fell on that horrific day is a truly soul-touching experience. For many of us with kids who weren't around during the attacks, yet have questions about it, the 9/11 Museum, which is right next door, is a wonderful place to answer those questions. You can view television footage of the attacks and learn a lot about everything that happened that day.
Madison Square Garden is one of the best places in the world to see live sports games and entertainment. It is home to both the New York Knicks and the New York Rangers, and even if you aren't a fan of either team this stadium offers a premier sports experience.
It is also no doubt that many of the greatest entertainers have put on shows here, from John Lennon to Madonna. One way to see Madison Square Garden, obviously, is to attend an event there during your trip. However, you can also book a tour of the venue here!
If you are drawn to modern art, this stop can't be missed. It is home to the world's greatest collection of modern and contemporary art. Vincent van Gogh's "The Starry Night" is housed here among many other extraordinary works of art. The museum is constantly evolving meaning you could visit hundreds of times and still see something new.
Don't forget to check out their digital map and audio guides which will enrich your experience. You will also find great shopping and dining options here once you've finished up exploring.
Even if you feel like you never really know what is going on with art (me!), The Met is worth adding to your itinerary while in New York. The Met is one of the most famous art museums in the world and it's huge, so there is much to be explored!
Keep in mind, you won't be able to see everything in just one visit. I recommend researching beforehand and pick out a wing or a couple of exhibits that you really want to visit, especially if you have little ones with you.  
If you're going to visit any museum in New York, we hope that it is the Museum of Natural History. It's one of the most fun, yet educational experiences for adults and kids alike. This gigantic museum was featured in the hit movie "Night at the Museum" with Ben Stiller. You can catch a glimpse of all of the movie's famous characters and exhibits.
Unique Stops to Add to Your New York Itinerary
Fill any extra time leftover on your trip with these unique attractions! They are all sure to add a little flair to your experience in NYC. 
Greenwich Village has a bit of a bohemian past, making the vibe here electric. It is a diverse neighborhood and the birthplace of New York's LGBT movement. There are tree-lined streets and little brick townhouses as well as little gardens to meander around. It kind of feels like being momentarily being transported out of New York City. You will find plenty of cool bars here and small comedy clubs.
It is also home to Washington Square Park, which is a great place to spend a leisurely afternoon while visiting NYC. There is a beautiful fountain at the center, street performers and artists, a great view of the Empire State Building, and plenty of people-watching opportunities. 
A castle in New York City? Yes, you heard that right! The Belvedere Castle is a mini castle that was built in 1869 in Central Park. From the castle, you have gorgeous views of the park from all around. There is a viewing pavilion to look out from or you can climb a winding staircase to get a view from higher ground.
Inside, you will also find various historical artifacts and information on how the National Weather Service now uses this spot to gather data and give the forecast.  
Sure, carousels are typically a form of entertainment for small children but The Seaglass Carousel offers a spectacular ride to children and adults alike. The carousel, made of glass and steel, has 30 beautiful iridescent fish to ride on and provides an underwater atmosphere. Each fish is unique and something special just to look at, let alone get on! The cost to ride is just $5 and you pay the fee right at the entrance. 
I recommend riding the carousel at night if you can fit it into your schedule. This is when it is illuminated with light and definitely the most stunning. 
Calling all foodies! This is one stop you surely want to add to your New York itinerary. If you spend any time in Dumbo, you have to visit the Time Out Market. It definitely lives up to all the hype if you are looking to do something a little different in NYC. The goal of this place to bring all the best things NYC has to offer in terms of food and culture under one roof. They describe themselves as both trendy and traditional.
There are 21 eateries (all of which are popular spots elsewhere in NYC as well), 3 bars, and a demo cooking area to explore and try inside.  They also host plenty of shows and events, so be sure to check out the calendar. 
Chelsea Market is a block long and a block wide, located in the Meatpacking District. It is an enclosed urban food court, mall, workplace, and television production facility. I think it makes a great stop for a cold or rainy day because you can try lots of delicious food and get some shopping done. It is like being in a gigantic neighborhood market but there are flavors from all over the world, which is uniquely New York.
Of course, this place holds plenty of history too as the building has been around for quite some time. This gives it a little extra character. Click here for tours that include the Chelsea Market. The whole market is decorated beautifully during the holidays with lights and ornaments galore. It is a great place to feel the Christmas spirit! 
Visiting The Big Apple
As we said earlier, it would be nearly impossible to do all of New York in four days. Let alone an entire lifetime! That's not to say that you can't make the most out of your time there with a good itinerary to help you along.
New York has some of the most incredible sights and sounds in the world, which is why it is one of the most traveled cities around. We hope that we've inspired you to get to New York soon and that you're already thinking up your dream NYC itinerary. 
Have any questions about visiting New York City with kids? Head over to my Instagram to ask me about it directly!
Considering a road trip to NYC? Check out these not to be missed stops on a New York to Boston road trip from my friends at We3Travel here.