Christmas holds a special place in our hearts (especially Mike's), so you can imagine the joy and anticipation our house is filled with as the big day approaches! Every year, our family counts down the days to Christmas with an Advent calendar, turning each day's reveal into a fun experience of its own.
However, not all Advent calendars are created equal. Some just have that extra sprinkle of magic. And who does Christmas magic better than Disney? With a plethora of Disney Advent calendars out there, finding the perfect one can be as tricky as finding the hidden Mickeys at the park.
Fear not, fellow Christmas enthusiasts! I've taken the festive plunge and rounded up the 11 most magical, delightful, and downright enchanting Disney Advent calendars available this year. Dive in and discover the perfect countdown for your family below!
The 11 Best Disney Advent Calendars 2023
The Disney 100 Advent Calendar a Storybook Library: Countdown to Christmas with 24 Exciting Storybooks comes loaded with paperback books starring Disney and Pixar characters. Each storybook is individually wrapped to ensure that it stays a surprise until the moment you open it. The books are mostly holiday-themed, but they contain some traditional stories too featuring characters like Winnie the Pooh, Dumbo, Woody, and Mickey Mouse.
For those with bookworms as children, it's the perfect way to get a new book to read every night leading up to Christmas!
---
This Advent calendar comes with your favorite Disney characters dressed up for some Christmas festivities.
Inside the Funko Pop! Disney Advent Calendar – Holiday, you'll find 24 Funko figurines like Minnie Mouse, Pluto, and Donald Duck that you can display as collectibles, fashion into ornaments for the Christmas tree, or simply let the kids take them and play.
For fans of Funko Pop!, it's a must-have.
---
This next Advent calendar is perfect for those who love LEGO, Star Wars, or both!
The LEGO Star Wars 2023 Advent Calendar comes with 9 Star Wars characters, 10 mini vehicles, and 5 mini builds, including the Endor bunker, Clone Command Center, and more!
After each LEGO character or build is put together, you can display them, set a sweet Star Wars LEGO scene, or stage your favorite Star Wars moments during playtime.
Parents of younger children should be cautioned, however, as the pieces are small and could be a choking hazard. For older children and their parents, on the other hand, it's an Advent calendar that makes an out-of-this-world gift!
---
The Disney Advent Calendar – Official Christmas Board Game combines an Advent calendar, a puzzle, and a board game into one convenient package.
Each time you open a day on the Advent calendar, you will find a puzzle piece or game piece figurines like Princes Ariel, Buzz Lightyear, and Olaf. Then, you can put the puzzle piece in its place until you finally reach Christmas and wind up with a complete board game!
When it's your turn, you roll the dice to move your figurine around the board so they can take their proper place under the Christmas tree. It's a great game for everyone with directions simple enough for the smallest members of the family to play.
Play it together the night before Christmas for some friendly competition.
---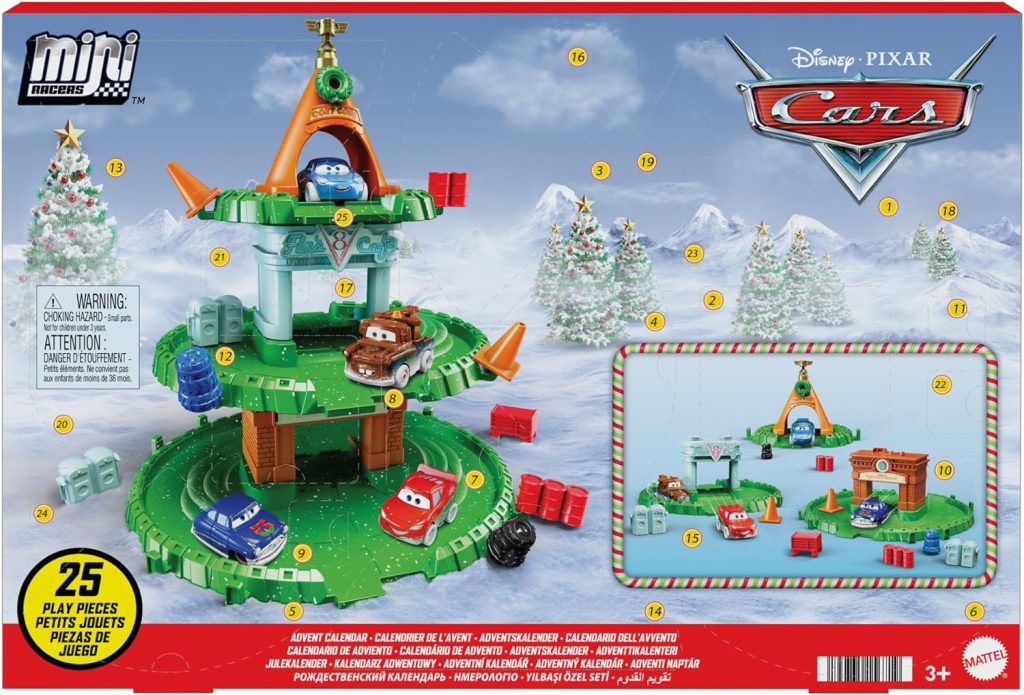 How cute is this?!
The Mattel Disney Cars Toys Mini Racers Advent Calendar is so perfect for the car enthusiast in your life that it may be hard for them to wait 24 days to play with the entire set. When you crack open this Advent calendar, you'll find 4 cars from the Pixar film Cars, props, and track pieces.
What is super cool about the tracks is that they can be constructed like a traditional racetrack or vertically to make it look like a Christmas tree!
The little touches added to this Advent calendar like snow-speckled tracks and the characters decked out for Christmas make this one a must for the kids.
---
You are royally invited to check out the Mattel Disney Princess Advent Calendar, where Disney's most beloved princesses are celebrating Christmas together.
Ariel, Belle, Tiana, and Cinderella figurines are inside this Advent calendar, and no party would be considered a regal affair without a costume change. Each princess comes with removable holiday-themed skirts and winter capes.
With friends in tow like Flounder, Naveen, and Lumiere, you can decorate the pop-up Christmas tree with the tiny ornaments you'll find in the Advent calendar. You'll have a (royal) ball with this calendar.
---
Characters from Disney Junior's T.O.T.S and Puppy Dog Pals get in on the action in this next Advent calendar.
Joining the crew from Mickey Mouse Clubhouse, the Disney Junior Advent Calendar comes filled with adorable figurines and small prizes. Along with the 11 figurines, there are also 5 card decorations, 5 sticker sheets, and 3 gift boxes.
The little ones can create their own pretend Christmas gathering using figurines, card decorations, and present boxes. You can even set up a scene using the prizes from the Disney Junior Advent Calendar for your children to find when they wake up.
Why not give the Elf on a Shelf a break and use Mickey Mouse to make some magic?
---
The ever-so-popular Mini Brands have done it again for Christmas 2023 with their Mini Brands Disney Mini by ZURU Limited Edition Advent Calendar.
Along with some of the more circulated collectible toys inside this Advent calendar, there are 4 exclusive minis that you won't find in their other mystery boxes. Each night when you pull open a flap, you'll get one of hundreds of characters from Disney, Pixar, Marvel, Star Wars, and Mickey Mouse & Friends.
Along with some of the more circulated collectible toys inside this Advent calendar, there are 4 exclusive minis that you won't find in their other mystery boxes.
---
Your family can have fun with the Heeler family with the Bluey Advent Calendar.
This calendar comes with Bluey and Bingo who are dressed in their favorite Christmas sweaters (or jumpers, as they say down under). You'll find everything Bluey and Bingo need to have the perfect holiday, including presents, Santa hats, and a star-topped Christmas tree.
Major fans of Bluey will covet this Advent calendar.
---
It wouldn't be a true Disney Advent Calendar list without the main mouse himself.
The Disney Mickey & Friends Advent Calendar Box Set comes with a hardcover book that contains a story you won't find anywhere else. Mickey and pals swap Christmas stories with each other and there are prompts to get the reader involved in the action.
Inside each window is an ornament that correlates with one of the stories told in the book. You can then decorate the 3D tree that comes with the calendar as well!
It also comes with additional tree decorations, stickers, an activity book, and a coloring book so every member of the family will be entertained.
---
An Advent calendar is more than just a countdown; it's a way to bring a little excitement into each day and create holiday memories with your little ones. Whether you're a mom of six or simply a kid at heart, there's a Disney Advent calendar out there that's just right for you.
Embrace the tradition, indulge in the magic, and let every day leading up to Christmas be a festive adventure. Here's to a magical holiday season filled with love, laughter, and a sprinkle of Disney magic!
Will you be counting down with an advent calendar this year? Let me know in the comments!
You Might Also Like:
25 FESTIVE AND UNIQUE DISNEY CHRISTMAS SHIRTS
DISNEYLAND CHRISTMAS 2023! COMPLETE GUIDE + TIPS TO HAVE THE MERRIEST OF TIMES!
7 AMAZING THINGS AT MICKEY'S VERY MERRY CHRISTMAS PARTY 2023!
Pin for Later – Magic Countdown: 11 Must-Have Disney Advent Calendars for 2023!
Latest posts by Emily Myers
(see all)