As you know we are big fans of Disney Cruises and so naturally we have received a few requests for a Disney Cruise Packing List, well I am happy to report it's finally here! This packing list details out EVERYTHING a family needs to pack in order to have the VERY BEST time onboard their Disney Cruise Vacation. Including what to bring for Pirate's Night!
The BEST Disney Cruise Packing List (+ Pirate Night Details)
This list is perfect for guests who will be sailing on a warm weather itinerary such as the Caribbean, Bahamian, and CA Coast. We have detailed out all of your must-haves plus added a few things that we think are totally worth bringing onboard such as pirate night apparel and stateroom magnets too! We have also created a handy free Disney Cruise Packing List Printable that you can download and print. This makes it super quick & easy to pack.
Before we get started on the list. If you need help planning and booking your magical Disney Cruise vacation, contact our friends at Tink's Magical Vacations. They are truly Disney Experts, and not only are their services FREE, but they will save you both time and give you onboard credit for your cruise.
What You Really Wear on A Disney Cruise in A Day
The cruise schedule is jam-packed with super awesome activities. So, I thought I would break down what exactly we wear in a day onboard.
Morning- T-Shirt and Shorts (honestly there are many days where the kids just start in swim clothes and cover-ups)
Afternoon- Swim Attire
Evening– Resort Casual Dress with a Cardigan for the girls, Lightweight Pants or Shorts with a Polo Shirt for the boys. *Unless it is Pirate's Night or the adults are eating at Remy or Palo.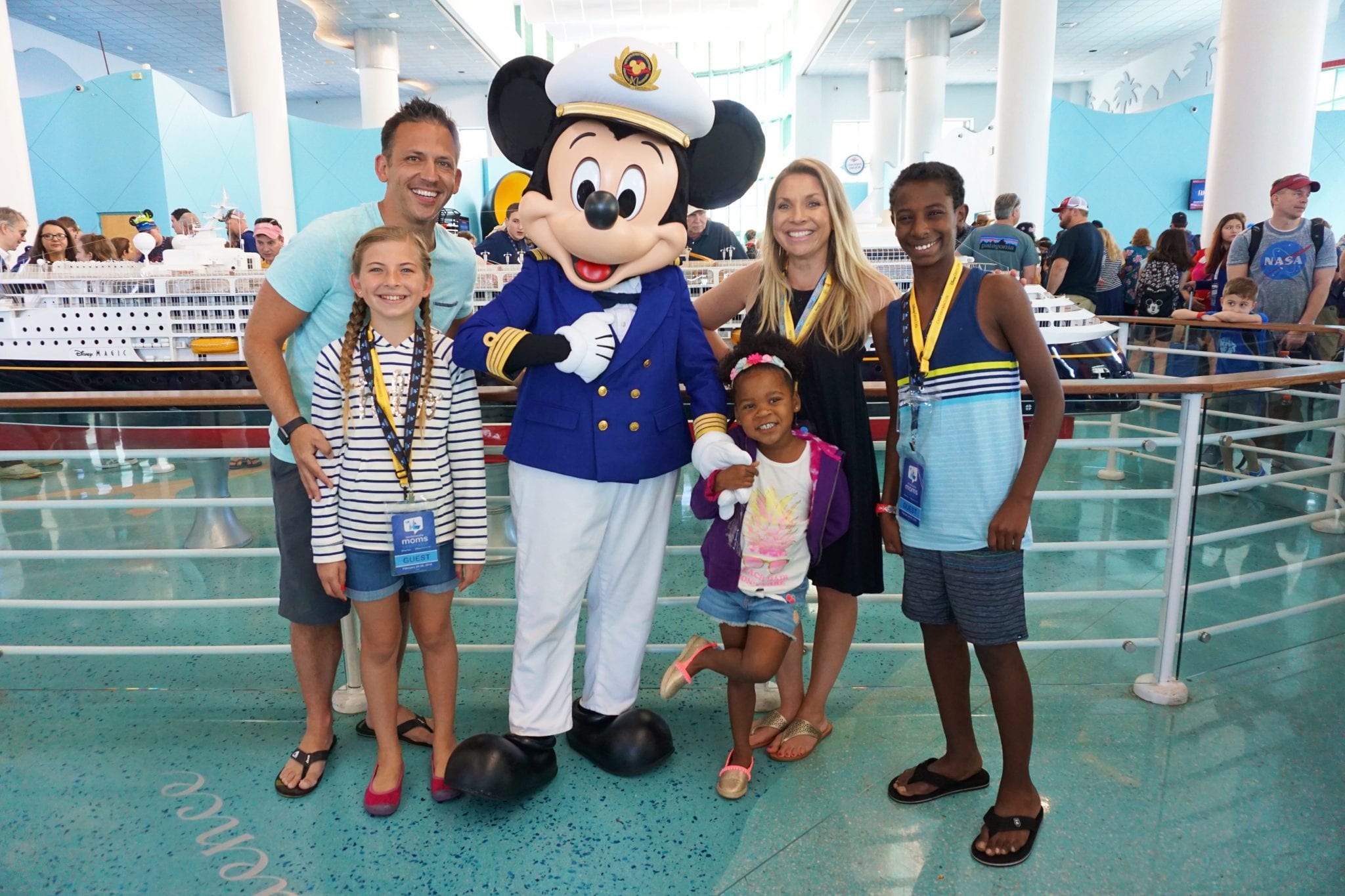 Disney Cruise Packing List Essentials
Passports/ Birth Certificates– make sure you bring a passport (check expiration dates) or if you are on a closed loop cruise you can also use a birth certificate. Closed loop means the cruise starts and ends in the United States. See Disney's policies here
Drivers License- needed if driving to or from the cruise embarkation/ debarkation. May also be necessary for third party excursions/ purchases off the cruise ship.
Cruise Documentation– Make sure to print and sign your online check-in forms and bring them with you.
DCL Issues Luggage Tags- Disney will mail you special Disney Cruise Line luggage tags. Attach these to your luggage on embarkation day they will allow the porters to deliver your luggage to your stateroom. *Do NOT attach these prior to your flight if you are flying prior to your cruise.
Flight Boarding Documents (if flying)- pretty obvious, but if you are flying home you will want to be prepared with these documents.
Transportation/ Hotel Reservation Confirmations- While most confirmations can be pulled up electronically these days it never hurts to have them printed as well.
3rd Party Excursion Documentation- We save a ton of money by booking our excursions with trusted third party vendors. Learn more about that process here and see some of our favorite Caribbean excursions here. If you book third party I always recommend confirming with them at least one week prior to your cruise. Plus, you will want to print any confirmation paperwork, receipts, and bring a contact number as well.
Medical Insurance Card- always smart to bring in case you need it.
Travel Insurance Info- should you choose to buy travel insurance you will want to make sure you bring any documentation/ contact numbers you may need.
Cash/ Credit Cards- you honestly won't need them once onboard- which I love! But, you will need cash to tip the porters and you may need them for while in port as well.
Cell Phones + chargers- Make sure to download the Disney Cruise Navigator App before you arrive. This will allow you to communicate with other members of your party while your phones data plans are turned off. The app works similar to services like what's app and telegram.
Laptops + charger- internet plans are not cheap but we usually need to purchase a package to stay connected to our work while we are away.
Portable USB Charger + cords- these are like gold when you travel and I would highly recommend packing a few portable chargers as you are able to communicate via cell phones/ iPads while at sea. The ships are big and it is difficult to find family and friends if you are not able to communicate via phones.
iPads/ Tablets- great to help communicate and also entertainment in the room when needed.
Kindle- I know some of my friends love bringing their kindles so they can read poolside while they cruise.
Headphones (+headphone splitter)– for entertainment.
Lanyard– these are great for holding your key to the world card. And, making sure your kids don't lose theirs! Why they haven't switched the to magic bands like WDW I have no idea. *If you are a repeat DCL cruiser you will receive one complimentary upon check-in.
Camera + charger + extra batteries + extra memory card– trust me on the extras, you will need them!!
GoPro + charger + extra batteries– there are plenty of water shots you are going to want photos of between the pools, beaches, and snorkeling at Castaway Cay. If you don't have a GoPro I would suggest getting a disposable water camera or purchasing water housing for your camera.
Medications- I suggest having these in your carry-on/ day bag as your bags will not be in your rooms until the afternoon. Plus, you just don't want to risk any needed meds getting lost in transit.
Prescription Glasses/ Contacts– again you may want these in your carry-on/ day bag for the same reasons listed above.
Sunscreen– you will need lots and lots of sunscreen and you will NOT want to purchase it onboard unless you enjoy paying an arm & a leg for it- ha! Here is our fav sunscreen and its minus all the yucky stuff!
Gum– you cannot find gum for sale onboard the cruise so I always bring a few packs with me.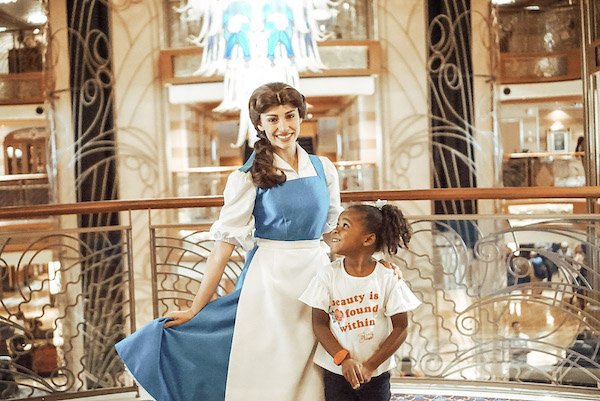 Daytime Clothing
Shirts- bring enough for one clean shirt each day.
Shorts- we pack 2-3 for a 7-night cruise usually. I would pack more for my boys usually but they end up being in swim trunks most of the time.
Kids Athletic Wear- my boys (ages 15-18 years old) LOVE playing on the basketball on the sports deck so we always pack a few athletic outfits for them as well.
Jeans- I suggest one pair and I usually end up wearing them bc it can be cold at dinner, in the theaters, and outside on the decks at night.
Sundresses- I like to pack several dresses for the girls and I. We like to wear these to dinner and to the shows. Just be sure to have some sort of shawl or cardigan to throw on top bc it gets chilly.
Swimsuits- you will most likely spend A LOT of time in your swim clothes so you will definitely want to pack at least two options. *Check out some of my FAVORITE Mom Swimsuits here.
Swimsuit Cover-up- A cover-up for girls and having enough tee shirts for the boys to throw on with their trunks is a good idea.
Underwear/ bras- enough for one clean pair of undies a day. Make sure to pack the correct bras needed for your outfits including any strapless ones.
Pajamas- a few pairs of pj's for each guest is important. *Make sure the kids have at least one pair that they feel comfortable walking around the ship in because they will NOT want to miss Goofy's PJ Party!!!
Light jacket or sweater- it gets cold in the dining rooms, theaters, and out on the decks in the evening so make sure to pack a lightweight jacket, scarves, shawls, and/ or sweaters to keep you warm.
Flip Flops or Sandals- for walking around the pool deck or on the beach you will definitely want some sandals/ flip-flops or maybe water shoes. You will also want a nice pair of sandals to wear with your sundresses.
Tennis Shoes- depending on how active you are you may want to pack a pair of tennis shoes. *Some excursions do require close-toed shoes so make sure to check for that.
Gym Clothes (*Castaway 5K)- there is a wonderful gym onboard the Disney Cruise that I highly recommend checking out. It helps me relax and not feel so guilty about all the treats I am devouring onboard. *You also need gym clothes if you plan to participate in the Castaway 5K race.
Gym shoes- if you are planning on hitting the gym or running in the Castaway 5K you will want to pack the appropriate shoes.
Socks- for your tennis & gym shoes
Sun Hat- great for keeping the sun off your face.
Sunglasses- you will want these. I always pack two pairs just in case.
Dinner Outfits
Main Dining Rooms- One thing that I LOVE about Disney Cruises is that formal nights are optional. Cruise casual attire is the only requirement in all three of the main dining rooms and honestly, that is all we ever pack. With the exception of Pirate Night, but we will get to that!
Cruise Casual is stated as no tank tops and no swimwear. Of course, should you prefer to dress up you are more than welcome to and there will be plenty of families that participate? Check your cruise itinerary to see the number of semi-formal and formal nights offered.
Adult Exclusive Dining at Palo and Remy – Should you choose to make special dining reservations for Palo or Remy you will need to abide by the strict dress code. Men are to wear dress pants or slacks and a collared shirt, and women should wear a dress, skirt, or pants and a blouse. Jeans are not allowed at Remy however jeans in good condition (with no holes) are acceptable at Palo.
Pirate Night
The first time we cruised with Disney (read about what we learned on our first cruise here) we were not prepared for how much the guests loved the pirate night. I remember feeling so out of place in our regular clothes. Families really do get all decked out for this super fun event. Since then we ALWAYS pack pirate gear, especially for the kids.
Pirate costumes– on our last trip we brought these adorable pirate dresses with us and they were a huge hit! They pack well, are great quality and the girls kept them on ALL night long bc they were totally comfortable.
Pirate Eye Patches & Earrings– these are lightweight and don't take up much room but really add to the look. Find them cheap here on Amazon.
Bandanas– they give you a complimentary pirate bandana in your stateroom but just in case you have your own look in mind these are simple to pack.
Pirate Tee Shirts- I often don't dress up but I did think these shirts were super cute for moms, and these ones would be good for dads and teen boys too.
Pirate Hooks- when my boys were little they loved playing with the plastic pirate hooks and I preferred these over swords that would almost always end up in someone getting whacked too hard.
Pirate Hat + Pirate Wig- if you are really feeling those pirate vibes you may like this pirate hat or this pirate wig.
Parrot- every time we are on a Disney Cruise there is always at least a few adult pirates with a parrot on their shoulder. My kids always think its the coolest thing ever. You can get one here on Amazon.
Just For Fun- but TOTALLY worth it!!
Magnetic Door Decor- Etsy is known for having tons of these adorable magnets available. Make sure to order them early as they typically take awhile to ship. *In a pinch here are a few on Amazon Prime that you can get in a jiffy.
Magnetic Dry Erase Board or Sticky Notes– If you have older kids or members of your party that might be going in and out of the cabins you may enjoy having a dry-erase board or post-it notes that can attach to the stateroom door to make it easy to keep track of everyone. This is especially helpful when they head to the pool deck and may not be close to their phone.
Sand-Off Mitt-okay most may not think this is super fun, but I cannot stand the feeling of sand on me so I love packing this little magical mitt that helps get the sand off my body after a day on the beach.
Candy- Okay, sounds crazy but, hear me out while there are plenty of dessert options onboard but when you go to watch a movie or see a show your kids are going to want popcorn and/ or candy. And, this is an additional cost and it's not cheap. So, we pack a few boxes of red vines and some mike & ike's.
Disney Family Tee Shirts- When you cruise with Disney you are most likely looking for a good time and I don't know what it is about the whole family shirts thing, but it's always so much fun. Check out our article on the BEST Disney Family Tees we even included 3 weird ones- ha!
Alcoholic beverages- Should it interest you, Disney Cruise Line has some of the only (the only?) ships on which you can bring your own alcohol, though the policy did become a bit more restrictive in 2015. Read the details here. Also, don't forget a travel corkscrew if you'll need one. Disney charges a hefty corking fee if you take a bottle of wine into the dining rooms.
Reusable Water Bottle- Unlike other cruise lines Disney offers 24/7 unlimited soft drinks, tea, and coffee. We love to pack refillable water bottles so we don't have to walk back and forth constantly as the soda machines are near the buffet and we like to take our drinks back to the room sometimes.
Glow Sticks- The kids always get a kick out of playing with the glow sticks on a pirate night and they are cheap and easy to pack so we always bring them along.
Autograph Book– There are plenty of opportunities for autographs onboard the Disney cruise. Of course, they sell autograph books on board but you will save money if you bring one with you. I also love creating our own using our own photos on Chatbooks. I just leave every other page blank to leave room for signatures. Just make sure you make a note when you order it or they will think you made an error.
Pins for Trading– There will be opportunities for pin trading so if you are into that make sure to pack your pins.
Ziplocs- we love to bring ziploc bags in a few different sizes. I use them to hold snack food from the buffet for the kids. We have also ordered sandwiches from room service the night before a port and taken the sandwiches off the ship with us so the kids would have quick bites to eat while we were out exploring. And, ziplocs work great for holding wet swimsuits and small toys inside of a purse too.
Disney Cruise Packing List for the Littles
Bottles/ Sippy Cups- make sure to bring several bc I always lose at least one when we travel.
Pacifiers/ Pacifier Clip- again you will want to bring several of these bc you definitely don't want to be without one. A fussy baby is no fun.
Plastic Bowls/ Spoons- personally I always just used the bowls and spoons on the cruise but if you feel your child needs the kid-sized utensils and bowls then make sure to pack them.
Bibs- you can either bring washable ones or disposable depending on how much room you have in your luggage and whether or not you are okay washing bibs in the sink or doing laundry while cruising.
Baby Wipes/ Diaper Cream- again bring both and plenty of them. Although, if you needed there are some for purchase onboard.
Diaper Bag- this is a no-brainer, but just in case. Here is my favorite diaper bag EVER!
Changing Pad- because no one wants to put their baby on the changing table without one.
Dish Soap & Scrubber- to clean bottles.
Baby Formula/ Food/ Snacks- this is really important. While the main dining restaurants are able to puree some veggies upon request you will definitely want to have plenty of food for your infant. Things they are used to eating on a regular basis.
Nightlight- the rooms can get pretty dark especially if you have an inside cabin so some families like to pack a nightlight.
Sling/ Carrier- strollers can be cumbersome and difficult to maneuver with so many different decks/ elevators so slings/ carriers can be great options.
Favorite stuffed toy/ lovey- bringing a lovey from home can be very helpful in helping your child feel comfortable and safe in a strange place.
Children's Medications/ Vitamins- there is a medical doctor onboard and there are some medications available however they are costly and options are limited. I always pack an infant fever reducer/ pain killer myself.
Carseat- if you are traveling in port you will need to bring your own car seat most likely. We LOVE the Mifold for toddlers bc it's lightweight and can fit in a backpack.
Stroller- strollers are available at no cost on Castaway. But, if you choose to bring one with you I suggest a lightweight one like this.
Noise Cancelling Headphones- for the Pirate Night Fireworks if your child has a difficult time with loud noises I suggest bringing a pair of noise canceling kids headphones. These are the ones we used.
Swim Diapers- infants in swim diapers are not allowed in the pools onboard the Disney Cruise, which is a bummer bc they are not even allowed in the kids' pool. But, they can play in the splash area which they love.
Beach Tote + Sand Toys- there is plenty of sand in port and your little ones will love playing in it. Just make sure to pack a beach bag and a few sand toys. A bucket and a shovel are totally enough.
Goggles- save little eyes and pack goggles too.
Toiletry List
Sunscreen- as I already discussed you will need tons of this and it's expensive if you run out so bring A LOT!
Hair Ties- to keep hair tied back on those windy decks.
Seabands and/ or Dramamine- we have never felt ill on any of our 7 Disney Cruises however if you are worried about motion sickness or prone to it make sure to pack motion sickness relief. The two most common are Seabands and Dramamine.
Over the Counter Meds- we like to bring painkillers and dayquil just in case someone catches a cold during our travels. Again, you can purchase some of these onboard and there is a doctor available but both of those options are pricey and inconvenient.
Toothbrush/ Toothpaste/ Floss– make sure you pack the kids toothpaste too. My kids will not brush with my mint toothpaste.
Deodorant- because no one wants to smell BO.
Make-Up- This one is my absolute fav, I like to pack some waterproof mascara!
Make-Up Remover- I often use Johnsons Baby Wash. Works great and it doesn't irritate my eyes. Plus, it doubles as a wash for my kiddos. *I have talked about it over here and I also shared some other travel hacks.
Moisturizer– planes and sunshine will do a number on your skin. Make sure to pack a good moisturizer!
Hairbrush/ Comb- I usually remember my hair brush, but I need a comb to part my daughters hair and one of my son's uses it too and I to forget it. So, I had to add it to my list.
Styling Products (hairspray, gel, detangler)- make sure you have anti-humidity products. You can find some great ones on Amazon here.
Curling Iron/ Straightener– they do have a hair dryer that is included in your stateroom which is fine for my straight hair. However, I know many women still prefer to pack their own. I do always pack a curling iron.
Contacts/ Solution/ Case– make sure you bring all of your necessary supplies.
Daily Vitamins– We are big believers in quality vitamins and we always pack them when we travel. You are just exposed to so much you want your body to have all the nutrients, minerals, and vitamins it needs.
Lip Balm– all that sun = chapped lips. Even my boys end up needing to borrow my chapstick. We love the regular Burts Bees one.
Feminine Products- I love traveling with a Diva Cup because you only need to change it every few hours, it's washable, reusable, and I never run out.
Wrinkle Release Spray– this is a travel writer must have. Gets all the wrinkles out and you don't need an iron- BOOM!
What are the must-haves to help packing for a Disney Cruise?
We love using packing cubes to help organize all of our bags! That way we know where everything is. Check our lists for toiletries, daytime clothing, dinner outfits and of course pirate night!
What can I leave at home to avoid overpacking?
Honestly, clothes is where we always overpack. Try to pack clothing items that you can wear during the day time and night time.
Have you cruised with Disney? What items are on your Disney Cruise Packing List?? Share them in the comments below to help other future cruisers.
*This post may contain affiliate links which won't change your price but will share some commission.
Pin for Later – The BEST Disney Cruise Packing List (+ Pirate Night Details)