Matching Disney Family Shirts? Nope, I am not a matching t-shirt kind of gal, but my husband absolutely loves them. Nonetheless, I have found myself in many situations where we are wearing matching shirts, both with family and college buddies. I hate to say it, but having matching Disney shirts on your Disney World vacation does make the day a lot more fun at the happiest place on earth and is now an essential item on our Disney World Packing List.
Here are our absolute favorite Disney family shirts. We couldn't resist adding some weird ones here too for your enjoyment, as they are some of my favorite Disney shirt ideas. Also, check out our Disney Couple shirt ideas, there are some pretty amazing ones.
The Classic – F
amily Disney T-Shirts
We are starting off the Disney Family Vacation shirts with the classic Mickey Silhouette and the icon from all 4 theme parks. This is for the family that says hey, I love Disney, I like matching shirts, but let's not get too crazy.
---
Classic Mickey & Castle Family Disney Shirt
These Disney shirts are simple and amazing. A silhouette of Mickey or Minnie & the Castle. Perfect for any Disneyland or Disney World Vacations
---
The Social Distancing Disney Family T-Shirts – 2021
I think nothing says 2020 more than Social Distancing. Social Distancing will be apart of Disney World for the next year or so (hopefully not too long. There are some amazing Disney Masks you can buy, and now you can add a fun social distancing Disney Family T-Shirts to the mix.
I Absolutely love this Social "Disney-ing" Shirt. It is one of the more unique Disney Matching shirts I have seen
---
This family shirt is pretty much 2020 in a nutshell with Mickey adorned in the hottest fashion trend of 2020…. the mask.
---
Amazing Vintage Disney Shirt Ideas
These Vintage Disney Shirts are adorable and can be customized with each member of the family's name.
---
The Best Day Ever Tee Shirt has a retro style and might be my favorite Disney Shirt I have seen.
Disney World Family Shirts – All 4 Parks Edition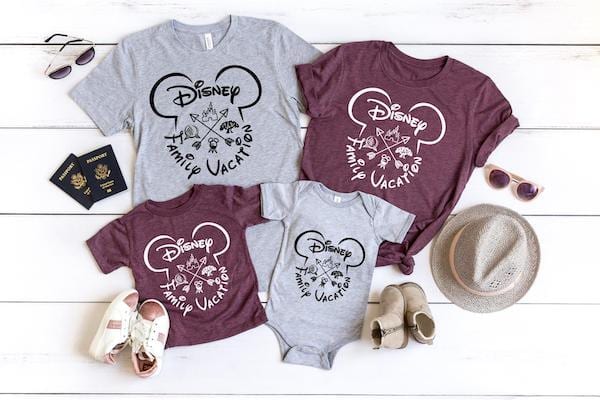 I absolutely love these Disney World Family shirts. They feature the iconic image from each of the 4 parks at Disney World, and they are super cute. Check it out here!
---
Mickey Mouse & Minnie Mouse Family Shirts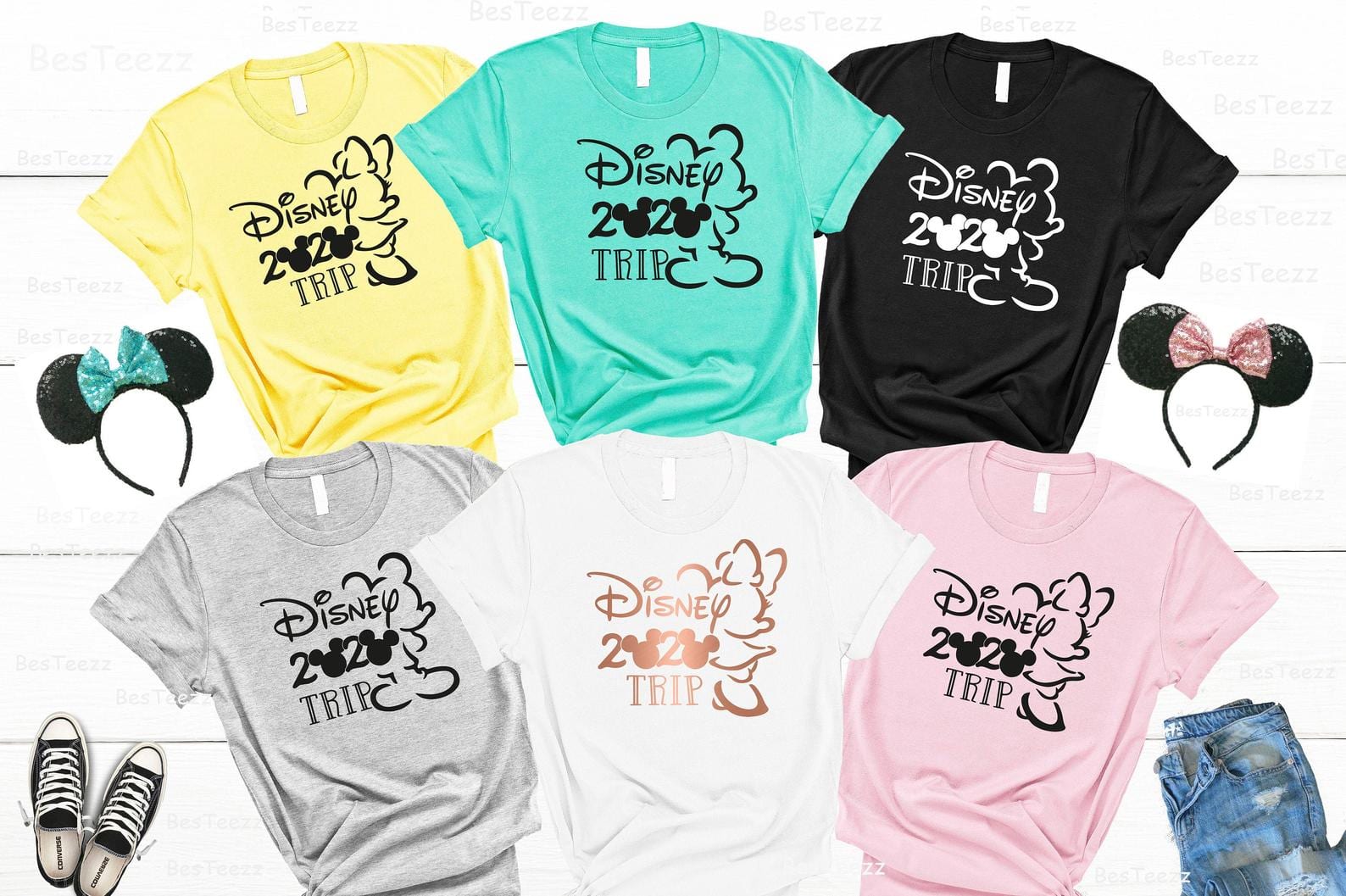 These family shirts are so adorable and they are super affordable at only $15 and twice I have found them on sale for even less. They are available on Etsy and come in a wide variety of colors and sizes.
---
Funny Family Disney Shirts
These are the kind of shirts that gets my husband excited about the possibility of wearing a matching t-shirt. Anything for a joke is pretty much his motto. These are some pretty funny Disney family vacation shirts.
Most Expensive Day Ever & Best Day Ever Family
What better way to enjoy the parks than by wearing your feelings right on your shirt? I saw these shirts in the parks once and it cracked me up. I think the most expensive day ever is a classic Disney Dad shirt.
---
The Villain Family
Sometimes you just need to let people know who is your favorite villain in life, and with these shirts, you certainly can.
---
Family Disney Shirts for the Holidays!
The holidays are my favorite time at Disney World. Whether you are hitting up during HalloweenTime or Christmas time, I absolutely love all the decorations. Here are some Ahhhh-mazing family Disney shirts to wear during this festive time.
Halloweentime Disney World Family Shirts
I love Halloweentime at the Happiest Place on Earth, especially the Not so Scary Halloween Party. These soft shirts are perfect for the Not So Scary Halloween Party if you don't feel like getting fully decked out in a costume and they even come in an onesie option!
---
Nightmare Before Mickey Shirts
If Jack Skellington is your jam, then these are the family shirts for you. Although, I really think they need to add an Oogie Boogie shirt for that one cousin you have in the family. There is always one.
Available on Etsy.com – Check Prices Here!
Disney Christmas Family Shirts – 2021!
Christmas is my personal favorite time to visit the parks. There are way too many delicious treats, the decorations are incredible and Mickey's Very Merry Christmas Party is so much fun. I love this shirt as it's a fun mixture of everything Disney and Christmas combined. Check out these adorable Disney Christmas Shirts here.
---
The Stick Figure Disney Family Shirts – 2021
Stick Figure Disney Families aren't just for the back of the car anymore! Now, you can dress up the whole family in these cute tees.
These Stick Figures are Iron on decals and be customized with different designs and shirts for the holidays or just a regular trip to Disney World.
Disney Star Wars Shirt Ideas
Star Wars has become a huge part of Disney lately. With the opening of Galaxy's edge, it is pretty much a guarantee you will be immersed in Star Wars on some part of your Disney World or Disneyland Vacation. If you are
The Star Wars Family
If the Rebel Force is running through your family's bloodstream, then check out these Disney family shirts featuring, Princess Leia, Chewbacca & Yoda. Sorry Darkside, these are not the shirts you were looking for.
Available on Etsy.com – Check Prices Here!
Disney Shirts for Star Wars Galaxy Edge
If you are looking for some shirts for the Darkside, Shop Disney has a great selection. My personal favorites are the stormtroopers, but there are a ton of options.
DIY Disney Family Shirts
A great way to save a little money is a DIY Disney family shirt. These Star wars ones are super cute and as little as $5.99!
Available on Etsy.com- Check Prices Here!
Disney Family Vacation Shirts with Character
Here are some of our favorite character themed Disney family vacation shirts. If you are a fan of a certain Disney movie series, we've got some great shirts for you.
The Toy Story Matching Family Disney Shirt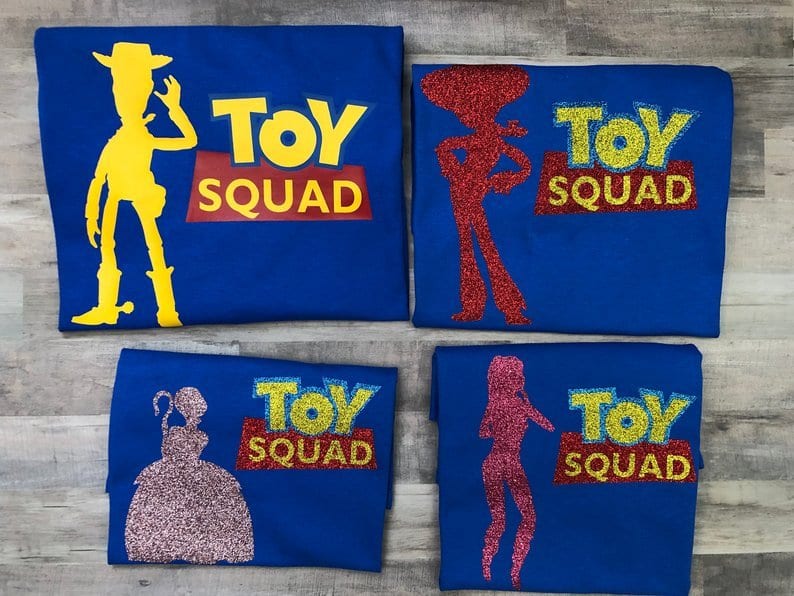 If you got a family who is willing to go to Infinity & Beyond to get to Disney World, then the Toy Story Disney Family shirts are a perfect choice. There are 13 characters to choose from in either glitter or matte finish.
Beauty & The Beast Disney Family Shirts
The way my husband eats, this shirt will suit him well! Oh, it is also great if you love the movie Beauty & The Beast.
Available on Etsy.com- Check Prices Here!
Disney Pirate Family Shirts
How much do pirates sell corn on the cob for? A Buck an Ear (Buccaneer)! Get it? Think of all the endless pirate jokes you can tell your family with these swashbuckling Disney Family Shirts (trust me, my husband has told them all) #eyerollemoji.
These Pirate Disney Family Vacation shirts are Available on Etsy- Check prices here!
Disney Cruise Family Matching Shirts
A Disney Cruise is my personal favorite vacation. The fun of Disney with plenty of relaxation (you can check out all my Disney Cruise tips here). Of course, would not be the same without some awesome Disney Cruise Family Matching shirts on your packing list.
Sail Away Disney Cruise Shirts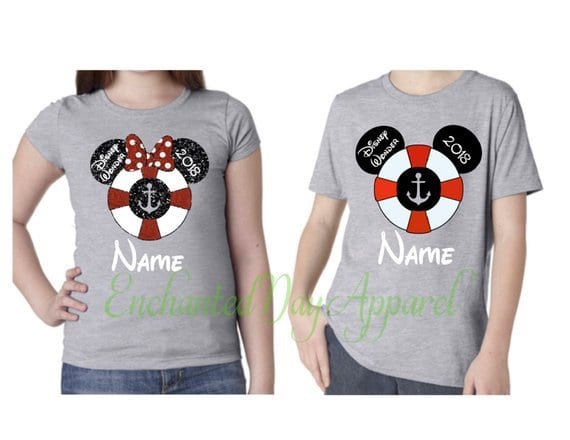 ---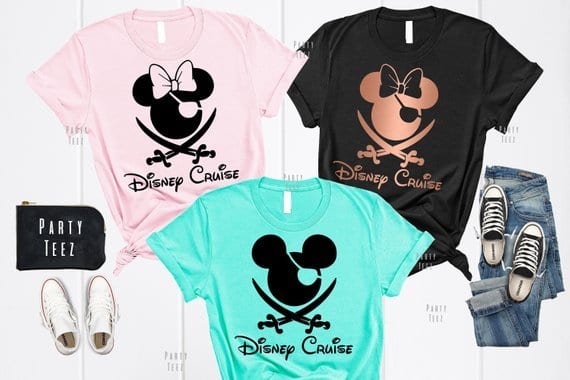 Pirate Night Disney Cruise Shirts
If you need something for Pirate night, (yes there is a pirate night) here is one more super cute Disney Cruise shirt idea that will have you participating in the pirate night without going full Pirate! Check Prices Here!
More Disney Matching Shirt Ideas
Year to Remember Disney Vacation Shirts 2021
Hey, Disney is sometimes a once in a lifetime event, might as well plop a date on your shirt so you can remember the year that dad ate that giant turkey leg all by himself and mom danced the cupid shuffle with Mickey! Am I really dating myself with that reference?
Available on Amazon.com- Check the Prices Here!
Disney Shirts for the Family – Silhouette Shirts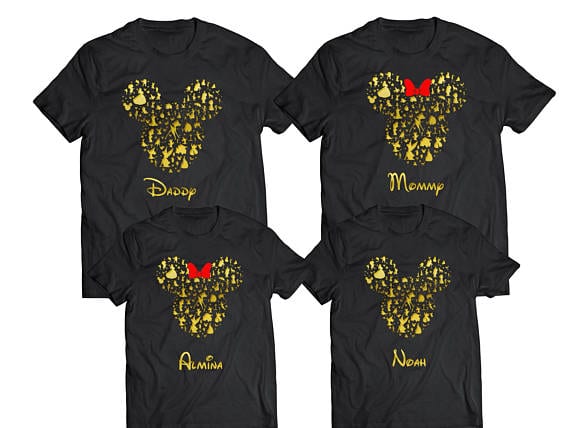 I love this classy option! Various character's silhouettes make the Mickey & Minnie shape. I honestly don't know how these people design these. I can make Mickey pancakes though, so I guess that is something!
Available on Etsy- Check Prices Here!
Pro Tip – If you are heading on a Disney Cruise, check out my Disney Cruise Tips! There is a Pirate night, this is a nice easy way to be involved without putting on the whole pirate outfit.
Family Disney Safari Shirts
If the savannah is calling your name, then I guess it is time to dial up your favorite customized Mickey & Minnie Safari shirts. With these shirts on, Animal Kingdom is calling your name, and the Jungle Cruise for that matter.
Available on Etsy- Check Prices Here!
The "Far Out" Family – D
isney Family t-shirts
Sometimes you need to feel like your in back in the good old days of celebrating Peace and Love. These Disney matching shirts are great for those who just want to be loved, man! Also, you will be able to easily spot your kids in a crowd.
All About the Desserts
We all go to Disney for the snacks, right?
Available on Etsy.com – Check Prices Here!
Disney's Aulani T-Shirts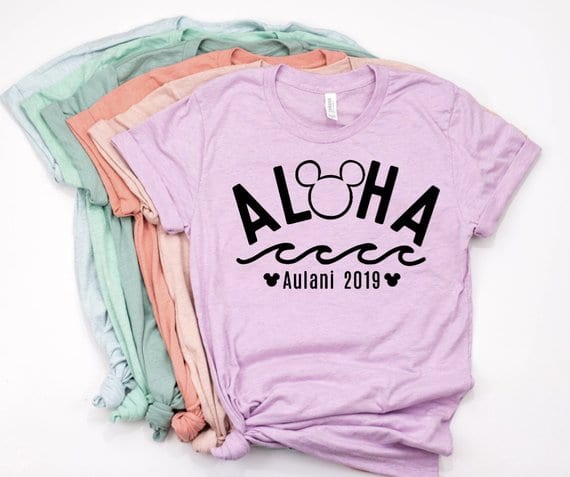 Heading to Disney's Aulani? Well, you have to have a team Aloha shirt. Alooooooooha!
For the family members who refuse to join in on the matching shirts.
The "I Don't Do Matching Shirts" Disney Shirt

There has to always be one in the family and this shirt is for that special someone who refuses to participate in the fun of matching shirts. Check it out here!
The "Walt" Disney Shirt- A great Disney Dad Shirt
If you got some Breaking Bad fans in your life, this is the shirt to grab them. Just keep them away from the blue cotton candy if you know what I mean.
Available on Etsy – Check Prices Here!
Honest to a Fault Shirt
Look, some of us are about one thing, and that's the food. We are here for the good stuff, so grab this shirt and your churro holder you created. Then, you will be ready for a full day of Disney!
Available on Etsy – Check Prices Here!
Just Why?
This will definitely be the shirt that one of my teenage sons will show up to Disney wearing and I will ask myself Just Why? Why do you want to torture your loving mother by wearing this shirt?
Available on Etsy – Check Prices Here!
If you need help planning and booking your magical Disney vacation, contact our friends at Tink's Magical Vacations. They are truly Disney Experts, and not only are their services FREE, but they will save you both time and money. That way all you have to worry about is picking out the shirts!
Pin for Later – 21 Awesome Disney Family Shirts for your Vacation [+3 Weird Ones!]
If you want some more tips and tricks, check out my other articles:
Disneyland With Toddlers; 25 Essential Tips To Make It Through The Day!
Disney Cruise Tips & Tricks [Over 100 of our Best Cruise Tips]
15 Incredible [Instagram Pics] of Disneys Best Epcot Restaurants
* These products do contain affiliate links in which I make a little revenue to help afford my Disney addiction.*
Where do I Buy Disney Matching Shirts
There are a ton of Disney Family Shirts available on sites like Etsy, Zazzle and even Amazon.
Pin for Later: 21 Awesome Matching Disney Family Shirts [+3 Weird Ones!]