This past 4th of July weekend we took the munchkins to Disneyland to check out all the new Diamond Celebration events commemorating Disneyland's 60th Anniversary. Disney, as usual did not disappoint.
New Nighttime Spectaculars: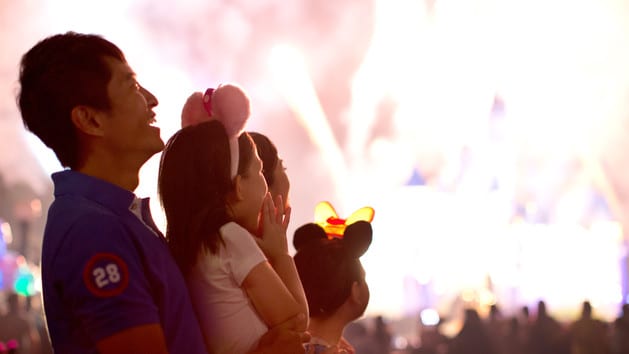 Disneyland Forever is the all new fireworks extravaganza that immerses you right into the show. The music and sound are amazing, the building along main street light up, the fireworks are amazing, multiple characters fly through the sky (I'm not telling who) and it even snows!!!! I have seen tons of Disney fireworks show all over the world including in Florida and Paris and I can happily say Disneyland Forever has been the best one yet!!!
Paint the Night is the newly enhanced light parade with over 1 million colorful lights!! As a kid I remember the Electrical Parade being my absolute fav. The way all the characters were lit up was like magic to me. However, my kids have never been as impressed with that parade. Just the change of times I suppose. Until NOW!! The music in this parade is fantastic… it makes you want to get out there and dance with the characters. The lights are like nothing I have ever seen before… our 20 month old could stop dancing and moving in her stroller- it was the cutest thing. My favorite was Mac from Cars… watch for him its really impressive how they made him feel like he had come to life.
World of Color, Celebrate has also been enhanced to commemorate Disney's 60th anniversary. They've added host Neil Patrick Harris along with none other than Mickey Mouse to guide you through Walt's incredible journey of imagination. It too is pretty spectacular. I recomend getting a dining package or a fast pass as they give the best viewing to those guests. Since everyone stands it is imperative you get a good spot or this show is not really worthwhile in my opinion. Just too hard to see… too hard to hold the kids up to see. You get the picture!
Extra Sparkle
Sleeping Beauty's Castle, Main Street U.S.A., Carthay's Circle Theatre & Buena Vista Street have all been bedazzled (yeah- I just threw it back to the 90's). But, on a more serious note, I thought the added faux diamonds and glitter were a bit tacky. You can be the judge and let me know your thoughts. I also wasn't keen on the blue bunting banners strung throughout either- sorry.
Ride Renovations
Matterhorn was completely updated inside the ride with an all new Yedi. The sound effects had me and the kids screaming and not knowing when he was going to pop out made Matterhorn a pretty thrilling adventure. We give this renovation a two thumbs up for sure!!!
Peter Pan also got some love and attention. They had updated the screens inside and so the effects were much more modern. But, still pretty much the same ride just spruced up a bit!
Alice in Wonderland also received some new LED screens and this was another renovation that completely took us by surprise. Partly because the ride just re-opened on July 4th and we had no idea it had been updated 😉 I have avoided that ride for years because the wait is usually long and the ride stunk. But, I have a new found love for this old gem now.
3 Tips to help you enjoy the magic
Visit Smart Card to get your discounted Disneyland tickets.
When should you go? Check the annual pass holder calendars and visit on dates that annual pass holders are blocked out. These dates tend to be MUCH LESS crowded.
Get your parade spot at least 2 hours (maybe 3) prior to the parade. Main Street USA is a great spot… we sat curbside by Starbucks. Blankets can help save a larger spot so you and your party can take turns riding rides while the other waits. Then after the parade just step right into Main Street for a perfect view of the Disneyland Forever Fireworks show. It starts about 5-10 minutes after the parade 😉
Have you visited Disney's Diamond Celebration? If yes, comment with your thoughts. I would love to hear them!
If not comment with your favorite Disneyland or CA Adventure Park ride.
Ours is Dumbo 😉
*image sources- all images above unless otherwise noted are owned by Disney Parks Blog and the Disneyland website