Coming to California Adventure this summer is the NEW Avengers Campus an entirely new fully immersive land dedicated to discovering, recruiting, and training the next generation of heroes- and I am here for it! In fact, I cannot wait so when I received an invite to a hard-hat walkthrough tour of the new land you can bet I sent in my RSVP ASAP! Below is everything I learned at the event from the Disney Imagineers and Marvel Execs themselves about this incredible new land coming to Disneyland Resort, inside California Adventure July 18, 2020.
Avengers Campus- The Experience
Whether you are a life-long fan or someone discovering the Marvel Super Heroes for the first time you will be invited to join the Avengers and their allies to bring out the hero within as you live out your Super Hero dreams in a fully immersive land that mixes innovative technology and fun for all ages. The Avengers C.A.M.P.U.S stands for Centralized Assembly Mobilized to Prepare, Unite, and Safeguard. So, not only will guests experience their heroes up-close but they will be invited to join them as well.
You can expect close-up hero encounters and character meet & greet locations unique to anything you have ever experienced before, amazing themed food testing the boundaries in common food sizing thanks to Ant-Man's shrinking and growing technology, and you will even get to join Spider-Man in slinging webs for the greater good as he tries to contain the Spider-Bots. You will even be able to take home your own Spider-Bot, they-re the cutest, and don't worry they have figured out how to prevent them from cloning themselves.
One of the things many fans are excited about is the chance to witness Spider-Man swinging into action high above the Avengers Campus with crazy gravity-defying, acrobatic feats, unlike anything that Disney has ever done before. Check out the video below for a sneak peek at this incredible new feature.
NEW Attraction WEB SLINGERS: A Spider-Man Adventure 
After witnessing Spider-Man do his thing swinging high above the crowds you will be hyped to hop on his brand new family-friendly ride called WEB SLINGERS: A Spider-Man Adventure. This interactive high-tech attraction happens to have no height requirement, so everyone in your party can enjoy this amazing experience together.
The WEB SLINGERS Mission:
The Worldwide Engineering Brigade (AKA WEB) is the brainchild of Tony Stark to bring together bright innovators like Peter Parker to invent new technologies and equip every day people like ourselves with the tools we need to become heroes like the Avengers.
Just as luck would have it WEB will be holding an Open House in which guests are invited to attend. Here we will be introduced to the aspiring inventors (AKA WEB kids) but we will soon learn one of their inventions, the Spider-Bots, are out of control.
In order to stop the Spider-Bots from wreaking havoc across the Avengers Campus, guests will join Spider-Man and utilize the WEB kids' latest invention- the WEB Slinger vehicle which allows guests to sling webs like Spider-Man and experience what it's like to have superpowers of their own.
Guests will be amazed by the technology that will allow them to shoot webs out of their own wrists, a feat accomplished with innovative technology that recognizes body movements and gestures which was adapted specifically for this attraction by Disney Imagineers. 
Amazing Themed-Food Options
Pym Test Kitchen
Pym Test Kitchen is the main place guests can expect to delight in tasty provisions. Here food scientists are utilizing Ant-Man and the Wasp's incredible shrinking and growing technology (aka Pym Particles) to serve up perfectly-sized snacks sometimes right before your eyes. For example, a conveyor belt will transport a regular-sized pretzel into a quantum tunnel where it is enlarged by Pym Particles right before your eyes as you wait in line to order your food. 
Not So Little Chicken Sandwich features fried chicken breast with teriyaki and red chili sauces, pickled cabbage slaw and crispy potato tots.
The PB³ Superb Sandwich features peanut butter, banana, smoked bacon and strawberry jelly with a banana smoothie shot and crispy potato tots.
Quantum Pretzel features a pretzel that has been enlarged by a quantum tunnel and comes with mustard and beer cheese dipping sauce.
PYM-ini, a panini on toasted focaccia with salami, rosemary ham, provolone, sun-dried tomato mayonnaise and arugula with marinara dipping sauce, which can be served by the slice or as a long, multi-portion sandwich.
ImpossibleTM Spoonful, a pasta dish featuring plant-based Impossible™ large and micro meat-balls, served in a super-sized spoon with a tiny fork.
Pym Tasting Lab
Pym Tasting Lab, adjacent to the Pym Test Kitchen in Avengers Campus at Disney California Adventure Park, is where grownups can enjoy craft beer ranging from a blood orange hefeweizen to an amber lager and more.
Select adult beverages will feature a variety of delicious ingredients, such as habanero and mango syrup, vanilla ice cream, lemon juice or cherry flavored pearls with an alcohol base of tequila, stout, gin or hard seltzer.
Snack Molecules (pictured above) a sweet + savory mix featuring popped sorghum with mini pretzels and honey roasted peanuts will be sure to calm any craving.
The Regulator (pictured above) features Patron Silver tequila, lime juice, habanero and mango syrup, Golden Road Mango Cart wheat ale and garnished with mango flavored popping pearls. This was hands down my favorite!!
Non-Alcoholic Beverages are also available for all ages including the kid-friendly Proton PB&J Punch features Odwalla® lemonade with flavors of strawberry and peanut butter, and Pingo Doce, the distinctly green beverage from Avengers lore.
The Shawarma Palace Cart
If you are a fan of the Marvel films you may recall the secret ending where Tony Stark takes the Avengers gang to the Shawarma Palace after their epic Battle of New York where they defeated Loki's mischievous plans. So, it is fitting that guests will find a Shawarma Palace Cart at the Avengers Campus.
The food cart will feature a hand-held savory wrap filled with fragrant chicken shawarma and garlic sauce or the ImpossibleTM plant-based falafel version.
Terran Treats
Terran Treats in Avengers Campus inside Disney California Adventure Park features a weird and wonderful menu of intergalactic eats.  
Cosmic Cream Orb– a crispy cream puff with whipped raspberry cheesecake mousse.
Sweet Spiral Ration Churros with unique flavors. The flavors may not match up with the colors and the flavors will also be available one-at-a-time for a limited time only. I imagine these may become increasingly popular as new flavors and the excitement and anticipation for them begins.
Marvel Hero Encounters
Just as one would assume stepping onto the Avengers Campus promises close-up encounters with your favorite superheroes like Iron Man (who is eager to showcase his newest Iron Man armor- the Mark 80), Spider-Man, Ant-Man, The Wasp, Groot, Gamora, Peter-Quill (Star-Lord), Thor, Captain America, Captain Marvel, Black Widow, Black Panther, General Okoye & the Dora Milaje, Dr. Strange and even some villains like the mischievous Loki.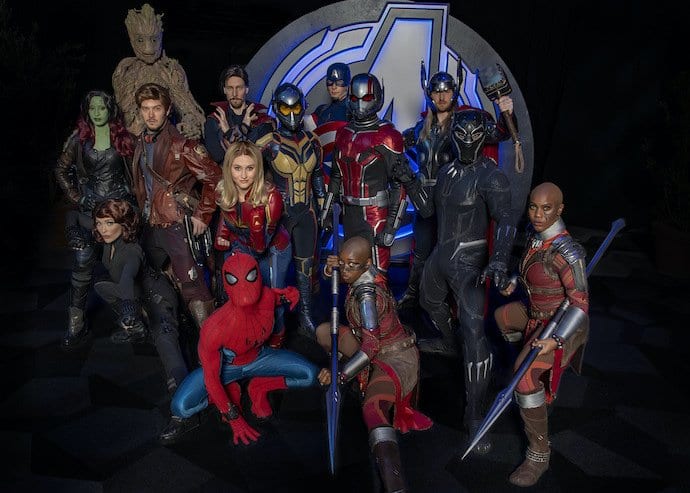 Beyond the hero-encounters, guests will also delight in the ability to train with Black Panther and Wakanda elite guards, the Dora Milaje as well as team up to save the Guardians of the Galaxy.
All while taking in spectacular spontaneous stunt shows as the Avengers spring into action (most likely near the Avengers Headquarters) to hold off their foes and save the day.
As if that weren't enough guests can also expect to run into Dr. Strange in The Sanctum where he may be demonstrating his mystic arts skills for guests to enjoy up-close.
Plus, the villainous Taskmaster, who will have a role in the upcoming Black Widow movie will also be seen for the first time at a Disney Park at Avengers Campus. Taskmaster was born with the ability to memorize and replicate Super Hero moves which makes his presence quite interesting at Avengers Campus.
Shops & Merchandise
WEB Suppliers
Upon existing WEB-SLINGERS- A Spider-Man Adventure guests will be able to gear up by checking out all of the latest Worldwide Engineering Brigade inventions at WEB Suppliers. 
I anticipate the friendly Spider-Bot sidekicks (pictured below) to be a big hit. These remote-control toys have eight articulated legs that move backward and forward allowing the Spider-Bot to have 360-degree movements.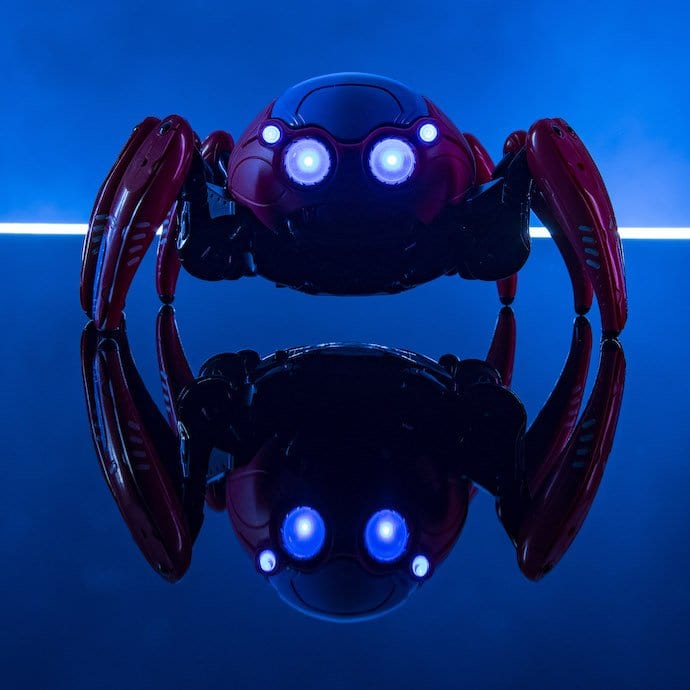 The Spider-Bots can also battle other Spider-Bots and guests can purchase additional Tactical Upgrades that not only allow them to customize their Spider-Bot to match their favorite Marvel hero (Black Panther, The Wasp, Iron Man, Black Widow, and Ant-Man will be available) but each Tactical Upgrade also gives the Spider-Bot a special feature which can help them defeat their opponent when in battle mode (as pictured below with tactical upgrades).
Other fun must-have items include a cool specially designed backpack to carry and show-off your Spider-Bot, stylish Spider-Man Light Goggles (pictured below) that feature 17 unique expressions (the heart eyes and winky face were my personal fav), a Spider-Man action figure that interacts with mini Spider-Bots, the coolest Web-shooters (pictured below) I have ever seen with authentic lights and sounds, a take-home web-making kit, and Funko Pop! vinyl figurines of Spider-Man and Iron Man.
The Campus Supply Pod
This is the spot to gear up with official Avengers Campus logo merchandise including performance fleece hoodie and tees, headwear, drinkware, and other Super Hero supplies.
Have Questions about the NEW Avengers Campus, let us know in the comments or Direct Message us on Instagram?
You Might Also Enjoy:
The Best New Disneyland Attractions & Rides 
The Best California Adventure Rides + How to Ride All in 1 Day!