How much does a trip to Disney World Cost? It is probably the most common question I get. Planning a family trip to Walt Disney World can be one of the most stressful things. You have to break down the costs of travel, Disney hotels, tickets, food, and even souvenirs. All has to be done so carefully within the family's budget or else someone will end up unhappy on the trip. That is what we are trying to avoid by breaking everything down for you and giving you options to choose from. Follow along and you will hopefully be able to relax in the seat of your plane or car on the way to Florida for your family's exciting seven-day adventure to Walt Disney World.
The good news is this, a lot of Disney World Costs can be well planned out. They have a Dining Pland which can help you calculate your food costs and all the tickets and hotels prices are very upfront. No secret resort fees to worry about, and the Disney World website includes taxes. The only additional cost you might find is parking. 
The way we will break this down is based on a 7 day vacation for a family of 4. Most rooms at Disney World sleep 4 and some sleep 5. Sadly, your kids are priced as adults once they turn 10, so in this model we will base it off two adults and two child ages (3-9)
Disney World Hotel Costs:
Once you have arrived in Orlando, the first thing you will want to do is make your way to your hotel. This is probably one of the biggest Disney World Costs. If you fly into the Orlando International Airport, you can take the Magical Express straight to Disney as a complimentary service. They will even deliver your luggage to your room. But, where is your room exactly? Follow the guide below to choose from a variety of on-site hotels with prices for every family's budget.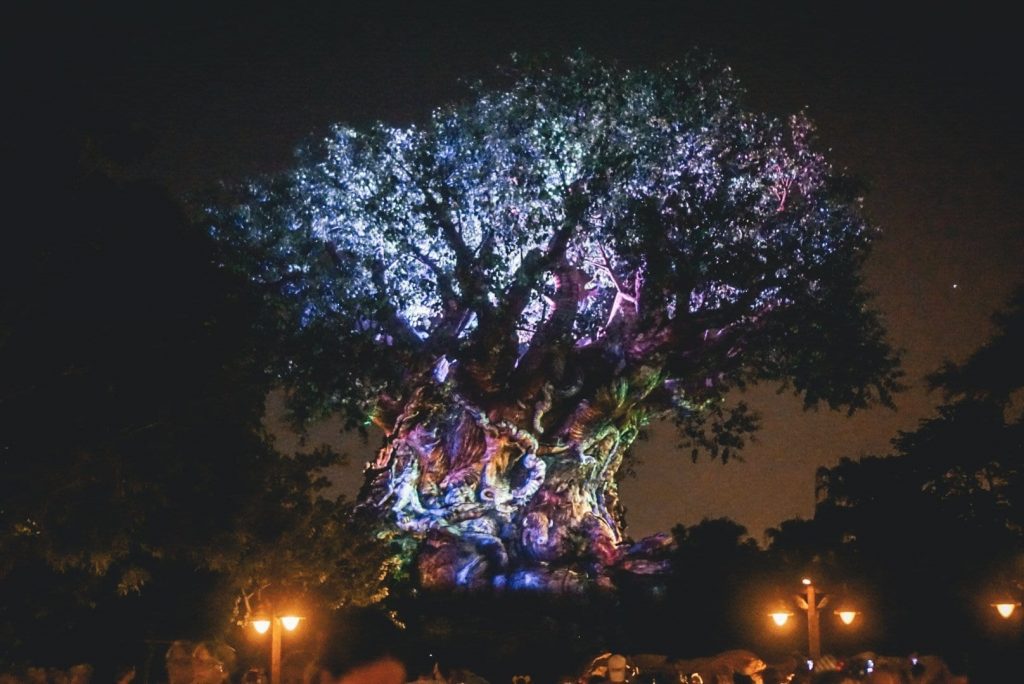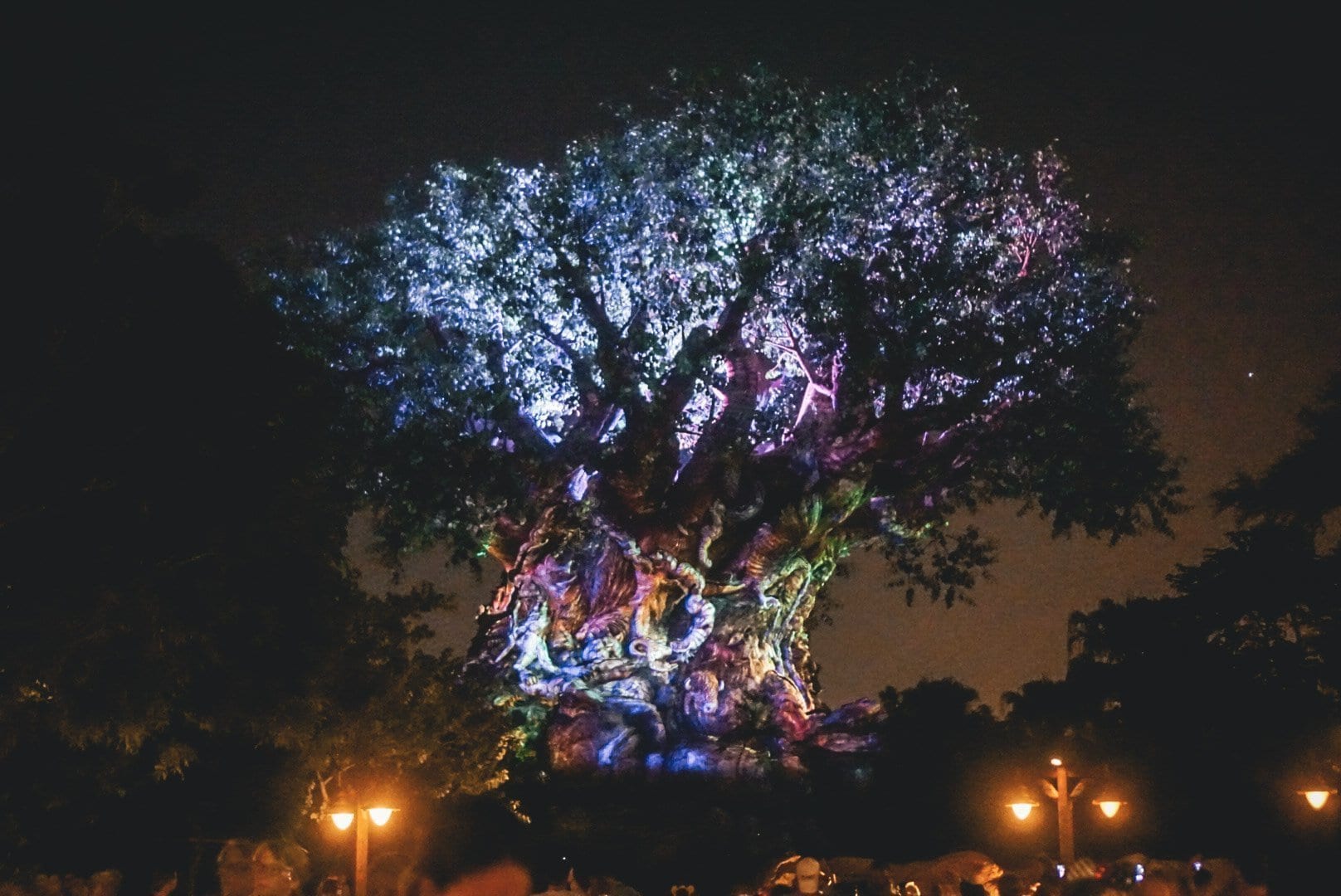 Value Resorts:
Don't let the word 'value' fool you, these are all comfortable hotels with easy transport to the parks. It is just much easier on the wallet! 
A movie-themed hotel, complete with a lobby that looks like the lobby of a movie theater! You can choose the Standard Room for $112/night or the Preferred Room for $132/night. Both sleep up to 4 adults with 2 double beds, but the Preferred Room is closer to dining, shopping, transport, and the Cinema Hall. Seven nights: $748-$924
As you could have guessed, this is a music-themed hotel! The theming is apparent all over making this a must for all music fans. As with the Movies Resort, the Standard Room is $112/night. The difference in the preferred room is that it costs $138/night with close access to dining, shopping, transport, and the Melody Hall. This hotel also offers the option of a Family Suite, costing you $260/night with 4 individual beds. Seven nights at this Disney World resort will only cost you: $748-$1,820
Another All-Star Resort! This time sports themed. Standard is once more $112/night. Preferred is $129/night with easy access to dining, shopping, transport, and the Stadium Hall. Seven Nights: $748-$903
A resort based around the "retro" eras of the 1950's to the 1990's. The Standard Room is $131/night, but if you add a pool view it will be $136/night. The Preferred Room is $147/night, while the pool view will cost you $158/night. Seven Nights: $917-$1,106
This is the best of the value resorts. This hotel offers fun rooms themed around movies popularized by Disney. The only standard room available is The Little Mermaid Standard Room, which costs $157/night. The rest of the options are family suites. Both The Lion King and the Cars Family Suites cost $348/night, while the Finding Nemo Suites cost $361/night. Seven nights: $1,009-$2,520
Overall, your weekly costs at a value resort will range from $750 – $2,520 for 7 nights. 
Moderate Resorts:
These are the mid-range hotels that will offer even more Disney luxury to you, especially if you are an adult who enjoys the more premium restaurants in your hotel. 
This resort gives you the feeling of being on the islands and the rooms offer a fun pirate motif the kids will love. Standard Room costs $204/night, while a water or pool view will bring you up to $222/night. The Preferred Room at this hotel offers a child's pulldown sleeper and costs $277/night. The Pirate Standard is also $277/night and with a water view, it will cost $284/night. Seven Nights: $1,428-$1,988
A beautiful resort with beautiful Spanish influences on the waterside. This resort was just reimagined and is pretty amazing. A Standard Room will cost you $198/night, while the addition of a water view will cost $236/night. Your Preferred Room will be $270/night. The Junior Suite, which can actually sleep six adults, will cost $510/night. If you stay in the Tower, a Standard Room costs $234/night and $279/night with a water view. Seven Nights: $1,386-$1,953
Be amazed by the romance of New Orleans' French Quarter in the comfort of Disney World! Your Standard View Room will cost $219/night. You also have the option of a view of the Garden, River, or Pool. The Garden is $225/night and the other two being $238/night. Seven Nights: $1,533-$1,666
While keeping the New Orleans vibe just like the former entry, this one is more of a backwoods cottage feel. Very cozy. The Standard Room is the same as the Frech Quarter, at $219/night. The Garden View at this one costs $231/night, while the Pool View costs $236/night and the River View costs $256/night. The Preferred Room is the same cost as the River View Standard, being $256/night. Seven Days: $1,533-$1,792
A unique experience all its own! The chance to "camp" in style. You'll see actual critters roaming around, like deer, rabbits, and armadillos! Your Wilderness Cabin sleeps up to 6 adults and costs $341/night. Seven Days at this Disney World resort will cost you: $2,387
Overall, your weekly costs at a value resort will range from $1,400 – $2,387 for 7 nights. 
Deluxe Resorts:
This is where the prices start going up, but so do the amenities, so don't think the price isn't higher for a reason.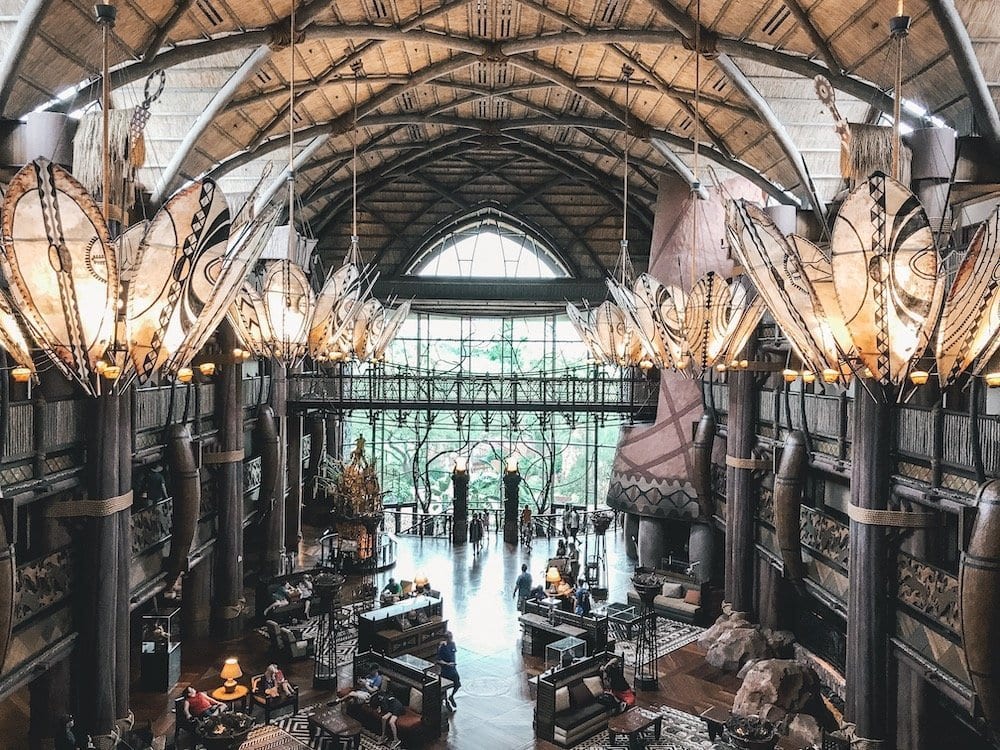 This is one of Walt Disney World's biggest gems and most unique experiences. Staying here gives you the chance to see all the animals at Animal Kingdom, but from your very own room. That's right! You can see giraffes, zebras, exotic birds, and more. This view comes with a price! The Standard Room is $353/night, with a pool view it goes up to $381/night, and if you want bunk beds with your pool view it will be $403/night. The Savanna View Room is where you can see vast scapes of the savanna full of animals and will cost you $509/night and $533/night if you want bunk beds. Seven Nights: $2,471-$3,731
Get all the charm of a New England beach club right here in Florida! Just minutes from many of the parks. The Standard Room is $411/night, a Garden or Woods View bringing it up to $443/night, and a Water View costing $524/night. A Deluxe Room sleeps six and costs $566/night. Seven Nights: $2,877-$3,962
Go back in time to the turn of the century at this BoardWalk. The Standard Room costs $450/night, with a Garden View costing $476/night, and a Water View costing $565/night. Seven Nights: $3,150-$3,955
One of Disney's most popular hotels, even for guests not even staying at the hotel! It is ultra-modern, home to popular restaurants, and is very close to the Magic Kingdom. The Garden Wing room breakdown goes as follows: Standard-$421/night, Garden View-$426/night, Deluxe Room-$505/night, and 1 Bedroom Suite-$1,153/night. The next section is the Main Tower and goes as follows: Lake View-$590/night and Theme Park View-$641/night. Seven Nights: $2,947-$7,861
As you can see, this is the only one on this list with "spa" in the name. The spa at this resort is perfect to unwind or get any number of treatments. All Non-Club Level Access rooms are in the Outer Building. The Garden View is $597/night unless you want a Garden View Deluxe Room for $652/night. The remaining options are the Lagoon View at $608/night and the Theme Park View at $712/night. Seven Nights: $4,179-$4984
A South Pacific themed oasis that is a recurring favorite of resort stayers. The Standard View costs $495/night. The special views are as follows: Pool or Marina-$577/night, Lagoon-$629/night, and Theme Park-$714/night. Seven Nights at this Disney World resort will cost you: $3,465-$4,998
A rustic NorthWest inspired rocky resort that will instantly transport you from the Florida weather you were once in. The Standard View costs $339/night, with a Nature View costing $395/night, and a Courtyard View costing $424/night. If you want bunk beds with that Nature or Courtyard View then it will cost $439/night and $449/night respectively. Seven Nights: $2,373-$3,143
All the ambiance of a New England yacht club. The Standard Room cost is $421/night, a Garden or Woods View is $446/night, and a Water View is $516/night. Seven Nights: $2,947-$3,612
Overall, your weekly costs at a value resort will range from $2,400 – $7,887 for 7 nights. 
Summary
Obviously, the hotel you pick will greatly affect your Disney World costs. Your hotel stay will vary from $748 to $7,861 for seven days for a family of four, so there are plenty of options if you want to save a little money to get that big souvenir or if you want to indulge in the amenities at some of the most award-winning resorts.
__
Park Hopper Tickets:
With Park Hopper tickets you will get access to all four parks, including Magic Kingdom, EPCOT, Hollywood Studios, and Animal Kingdom.
A great thing about Disney is that the more days you go, the less it costs per day to get access to the parks! For one day for one person going 7 days, it will cost about $73/day, which comes out to $292/day for a family of four.
Your Park Hopper tickets for 7 days will cost about $2,044 for your whole family. And remember to get these tickets in advance to ensure you are getting the best deal possible for when you embark on your trip!
If you want to hit up the water parks, check out the Park Hopper plus option, it provided park admission to all 4 parks, water parks, & mini golf .
__
Food Costs at Disney World:
Food is always an important thing to consider when planning a vacation! When it comes to budgeting for your Disney World food costs, you will need to decide if you will be frequently eating in the park. If so, definitely check out the Disney Dining Plan below! We try to keep it balanced by bringing along snacks and healthy food to keep us fueled, and treating ourselves in the parks. 
Disney Dining Plan 
Many families don't plan ahead and therefore don't know Disney has a meal plan. That's right, there is a dining plan available for your family! The dining plan allows for you to enjoy meals and snacks at a more affordable price. You get a certain number of credits depending on the plan and will use your MagicBand to buy your food throughout your stay.
There are three different dining plans to choose from:
Quick Service Dining Plan
Quick Service Dining includes a is $52.50 for an adult per day and $23.78 for children between 3-9 per day. Note that children under 3 can eat from an adult's plate for free. This plan includes 2 quick service meals, 2 snacks, and 1 refillable mug for sodas or coffee at the resorts.
Total cost for 2 Adults and 2 Children for 7 days on the quick service dining plan is 152.56 per day and a total of $1067.92
Regular Dining Plan
The regular dining plan is $75.49 for an adult per day and $27.98 for children between 3-9 per day. This plan includes 1 table service meal, 1 quick service meal, 2 snacks, and a refillable mug.  These table service meals include character dining and if you are planning on doing some character dining this plan is definitely worth it. A table service in the regular dining plan includes an entree and dessert and a cocktail or beer. 
Total cost for 2 Adults and 2 Children for 7 days on the regular dining plan is $206.94 per day and for 7 days it would be $1448.58
Deluxe Dining Plan     
The Deluxe Dining Plan is $116.25 for an adult per day and $43.49 for children between 3-9 per day. This plan includes 3 meals of any combination of quick and/or table service, 2 snacks, and a refillable mug. The table service includes an appetizer, entree dessert and cocktail under the deluxe plan.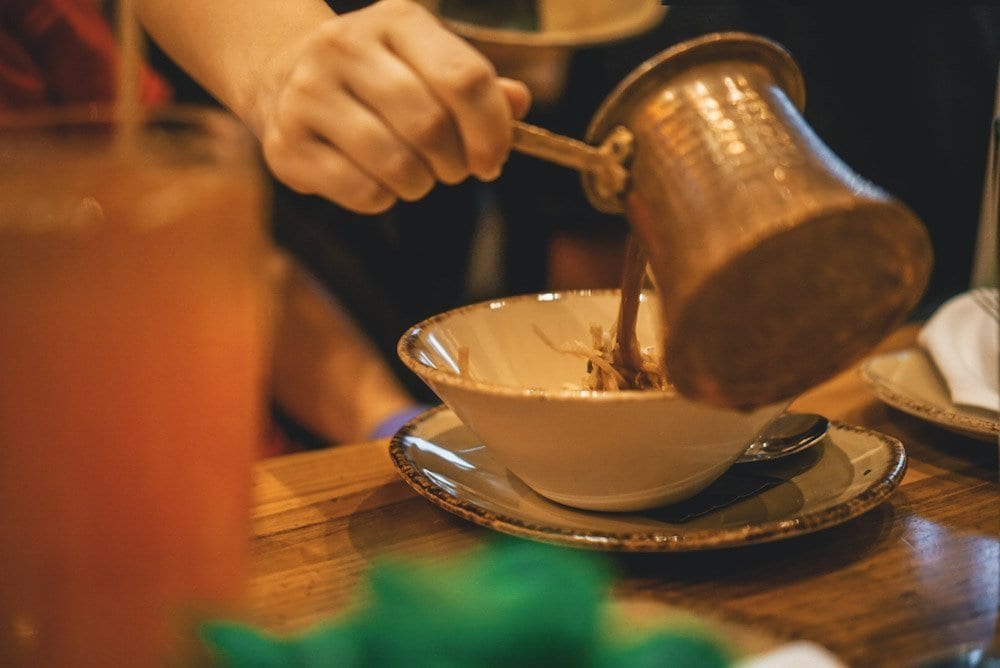 This is the plan for those who do not want to worry about counting how many table service meals you need because you will have plenty of food. 
Total cost for 2 Adults and 2 Children for 7 days on the Deluxe dining plan is $319.48 per day and for 7 days it would be $2236.58
This is a good gauge for how much you will be spending even if you decide not to use a dining plan. You should plan on about $1,000-$2,900 for a week if you want to eat from on-site for a family of 4 for 7 days.
Transportation Costs at Disney World:
Luckily, you can actually travel from the airport to Disney World and throughout the parks for free! Disney has an incredible transportation system, so I would say save some money and enjoy the free transportation. 
If you prefer to use your own vehicle or rent a car, expect parking fees at the hotels. Parking is free at the parks if you are staying on property. 
One other service that costs is Disney Minnie Van which provides door to door pickup. Estimate $30 per trip for that service or you can use Uber or Lyft for about $15
Overall Transportation Costs: $0 – $500 for 7 nights
Cost of Souvenirs & Pictures at Disney World:
One of the most fun parts of any Disney vacation with your family is looking at the pictures and getting souvenirs. One quick tip is to bring quarters and pennies and visit the many pressed penny machines around the park. These are cheap and easy souvenirs that don't take up much space at all. However, if you are dead set on the bright and colorful souvenirs you'll see in shops wherever you go, I can help.
Memory Maker
One Disney World cost that I think you should for sure factor in is the Memory Maker. Throughout the Disney Resort are Photo Pass employees who will take your photo for free. Those pictures along with all the theme park ride pictures are available with the purchase of Memory Maker. It is an easy way to download your favorite pictures right from the My Disney Experience App. 
The cost for memory maker is $169 if you pre-purchase it and $199 once you are already on vacation.
Plush 
Most children will want a plush, as will their sibling. The plush dolls of Disney characters such as Mickey Mouse are generally $15 for a small, $20 for a medium (the most popular size, since it is where kids and parents can compromise), and $40 for a large.
Ears
Whether you are 4 or 40 you will most likely want Mickey or Minnie Ears. Plan on spending $25-$30 on those adorable pieces of memorabilia.
Cost of Other Souvenirs at Disney World
T-Shirts are a good staple souvenir that you are almost guaranteed to use again. These are even good as gifts! An adult tee will be around $30, while a kid tee will be about $17.       
Other popular souvenirs are pins, mugs, and magnets. This is also where it gets somewhat cheaper than the other souvenirs. Pins are $10 on average, but budget in a few more dollars if you want one of the limited edition pins! Mugs are also $10 on average unless you are planning on an elaborate stein from EPCOT's Germany pavilion. And once more, a magnet will run you about $10.
So, factor in $300-$600 depending on your souvenir needs.
A small tip I will give you is, if you want that souvenir then you should probably buy it, otherwise later when you change your mind it may not be there anymore!
VIP Experiences & Special Themed Tickets (Optional Costs)
VIP Tours
A Disney VIP tour is the ultimate Disney Experience. You get to skip the lines for all the rides, get exclusive backstage access, have an incredible tour guide. Of course, this comes at a pretty steep price. Prices range from $425 per hour – $600 per hour with a 7 hour minimum. So, you are looking at $2900 – $4200 for 7 hours.
**Money Savings Tip** – Save thousands of dollars by booking a VIP tour from Magic VIP Tours. They have amazing tours at more than 50% OFF
Special Themed Tickets
Disney World always has some sort of special event going on. From Mickey's Not so Scary Halloween Party to the Very Merry Christmas Party or the special themed Late Night Events like the Star Wars Dessert Party, there is always a great event to check out. If you want to hit up one of these super fun events, there is an additional cost. Expect to pay between about $80 per ticket for one of these events
Total Cost: $320
Overview of Disney World Costs:
Let's take a general look at how much this trip of 7 days for a family of 4 will cost:
Hotel: $748 -$7,861
Tickets: $2,044 – $2500
Food: $1,000-$2,900
Souvenirs: $200-$500
Transportation $0 – $500
Special Themed Tickets (Optional) – $0 – $4200
Now, the overall cost of your Disney World trip can be anywhere from about $4,000 to $13,805. Plan accordingly and figure out which aspects of your Disney World trip are most important to you and your family. After all, the most important part of your vacation is to have a magical day! If you need more help planning, check into hiring a travel agent. They are so helpful. 
How to Save Money on Your Disney World Vacation:
There are a ton of ways to reduce your Disney World costs, so we are going to take a look at the ones that will save you the most possible money and some super simple tips.
Save up to 50% OFF Deluxe Resorts:
One of my favorite ways to save money is by booking a deluxe room for about the same price as a value hotel. You can do this by booking a Disney Vacation Club Room through David's Vacation Rentals. Disney Vacation Club is Disney's version of a timeshare. But instead of purchasing a timeshare you can book a room from one of an existing timeshare owners. 
To give you an example: Staying at the Beach Club will normally cost $2800 – $3900 for 7 nights, but if you use David's Vacation rental you will pay $1500 – $2200. 
Dine for FREE
Every year Disney offers a promotion, usually, it is for a few months toward the end of the year. The Free Dining will provide you with FREE quick service or standard dining plan depending on the category of room you book. That is a saving of $1028 – $1,565
2019's Free Dining Dates are:
September 1 through September 18, 2019
November 17 through November 27, 2019
December 8 through December 23, 2019
To book your FREE Dining, I highly recommend going through a travel agent as they have access to the most inventory. Tink's Magical Vacations is our go to for booking a Disney World Vacation! They are simply amazing and will always look for the best deal for their customers. Even after you booked your trip, if they find a better deal they will call Disney to change it. 
Simple Disney World Costs Saving Tips
Free Water is available at all counter service restaurants – No need to spend $3 per bottle on water
Pre-purchase souvenirs like Mickey Ears. You will find them cheaper and a lot cuter.
Prepare for the heat and rain. There is no reason to spend $20 on a fan or $10 on cheap ponchos. Check out my Disney World Packing List so that you don't find yourself wasting money.
If you have any questions about planning an incredible Disney World trip, please reach out in the comments or message us on Instagram!
You May Also Like:
Disney Cruise vs Disney World- Which to Choose and Why
The Best Disney Deluxe Resorts + Money Saving Tips when Booking!
How Much Does a Disney Cruise Cost? We Break Down All the Details