Star Wars fans have been waiting quite some time for Star Wars Galaxy's Edge to open at Disneyland Resort in California. Now that Batuu is officially open for business in Anaheim, and will open in August at Walt Disney World, it's time to plan your visit! There has long been a buzz about Star Wars land being added to the parks, and now that it is finally here it's safe to say it lives up to the hype.
Galaxy's Edge boasts incredible immersive theming, amazing souvenir options, and delicious eats. We got to visit this epic land and we are breaking down all the must-know details about the brand new Star Wars land, Galaxy's Edge. 
How to get the most out of Star Wars Galaxy's Edge
I admit I am not the biggest Star Wars fan, but I do love a fully immersed themed land and that is what you have here. By that I mean, if you walk into the land and just hop on the rides, grab some blue and green milk and leave, you have missed the experience. The land is a fully immersive experience where every cast member is playing a part in telling the story of the rebel alliance battling against the first order.
Disney has thought this well out, you will notice that you will not run into Ray or Chewbaccain the same areas as storm troopers because obviously, they would be fighting, so my tip is to enjoy the little details Disney put into this amazing land.
What to Ride in the Star Wars Land: 
At the end of the day, the attractions are a huge part of what makes Disney parks great. And, trust me, the rides at Galaxy's Edge leave nothing to chance. Imagineers have gone above and beyond to make sure guests have memorable experiences. So, from the time you enter the queue to the actual attraction, you will be completely amazed.  
If you've ever wanted to fly the Millenium Falcon (and, really, who hasn't?), Smuggler's Run is the ride for you! In this immersive 3D experience, you and your family will pile into the cockpit of one of the galaxy's most famous ships.
You will then pilot it through peril-filled skies. There are 3 positions you could be given, Pilot and the gunner are the most fun so I would try to get one of those two. You actually have to perform the tasks on the ride so be ready to work. 
Guests must be 38" tall to ride Smuggler's Run and families with young children should keep in mind that this is a thrill ride. There are some small drops, loud noises, and dark areas. 
Rise of the Resistance is one of the most ambitious rides Disney has ever undertaken. As of the first week of July, the attraction still wasn't open at Disneyland. Disney World's version should be up and running at the end of the year. The ride, which is rumored to last nearly half an hour, takes place in four unique spaces. It starts in the heavily-themed queue line, then the Resistance command center, the takeoff area, and the interrogation room. This Star Wars land addition will be unlike anything ever before!
The general backstory is that the Resistance has set-up on Batuu just a week ago, so guests are among the first to see their efforts. Throughout the experience, riders will sit in eight-person cars that use the same trackless technology as Disneyland Paris's Ratatouille ride (coming to Epcot later this year). From all accounts, the Rise of the Resistance is going to be an instant classic!
Souvenirs/ Experiences Take Home from Star Wars Land: 
Like all Disney parks, Galaxy's Edge has no shortage of merchandise. Apparel, pins, plush toys, you name it. Plus, a variety of other items will be available at shops and stalls throughout the area. The two options that people are really excited about, though, are the custom lightsabers and droids. Guests get to build these and then take a piece of Sith or Jedi memorabilia home forever. Both workshops will truly transport you to another world! Don't let the price tag on these scare you away, even if you won't be building a souvenir the workshops are must-sees.
While this is a pricey experience, it is also one of the coolest experiences in the land. Savi's Workshop is full of a slew of unique components from all over the Star Wars galaxy that will help you build your very own lightsaber. You will find it inside the Black Spire Outpost. When you arrive to build your one-of-a-kind lightsaber, you will be escorted into this out-of-the-way building by an underground group known only as "the Gatherers."
Once inside, you will be able to hand-pick the parts you want to use to build your personal lightsaber.
Before you visit, be aware that reservations are currently required for this experience in Star Wars land. Also, only one guest can accompany the person building the lightsaber. So, if you have 4 people who want to see this experience, you will need to get two lightsabers. 
The price is $199.99, but don't expect your ordinary plastic light saber, this thing is a pretty amazing piece (as it should be for that price) and also quite heavy, so little ones might be tired of carrying it after a short time. You will receive a carrying case, so you can safely bring it back home.
Also situated in the Black Spire Outpost, the Droid Depot is an industrial-themed space. It is stocked with everything you need to create your very own BB-series or R-series droid sidekick. Upon entry, you'll be given a bucket to hold all of the components you choose from the workshop's conveyor belt. Once you've selected your parts, you will move to the Build Station. Here you will assemble your droid and, ultimately, activate it for your journey home. The base price at the Droid Depot is $99 (but the most expensive item is a $25,000 life-size R2D2). Luckily, annual pass holder discounters can be applied at this location. 
Less Expensive Souvenirs
Look, I love Disney, but I have 5 kids, so I can't always be spending $100 on droids and $200 on lightsabers. There are a ton of great shirts, smaller droids (Olivia loved this little one she picked up for $10) and my kids favorite souvenir, was the Droid Coca Cola bottles.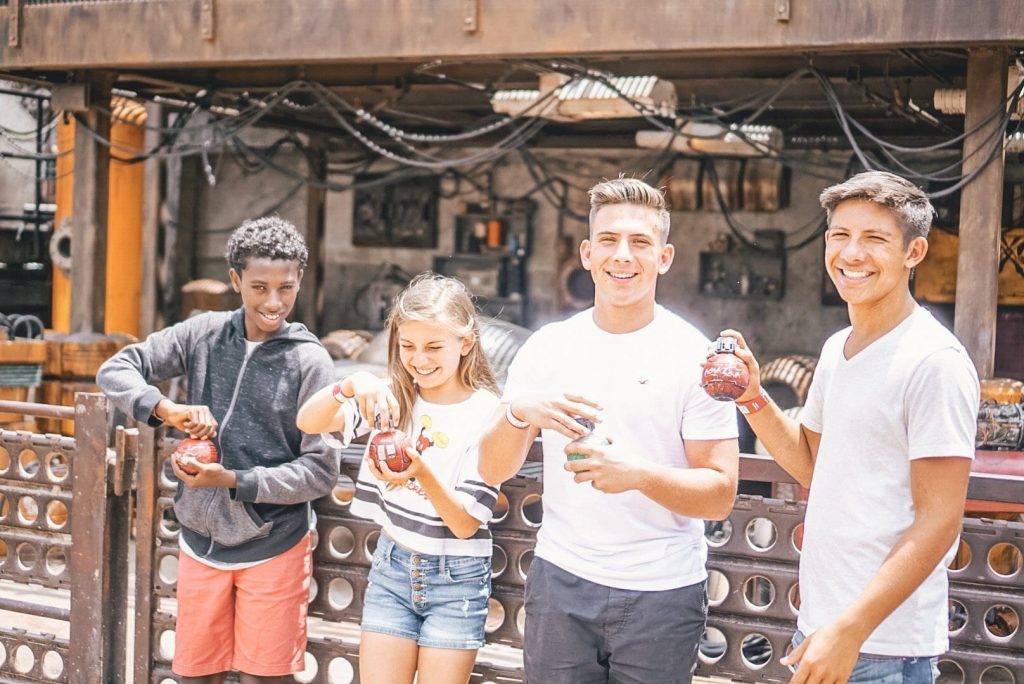 Also, there are some souvenir mugs in Oga's Cantina, we loved the porg mug. Those are pretty great to bring home as well. 
What to Eat at Galaxy's Edge!
If you're a Disney fan and you haven't already seen post after post about Galaxy's Edge food offerings on social media, you might have been living under a rock for the past couple of months. Blue milk has already earned Dole Whip-level cult status.
Not to mention, the Ronto Wrap in the Black Spire Outpost Marketplace has been getting rave reviews. The blue and green milk can be found at stands throughout Bantuu, along with other snacks like popcorn and Ronto Wrap. All the stands are expertly themed making you feel like your right at an alien street market. If you are looking for more than a snack, you'll have the choice between two can't-miss restaurants in Star Wars land. 
Og'as Cantina is a very popular place and you need reservations. This spot is the perfect replica of the Oga's Cantina you've come to know and love in Star Wars films.  Open to all ages, guests under 21 can enjoy a selection of delicious drinks like the Blurrgfire (lemonade, pomegranate juice, and habanero-lime flavor) and the Carbon Freeze (lemon-lime Powerade with wild strawberry flavor topped with apple and blueberry popping pearls). 
If you will be drinking alcoholic beverages there are all sorts of unique drinks, including the Jedi Mind Trick (Ketel One grapefruit and rose vodka, John D. Taylor's Velvet Falernum, Blue Curacao, white grape juice, lime juice, and grapefruit bitters). You may also fancy the $42 Yub Nub (Malibu pineapple rum, Sailor Jerry spiced rum, various citrus juices, and passion fruit). Best of all, it comes in a souvenir Endor mug. 
Located inside of a working hangar bay, Docking Bay 7 is a fun dining experience for the entire family. Serving breakfast, lunch, and dinner, your travel party can choose which meal sounds the most appealing to you. Breakfast specialties include Rising Moons Overnight Oats and the sweet Mustafarian Lava Roll. 
Exclusively at lunch, you can enjoy the Felucian Garden Spread. It features plant-based Kefta, herb hummus, and tomato-cucumber relish with pita bread, and all-day entrees like Smoked Kaduu Pork Ribs and Yobshrimp Noodle Salad. The dinner menu features two additional entree options, the vegetarian Ithorian Garden Loaf and Braised Shaak Roast with Pasta. 
Character Interactions
Like I said before, you will find Star Wars characters throughout the land, but they are not just standing in one place to pictures, no they have work to do (of course they will take pictures if you ask).
You will find Storm Troopers constantly engaging with guests, Kylo Ren is often around, we also ran in Ray, and Chewbacca through our journey through Star Wars Land. Make sure to enjoy the characters as they truly are a key part of the experience. 
If you're excited to visit Galaxy's Edge for yourself, don't wait to book your next trip. Remember, if you want to reserve special experiences, check online or call Disney directly for assistance. The new Star Wars land is extremely popular, so planning as early as possible is wise!
---
If you need help planning and booking your magical Disneyland or Walt Disney World vacation, contact our friends at Tink's Magical Vacations.
They are truly Disney Experts, and not only are their services FREE, but they will save you both time and money. Don't just take our word for it, check out all of  their amazing  Testimonials
---
If you have any Disney related questions, please reach out to us through the comments or on Instagram! We'd be more than happy to help you out!
You May Also Like:
Disney Souvenirs [25 Awesome Souvenirs for Your Next Disney Vacay!]
Planning a Disneyland Trip? 45 Best Disneyland  Tips from a Pro
Disneyland vs Disney World- Which is Better for you Vacay?