Epcot used to be known as the boring park in my kid's eyes. Not too many exciting rides like Magic Kingdom and Hollywood Studios and a lot of walking. Mainly, they felt we went there for all the food. However, things have certainly changed as there are some amazing rides now at Epcot. So, Let's check out Epcot Best Rides + a sneak peek at 2 new amazing attractions
Epcot Best Rides For Thrill Seekers
With the wristband and FastPass + system, planning your Disney trip has become a breeze, and ride planning is basically a necessity. (Check out My Epcot FastPass Guide)
Epcot is a very family friendly park with plenty of rides meant for the whole family to enjoy, Mission: Space however is truly a ride for the bravest theme park goers when you choose to ride on the orange track.
When getting in line for Mission: Space, you will have the option to choose the Green Track or the Orange Track. Both options will lead you to sit in a very realistic feeling spaceship where you will view a video that shows you what astronauts see on take off and up in space.
On the Orange Track, you will also experience how it feels to be an astronaut as you spin intensely giving you the feeling of G-forces. It's a great ride for those who want an intense thrill or kiddos who have always dreamed of being an astronaut.
Height Requirements: Green Track 40 in, Orange Track 44 in

Fastpass reservation is not essential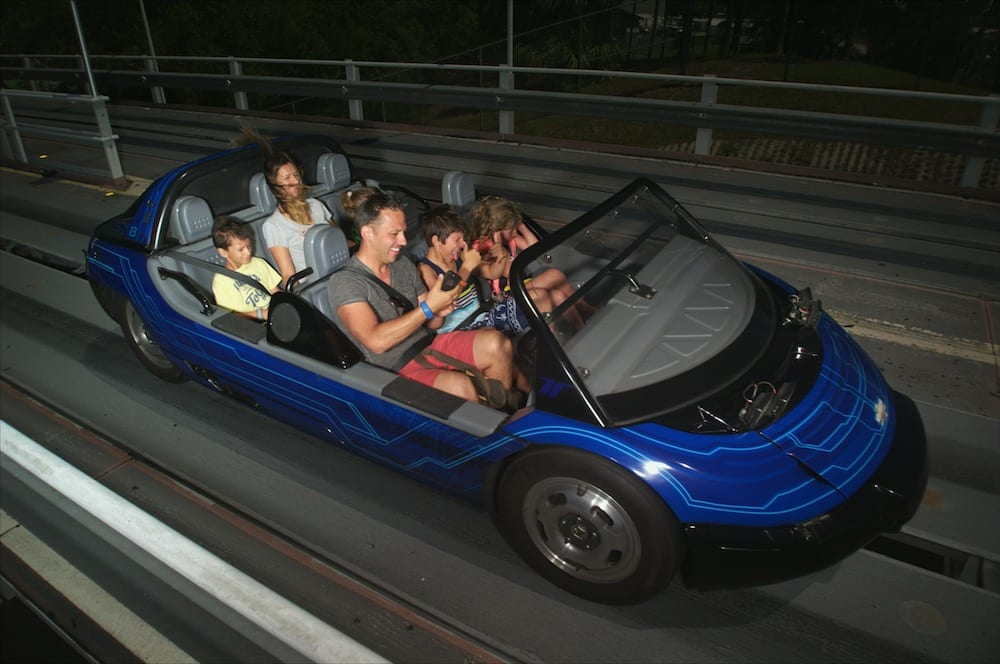 As long as you meet the height requirements (40 in.), this ride is absolutely a must do because it is one of the best rides in Epcot. You will get to experience what it's like to design and test a car for safety, with one exception you are the dummy.
Before you are set to drive, you now can create your own customized car and compete with your friends to design the best car for speed, the environment, design and more.
Once you get to your test drive, you will wind through rough roads in inclement weather and reach speeds of 65 mph. Even though it does catch some serious speed, it really isn't very scary because it feels just like you're in a car. Will your car pass the test?!
Height Requirements: 40 in

Fastpass or Single Rider is highly recommended
The Best Rides at Epcot for the Entire Family!
Soarin' Around the World
If you are going to check off the Epcot Best rides checklist, Soarin has to be at the top. Soarin' Around California was good (the first Soarin' Ride), but Soarin' Around the World is truly special. It gives you exactly the experience that you expect out of Epcot with video clips from all over the world, giving you a little bit of reality inside this fantasy park.
You will glide by every bucket list landmark from Sydney Harbor to the Great Wall Of China. You will be 40 feet in the air in front of an IMAX projection dome, making it feel as real as ever. It is hands down one of the best rides in Epcot.
Height Requirement: 40 in

Fastpass Reservation Highly Recommended
The Best Rides at Epcot for the little ones!
The Seas with Nemo and Friends
What's not to love about Nemo (and all his friends!)? Climb on a "clam-mobile" and cruise through some different scenes from the movie and actually will be on a journey to find Nemo once again. This ride is great for all ages and the best part is when you hop off at the end you will find yourself among some real fish in Disney's Living Seas' Aquarium. You will find sharks, stingrays, fish, and a coral reef.
No Height Requirement

Fastpass not necessary
Frozen Ever After
While we were a little sad to see the old troll ride in the Norway region of the park go, we can't deny how great Frozen Ever After is as a replacement. Hop into an ancient Norwegian vessel and embark on a journey through a chilly winter in Arendelle. You already know this ride will include all your favorite Frozen tunes that you and your kiddos will probably end up singing the entire day once you hear them. It also has great animatronics bringing all the characters to life.
No Height Requirement

Fastpass Highly Recommended. If you have a Frozen fan making this a must do, book as far in advance as possible.
Ratatouille: the Adventure Ride in
The newest addtion to arrive is the Ratatouille Ride. We have actually ridden on this ride at the Walt Disney Studios Park in Paris back in 2014. You shrink down to the size of  Remy in this 4-D adventure ride and encounter quite the adventure as you get chased across a kitchen with the sights, sounds and smells of Gusteau's Parisian restaurant. This is a little bit like Soarin' with a little more action involved.
Gran Fiesta Tour featuring the Three Caballeros
It is always a good time for a fiesta, especially when it comes in the form of a boat ride that your whole family can enjoy. The Three Caballeros are on the search for Donald Duck and it's pure entertainment. We love that this ride is actually a part of the World Showcase, making it a good break from walking around or an escape from the Florida weather.
No Height Requirement

No Fastpass
The Best Attractions Coming Soon to Epcot
Guardians of the Galaxy Attraction
Not too many details are available yet for this attraction, but it will be for sure one of the most exciting attractions to come to Epcot. This will be one the world's longest enclosed coasters and I am sure it will be simply amazing. The ride is set to open in 2022. This for sure will be one of the best rides at Epcot, if not the best.
Think our list of Epcot's Best Rides is Missing One:
Let us know in the Comments
Check out All of our Disney World Articles Here!
You Might Also Enjoy:
Epcot FastPass Complete Guide + Amazing Tips & Tricks!
Magic Kingdom Fastpass! Tips and tricks to help you choose the Best Rides
15 Incredible [Instagram Pics] of Disney's Best Epcot Restaurants
Discount Disney Tickets; Disney World Tickets on the Cheap!
Pin for Later – Epcot Best Rides & Attractions
What should I not miss at Epcot
Test Track, Soarin, Frozen the Ride and exploring all the countries at the International showcase
What is the biggest ride at Epcot
Currently, Test Track a fast paced car ride. However, in 2022 the new Guardians of the Galaxy coaster arrives and it will be amazing
Are there any big rides at Epcot
Test Track, Soarin, Mission Space and coming soon Guardians of the Galaxy
Latest posts by Mama Munchkin
(see all)