Today was a day the kids had been really looking forward to- we were heading to Paris Disney!! It's no secret that we are huge Disney fans. I grew up with Disney as my dad has worked for them pretty much my entire life. Now as an adult my own company works with Disney too… so our kids have also had the luxury of growing up with Disney just like I did.
To get to Disney we simply had to hop on the RER train to Chessy Station. I think it was about 30-40 minutes from the center of Paris. The train was a double decker so there was plenty of room and there were bathrooms on board as well making it the perfect way to travel with munchkins. We purchased the tickets right at the station… I think it was about $7-8 per adult and like $4 for the kids and the train dropped us right off at the Disney gates.
We had booked another Air BnB apartment and there was a shuttle right from the Disney gates/ Chessy station to the hotel. We had all of our luggage with us so our first stop was checking in.
The apartment was small but perfect for our stay. It was called Adagio Aparthotel. There was an indoor pool, the shuttle service to Disney and right across the street was a shopping center with tons of shops and restaurants called Val d'Europe. I highly recommend staying there.
After settling in we hopped right back on the shuttle eager to see the parks. It was so nice to relax again. Disney feels like home to us and without all the traffic, beggars and smoking the kids could roam free and we could all breathe a little easier. I had read some negative reviews about the parks in Paris before our trip. Travelers mentioned the parks being dirty and run down… the employees being rude and unhelpful. However, to me it seemed like things were pretty well kept and the employees well not overly happy like FL… they were not unhelpful.
After taking the obligatory photos upon entering the parks we headed to our first ride. We were all wondering what language the rides would be in and how it would feel to be at Disney and be a foreigner. The first ride we happened to come across was the Haunted Mansion… the kids thought it was funny that it had a different name- Phantom Manor. The ride was in French and their version was a bit more gory. The Haunted Mansion was not the only thing that had a different name. The Tomorrowland in Paris is called Discoveryland also. The kids were concerned how this might have affected the new movie "Tomorrowland" (heehee).
Next up was Big Thunder which was pretty similar to the versions in CA and FL.
After getting off that ride it started to rain. It was also very cold so we headed over to Pirates where they had an indoor line. Pirates was fun because it was the pre- Jack Sparrow version and again in French. It was still sprinkling when we got off but we decided to keep going. We ran into Indiana Jones which two of the kids were too short to ride. So, the older boys and I got in line. We were super excited 1) because Indie is one of my favorite rides in CA and 2) because this version was a roller coaster. However, it was a major disappointment. It was very slow and short even though it had a loop it felt more like the Goofy Coaster 🙁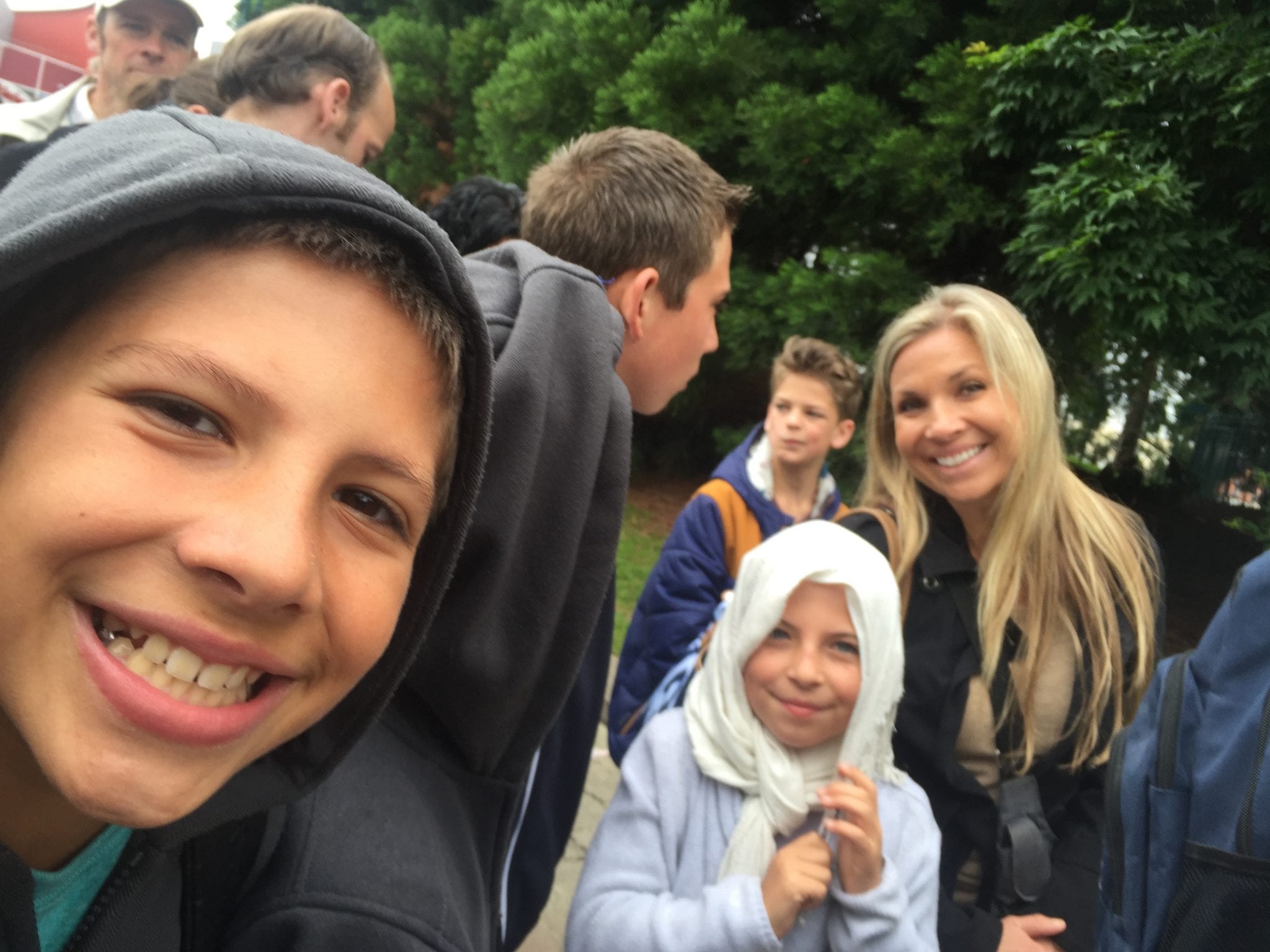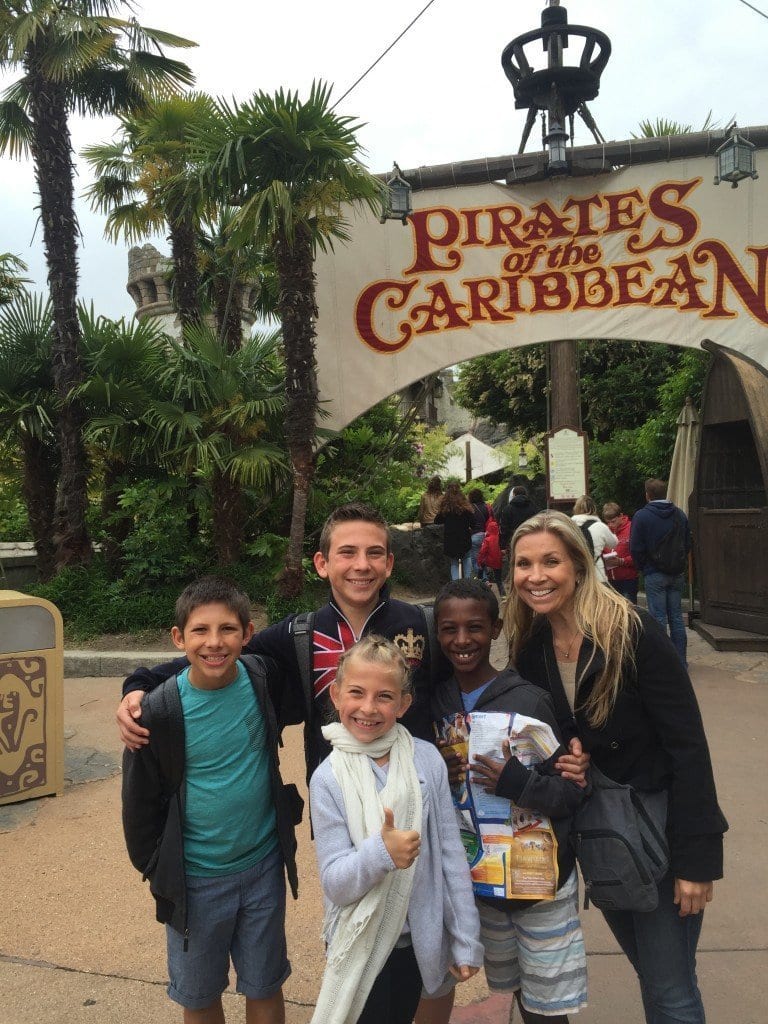 Next up we explored the Alice in Wonderland labyrinth… the kids honestly had so much fun just running around in the rain through that maze. Then we hopped on Small World. I think that may have been my personal favorite. The kids were wondering how they would present America… I told them Hollywood and cowboys and I nailed it! They also represented all the individual European countries in much more details than the versions we have in the states.
We thought about going into the Studios park next door but we were getting tired of the rain so we decided to head back to the apartment… good timing bc as we were waiting for the shuttle the rain really picked up.
We changed into dry clothes and went across the street to check out what they had to offer at the Val d'Europe. It was about 6pm and we thought we would sit down for dinner but none of the restaurants opened until 7:30pm so we walked around the mall and outlet area. Both are nice but the outlet was high end and had some great shopping. We explored until it was time for the restaurants to open up then we headed to a delicious pasta restaurant called Mezzo di Pasta which was probably my favorite dinners in Paris. I think it might have been the only real dinner we had during our stay in Paris actually… partially bc most restaurants had outdoor seating next to tons of smokers and partially bc we were always ready for dinner too early for the French. I think they must typically eat dinner around 8:30-9pm. That's my bedtime- ha!!