"This post is sponsored by Everywhere Agency on behalf of OshKosh B'gosh; however, all thoughts and opinions expressed are my own." 
The 1st day of Kindergarten can be as daunting to parents as it is to our little ones. I should know as I am gearing up to go through it for the 5th time. Thankfully, over the years I have learned a few tricks that make the 1st day of kindergarten a little easier on everyone. Today OshKosh B'gosh partnered with me so that I could share some of my best tips with you. Check them out and let me know if you have any to add. PS- don't forget to check out the coupon at the bottom of the page to receive 20% OFF your OshKosh purchase! (details below)
The Best 1st Day of Kindergarten Tips + B2S Savings!!
The first day of school is a BIG DEAL especially when it involves a kindergartner. It marks a major milestone for your child and it involves us parents letting go so your child can gain more independence while simultaneously forcing the family unit to adopt a new lifestyle scheduled around school drop-offs, pickups and holidays. But, as scary as it might sound it can actually be a pretty fun event for all involved if you follow my top 5 1st day of kindergarten tips below.
1st Day of Kindergarten Tips
Make the 1st Day Special– I find that a little Back to School shopping can really help a child get excited about going to school by giving them some added confidence. It also adds an element of excitement. I still remember showing my mom how much higher I could jump with my new shoes on- do you?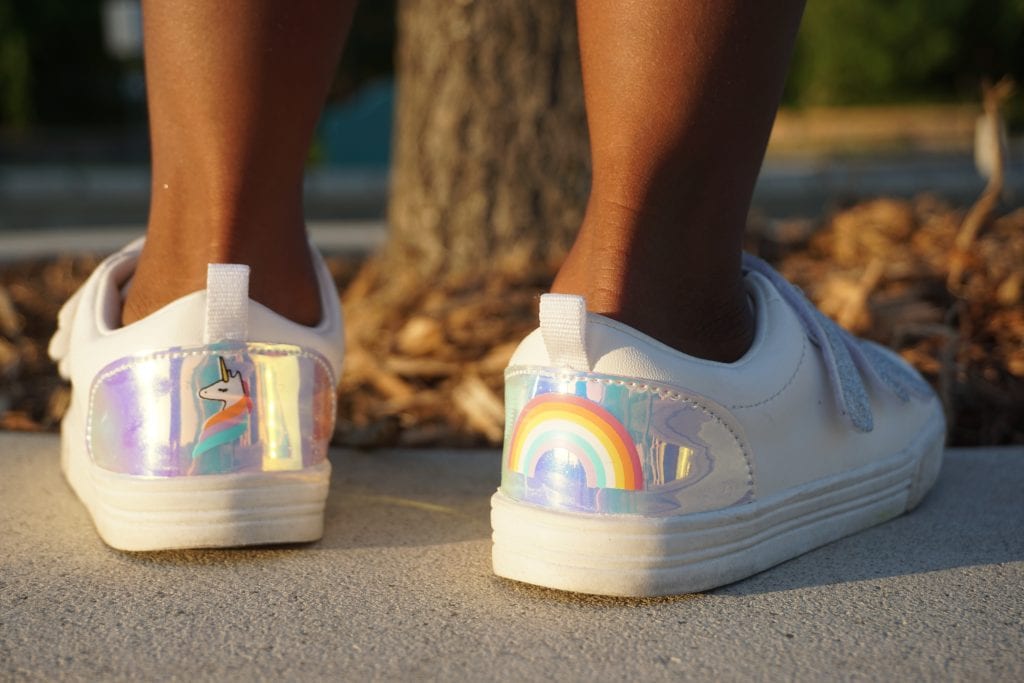 One of the keys to Back to School Shopping with Kids is to actually have them take part in the process either by taking them with you to the store or making choices with you online.
When kids get to pick out their own clothes they feel more comfortable in it which means less early morning resistance. It also helps kids express their uniqueness by choosing designs and patterns that resonate with them. OshKosh must have caught onto that and so this year they came out with their "Be Yourself" line which inspires kids to embrace their individuality and we LOVE it!!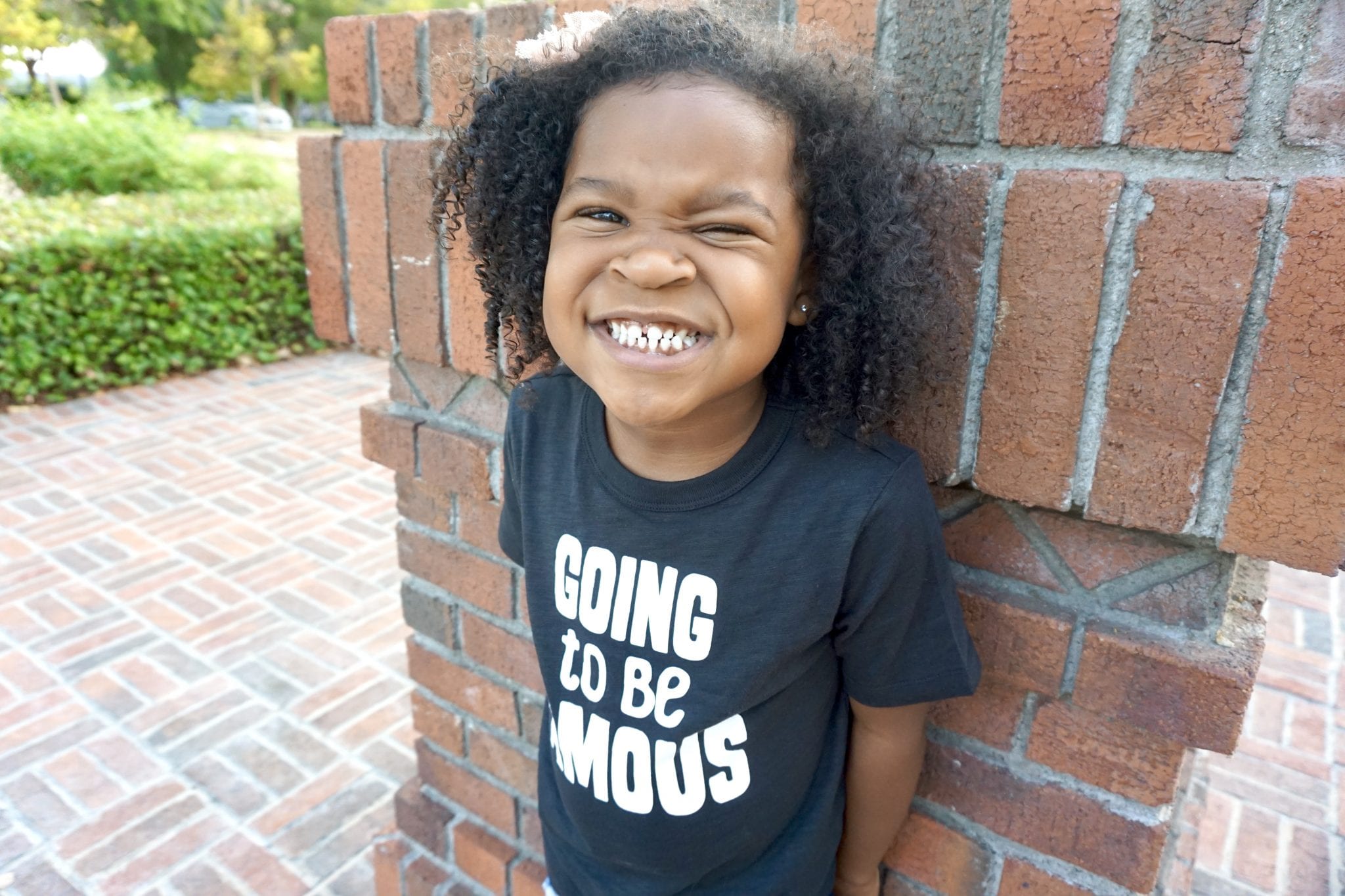 I love shopping online at OshKosh with Shea, Ella, and Olivia. Its been my go-to for kids fashion for ages. You can check out this post here about how we built Ella's capsule wardrobe for school which saved me money or check out some of my favorite photos of Liv in overalls here. I'm partial to that last one because I grew up wearing OshKosh overalls.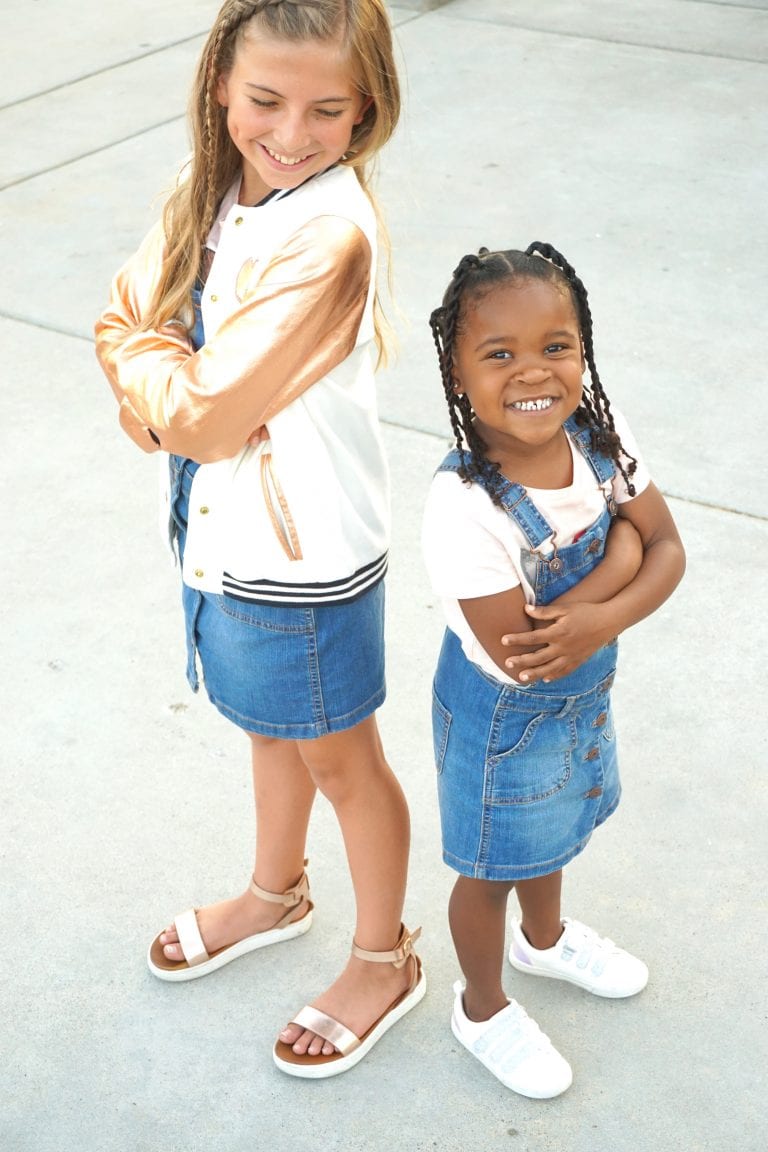 OshKosh always has a huge selection of mix and match styles. Plus, their quality + prices can't be beaten! I love that when I buy something for Ella I know it will still be in great shape when she passes it down to her sister. Another reason I love OshKosh is that all of the materials are so soft and comfortable while still being super stylish. It's a win/win!
To find an OshKosh store near you check out their Store Locator or shop online at OshKosh B'gosh here.
Visit the School– To help your child set appropriate expectations I highly recommend taking them to the campus for a visit. Letting them get familiar with their new surrounding helps alleviate unnecessary fears. Some campus' will allow you to walk onto them and peer in the windows. Others might be closed up but even getting a sense of the drop-off loop and where the office is can be helpful!
Role play with Your Child- As parents, we often forget to help our children understand how the need to act in a new environment. I find that role playing can be really helpful. I have my child put on their backpack and we practice saying hello to our new teacher and classmates. We practice asking for help, taking turns on swings etc… It really helps your child have a headstart on their first day.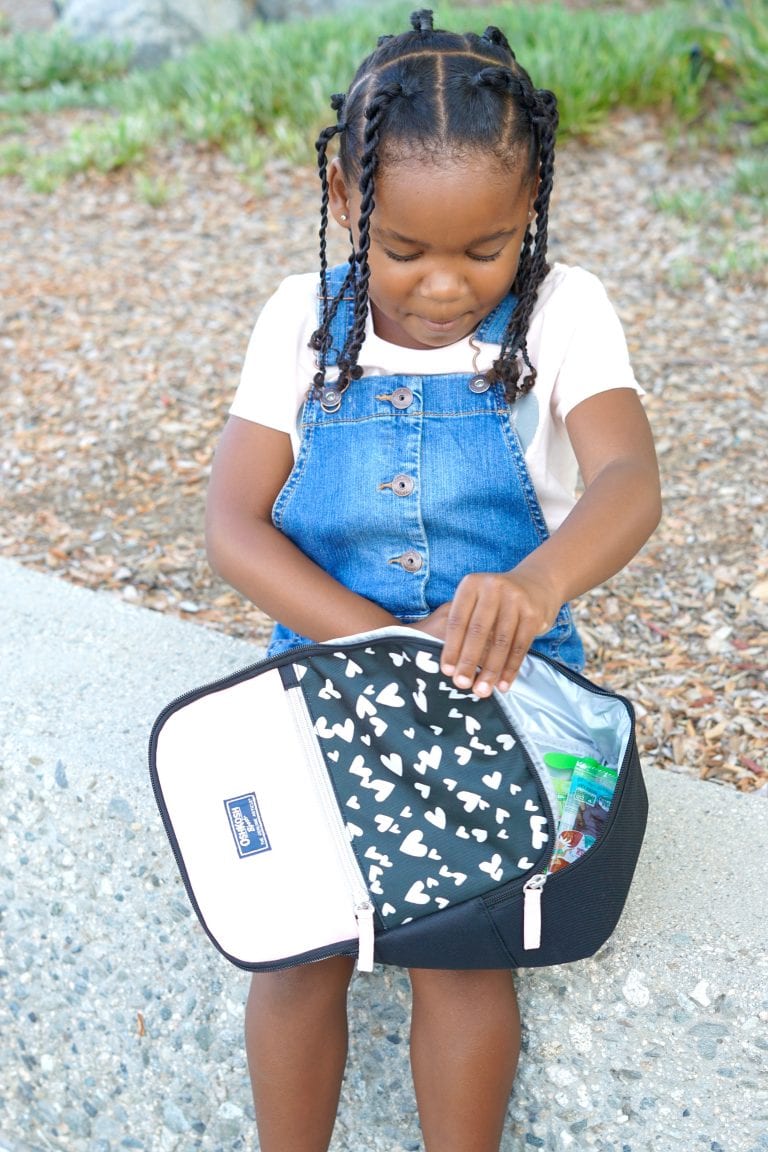 Speaking of backpacks how adorable is this partnership between Oshkosh & Skip Hop? Liv picked this gorgeous pattern out all by herself online with me and she was so excited when her package came. I was pretty stoked too because I can tell the quality is fantastic!!
Set a School Routine- I'm not sure how it works in your house but we love to soak up our summer nights which means bedtimes get extended. However, when school starts to come around we begin to re-adjust. In the past, I have made the mistake of waiting until the weekend before school starts to adjust their bedtimes but that hasn't worked out very well.
So, now I begin adjusting about 2 weeks prior. We knock off 30 minutes every couple of days. With this slower transition the kids are able to adjust more smoothly and by the time school comes around they are ready to go.
Don't Rush! The last thing anyone wants is to be late on their first day and that rings true both at drop off and pick up. My suggestion would be to leave plenty of wiggle room. You want to account for the extra traffic heading to school, time to take those adorable first-day photos with the teacher and you want to make sure you have time to let your child settle in before you need to leave.
Same thing at pick up. Take the time to let them show you their new playground or classroom. They will have a sense of pride showing you what they learned and you can pick up on the things that are important to them and have something to talk about later.
Liv's 1st Day of Kindergarten Outfit
Ella's Picks for Back to School Fashion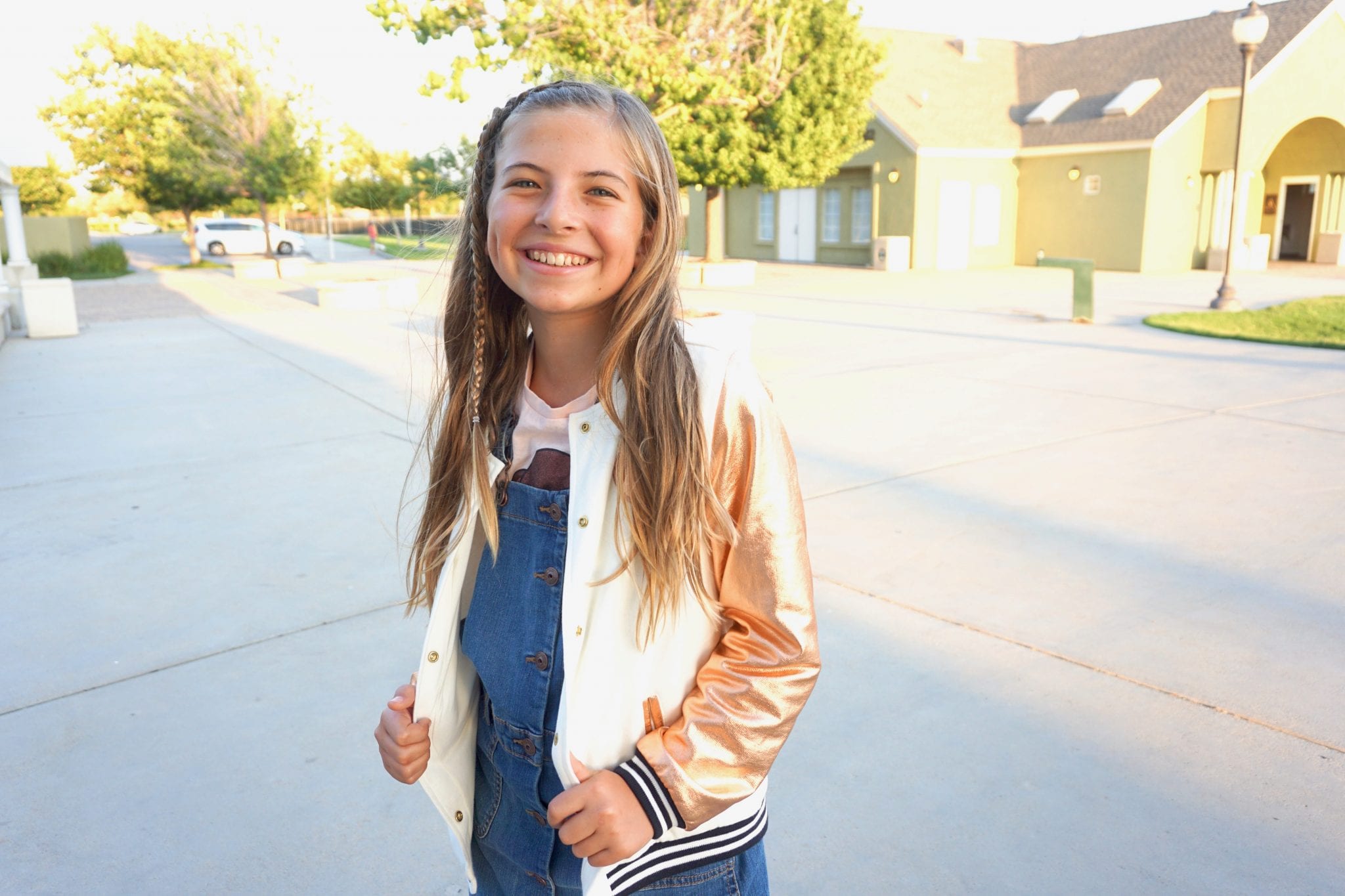 Save 20% when you spend $40 on Kids Fashion for
Back to School at OshKosh B'gosh
Use these Coupon Codes in-store or online to save 20% off $40 or more. Retail Code: 037958 (for in-store use) or Online Code: OKBG3478.
Giving Back
You know we are big on giving back so we were so pleased to learn about OshKosh B'gosh launched  The B'gosh Jeanius Campaign back in 2014. This annual campaign allows OshKosh to support their customer's local communities with donated clothing and school supply needs. They now have partnered with  DonorsChoose.org, Delivering Good, OshKosh Moms, families and friends to collect over $1.5 million and distribute more than 110,000 articles of clothing to
impact the lives of over 300,000 students.
You can join the effort too by donating a new pair of jeans in-store or making a cash contribution in-store or online from July 24 to September 12 th . For more information visit oshkosh.com/bgoshjeanius
OshKosh also encourages you to share your "shop to give style" on social media using #BgoshJeanius.
WIN SUPPLIES FOR YOUR SCHOOL!!!
Share your favorite OshKosh B'gosh First Day of School Outfit with OshKosh on social from 8/27-9/8 by tagging your photo with #firstdaysweepstakes to win school supplies for your school/classrooms. There will be 1 grand prize winner ($10K in school supplies and $500 OKB gift card) and 10 runner-up prize winners ($1K in school supplies and $100 OKB gift card).
Do you have a good back to school tip to share?
Leave it in the comments below to help other readers like yourself. THANK YOU!!
"This post is sponsored by Everywhere Agency on behalf of OshKosh B'gosh; however, all thoughts and opinions expressed are my own." 
Latest posts by Mama Munchkin
(see all)