Summer is forever! Well… at least it can be in these amazing indoor water parks. One of my husband's favorite things is a waterpark (he will never grow up), and the one thing he loves, even more, is an indoor waterpark so that he can enjoy them all year long. We've experienced our fair share of these waterparks, and they have exceeded our expectations by a crazy amount. It might seem like a bit of a twisted concept because you associate water parks with the sun beating down on you, but once your family visits one of these indoor water parks it will all make sense. Gone are the days of too hot or too cold- in these indoor waterparks, it is always just right. They also all do an amazing job of accommodating the whole family with kiddie pools, water basketball courts, thrilling rides, lazy rivers, and wave pools.
20 Indoor Waterparks that are Out of this World!
Klondike Kavern Wisconsin Dells, WI-
The first stop on the list of indoor waterparks is the Klondike Kavern in the Wisconsin Dell, and as it can get pretty cold up in those parts I think they know just how to bring the fun indoors. It is a huge park that even has a raft ride indoors for extra thrills. It's not all for the kids though, there's plenty for moms and dads including a hot tub and a swim up bar with delicious cocktails. Check Current Prices Here!
---
Kalahari Water Park Sandusky, OH-
Kalahari has a few indoor waterparks throughout the United States, but we will focus on the Sandusky location for now. The water park is Africa themed throughout with the famous Cheetah Race 4 lane slide being a favorite. Make sure to check out the Rippling Rhino for a slide the whole family can raft on together. Something kind of cool about this water park is they have an outdoor portion that open when the weather permits, so you really get the best of both worlds. Check Current Prices Here!
---
World Water Park Edmonton, Canada-

We head out of the states with this top indoor water park and into the icy tundra of Canada. On our wat to Banff, my kids wanted us to take a detour to this waterpark and I was almost convinced since the World Water Park is literally inside of a mall! How crazy is that? There is a zipline, over 20 slides, and a classic wave pool. Check Current Prices Here!
---
Silver Rapids Indoor Water Park Kellogg, ID-
You don't need the ocean to catch some good surf, take advantage of the really cool wave pools here at the Silver Rapids Indoor Water Park in Idaho. They will even provide you with someone on one lessons if you're a newcomer. Like many of the indoor water parks on this list, the roof is clear so it will still let in all those sunrays no matter what the weather. Check Current Prices Here!
---
Badeparadies Schwarzwald Titisee-Neustadt, Germany-
Germany is known for their chilly winters, but no matter what time of year you visit you can go to Badeparadies Schwarzwald. It's an indoor water park with all the traditional things you would expect, but with a bit of a German touch. The park is divided into 3 sections; the general park with 20 slides, a 16+ area, and a clothing optional section. Check Current Prices Here!
---
Schlitterbahn Indoor Water Park Galveston, TX-
When in Galveston, you've got to experience the Schlitterbahn Indoor Water Park. I have no explanation for the name, but everything inside the park looks like a ton of fun! You can even boogie board on the boogie bahn or tube down the quarter mile long crazy rapid filled river. The biggest bonus is that the roof is retractable, so when the weather is nice it transforms into a normal water park. This is why this is a stop on our indoor waterparks list!
---
WaTiki Waterpark Resort Rapid City, SD-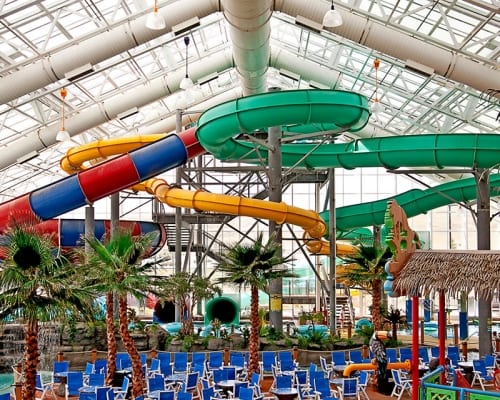 WaTiki Indoor Waterpark is the largest indoor waterpark in the Dakotas! There is over 30,000 square feet of water park fun connecting to four separate hotels. The fun comes from a lazy river, an "oasis hot tub," and a "sink hole," but don't just take our word for it. They offer even more than this and it's all well worth checking out.
---
Great Wolf Lodge Anaheim, CA-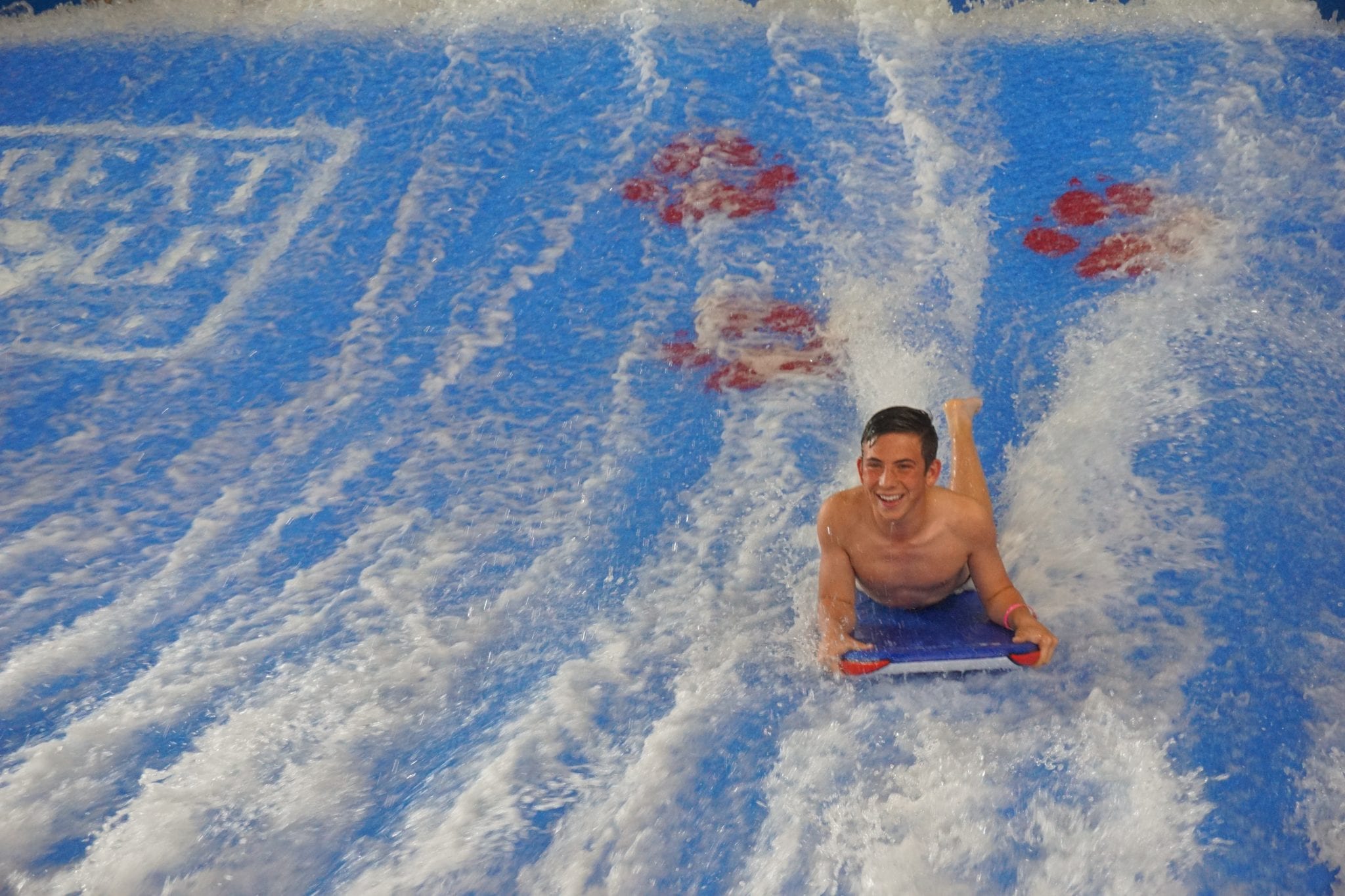 This indoor water park is where our family got the first taste of what a cool experience this can really be. Our kids love that there's a wide variety of things to do and mostly that mom doesn't make them wait a single minute for their sunscreen to dry… because they don't need any! Although Southern California's weather is pretty nice all year round, it's still nice to escape the heat. We love how clean and modern this water park is. All the Great Wolf Lodges across the United States just really know how to make your stay special and create memories your family won't soon forget. Check Out My Full Review Here
---
Forest Hill Aquaboulevard Paris, France-
Your dream Paris vacation may not have originally included any indoor waterparks, but I am here to tell you if you've got munchkins running around you have to add it to the bucket list. Change the pace up from your typical French inspired activities to experience the tropical gardens and water activities at Forest Hill. There's a lifesize whale replica that has a slide inside, talk about unique!
---
Tropical Islands Krausnik, Germany-
Back to Germany again, this indoor water park is decorated absolutely perfect. You will step inside from the cold into lush oasis. Between the plants and the facades of ancient temples, you will completely forget the weather outside. There's a thrilling water slide that is actually one of the tallest in Europe, a beach area, kiddie pools, and lots of room to lounge and lay out.
---
Timber Ridge Lodge and Water Park Lake Geneva, WI-
There's more than just an indoor water park to experience at the Timber Ridge Lodge in Lake Geneva. You will find plenty of varying family activities going on from movie nights to arts & crafts. There's also an arcade for those teenagers who want to pretend they've outgrown the days of water slides and splash parks. As for the actual water park part of this place, it's pretty spectacular. One of their newest additions is a water slide with light features and the option to choose your own music to rock out to you as you fly down the tube.
---
Boyne Mountain Resort Boyne Falls, MI-
The Boyne Mountain Resort is home to Avalanche Bay, Michigan's largest indoor waterpark hotel. This indoor paradise is open year-round at a sweet 84 degrees and features a lazy river, a rip zone surf simulator, and an arcade! Their signature is the Splasherhorn which drops 800 gallons of water every 15 minutes!
---
Beijing National Aquatics Center "Happy Magic" Chaoyang Qu, China-
This indoor water park is definitely one of a kind. It's completely futuristic and meant to make you feel like you're under the sea. On top of playing in the water yourselves, at Happy Magic you will be able to watch incredible aquatic performances. The inside is full of fun rides and great spots to relax, but don't miss the glowing outer exterior.
---
Sahara Sam's Oasis West Berlin, NJ-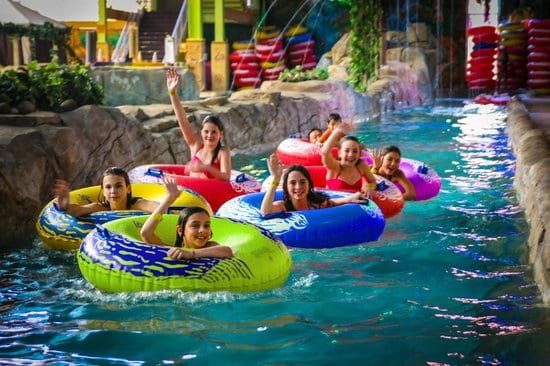 This park is a little smaller than most on this list, but it is jam packed full of fun water activities. There are 11 attractions that vary from a lazy river to mat racing.
---
Splash Lagoon Erie, Pennsylvania-
You can feel like you're in the tropics all the way from Pennsylvania at the Splash Lagoon. This water park has plenty of bigger slides to keep older kiddos and kids at heart entertained, but there is also a lot for little ones to do.
---
Wilderness at the Smokies Sevierville, TN-
Tennessee is absolutely beautiful and the surroundings of this indoor water park are no different. It is about 20 miles from the Great Smoky Mountains National Park and offers suites and villas amazing for groups. Some of the villas can even hold up to 17 guests. The rooms aren't the only great thing though, this water park offers plenty to do from thrilling slides to swimming pools. Check Current Prices Here!
---
Great Wolf Lodge Colorado Springs, Co-
Like we said Great Wolf Lodges are great indoor waterparks, and that's why two of them have made it onto our list. They have mastered the art of having a weatherproof indoor water park connected to a beautiful lodge resort. This park offers many thrilling rides and challenging water themed activities! Try the "Alberta Falls" as you ride in a tandem tube down four stories, or dare yourself to cross the "Big Foot Pass" without falling off their floating lily pads!
---
Falls Avenue Resort Niagara Falls, Canada- Niagara Falls
might be on your bucket list already, but I bet this water park isn't just yet. This indoor water park runs between a couple of different resorts and is 3 whole acres. Moms and dads will appreciate the adults only jacuzzi and the beautiful views from almost every spot in the park.
---
Aquatopia Indoor Water Park Tannersville, PA-
This indoor water park has a water coaster! Who doesn't want to experience that? One thing that we really appreciate as a family is that this water park has 7 pools to just swim in. The water slides are obviously a big part of the fun, but just taking a swim can be equally amazing! Check Current Prices Here!
---
Evergreen Wings and Waves McMinnville, OR-
Wings & Waves is an indoor, all-season water park that is also home to a fascinating air and space museum. There are ten different water slides for people of all ages and a 91,000-gallon wave pool. One of the slides even offers the opportunity to slide down through a real Boeing 747!
---
You might also enjoy
The Best Waterparks in Southern California- A Complete Guide
Maya Park- One of the Best Waterparks & Cruise Excursions
The Grand Wailea – Amazing Water Slides + World's Only Water Elevator
Pin for later – 20 Indoor Waterparks that are Out of this World!