With the airlines charging an arm and a leg for baggage these days more and more travelers are looking for ways to decrease their load. Try these incredible lightweight luggage tips for your next trip and save both time & money. Plus, find out what travel products I can't live without!
3 of the BEST Travel Products We've Ever Purchased + 3 Secrets to Lightweight Luggage
1 EZ Packing Cubes
These packing cubes totally changed my travel packing organizational game. I honestly tell EVERYONE I know that they need to buy these if they travel often or if they travel with kids. Packing cubes not only keep everything neat and organized but they also help you squeeze much more into your suitcase, they make packing and unpacking at your place of accommodations a breeze, they help separate clean and dirty clothes keeping everything fresh, and they come in super handy when your luggage is overweight and you need to make adjustments. You can view my full review + video on EZ Packing Cubes here to see why this brand of packing cubes is my favorite. You can also check prices on similar packing cubes here on amazon.
2 Makeup Junkie Bags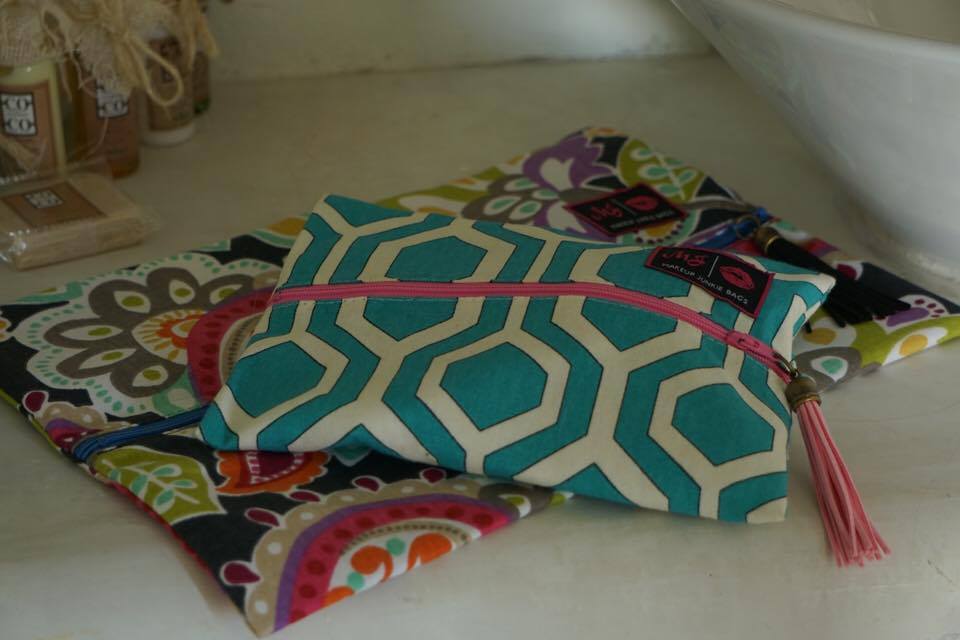 These are a new addition and I am in love with their gorgeous designs + versatility. I can't tell you how many makeup travel bags I have owned but not a single one of them delivers the way Makeup Junkie Bags does. First, off the bag lays flat on the counter so the bag can't tip over. I can't even tell you how many powders I have lost because my makeup bag tipped over and they came crashing down onto the floor and completely shattered the powder inside. The other reason I love these bags is because the have a high-quality zipper that allows you to completely open the bag and see all the contents inside. No more digging into the black hole to find your eyeliner 😉 And, lastly the inside of these bags is made of a waterproof fabric ensuring no liquids spill out and also make them super easy to clean.
The other thing I love about these bags is they are incredibly versatile. Like on my recent trip I used the larger bag on our tour to put the wet bathing suits in after we changed. It get the rest of the bag clean and then I was able to hang the suits properly once we got back to our resort. It made me realize these would be perfect for moms with diaper bags too!
The funny thing is when I went to their site I noticed they make bags for moms too, turns out they realized how beneficial they would be for mamas as well. I can't wait for the next baby shower I am invited to so that I can gift someone these awesome bags. The mom prints are adorable!!!
3 Grand Trunk Toiletry Bags
My husband was in need of a new men's toiletry bag and after reading a ton of reviews I gifted him with these two from Grand Trunk. One is super compact and great for weekend stays because it is lightweight and takes up very little space.
The other is for our longer trip or when he is sharing the bag with our boys. The larger men's toiletry bag has multiple compartments, easily hangs with its attachment hook and has a LED light and mirror which came in handy in Tulum where our bathroom had very little light.
He loves the way these bags look (I have to agree they are really hip and much more stylish than most toiletry bags on the market) and he also loves the elastic bands that can hold razors and/ or toothbrushes right on the front of the bag and I love that, the exterior of the bag is water repellent and easy to clean, the zippers are waterproof (makes them last longer), and the inside of the bags are completely waterproof preventing any crazy spills from seeping out.
Learn more about Grand Trunk Bags and Travel Gear here.
+ 3 Secrets to Lightweight Luggage
1 Roll Everything
The first thing I learned when I became a travel writer and was in that space is that travelers ALWAYS roll their clothes when they pack. I remember the first time I tried it. I couldn't believe how much space it saved, not to mention my clothes were much less wrinkled upon arrival to my destination.
2 Heavier Items in Your Carry On
Checked bags are weighed but the majority of major airlines do NOT weigh carry on bags. This is why we love packing our jeans, extra shoes, and toiletries that are under 3oz straight into our carry-on bags. I have been told by many ticketing agents that jeans are one of the heaviest things people pack without realizing it. So, my advice is to pack the fewest amount of jeans possible.
3 Capsule Wardrobes
I have mentioned capsule wardrobes previously here, but basically, a capsule wardrobe is a set of clothes that can interchangeable so you can make many different outfit combination out of a few clothing items. This technic saves cash when you are purchasing clothes for a new season but it also makes packing a breeze.
Here is a great example of how to pack using a capsule wardrobe that I found on Pinterest-
Watch Ella's Packing Tutorial using the tips above + more-

Do you have a Favorite Packing Tip, Hack or Product that ensures you always have lightweight luggage?
Pin for later-

You may also like these posts:
*I received some of the products featured complimentary in exchange for my honest review. All thoughts and opinions expressed above, as always, are 100% my own. Thank you for supporting Global Munchkins. This post may contain affiliate links which won't change your price but will share some commission.