We want to thank Hunter Fan Company for sponsoring this post.
There really is no way around it, travel can be expensive. However, there are a few ways we save money to afford travel and today we are sharing our top 5 in hopes that it might help you travel longer and further next year.
5 Ways We Save Money to Afford Travel
1 Be More Energy Efficient with Hunter Fan Company's Line of SIMPLEconnect Fans
We have become kings of saving money by making our home more energy efficient. At first, we became more conscious of our thermostat settings (76 during the summer and 68 during the winter ), then we began installing LED lights around the house. This past summer we took it a step further and opted to participate in an energy savings plan that our electricity company offered which helped us save about hundred dollars a month. And, most recently we installed a ceiling fan from Hunter Fan Company's line of SIMPLEconnect wifi enabled smart fans.
These NEW SIMPLEconnect ceiling fans from Hunter allow us to sync our ceiling fans with our smart thermostat to keep our home energy efficient. The Hunter fans are wifi enabled smart fans and are compatible with both Apple HomeKit & Amazon Alexa too! Installing our SIMPLEconnect fans has helped us save even more on our electricity bill because we are able to put the fans on a schedule so they can start cooling the house before we arrive home versus leaving the fans running all day long. We also love that we can set the LED light to come on at a certain time each day so that when we are out of town it appears that someone is always home. Of course, the ability to dim the lights and turn the fan on and off right from your phone is also incredibly convenient too. And, if you prefer not to use your phone you can use the included Hunter fan remote control. Another reason I LOVE our new fan is it's sleek and stylish fitting in perfectly with our bedroom decor. And, finally, it is super quiet while being amazingly effective. It's a very powerful fan, perfect for our high temps in Southern CA.
Learn more about Hunter SIMPLEconnect Ceiling Fans or purchase one by visiting their website here.
2 Cancel Satellite or Cable
There are SO many options when it comes to entertainment these days that canceling satellite or cable really isn't that difficult. And, it can literally save you over a hundred dollars a month. We have found that switching to Amazon Prime allows us to save money while still giving us access to tons of movies, music and tv channels on demand. Of course, the two-day FREE shipping on millions of items sold on Amazon is pretty sweet too!! If your kids have tablets that is another great substitute for cable, they are usually loaded with shows and activities and BONUS you can take them with you while you travel too!
*Even if you don't want to get rid of cable I still suggest you call your cable company and tell them you are thinking about doing so. They may offer you a better deal on your cable in order to keep you as a customer.
3 Save On Groceries
As a large family, we have to be smart about our grocery spending. It just adds up so fast! Thankfully, I have learned a few hacks that have helped us cut down our monthly food bill quite a bit.
The first is meal planning. Every Sunday I hop onto Pinterest and look through my recipe boards to create our meal plan for the week. Having a plan helps us from spending money on eating out which is way more costly. Another hack of mine, that I learned during my year as a vegetarian, is to reduce the amount of meat we eat. This one is a double bonus because we all feel much better when we reduce our meat consumption too. (click here to see some of my favorite vegetarian meals) The next thing I like to do, after making our meal plan for the week, is going through my pantry before heading to the store, that way I only buy what I really need.
I do most of my weekly grocery shopping at Super Target so we opened a Target Card which helps us save 5% on all of our purchases. I also try to be good about taking advantage of the Target Cartwheel offers as well.
4 Get Rid Of Your Land Line
If you have cell service consider getting rid of your landline. This simple tactic can save you $25 a month on average!
5 Analyze Spending Habits
Lastly, in order to save money to afford travel, we like to analyze our spending habits each month. Mint.com makes this super easy and it really helps us stay on track. We like to set budgets on their site and schedule alarms so that we are notified if we go over our limits.
Once we realized where we were spending our money, we realized where we could save. For example, we started opting for FREE outdoor adventures near our hometown instead of expensive dinner & a movie family night outs. Huge savings + Healthier too!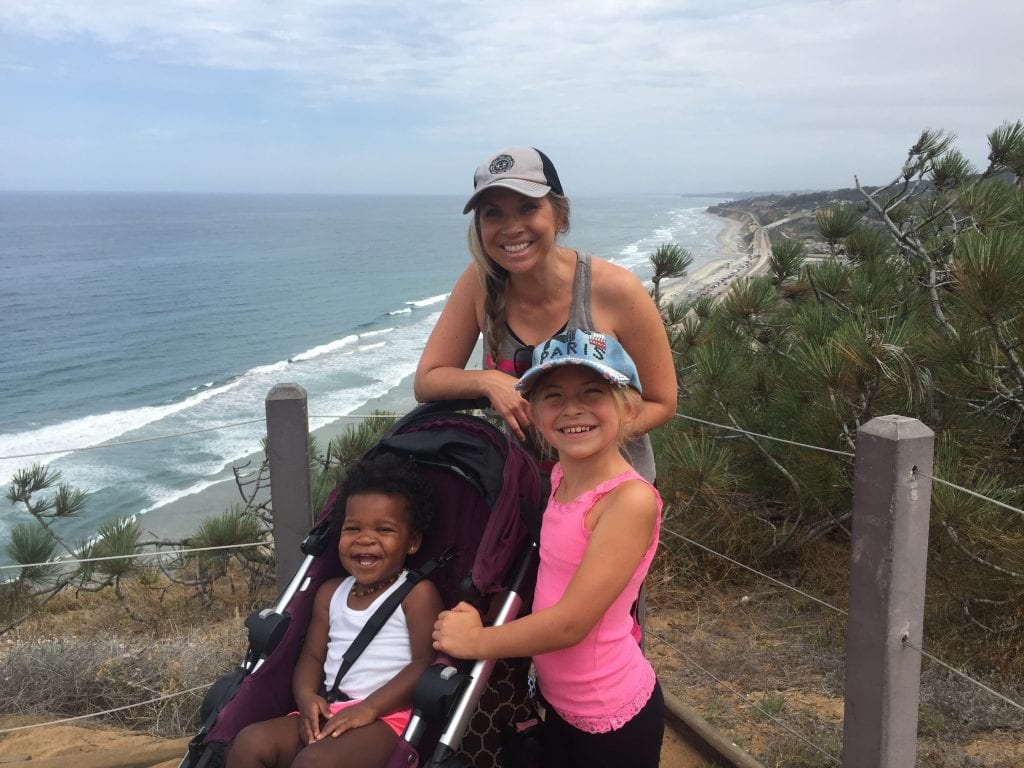 How do you save money to afford travel?
Looking to Earn a Little Extra Money From Home?
Check out: 9 Flexible Stay at Home Jobs
Why does travel matter? Check out this great article by Kim at Stuffed Suitcase to learn why she thinks travel is important for your family.
Pin for later-
*Disclosure- This is a sponsored post in partnership with Hunter Fan Company. All thoughts and opinions expressed above, as always, are 100% my own.