I get asked ALL THE TIME how we afford to travel the world with our five kids. So, here are my BEST Money Saving Tips for Family Vacation.
Money Saving Tips for Family Vacation
Save on Travel
You would be surprised just how easy it is to utilize money saving tips for family vacation. The best part is these tips do not hinder your experience at all. In fact, I am going to go out and say that these money saving tips for family vacation actually ENHANCE your trip.
Stay at a vacation rental- one way to cut down costs easily and effectively when traveling with kids or in a group is to check into a vacation rental. There are beautiful, luxurious private homes & villas available almost anywhere you want to go. Staying in a vacation rental allows you to cut costs because it is way cheaper than staying in multiple hotel rooms so that you can fit everyone, you can also eat some of your meals in which saves cash, and you usually get a local host who can help with travel planning. Plus, the extra space keeps arguments and fights at bay, you can filter for things like a pool to cut activity costs and many have laundry facilities so you can save on baggage. If you rent a multi-room house or villa you also can score added alone time with your spouse! (Check out my article on Tripadvisor regarding why vacation rentals are awesome for families here). We've had great success with AirBnB both domestically in the states and internationally. In fact it is one of the ways we afforded our big Europe trip. Read about our experiences in Europe here.
Contact Hotels Directly- another way to save money is to contact hotels directly and speak to a manager. Often times hotels can make exceptions to their official policies and allow more children in the room, providing a rollaway bed, or a porta crib. You just simply need to pick up the phones and ask. You can also ask for a mini fridge to be brought up to your room and/ or for your mini bar fridge to be emptied out too! Trust me those sweets can be tempting 😉
Eat Some Meals In- whether you are staying in a vacation rental or a hotel you can save a ton of money by eating at least some of your meals in vs going out. If you are in a rental aim to eat breakfast in, pack some lunches and snacks and possibly even a dinner or two. It will save you a ton of money and the added the downtime allows kids to unwind. Not to mention it's much nicer on your waistline.
Grocery Stores- grab lunch or dinner at a grocery store, many of them have hot dishes ready to go like soups, rotisserie chicken and more. You can also pick up pre-made sandwiches, sushi, and cheese trays to take to a local park for a picnic.
Choose Your Hotel Wisely- I almost always use Tripadvisor to book my hotel because it allows me to filter through a ton of awesome hotels and find out which ones are family-friendly. Then I go one step farther and filter for hotels that offer freebies like complimentary breakfast, wifi, airport transportation etc… This way I can find the lowest priced hotel that includes the best amenities which allows me to get the biggest bang for my buck every time.
Stay Outside the City Center- another easy way to save is to look outside the city center when booking a hotel or rental. Prices are often significantly lower. Just be sure you look into pricing for transportation whether it is public or you will be renting a car to ensure the lower price is worthwhile.
[bctt tweet="The BEST Money Saving Tips to Help You Take that Dream Vacation. Save on travel + tips on saving for travel too!" username="globalmunchkins"]
Book Cheap Flights- flights are most likely one of your biggest expenses when it comes to traveling as a family. Especially, if you are heading overseas. I have written a walkthrough guide of exactly how I book the cheapest flights every time we travel that you can find here.
Research Before You Go- they say that the anticipation before you leave on a trip actually provides MORE happiness than the actual trip itself. How crazy is that? So researching your trip before you go not only saves you a ton of cash but it makes you happy too! So, schedule in time to scour Pinterest, Instagram and Tripadvisor to find the very best things to do with kids in your destination. Make sure to check for fun FREE things to do, as well as research which attractions you can save by booking advance tickets for.
Contact local CVB's- many local convention and visitors bureaus offer discounts to local attractions. Simply do a search in google for "convention and visitors bureau in YOUR DESTINATION" and give them a call.
Use Credit Cards & Miles Accounts- it really isn't all that hard to learn, at least the basics, of travel hacking and using credit cards and miles accounts to your advantage. I have an excellent article, "Beginner's Guide to Frequent Flyer Miles" here to help you get started. Many credit cards also have perks that deal with travel and can offset costs such as free baggage, free auto insurance and/ or no foreign transaction fees. Make sure your kids are signed up for their own air miles accounts too.
Travel the Shoulder Season- have you heard of the magical time between off-season and peak season? It's called shoulder season and it is the absolute BEST of both worlds. You get good weather, cheaper rates on airfare, hotels, and activities. Plus, the crowds are always way less too! Examples include visiting Hawaii, Rio and Ireland March- April. Checking out Rome in May before the summer crowds arrive. And, heading to Riviera Maya either in spring or mid-November.
Carry On Only- almost ALL airlines charge you baggage fees these days so one way we save is by packing carry-on only. A few Christmas' ago we gifted all of the kids their own carry-on bags and ourselves packing cubes (see what those are and why you NEED them here). These gifts turned out to be game changers. We are now pro-packers and can easily pack for 2 weeks in our carry-on luggage. It can be done! If you must pack a large suitcase at least condense it down using the tips in my video below.
Skip Tourist Traps- this one sounds logical but you would be surprised how many vacationers I run into that are wasting tons of money at tourist traps or buying useless souvenirs. To prevent this do your research and talk to locals. That is how we found better food at 1/3 the price while visiting Piazza Navona in Rome. The local girl at the gelato shop informed us that there was an excellent restaurant around the block, outside the Piazza. Also, checking Yelp and Tripadvisor is helpful too. Or ask a travel blogger like me by leaving a comment. I LOVE helping readers with tips 😉
Get a Ride to the Airport- leaving a parked car in an airport parking lot or having to pay for a shuttle can be costly. Try seeing if a friend will take you and pick you up instead. This works especially well when you have a friend that lives close to an airport and allows you to leave your parked car at their place 😉
Watch for Deals- one way to ensure an amazing price is by being flexible and traveling where the deals are. For example, we went to Bali on a Living Social deal. We paid $2,300 for the 2 of us to stay for 2 weeks and it included roundtrip air, lodging at two 4-star resorts (our private villa in Ubud even had a private plunge pool!), ground transportation and more. We also scored crazy cheap flights to Australia (>$450 roundtrip from LAX) and Prague ($400 roundtrip from LAX). So, be savvy and keep your calendars free and your eyes open.
Save on Transportation- try to walk as much as you can while traveling. Not only does it save you money but it is also a great way to take in the sights and burn off some of those extra calories from indulging on all the yummy food. The next option is to take public transportation. Many popular destinations have amazing public transport systems. Almost all of them better than Los Angeles so at least look into them before renting a car. And, don't forget to download Uber and/ or Lyft before you go. Often they are cheaper, nicer and more reliable than waiting for a taxi.
Save for Travel
The other half of the equation is knowing how to save in everyday life in order to have cash for your vacation. Here are a few money saving tips for family vacation we have adopted in our home.
Minimalist Mindset- take inventory of what expenses you have that you actually NEED vs want. Are there things you can do without?? If so, get rid of them now.
Stop Eating Out- I used to SUCK at cooking so we ate out all the time. But, I wanted to travel so I learned how to cook and now the whole family prefers eating at home. The blog that taught me how to cook (healthy meals too) was www.Skinnytaste.com.
Meatless Meals- you might laugh, but seriously meat is expensive. Especially, if you are buying pasture-raised, organic meats like I do. I didn't want to discount my quality of food so I opted to learn how to cook more vegetarian meals. And, guess what? We all love them. If you don't believe me just try these Vegan Pot Pies or this amazing Sweet Potato Tikka Masala.
Pack your Lunch- another huge expense we do without is eating out at lunch. We take leftovers, buy frozen food (Sweet Earth is my absolute FAV, Trader Joes also has some great options) or pack lunches from home to take to work with us.
Drink Tap- I used to be a bottled water snob, but after a ton of research and traveling around the world I have learned that our tap water is totally fine to drink here in the states. So, I purchased the whole family re-usable water bottles and did away with that extra expense. We also always drink tap water when we do happen to go out to eat.
NO Starbucks- $5 bucks for a latte. No, thank you. I can brew better cups at home. Like the fancy stuff, no problem hop on Pinterest and learn how to make those drinks at home for yourself.
Gift Travel/ Experiences- about 4 years ago we started opting to offer our kids (and each other) the gift of travel and/ or experiences over material goods. I remember being really nervous when we first talked to the kids about it. And, I will be honest the first go-around was a little tough. But, very quickly we ALL realized that the delayed gratification of getting a future trip or actually traveling on birthdays and holidays was WAY better than any material gift we could have received.
Clothes- learn to buy clothes in capsules so that you utilize a few pieces to make a ton of outfits. I have a tutorial on how I did that for Ella at the beginning of the school year here. Learning how to create capsule wardrobes also makes packing a breeze!
Paint Your Own Nails- you can save a ton of cash by opting to paint your own toes and nails. Again, Pinterest is a great place to learn tips & tricks on how to do it and learn about the best store-bought polishes out there.
Conserve Energy- we switched the lights in our home to LED, unplug appliances when we are finished with them and we always turn off the lights that we aren't using in our home. This alone saved us quite a bit once we made a habit out of it. To take things a step further we signed up for a summer deal through our electricity company which brought our electric beal down to mere dollars and cents and we live in Southern CA where most of our neighbors are paying several hundred a month!
Good Bye Cable- these days you can stream shows on Netflix and Hulu so you may not even need to be paying for cable.
Ditch the Gym- monthly gym memberships add up quick. Stop paying them and instead, utilize some of the amazing apps out there. I love SworkIt and Sweat with Kayla. Added Bonus- you can do these workouts anywhere meaning you can keep up your fitness routine while traveling.
Get Rid of Junk- I bet there is a ton of crap sitting around your house that you can do without. Start cleaning it up and selling it. You can host a yard sale or I find Craigslist and Facebook Marketplace are also great options.
Family Change Jar- we love throwing all of our change into a jar and saving it until right before we leave on vacation. Typically, there will be a few hundred dollars in there and we will use that as extra spending money on our trip.
Pin for Later-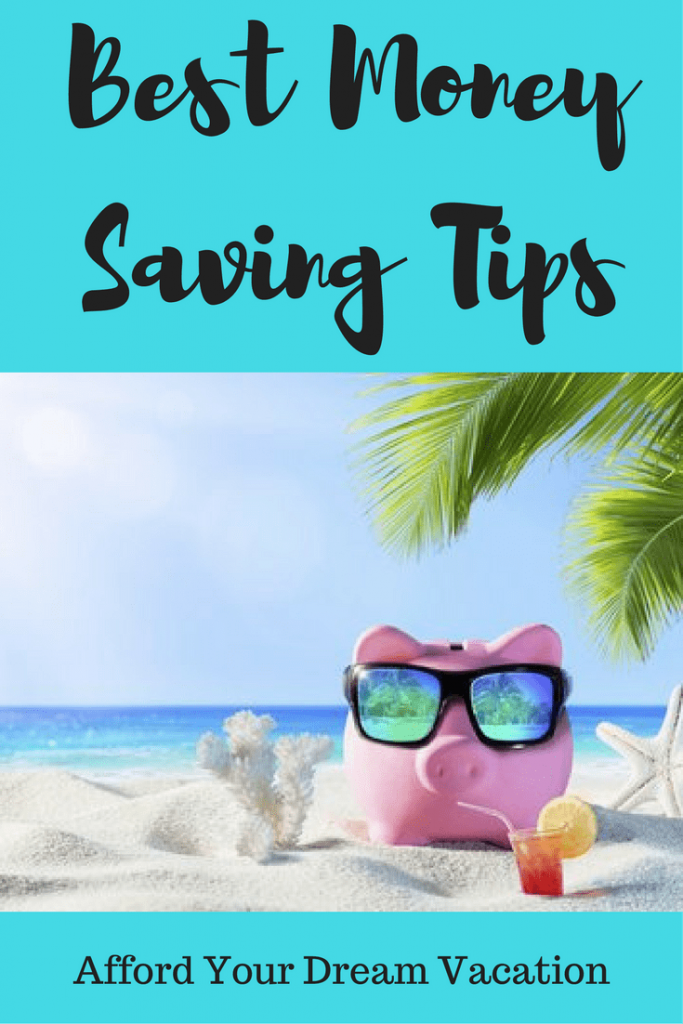 I would LOVE to hear your best Money Saving Tips for Family Vacation.
Leave them in the comments below
Find more great tips on traveling with kids below:
Latest posts by Mama Munchkin
(see all)