When I received the invite to the premiere of "An American Girl Story- Melody 1963: Love has to Win" I was thrilled. Not only was it produced by a brand I have always admired (American Girl) but it was also starring Marsai Martin. An actress from one of our family's favorite tv shows, "Blackish".
What I didn't know at the time was how incredibly empowering and inspiring this movie would turn out to be!
An American Girl Story- Melody 1963: Love has to Win Premiere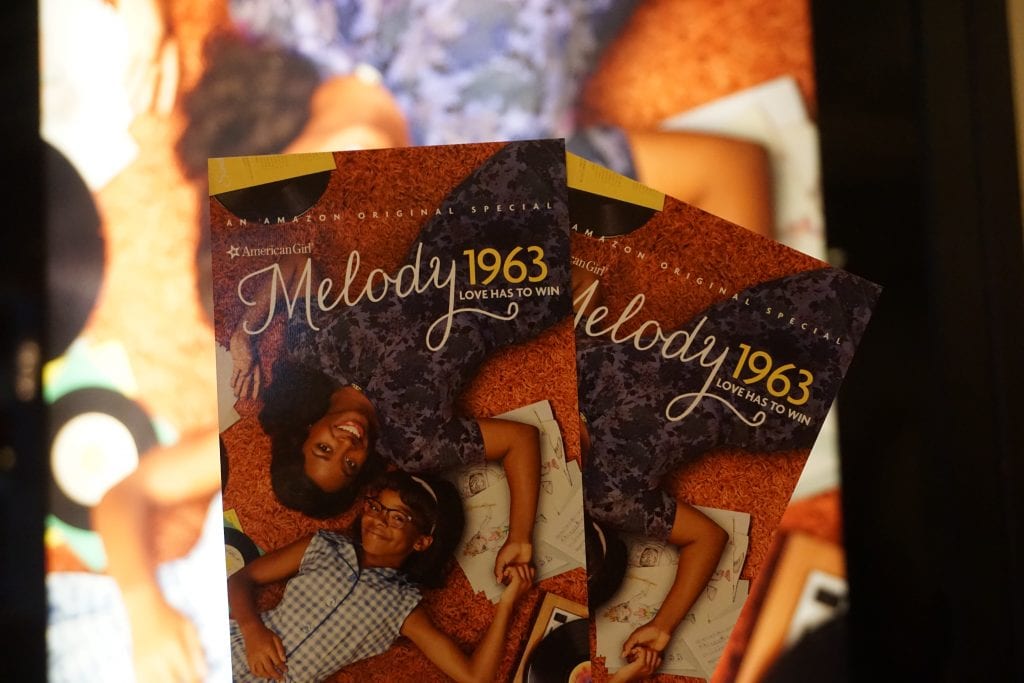 This post has been sponsored by KidzVuz on behalf of Amazon Studios.
The Movie
"An American Girl Story- Melody 1963: Love Has to Win" is based in Detroit in 1963, during the civil rights movement. Young 10 year old Melody (actress- Marsai Martin) gets a glimpse of the racial inequalities that exist around her including the Birmingham Church Bombing. This results in Melody questioning the "indivisible" promise of the pledge of allegiance leading her to challenge her teacher at school about it. Melody goes through an emotional journey of self-reflection gaining courage in the end from her mother who reminds her that while "fear brings out the worst in people, love brings out the best." Melody chooses to stand behind love reminding us all that we need to "stand up for what is right, even when it is hard or scary."
"Melody 1963" will be released exclusively on Amazon Prime, beginning Friday, October 21.
My Thoughts
The message in "An American Girl Story- Melody 1963: Love has to Win" resonates with me so deeply being the mother of two beautiful black children. Having the unique perspective of raising my white biological children alongside my black adopted children has opened my eyes to a better understanding of the discrimination that still exists in our country. Unfortunately, as we all have seen by watching the news lately, the progression towards equality that Melody was fighting for back in 1963 is a battle we are still facing today. And, one we will continue to face until we begin our own journeys of self-reflection much like Melody.
I believe Martin's portrayal of courageous 10 year old Melody will spark much needed conversations around the dinner table. Inspiring both parents and children alike to turn their backs on fear, lift their voices and speak out letting LOVE lead the way.
9 year old Ella's Takeaway
"Mom, I can't believe that black people had to fight for the right to eat at lunch counters," Ella states as we are walking out of the theater. "It's so ridiculous that people don't understand that we are all just humans," she continues. "I think our whole world needs to see this movie right now," she concludes as we head to the reception. "I agree with you Ella," I said.
Ella walked out of "An American Girl Story- Melody 1963: Love Has to Win" inspired and motivated to make a difference. As a sister to two black siblings and best friend to Selome whom is also black, Ella has a hard time understanding why the world doesn't view her siblings and friends as her equals. The movie gave her some background on civil rights as well as hope for the future. Hope that if she holds on to love and stands up for what is right that change will inevitably come.
I am deeply grateful to both The American Girl Brand as well as to Amazon for creating this film. American Girl has always played a unique role in helping young girls resonate with stories about our history by telling them from the perspective of girls their own age. Melody's story could not be more timely and I believe it will inspire many young girls to make a difference.
The Reception
Following the premiere of "An American Girl Story- melody 1963: Love Has to Win" was the reception party at the American Girl Store at The Grove in Los Angles!!!

Ella and her best friend Selome were ecstatic as we walked down the beautiful cobblestone street, gazed at the dancing fountain and soaked up the glorious sunset. It was such a beautiful night.
Upon arriving to the store the girls gave their exclusive tickets to the gentlemen at the door and were shuffled in towards the excitement. The girls were each handed a giant American Girl bag and lo and behold inside the bag was their very own "Melody" dolls!!!!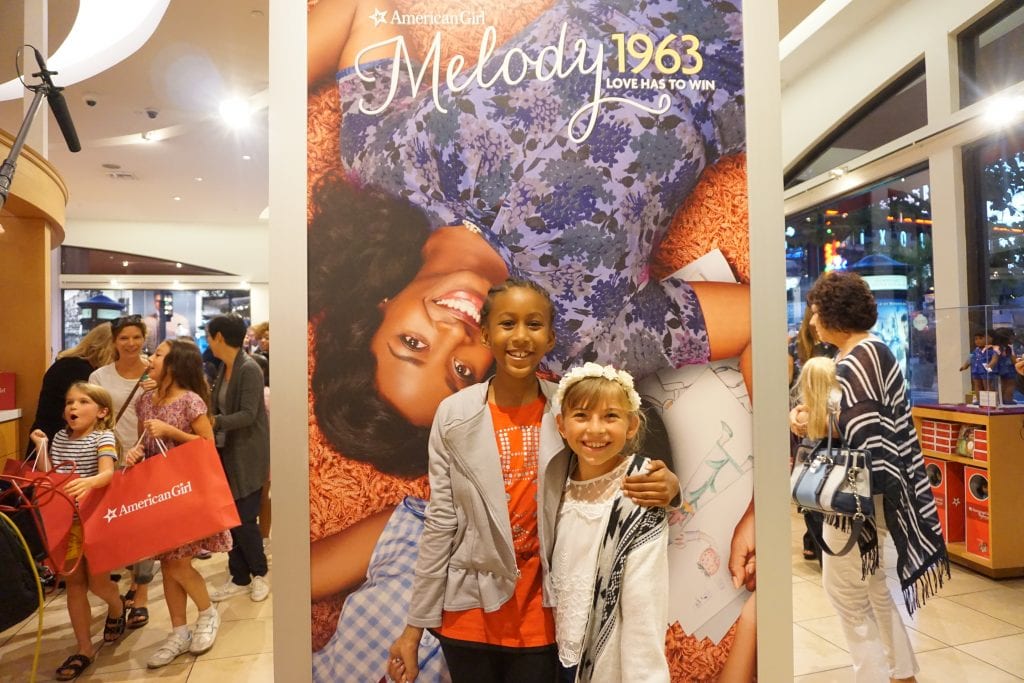 Ella has dreamed of owning an American Girl doll for… ummm… just about forever. So, I cannot even express the excitement she felt opening up her very first one!!! She actually said this was the "best day of her life!"
The girls had a blast walking through the store and checking out "Melody's" collection and accessories. I have a hunch Ella's entire Christmas list will be filled with all the items she saw in the store.
The girls loved checking out all the different displays around the store which were both entertaining and educational. The glass floor to ceiling exhibits were filled with factual photos and news clippings to help girls understand what Melody's life was like in 1963.
I think the BEST part of the experience for Ella was meeting Marsai Martin, the actress who plays Melody. Marsai was so incredibly kind and graceful. Such a beautiful inspiration to young girls. They really couldn't have casted that role any better!
We also LOVED that the cast of Marsai's hit tv show, "Blackish" was in attendance supporting her. The girls got a kick out of taking photos and chatting with the stars. And, I was humbled by the kindness all the actors displayed towards the girls. Above is Yara Shahidi and below is Anthony Anderson.

Overall
Families will find this movie entertaining, educational and inspirational. The storyline in "Melody 1963" is thought provoking, historically accurate and it provides a great gateway into conversations that are so important for parents to have with their children. An absolute "must see" for families.
 Make sure to watch the premiere of
"An American Girl Story- Melody 1963:
Love Has to Win"
exclusively on Amazon Prime Video
Friday Oct. 21st!!!
*A special thanks to KidVuz, American Girl and Amazon Video for the amazing opportunity and experience. All thoughts and opinions, as always, are 100% my own!