This past weekend Knott's Berry Farm invited the munchkins and I to visit their annual Knott's Spooky Farm and we had a blast!!! Unlike Knott's Scary Farm their daytime festivities are geared towards kids ages 3-11 years old so the spooks are fun filled and there are lots of tricks and treats to be had.
5 Reasons to Visit Knott's Spooky Farm
1 Trick or Treating
Your kids will LOVE heading into Ghost Town where they will be greeted by friendly ghosts and treat stations.
Knott's provides your kids with cute little treat bags which they take to the treat stations. Treat stations are adorned with whimsical doors and Knott's Staff who hand kids candy as they come up. I was impressed with the quality of the candy- Skittles, Twizzlers, Tootsie Pops etc…
I love events like this because it extends the holiday fun and the kids get a kick out of getting to wear their costumes more than once 😉
2 Pumpkin Stuffed Churros
Enough said right? Think delicious Pumpkin Butter surrounded by warm churro dough rolled in cinnamon & sugar. It's quite the treat!!!
3 Spooky Hallow Maze
I was excited to find a maze at Knott's since our traditional corn mazes in CA are closed due to the drought.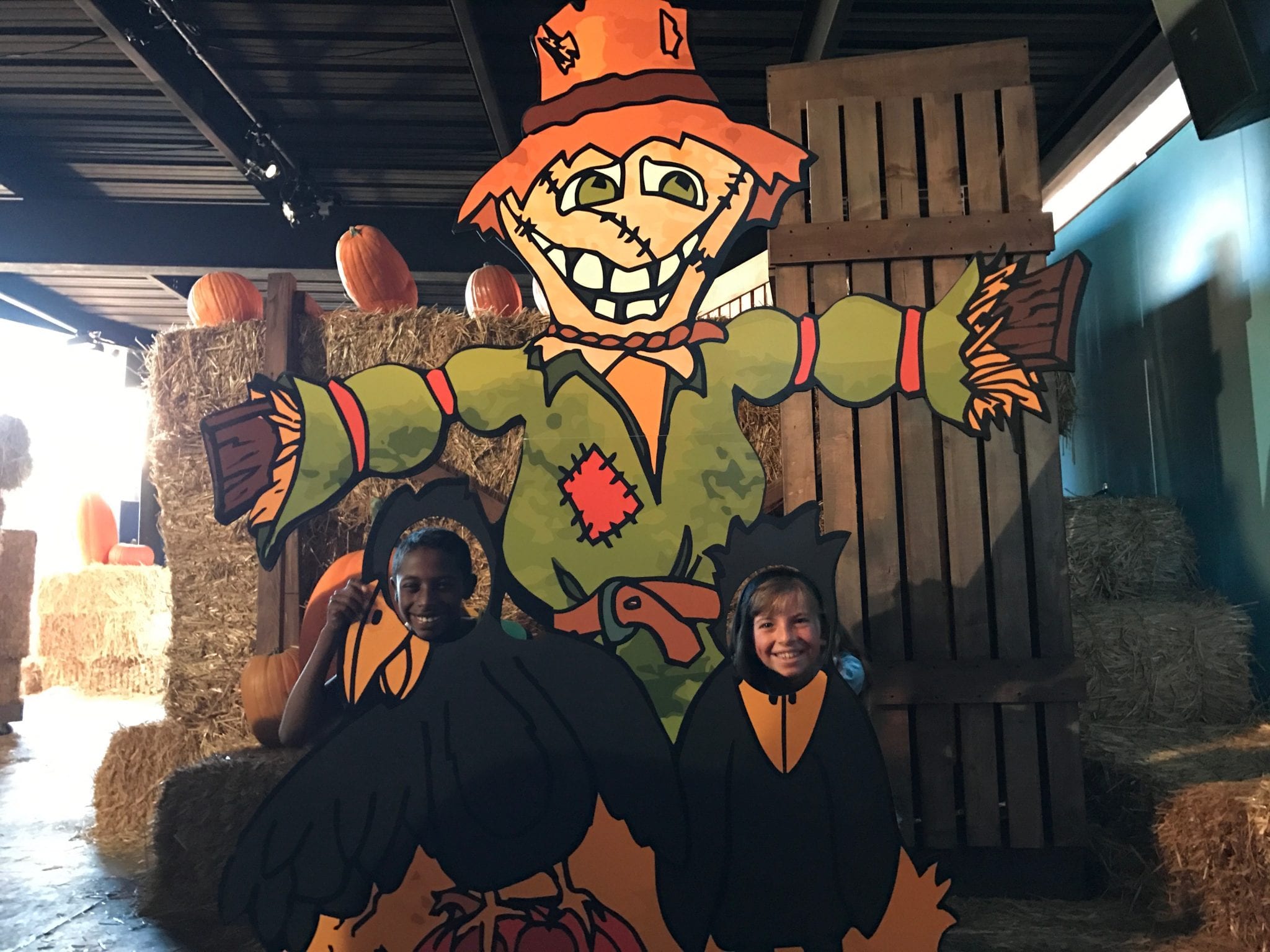 Shea and Ella loved walking through the maze and stopping at all of the photo opp's… you can take a peek inside in the YouTube video below (if you could hit the thumbs up or leave me a comment that would be great!!!).
4 Celebrate the 50th Anniversary of "It's the Great Pumpkin Charlie Brown!"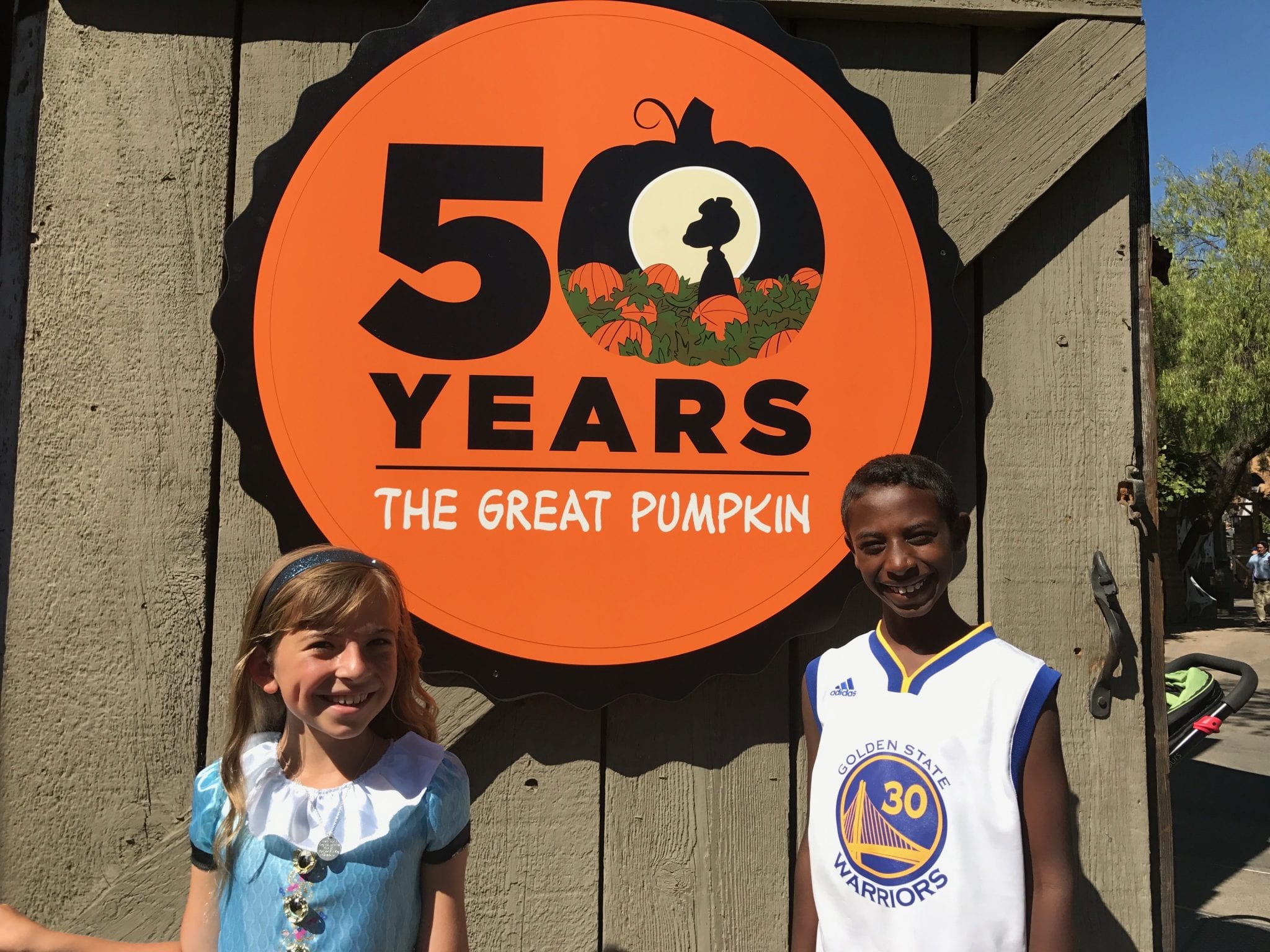 Can you believe it's been 50 years that we have been entertained by the Peanuts Gang?
In Ghost Town you will find a cute set up with pumpkins for the kids to decorate (for a nominal fee), photo opportunities and you can even grab up a seat on a hay bale and watch the classic film being projected on the barn wall.
If the kids enjoy watching shows don't miss the Camp Spooky Theater where they can watch the costumed Peanut Gang on stage!
5 El Dia de Los Muertos

I love learning about El Dia de Los Muertos… it is such a beautiful celebration. And, Knott's has done a great job decorating their Fiesta Village this year turning it into a colorful jubilee. Here you will find a craft fair, dress up spots, decorate your own cookies & more!!!
+ All Day Dining!!!
The kids and I LOVE to eat and so when we found out Knott's offered an All Day Dining Pass we were definitely intrigued. So, we checked it out!
There are 7 different dining locations to choose from and you can use your pass every 90 minutes- that is  A LOT of eating! Your All Day Dining Pass includes an entree + a side.
Options such as:
Cheeseburger & Fries
Chicken Tenders & Apple Slices
Caesar Salad & an Apple
Western Bacon Cheeseburger & Fries
Pizza Slice & Fries
Footlong Hot Dog & Fries
Tostada Salad with Beans & Rice
Grande Burrito with Beans & Rice
I did talk to the staff regarding allergies and gluten free fries and buns are available as well as vegan tenders.
Overall
The munchkins and I had a blast at Knott's Spooky Farm. I loved the way that they decorated the park, the short lines, cute shows and the trick or treating. I also LOVE the fact that Knott's Ghost Town has an educational aspect. Both the kids are studying the pioneer/ gold rush era and it was fun for them to check out the school house as well as chat with the spinster and the blacksmith. It was like going on a field trip!
Have you visited Knott's Spooky Farm??
*A special thanks to Knott's Berry Farm for inviting the munchkins to their park and providing our meals and admission in exchange for our honest review and feedback. All thoughts and opinions, as always, are 100% my own!