As a mom of 5, soon to be 6, I have definitely tried lots of baby products out there. Today I am sharing my must-haves- the things I consider baby registry essentials. Plus, I am also sharing some of the baby registry items that I think are totally worth the splurge and even a few new (to me) items that I am excited to try.
The truth is when it comes to taking care of your baby the only things you really need are diapers, your breast or bottles and formula, your arms, some swaddle blankets, onesies, a car seat, and a safe place for the baby to sleep. That is the truth!
However, there are items that make taking care of your baby a little easier and more enjoyable. The products I am sharing below are the baby registry essentials that I personally have on my list and the ones that I recommend to my closest family & friends. I have marked what I consider the baby registry essentials with an asterisk* The rest are items that I think are worth the splurge or am excited to try this time around.
My Top Baby Registry Essentials
Layette (Baby's Wardrobe)
Like I mentioned before your baby doesn't need much when it comes to clothing because they spend most of their time swaddled up and sleeping. However, below is a breakdown of the items I always have and seem to use and enjoy. *listed in order of necessity. You can always purchase more or less depending on how often you do your laundry.
---
Nursery
Your baby will most likely sleep better in a bassinet near your own bed for the first 3-5 months of life. Personally, in the past, we have used a basic wooden cradle. But, for this baby, we are super excited to be trying out the Snoo Bassinet.
The Snoo is definitely a splurge but we are just renting ours which makes it much more affordable and from the reviews, it looks like the added sleep parents get makes this splurge worthwhile. I have always trusted Dr. Harvey Karp's recommendations and used his methods (5 S's) to soothe my babies so I am hoping the Snoo is as amazing as it sounds. I will definitely be reporting back.
*If you do go with the Snoo you will need to purchase the Snoo sheets and specialized Snoo swaddles separately. So, keep that in mind when you are looking into the costs. I purchased 2 sheets and 3 small swaddles to start.
UPDATE
Jack is now 2 weeks old and we officially LOVE the Snoo. He is eating well and the pediatrician said feedings at night every 3-4 hours are totally fine. Thanks to the Snoo we are getting 4-hour sessions without any problem.
Here are some excellent bassinet & co-sleeper options at different price points.

---

Baby Crib, Mattress & Bedding
Honestly, you don't even need a crib until your baby is closer to 4-5 months of age. Before then they will most likely be sleeping in your room in either a bassinet near your bed or co-sleeper. But, it is fun if you have the money to set up the nursery before bringing your baby home.
As far as bedding goes 2-3 crib sheets will do. In the past, I have used mattress protectors but this time we splurged on a Newton Baby Mattress and it is 100% washable. The cover can go in the wash and you can rinse the entire mattress in the tub/shower.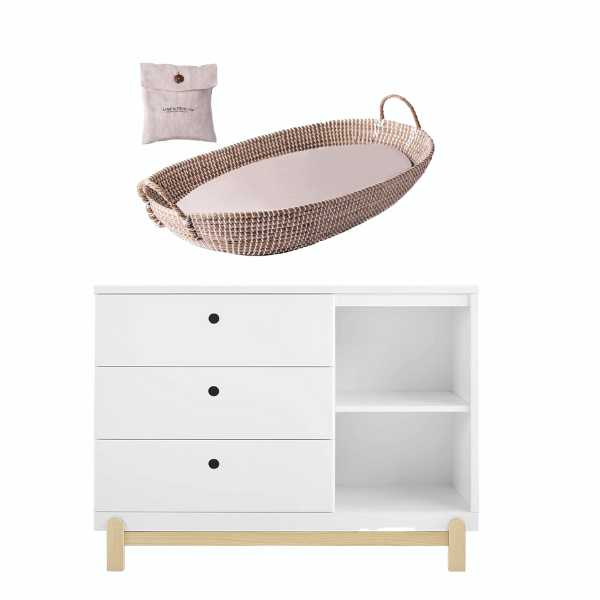 Depending on your set-up you may or may not need a changing table. Most of my baby's ended up getting changed on a changing pad on the ground, couch, or a bed. In which case I recommend setting up a diaper changing station downstairs and upstairs.
But, this time around I felt like the baby and I would be upstairs more, to avoid the chaos of 5 siblings and 4 dogs downstairs, so I went ahead and got a dresser and added a changing basket on top.
Similar to the changing table a rocker is not an essential item that you must have, although it will make all those feedings a whole lot more comfortable.
This time around I went with an upholstered rocker. I am only 5'1 and after testing out a ton of gliders I realized that I am just too short for them to be comfortable. This rocker is aesthetically pleasing, incredibly comfortable, and perfect for my height.
I also added this super cute ottoman as well!
More Nursery Room Items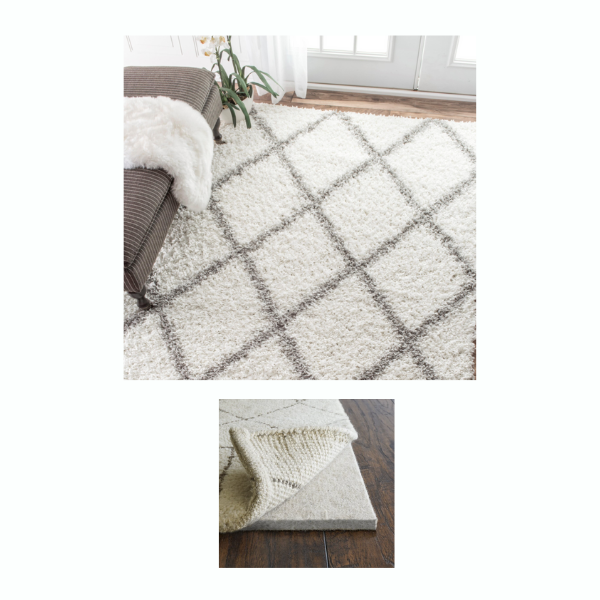 A few other items that are great to have in the nursery include a soft rug, especially if you have hard floors as we do. I even splurged for the extra thick rug pad (so glad that I did) so our little guy will have a safe place to practice crawling etc…
Storage is always a must in my book, I am big on organization. So, I say the more bins and baskets the better!
I am also a big supporter of early reading, I think it does wonders for a baby's development. So, ideally, my nurseries would also have a special spot for books.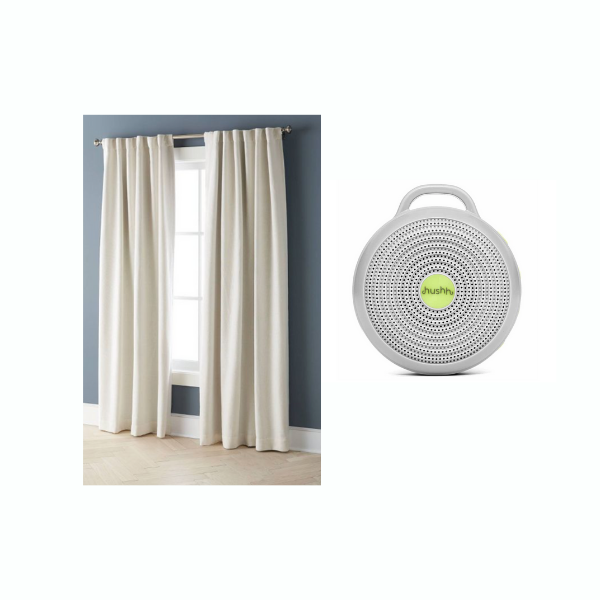 And, to ensure you and your baby get the best sleep possible I think black-out curtains and a sound machine are absolute must-haves!
Oh, and don't forget the Laundry Basket. You will be shocked at how much laundry you go through with a new baby.
---
Baby Gear
The one baby item that is absolutely essential when it comes to baby gear is a car seat. We chose the UppaBaby MESA car seat this time around after receiving tons of recommendations from friends & our Instagram community. We also loved that the MESA car seat received a 5-Star NHTSA Rating. And, its SMARTSecure System allowed for safe, quick, and easy installation with the LATCH connection.
When it comes to strollers I am always looking for one that is lightweight, comfortable for the baby, and fits in my car. I have had larger strollers with large bassinets that cost a fortune and I totally regretted it. They are large, heavy, and difficult to load into the car.
In the past, we have really enjoyed Baby Jogger strollers. But, after testing tons of new strollers we chose to get the UppaBaby Cruz this time around.
It was still lightweight enough (25.5 lbs) while offering tons of perks. For example, I love the one-handed recline and the fact that the seat lays all the way flat so you can use it from birth. The seat can be inserted forward or rear-facing and the MESA car seat connects directly to the frame with no added pieces.
The extra protection the large UPF 50+ sun canopy offers is great with all of our traveling, it has a large easy to access basket for storing all the things, and I can fold it with just one hand. Oh, and it stands on its own when folded too!
In my opinion, a baby carrier is an absolute baby registry essential. I have worn all of my babies (as women have for many years before me) and I feel like it just makes life so much easier. Baby is happy being close to mom and you get free hands so you can actually get things done. It's a total win/win!
I love the Solly Baby Wrap and the Baby Bjorn Harmony carrier. I am also a big fan of Ergo carriers and will probably purchase one as well. I also received a Nesting Days Tank which I think is the coolest idea and I am super excited to try it postpartum.

I have found diaper backpacks to be the easiest and most efficient when it comes to diaper bags. I also love the SkipHop Changer. I keep it in the back of the car for easy access and when we travel I toss it underneath the stroller. I find it much easier than carrying the whole diaper bag into the bathroom every time, especially during our travels.
Another must-have in my book is a really good baby swing. I know people love the Mamroo but personally, I find it to be overpriced and not as effective at soothing a fussy baby. So, I stick with the basics. This Graco Soothe 'n Sway Swing + Rocker offers great bang for the buck!
Honestly, with my first babies, I didn't really realize the importance of a baby gym. Thankfully, I had received one for my baby shower and used it. But, now after much more experience and education, I understand the value this item offers your baby as far as his/her early childhood development goes.
The Lovevery Playgym is definitely a splurge but I am so excited to have it! The quality is absolutely amazing and will easily be passed down many times. Plus, it was designed to offer a full year of play for your baby and comes with a play guide full of ideas, backed by research, for every stage 0-12 months of age.
This is a new concept to me. I am not sure if newborn loungers existed when my older children were babies or if they just weren't as popular. Regardless, I think they are a great idea as they enable you to safely put the baby down (supervised) to rest, play, etc… But, it is definitely a splurge!
Whether you are nursing or not you will want to have a nursing pillow. They are great for propping up the baby while you feed, helping siblings and guests properly hold the baby, and they are perfect for tummy time and helping to prop the baby up while you practice sitting.
---
Feeding
Breastfed Babies
If you plan to breastfeed a pump is an absolute necessity. Many insurance companies now cover them so make sure to check with yours before you make any purchases. With my oldest we rented a hospital grade pump for the first few months and then I had a manual pump after that.
With my other 2 biological children, I had the Medela double breast pump and I was able to breastfeed much longer bc it was quicker and easier to build up a supply which offered me the freedom to be away from the baby and so that my husband could help with nighttime feedings.
When I polled my Instagram Family on what the best pumps are currently overwhelmingly people responded loving their Spectra Breast Pump. Medela was still up there on people's lists and some new parents reported liking the more convenient wearable pumps like Willow and the Elvie.
I was gifted the NEW MAM 2-in-1 Double Electric Breast Pump and after attending a zoom interview with MAM's medical advisor Dr. Neela Sethi I decided to give it a try. I love how small the actual pump is, the fact that it offers 2-phase expression and 9 levels of suction levels, a 3-hour battery, and that you can covert it to a manual pump when needed. I will report back to let you know how it goes.
If I do not like it my backup would be the Medela. I think if I had to pump at a professional workspace the cost of the Elvie and Willow would be more intriguing but I have heard they do not perform as well as the Spectra and Medela.
*Don't forget to check with your insurance carrier before purchasing a breast pump. Many cover breast pumps for new moms.
Breast Milk Storage Containers
These are a must-have. There are tons of options. In the past, I purchased disposable bags which were super convenient but now that we have reduced our single-use plastics I am going to try out Junobie's silicone reusable breast milk storage bags and some storage bottles as well.
Insulated Breast Milk Storage Bag
Some diaper bags have insulated pockets that will do just fine, but if not, or if you are pumping away from your baby then an insulated breast milk storage bag is an excellent idea. I have this one from Bebe au Lait and I love it.
More Breastfeeding Necessities
Bottlefed Babies
*Even if you plan to exclusively breastfeed you will still want a few bottles at home. It helps a ton to be able to store some breastmilk and let someone else take over feeding the baby every once in a while.
3-5 sealing discs
Splurges
Talli Baby Tracker– I am super excited about using Talli to track all of my baby's feedings and diaper changes in those early weeks.

I have heard from several close friends who formula feed their babies that the Babybrezza is a lifesaver! It is basically like a k-cup coffee machine for formula bottles. It even warms the bottle!
Older Babies (6+ months)
The following list are items you will need and are baby registry essentials BUT you most likely won't need/use them until the baby is about 6 months+ old.
There are many awesome high chairs on the market right now with more features and better design than I ever had with my previous babies. I put together a bunch for you below.

I decided to go with the Béaba Up & Down High Chair. We switch often from eating at our kitchen table and the massive island we built to fit 8 of us and this high chair easily adjusts to accommodate different table height levels (6 in all). I also loved that it comes with a stain-resistant cushion, 3-point harness (a must!) and that it is BPA, lead, and Phthalate free!
Baby Food Maker (blender/steamer)
While this is not a necessity it is really nice to have if you plan on making your own baby food. I made most of Olivia's food with the exception of purchasing some food pouches while we were traveling. Making all of Liv's food allowed me to save money and give her the best nutritional offerings for her development. I believe it helped bc she is a very healthy & adventurous eater now as an 8-year-old.
The Beaba Babycook is a 4-in-1 baby food maker and it is a splurge I allowed myself this time around. It cooks, blends purees, plus can sterilize bottles and reheat baby food. It's pretty awesome and it looks beautiful sitting on your counter too!

---
Bath Time
Initially, you will be giving your baby sponge baths but soon after, once the umbilical stump falls off, you will be able to give your baby his/her first real bath. Often it's easiest to have a separate plastic tub that fits in a sink or on top of your counter. Once the baby is sitting on their own then I usually move their plastic tub into our real bathtub.

---
Health/ Safety
When it comes to baby monitors there are a ton of fancy gadgets on the market. Depending on what features you are looking for and your budget you will find the perfect monitor below. I have found the best of the best!

---
Playtime
Playtime is actually an integral part of the baby's development. This is why it is important to stock up on a few toys that are designed specifically to help your baby learn to focus, grasp, and build those important neck and shoulder muscles.

Likewise, reading is another great activity to do with your newborn. I put together some of our family's favorite titles below.