Thank you, LG for sponsoring this post.
In a family of seven, laundry is no joke! In fact, I would say it used to consume a good portion of my week and it was the one chore I dreaded most. However, with my LG's latest Front Load Washer with TurboWash360 technology, I can get loads done in under 30 minutes and they come out super clean!! It has completely changed the way I feel about laundry – I've never been so excited to use a washing machine. I'm sharing some of my favorite features below, and how they've already made an impact in our household!
How to Completely Change Your Feelings About Laundry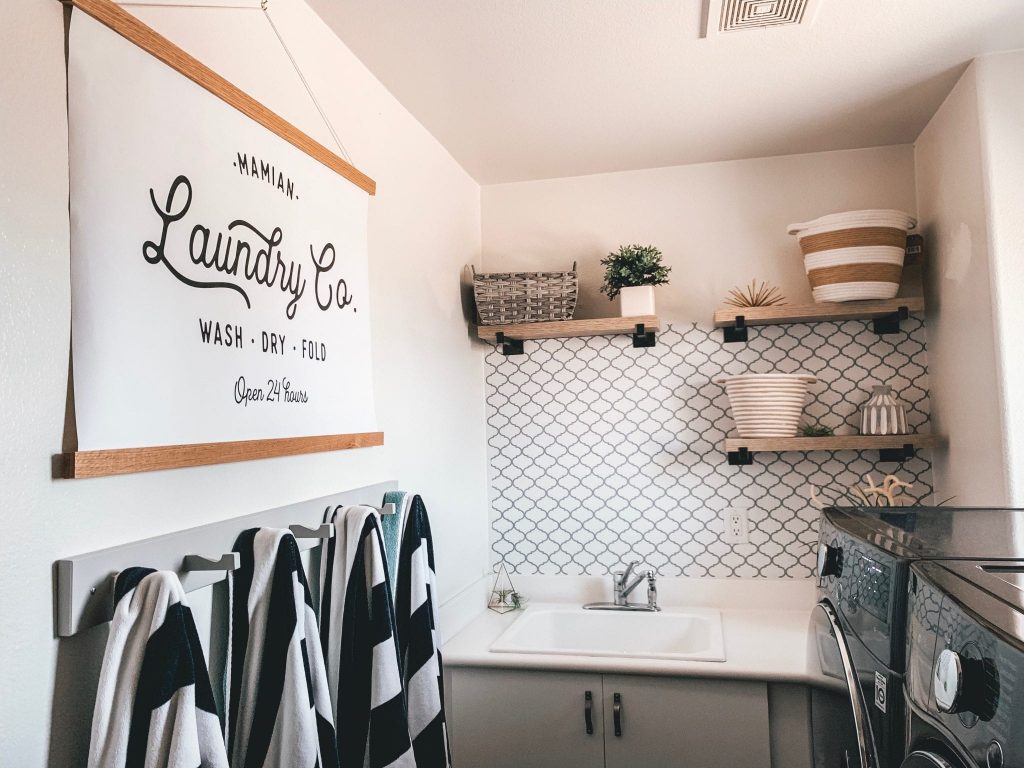 TurboWash™ 360 Technology
With five super active kids, time is my greatest asset! Which is why I am obsessed with my new LG Front Load Washing Machine's ability to clean large loads in under 30 minutes!
It truly is the next evolution of cleaning technology with product features you can't find anywhere else, and that help you save time and simplify your laundry day. Now that's a win in my book!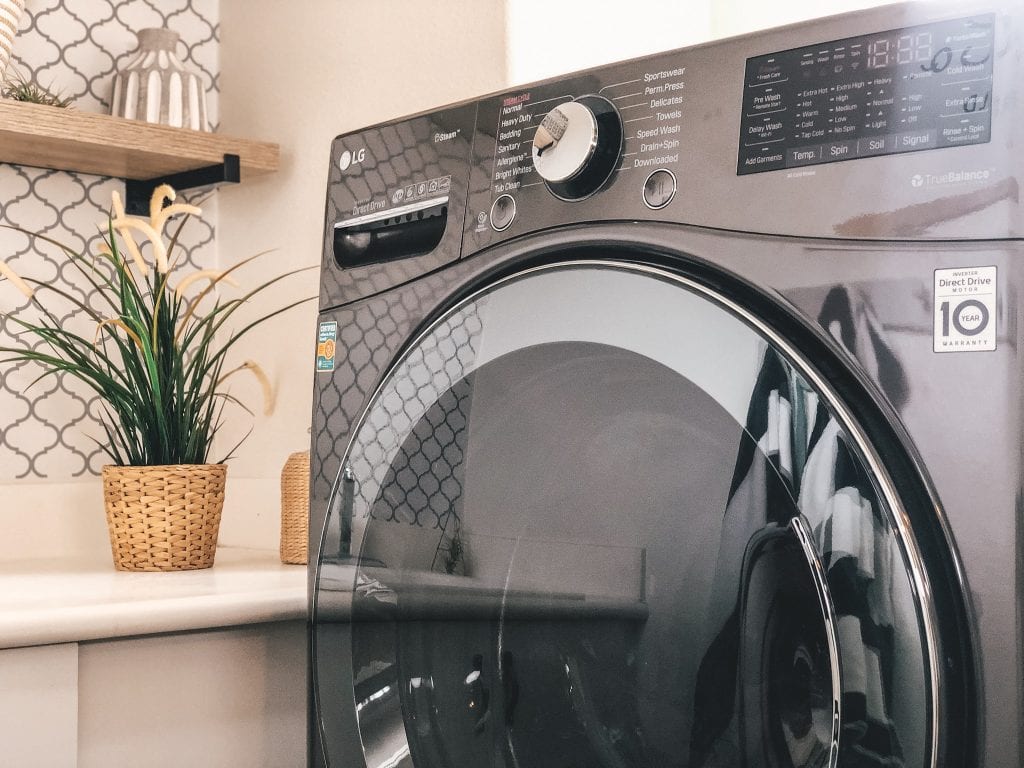 TurboWash360 allows you to clean big loads in under 30 minutes, getting more done while still enjoying the same great washing performance you expect from LG. (*Based on independent testing comparing models WM3900HBA and WM4370HWA in normal cycle with TurboWash™360°option, 10 lb. load vs. TurboWash® 2.0 option, 8 lb. load (Feb. 2019).
You can imagine what a difference that makes for a mom of five! Large loads are a must in my house, and getting them clean in under 30 minutes has been a game changer. Check out LG's awesome technology in action below or learn more on LG's website here.
SmartThinQ® Technology
In the past, I was the queen of having to do a load of laundry twice because I forgot to move it to the dryer, and I know I am not the only one. Not anymore, LG has an awesome app that notifies you when the cycle is complete! I get a notification via the app on my phone, and it even syncs with my Amazon Alexa so I can get notifications there as well. I can't tell you how much time this SmartThinQ® app has saved me by simplifying laundry day! It lets me start the washer from the comfort of my couch, or even automatically reorder detergent so I never have to make those last minute runs to the store again – amazing!
It also has the capability to start a load on a delayed start. This is perfect for when I'm running errands or working all day because I can throw the clothes into the wash in the morning, and then you can start the load 30 minutes before I'll be home. This way my clean clothes don't sit in the washer for hours. It's so cool!
Better yet, the SmartThinQ® app also helps to diagnose problems if any issues arise with my machine. This is so helpful! No more having to wait for a repairman to come just to fix a simple problem. It also provides tips and instructions based on my usage patterns so that I really can get the most out of my LG Front Load Washer.
Asthma and Allergy Friendly
I have a few members in our family who suffer from allergies so I was thrilled to learn that my LG WM3900 Front Load Washer was asthma & allergy friendly® certified. This is so important for us because the washer has an Allergiene™ cycle that uses steam to reduce common household allergens like pollen, dust, and dander in fabrics by more than 95%. With more than 65 million Americans living with asthma and allergies, it's so comforting to know this technology is in my laundry room. I am excited to see the difference it makes over time once we have the chance to wash all of our towels and linens too!
Steam Technology
The powerful steam technology found in my LG Front Load Washer helps to not only clean my clothes better but I have also noticed a decrease it lingering odors. In a house of 7 active people, that's important! It also helps eliminate wrinkles too, so not only does that mean cleaner laundry, but it also means less ironing. A major win in my book!
4.5 cu.ft. Capacity
With a large capacity washer, I can squeeze more laundry into each load which equals less laundry overall! I've said it before, and I'll say it again – laundry used to be the chore I would dread the most. Now, I can pack it into one load and still trust that my clothes will come out fresh and clean! It also means I can wash larger items like comforters easily as well.
LG SideKick™ Compatible Pedestal
It never fails, I get all the laundry done and then one kid, or my husband, ask me to wash something they need asap for school, work or sports. I hate to do a wasted load with just a few items.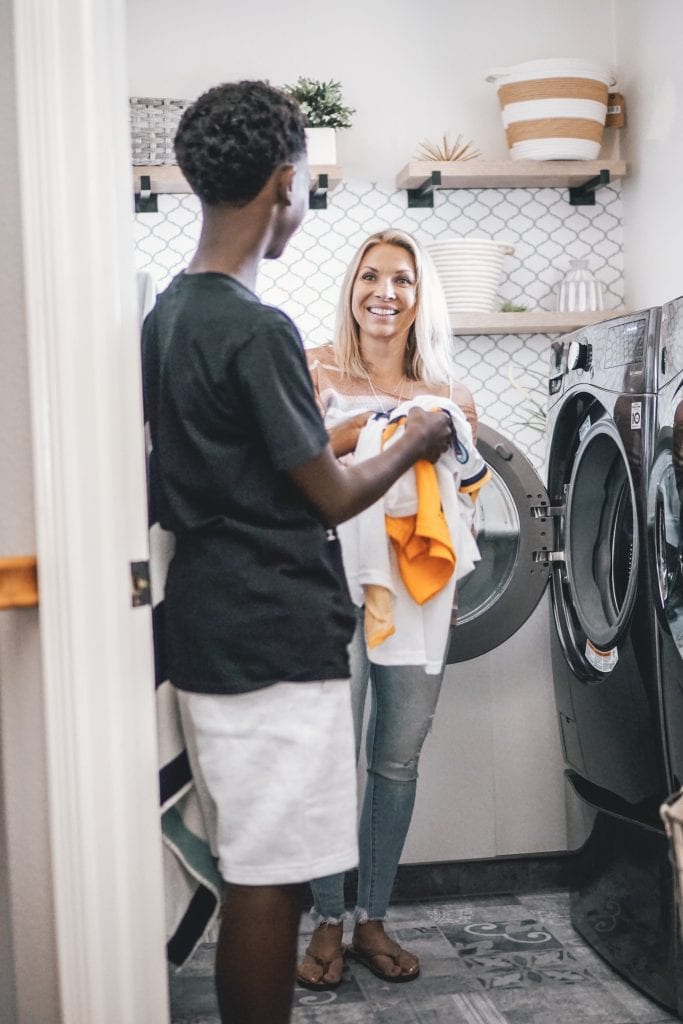 So, my new LG SideKick™ Pedestal has become my new best friend. It's like a smaller washer underneath! With my SideKick™ I can throw in just a few items, like a sports uniform, without needing to wait for a full load! Or, if I forgot to put an item or two in my main load, I can pop them in the SideKick™ and essentially get two loads done at once.
Use Your Tax Return To Get Your Own LG Front Load Washer
We're coming off of Tax season, so there is no better time than now to get your own LG Front Load Washer with TurboWash technology! Take advantage of your tax return to purchase one. I purchased mine at Best Buy, and I already love what it's done for my laundry routine. I can't wait to see how it continues to revolutionize our family's day to day life!