We recently visited the great city of Portland and were so excited to check out all the sights, taste the incredible food, and of course, have our fair share of donuts. Obviously, we did need to work off those donuts! So we did what it seems like every local in Portland does and headed out on some hikes. Our family has not spent much time in Portland, but luckily our hotel staff was more than willing to help us find the best hikes. Our hotel, The Kimpton Riverplace actually had a special concierge just to help you with outdoor activities. He gave us a breakdown of the best Portland hikes. So we gathered the crew and went on a few adventures!
Hiking Essentials
Maybe we should just call these Portland essentials since hiking is so ingrained in the culture! You will want to bring a few of these easily packable items along with you. They will allow you to enjoy hiking all day long, no matter the weather.
Best Portland Hikes for Families
The Hoyt Arboretum is a place full of childhood memories for many native Portlanders. Located inside Forest Park, it has over 20 miles of trails. Although these trails do occasionally run along roads, they still manage to make you feel like you're worlds away from city life.
Even though it can take up to two hours, walking the entire Wildwood Trail requires minimal effort. It takes you past many of the Arboretum's highlights and is one of the best ways you can spend an afternoon. You can snag free parking at either the Visitor Center or Washington Park Archery Range, both spots to linger in their own right – and set off in either direction.
You'll pass by the living sculpture "A House for Summer", take in stunning views of Mt. Rainier and pass through the Winter Garden, making this loop a worthwhile hike in any season.
A staggering 5,200 acres with over 80 miles of trails, Forest Park is one of the largest urban forests in the United States. You could spend days exploring its corners, but for an easy introduction to some of Forest Park's favorite treasures, try this under two-mile, out-and-back trek.
Beginning at Northwest Upshur Street, follow Lower Macleay Trail south along beautiful Balch Creek until you reach Stone House. The Stone House is a Works Progress Administration-era structure long since given back to the woods. Nearby you'll find the tallest tree in Portland! It is a 242-foot high Douglas fir draped in robes of emerald-colored moss. Take a moment to admire her beauty before heading back to the hustle and bustle of daily life.
There are few views in Portland as iconic as the one from atop Mt Tabor. This park is situated on top of its namesake volcanic cinder cone. And while its location and popularity mean that it isn't as lush or secluded as some other area parks, it is easily accessible and offers unobstructed views of the city. For a pleasant hike to the summit, begin at the south side of the park on Lincoln Street.
Follow the trail there northwest, past the lowest of the three decommissioned reservoirs inside the park. Take the nearly 100 stairs up to reservoir 2 and turn right. From there take the paved path south towards the third and smallest reservoir before it loops back north again. Proceed until you intersect a trail that leads off and up to the right. Follow it, and after a brief climb, you will have summited this extinct volcano! As a reward, enjoy panoramic views of Portland.
Unique Portland Hikes
Located in outer Southeast Portland, Powell Butte Nature Park offers a hiking experience different than most. Set atop an extinct cinder cone volcano, the park's terrain is open and expansive. This allows for views of five different mountains on clear days.
To take them in, pick up Wildhorse Trail southeast of the Visitor Center. You'll meander up through open meadow filled with wildflowers like lupine until you reach a junction with Summit Lane. Take a right to visit the Mountain Finder, a perfect spot for identifying the surrounding peaks and snapping a photo.
From there, follow Meadowland Lane north as it skirts the forest's edge, and then head east on Pipeline Lane to complete this easy 2-mile loop.
Although it's further out of town than some of the other hikes on this list, the trip to the Tualatin River National Wildlife Refuge is worth it. You'll encounter fewer crowds, and its landscape is unique. Almost 2,000 acres of wetland and lowlands provide sanctuary to hundreds of species including birds, fish, and other wildlife. Many of the species you see here are endangered.
The River Trail is one mile. It is an out-and-back path that is easily accessible and offers many opportunities to learn more about the Refuge. From the Visitor Center, it takes guests past a number of exploration sites featuring interpretive signage, along the Tualatin River, and terminates at the Wetland Observation Deck. Linger a moment in hopes of sighting a hawk or kestrel circling overhead before setting out on your return trip.
Best Portland Hikes for the Wanderer
Nestled in the heart of Lake Oswego just 15 minutes southwest of downtown Portland, Tryon Creek State Park is over 600 acres of forest. It is so lush and dense it's easy to lose yourself among their branches. Most of the trails here are loops less than a mile, connecting in ways that allow you to meander for hours.
For newcomers, get the lay of the land by heading north from the Nature Center along Maple Ridge Trail. Continue straight onto Middle Creek Trail as it descends towards Tryon Creek itself, crosses the water at High Bridge and follows the creek bank back south. After a quarter of a mile, cross back over the creek on Beaver Bridge and begin the climb back up through the forest towards the Nature Center. In spring, keep an eye out for the delicate blooms of the trillium flowers that call this park home.
Located in the West Hills, Marquam Nature Park is a Natural Area managed by Portland Parks & Recreation. At over 200 acres, it is the third largest park in Portland and features 7 miles of trails traversing deeply forested hills and ravines. It has dozens of trailheads and connections with surrounding roads and other nearby parks.

Marquam Nature Park serves a functional – rather than recreational – purpose for many locals. Still, those looking to spend an afternoon in the shady seclusion of its trees will enjoy the 1.5-mile loop located in its lower half. Park on the southern edge of the park, off of either Fairmount Blvd or Terwilliger Parkway – each has a single trail that will lead you into the heart of the park. Here they connect with the newer Flicker Trail. From there, follow the trail until it connects with Marquam Trail, which eventually returns you to where you started!
Sauvie Island is one of the largest river islands in the United States, and although it is minutes from Portland, it feels like an escape from the city. Hiking the island offers an experience unlike others in the area. It will remind visitors much more of the seaside than of the forest. When you have an hour free, complete the Oak Island Trail, a loop around a peninsula where you'll take in an endless sky and expansive stretches of water.
The 2.5-mile path is easy to walk and meanders through a grassy field bordered by ancient oaks. To get there, follow Oak Island Road to where it ends at a parking lot and complete the last stretch of gravel road on foot.
Portland Hikes with the Best Scenic Views
Mt Talbert Nature Park is a forested oasis situated high above busy roads and shopping malls in outer Southeast Portland. Like many other parks in Portland, it is situated over an extinct volcano. To avoid picnicking crowds, enter from Talbert St on the west side of the park.
From there, a quick trek connects you with Park Loop Trail. This path will have you changing elevation as you circumnavigate Mt Talbert. Take a detour on Summit Trail, a smaller loop inside the larger Park Loop. You can enjoy a scenic overlook here before continuing on your way. While inside the park, be on the lookout for wildlife large and small including deer, squirrels, and woodpeckers.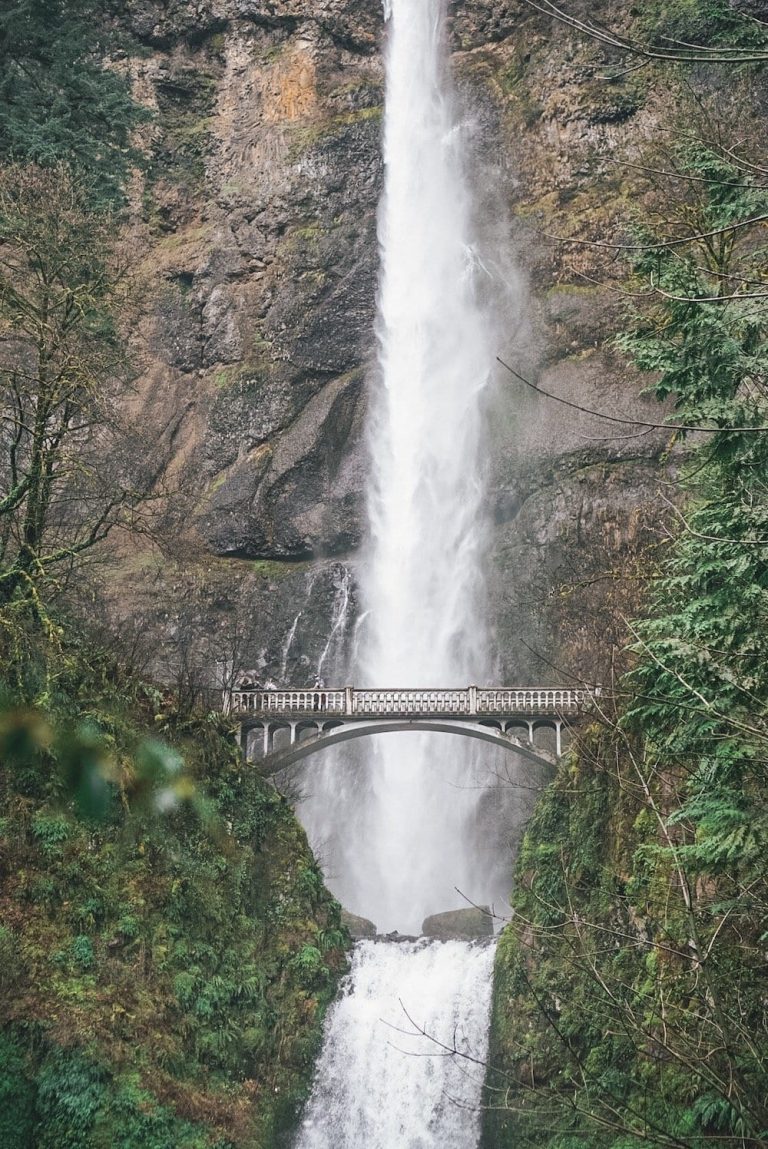 Although it's located 30 minutes east of the city, no list of Portland-area hikes is complete without Multnomah Falls. The 542-foot tall waterfall is one of Oregon's most-visited natural attractions. Even seasoned natives enjoy the periodic pilgrimage through the beautiful Columbia River Gorge to marvel at her splendor. The waterfall is incredible and can actually be seen from the highway.
A short 1/4 mile trek takes right up to the falls where you can feel the power of this magnificent waterfall. Take a 2.2-mile hike and that gets you to the top of the falls, where you can peer down at the lodge below from a fenced overlook on the falls' lip (it made my husband a bit queasy). Along the way, you'll cross a stone bridge, perfect for a picture, and pass in and out of the shade of forest trees. Be sure to stop and remember the experience, as there have been many threats to the falls over the years, from wildfires to mudslides. They serve as a healthy reminder not to take these beautiful natural places for granted.
I hope you get the chance to explore these amazing Portland hikes soon! If you have any questions about Portland, feel free to leave them in the comments or hop on over to my Instagram to send a direct message!
You Might Also Enjoy:
The Best Donuts in Portland…and let's not forget about Ice Cream!
The Incredible Portland Waterfalls [15 to Check Out]!
20 Amazingly Fun & Weird Things to do in Portland with Kids
Latest posts by Mama Munchkin
(see all)