I have been on a mission to find the very BEST low carb snacks for years now. I find that my family's bodies respond better and feel healthier when we focus on proteins and healthy fats. With seven members in our family finding the right low carb snacks for different tastes wasn't easy. But, I think I finally have a long enough list that I can safely say I have multiple options for even the most discerning snacker.
Best Low Carb Snacks- Something for Every Craving!
*Global Munchkins is an ambassador for Omaha Steaks and this post is part of our partnership with them. However, our love for Omaha Steaks is all our own.
Best Low Carb Snacks for Meat Eaters
Omaha Steaks Steak Bites- One of our family favorites when it comes to the best low carb snacks is Omaha Steaks Steak Bites. These delicious strips are jam-packed with high-quality protein (12g per serving) made from REAL Omaha Steaks Sirloin. We love that they zero artificial flavors and no added nitrates or nitrites. Omaha Steaks Steak Bites also have no MSG. But, what you will really love is the real hickory-smoked flavor and the extremely tender meat. Grab a bag here for just $5!!
Grilled Chicken Breast Slices with Trader Joe's Tzatziki Sauce- I'm not sure if it's my husband's Mediterranean roots coming out but we are huge fans of Tzatziki Sauce which happens to be made with yogurt making it a great low-calorie dip. We think it tastes great paired with sliced chicken breast. It's also super satiating.
Turkey Pepperoni- a go-to for us for years has been Turkey Pepperoni. Really any pepperoni will do but we like the lower calorie count with the leaner cut of meat.
Omaha Steaks Beef Sticks- Another Omaha Steaks favorite in our home is the Omaha Steaks Beef Sticks. Personally, I enjoy these over the Steak Bites but my husband disagrees. I guess You'll have to try both and let me know which you think is better. Again, with Omaha Steaks, you can be sure you are getting high-quality Omaha Steaks steak. They are packed with 11 grams of protein per serving to really fill you up fast. There are no artificial flavors, no MSG, and no added nitrates or nitrites too. They are also low sugar which makes them one of the best low carb snacks when it comes to beef jerky.
Cold Cuts rolled up with cheese- We love Italian Cold Cuts but with all that bread it's not very low carb friendly. Turns out you can wrap up the meats with some cheese, veggies, and a drizzle of herbed olive oil and bam!! you get ALL the flavor without the carbs!
Chicken Sausage- there are tons of excellent lean meat sausages, that make a delicious snack. Just heat, slice and devour. We love the choices at Trader Joes.
Shrimp Cocktail- If you are feeling fancy shrimp cocktail is a great choice. What is fantastic about this option is that you can find it at a wide variety of restaurants if you are out and about. Or if you are like me you can keep it stocked in your freezer for whenever the craving strikes. The BEST frozen shrimp cocktail hands down are Omaha Steaks. You will swear their shrimp was fresh off the boat and prepped by an executive chef- it's that good! And, all you have to do is thaw and serve. Order yours here today.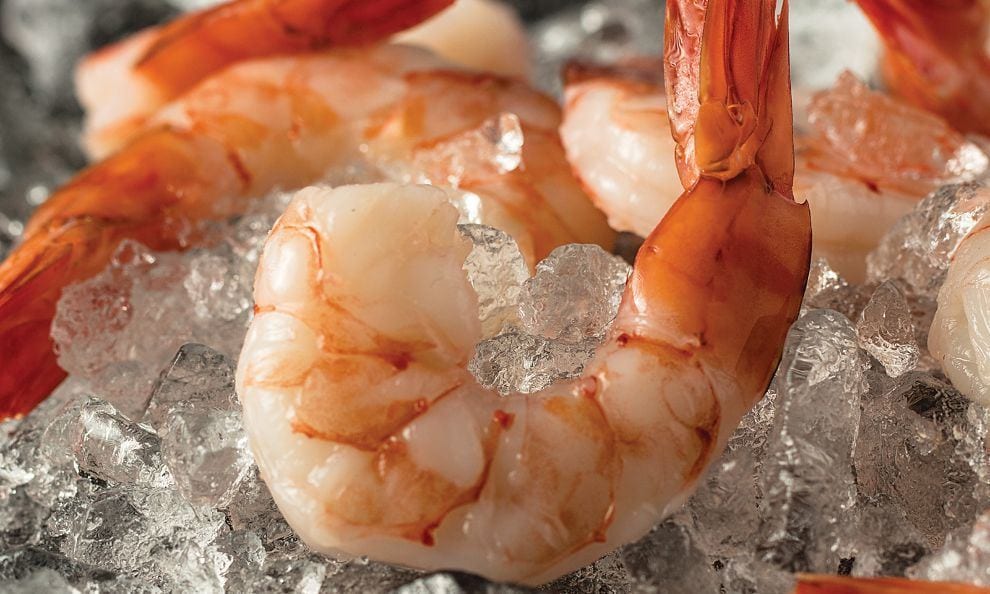 Snow Crab Claws- Another great option if you are looking to treat yourself with something meaty is some tender pre-cracked snow crab claws from Omaha Steaks. These tender crab claws are super easy to eat and you get 21-25 claws in each box delivered frozen to your door. What I love is you can heat up a few with some grass-fed butter for a snack and then save the rest for another snack or meal later. Learn more here.
Low Carb Snacks for Kids
Kids do not need to diet and healthy complex carbs are great for them to eat. That said my kids get tons of excellent carbs at breakfast, lunch, and dinner so when it comes to snacks I like to fuel them with more protein and healthy fats. Here are some of the best low carb snacks that my kids love.
Celery with Nut Butter- My kids go gaga for these and they are so easy to put together. Simply wash and cut celery into small sticks and spread some nut butter on top. For school, we pack celery sticks in a reusable container and then place the nut butter in another small reusable container. That way they can easily dip them. If we pack them with nut butter already smeared on top it tends to be messy and it's not visually appealing so my kids won't touch it.
RX Nut Packets with Protein- These easy to pack protein packets are made with real egg whites. They are low in sugar and super delicious. We pack these when we travel. They make great snacks and are also awesome to use on top of toast, brown rice cakes, and kodiak cakes too.
Scrambled Eggs with Cheese- my munchkins are big scrambled egg fans and so this is one of their favorite snacks. They also love when I make it an egg & cheese omelet. To them, it is like a quesadilla.
String Cheese- We keep a healthy stock of string cheese in our house. It's easy, portable, delicious and high in healthy protein. This is also one of the best low carb snacks for travel because it is easy to find no matter where you go.
Whisps Cheese Crisps- when the kids feel like something salty these Whisps Cheese Crisps always do the trick. You can find them here on Amazon.
Mixed Nuts– high in healthy fats and protein, nuts are a great way to help kids fill full and have the energy to power them through their busy days. We love walnuts, almonds, and pistachios.
Avocado on Protein Toast- Another favorite in our house is avocado toast. We find that sweet potato slices, crisp bread, and protein-packed bread work great and help us meet our low carb goals. *If they are really hungry I will serve it with an egg too.
Kodiak Cakes Waffles- sometimes you just feel like a waffle and when that is the case my kids flip for Kodiak Cakes high-protein pancake mix. We prefer the taste of the better made in our waffle maker so that is what we usually do. I just use the same measurements as the pancake instructions but then pour it into a hot waffle iron coated with cooking spray. You can purchase the mix at most local stores or order it here on Amazon.
Kodiak Cakes On The Go Cups- another, even easier version of the high-protein pancakes we love are the Kodiak Cake Cups. They have a variety of options including our favorite blueberry & maple, as well as several other pancake options, muffins, oatmeal, cornbread and even a brownie On The Go Cup too!
Best Low Carb Snacks for those with a Sweet Tooth (that's me)
Fage Split Cups- with 11-13 grams of protein and only 11 grams of sugar these are quickly becoming one of my favorite snacks and desserts. Plus, the nonfat variety only has 100 calories!!
FatSnax Cookies- Sometimes you just need a cookie and when I am craving one I grab a FatSnax Cookies. With just 1-2 net carbs,8 grams of fat and 0 grams of sugar these are a safe way to curb your cookie cravings. FatSnax makes their tasty cookies using almond flour, butter and coconut flour making them keto-friendly, low carb, and super duper tasty! My favorites are the NEW Double Chocolate Chip and Lemon.
Whipped Heavy Cream with Berries- There are zero grams of carbs in heavy cream so what we love to do is whip it in our KitchenAid Mixer and then serve it alongside some fresh berries and mint. If you feel you need to sweeten it I recommend using a little bit of Swerve sweetener. Unlike sugar, Swerve is made from erythritol a natural sugar replacement that is non-GMO certified, delicious, and has zero net carbs.
NOOSH Nut Butters with MCT Oil- I'm not following a full-blown keto-diet but after trying my hand at keto I did learn the value of consuming healthy fats like MCT oil. They help to keep you full so you don't feel hungry all of the time the way you do when you are eating a ton of carbs. Which is why these Noosh Nut Butters are one of the best low carb snacks you can eat. I love all of the flavors but when I am trying to curb my sweet tooth the Cupcake and Chocolate varieties work best.
Dark Chocolate 70% + Yes! You can actually eat chocolate when you are going low carb. The key is to eat it in moderation and only 70% or higher dark chocolate varieties. Some of my favorites include HU Chocolate and Endangered Species Dark Chocolate both are available on Amazon.
Peanut Butter Keto Cookies- I make these at home because they are ridiculously easy to make. Here is the recipe I use. I keep them frozen after baking & cooling because they crumble easily.
A scoop of Peanut Butter- Yup! That's right just a spoonful of the good stuff. I love Nuts N' More's High Protein Peanut Chcolate Maple Pretzel nut butter. It's a total treat. Grab a tub on Amazon here.
Nonfat Plain Greek Yogurt with Protein Powder- When I am starving I almost always go this route because it is so filling with tons of protein from the Greek yogurt and the protein powder. I really like mixing mine with Orgain's Chocolate Fudge or Peanut Butter protein powder. I just slowly add spoonfuls to taste. I then top with fresh fruit, dark chocolate, a drizzle of nut butter or some protein granola for crunch.
Chocolate Protein Smoothie made with unsweetened Almond Milk- Of course, a protein smoothie is always a good choice. There are so many protein powders that taste like dessert. I like to blend mine with cold almond milk and some ice cubes so it tastes like a shake. If I have enough carbs I will add some frozen banana chunks too. Again, have fun with a few toppings like dark chocolate chips, nut butter, nuts, or whipped heavy cream.
Low Carb + Low Calorie Snacks
Celery Sticks
Carrot Sticks
Cucumber Slices
Egg White & Veggie Frittatas
String Cheese
Olives
Hard Boiled Eggs
Best Low Carb Snacks to Bring to a Party
Bacon Wrapped Steak Bites with Balsamic Reduction over Arugula– I shared my go-to Steak Bites recipe awhile back and I have gotten a ton of positive feedback. These are a crowd pleaser and they are low carb so you can snack on them without regret!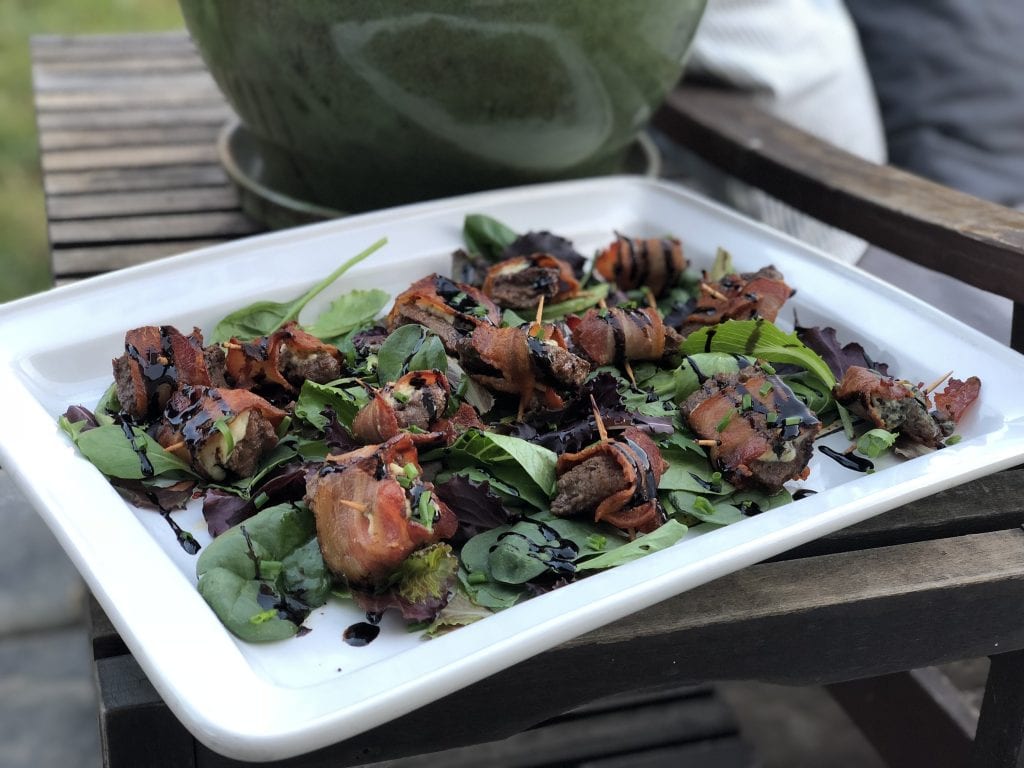 Peanut Butter Keto Cookies- I mentioned the recipe I use up above under "best low carb snacks for curbing a sweet tooth". These cookies are amazing!!
Shrimp Cocktail- Want to impress the hostess at your next dinner party? Arrive with these Omaha Steaks Shrimp and some cocktail sauce and they will be over the moon. The best part you can order them to be delivered frozen to your door and all you have to do to prep them is to thaw them- woohoo!!!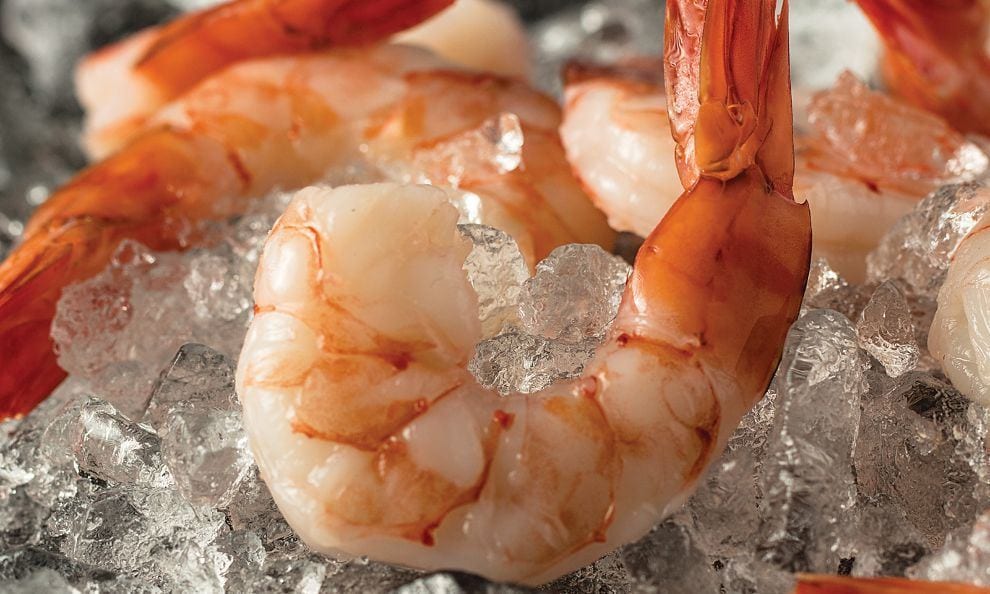 Deviled Eggs- another easy recipe to whip up that is low carb is deviled eggs. You can make them the traditional way (I love Skinnytaste's recipe here) or you can fill the egg whites with hummus. Either way, they are delicious.
What is your favorite low carb snack? Tell us in the comments below.