As an Omaha Steaks Ambassador, I love whipping up these delicious bacon wrapped steak bites whenever company comes over. Not only do they look and taste absolutely amazing but they also go from freezer to plate in about 30 minutes. My guests are always super impressed and it allows me the chance to share with them all of the reasons I love Omaha Steaks. Check out the recipe below and then leave a comment and tell me what your go-to recipe is for impressing guests.
The Easiest Most Delicious Bacon Wrapped Steak Bites
This is a sponsored post in partnership with Omaha Steaks. All thoughts and opinions are my own.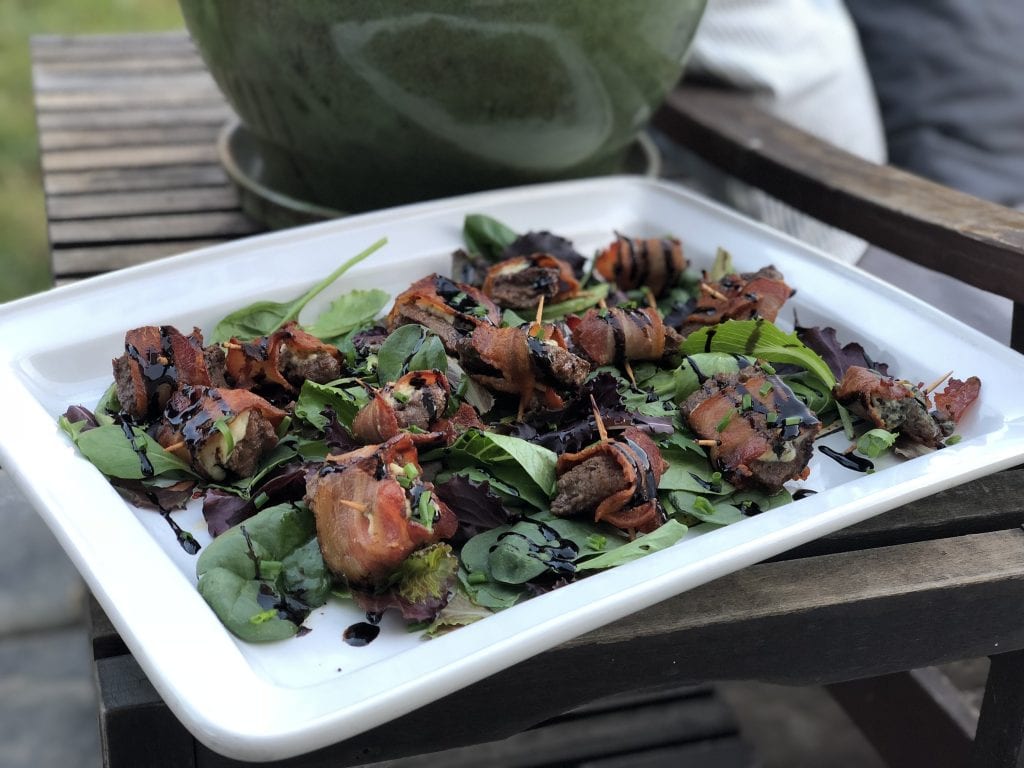 Bacon wrapped steak is pretty much the key to every male in my household's heart. Seriously, these boys love their meat and when I get a call that company is coming over I love announcing on our Alexa that I will have bacon-wrapped steak bites for whoever helps clean up. I never see the house get clean quicker than when that announcement goes out.
In order to ensure I always have that kind of power in my back pocket, I keep my freezer stocked with Omaha Steak. Have you ever tried Omaha Steak? I have recently become obsessed with their meats and my family agrees. All of the meat we order from Omaha tastes so much fresher and juicier than any other meat we pick up. Which is why I am SO excited about being asked to be an ambassador for the brand. I love sharing things that my family loves with all of you!
Anyhoo, I did some research on the Omaha Steaks website and I found out that the flash freezing process actually has a lot to do with the great taste. I guess freezing the meat is safer, results in a juicier steak, and it is also less wasteful. All three things that I can stand behind.
Another reason that I love Omaha Steaks is their huge selection of fantastic recipes. Whether you are looking for the perfect steak dinner from prep to sides or a slow cooker recipe to get the cooking done while you are at work Omaha Steaks has a recipe for you. That is actually where I found this awesome Bacon Wrapped Steak Bite Recipe. You can view the original recipe on their website here. I've included a few additional substitutions that we have tried and loved below including kid-friendly bacon wrapped steak bites (my kids won't eat blue cheese).
How these Bacon Wrapped Steak Bites Saved My Night
The funny thing about this recipe is I actually made it the first time after running super late for a dinner party. The kids had just started a new school year, we were meeting with our pool contractor to finish our pool project and time totally got away from us. I looked at the clock and my heart sank. I had 35 minutes before we had to get out of the house and I had NO idea what I was going to bring with me. I had told the hostess we would bring over an appetizer so I scrounged through the pantry, fridge, and freezer and came across a box of Omaha Steaks Tenderloin Tips. I knew if anything was going to save me it was this box of steak.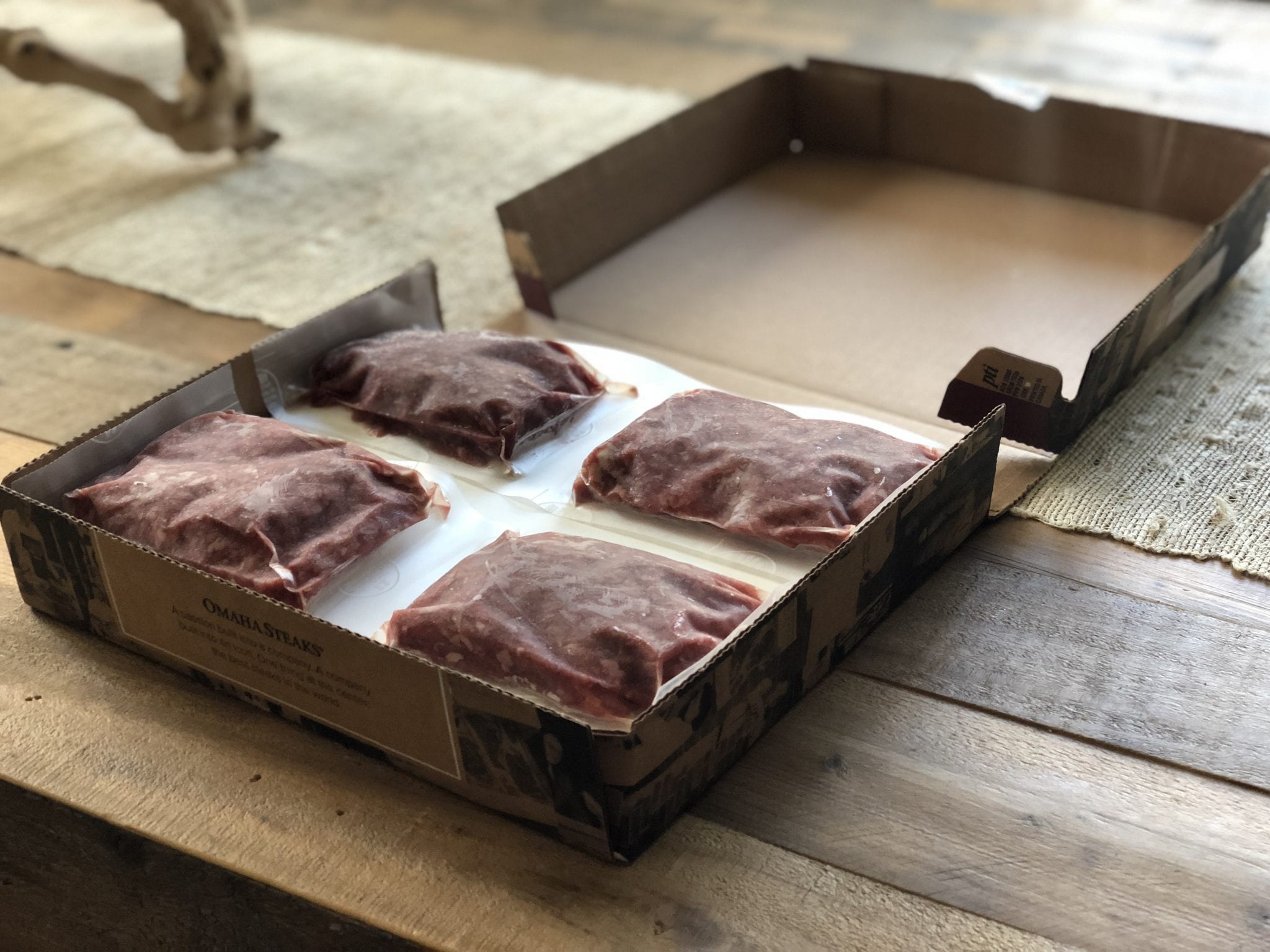 I quickly googled Omaha Steaks Tenderloin Recipe and I came across the Omaha Steaks website. There were several recipes but when I took a look at the Applewood Smoked Bacon Wrapped Steak (Tender Tips) with Maytag Cheese I knew I could do something with it. I thawed the steak tips in the microwave (which is probably not recommended- but sometimes you just have to do what you have to do) as I pre-heated the oven and prepared the bacon.
I did not have applewood smoked bacon and I am positive it would have tasted even better, but I prepped some bacon I had on hand and began to bake it. As the bacon was baking the steak tips thawed and I seared them on the stove with some seasoning salt. Using tongs I wrapped the bacon around the seared steak tips and held them together with a toothpick.
I stuck my pan in the freezer to cool it all down for a few minutes. Then I pulled out the pan and shoved some blue cheese between the steak and bacon. I covered my pan, threw some arugula in a bag, along with some seasoning salt, chives, and balsamic glaze.
I chose to take the bacon-wrapped steak bites unfinished because I was out of time, but I played it off as if I wanted them to be super fresh for the party- ha! Don't worry after they raved about them I spilled the beans to my friends.
When I arrived I sprinkled the bacon-wrapped steak bites with some seasoning salt and then popped them in the oven for 5-7 minutes and voila they came out smelling incredible and looking amazing.
I laid them onto a bed of arugula and topped them with a drizzle of balsamic glaze and sprinkled them with chives. They looked amazing and I finally could relax. All was well.
Have you ever ran late or forgot to make something for a dinner party? Be honest- tell me I'm not the only one by leaving a comment below.
Alright without further adieu I give you the easiest most delicious bacon wrapped steak recipe you will ever try.
Bacon Wrapped Steak Bites
Ingredients
Directions
Thaw steak, blot with a paper towel.
Slice tenderloin tips into smaller bite-sized pieces (about 2″ ).
Preheat oven to 350 degrees and prepare a pan by lining it with foil. I like to use a rimmed baking sheet with a wire rack inside to allow the bacon grease to drip off the bacon and I usually spray the wire rack with cooking spray before placing the bacon onto it.
Heat a frying pan on medium-high heat.
Place bacon onto the prepared pan and stick in the oven.
Sear the thawed steak bites in the frying pan with some seasoning salt. (only about a minute, stirring constantly & making sure you sear both sides).
At this point, your bacon should be cooked through (about 25 minutes).
Allow steak and bacon to cool for a few minutes (cool enough to handle it).
Wrap each steak bite with a strip of bacon and secure with a wooden toothpick. *If you have long strips of bacon like I did you may prefer to cut them in half prior to this step.
Stuff 1 tsp. of your choice of cheese between the bacon and the steak to secure it and then place the steak bites onto a new baking sheet prepared with cooking spray.
Preheat the oven to 450 degrees.
Place the baking sheet in the oven and cook for 5-7 minutes (you can also refrigerate your steak bites until you are almost ready to serve and then move to this step.
Place the arugula onto your serving dish and rinse and chop your chives.
Remove the steak bites from the oven and transfer them from the pan to your serving dish.
Drizzle with balsamic glaze and top with chives.
What is your go-to dinner party appetizer?