This is a sponsored conversation written by me on behalf of Chuck E. Cheese's. The opinions and text are all mine.

My kids have always been obsessed with Chuck E Cheese's, we have had birthdays there and many weekend jaunts. The kids loved that games were only one token and I loved that they were entertained for a few hours without my assistance. Recently Olivia and I checked out the newly remodeled Chuck E. Cheese's in Foothill Ranch (soon all Chuck E. Cheeses' will have a similar look & feel) and I could not believe the changes that have been made to the restaurant.
3 Reasons to Check out the New Chuck E. Cheese's All You Can Play
Chuck E. Cheese's All You Can Play –
I used to love taking the kids to Chuck E. Cheese's because everything was one token, so your money went a lot farther than traditional arcades. Now, Chuck E. Cheese's has stepped up to an even better system. For only $9 your child can play an unlimited amount of games for 30 minutes or more (depending on the number of minutes you choose). This eliminates your kids running up to you every five minutes asking for more tokens, eliminates tears from losing tokens, and eliminates increases the amount both you and your kids enjoy the experience.
You can save money on the unlimited play bands when you order food combos, plus the best part is you won't miss out on video game time. Simply take your wristband to the kiosk and pause your band when its time to eat. Then your kids can sit down and enjoy their meal and resume game time when ready.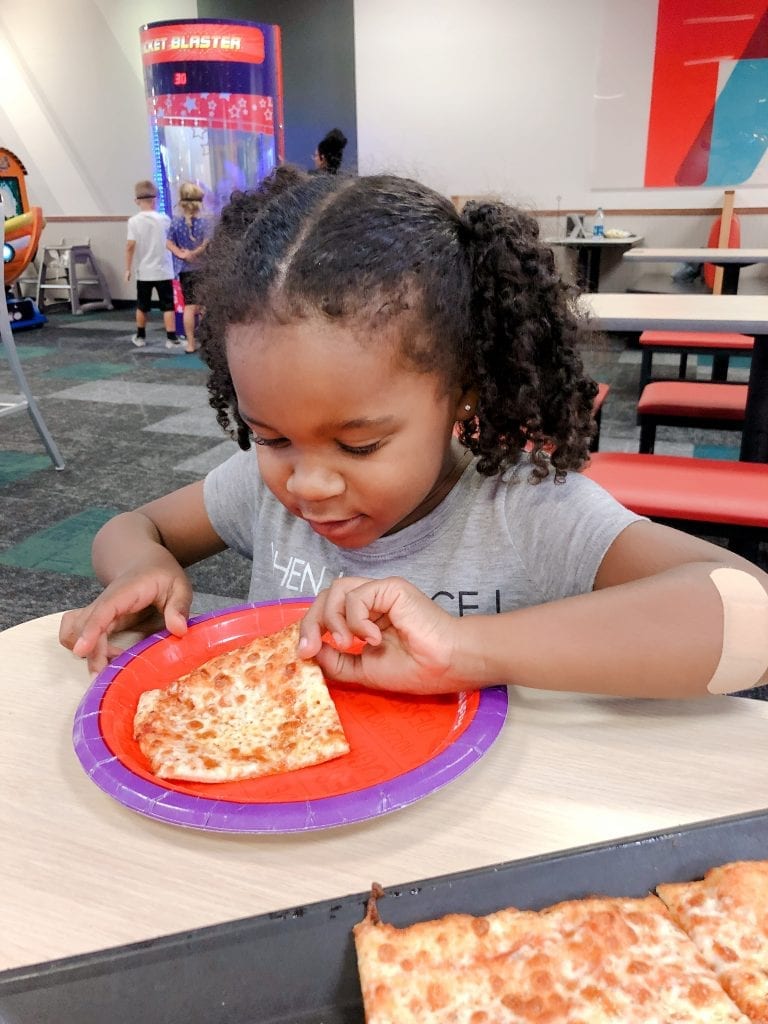 Olivia loved using her unlimited play band and I appreciated that it was simple enough for a five-year-old to use it. All they have to do is tap their band, watch for the machine to turn green and they are good to go!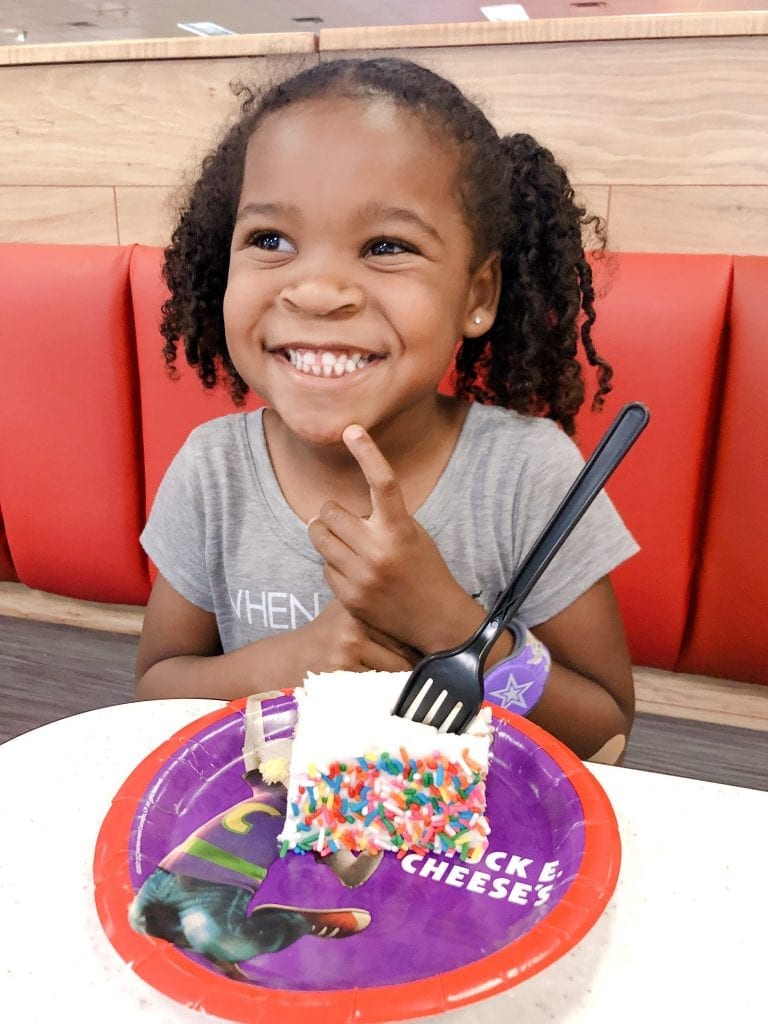 The Foothill Ranch manager informed me that Chuck E. Cheeses' all over the country will be going through similar remodels so check with your local store. The changes make the Chuck E. Cheese's experience so much better!! More on that below.
Pizzas made from scratch daily + an Incredible Salad Bar
I absolutely love when places show the process of making the food. Now, Chuck E. Cheese's has open kitchens which allow guests to watch the pizza making process. The pizzas are made from scratch daily. In addition, the lunch buffet, which is offered Monday – Friday from 11 a.m. to 3 p.m., has been moved closer to the open kitchen to tout its fresh ingredients. I loved the salad bar it was incredibly good. The ingredients were fresh and the salad bar area was immaculately clean.
Another small but great improvement is that Chuck E. Cheese's has switched to a beeper system to receive your pizza. In the past, the pizza would be delivered to your table when it was ready. The problem was families were so busy playing and having fun they wouldn't realize the pizza was at the table so they often found it after it had already gotten cold. Now you can pick up the pizza as soon as it is ready that way you can enjoy it while it's nice and hot!
New Renovations make it fun for the whole family
For Mom & Dad
As I mentioned our local Chuck E. Cheese's was one of the first to go through this awesome remodel. They partnered with San Francisco-based design firm, Tesser, helped create a more adult-friendly ambiance. It feels more like a restaurant now and the warm wood accents and much more soothing. Which is what us moms need.
In addition, the new self-service kiosks are so nice because you can quickly and easily order without any wait at all.
For the kids….and dad too!
There are nearly a DOZEN NEW GAMES in the newly remodeled game rooms, in addition, to the extensive amount of games already at Chuck E Cheese's. Plus with their tap to play system, the kids get to play more games than ever.
Olivia absolutely loved the all-new light up dance floor where the hourly live show and birthday shows take place. Seeing her favorite characters and being able to win the tickets was a welcomed addition. Of course, she loved dancing along as well.
Overall, the new Chuck E. Cheese's Foothill Ranch renovation is a great update for the whole family and something you should check out with your little ones. From the all you can play games to the new more relaxing atmosphere and fresh made to order pizza, Chuck E. Cheese's has really hit it out of the park with this update. I am excited to hear about the rest of their locations renovations as well.
Have you visited Chuck E. Cheeses Lately?